Shaare Zedek Medical Center officially named the hospital's downtown campus, The Eduardo and Jovita Cojab Building. The building has been a Jerusalem landmark for close to one and a half centuries and was part of the original structure of the Bikur Cholim Hospital which became part of Shaare Zedek in 2012.
The building's unique Ottoman Era architecture is defined by archways, high ceilings and external components and is located in the heart of the Holy City's downtown commercial zone. Many thousands of Jerusalemites were born there – including Rabbi Shmuel Rabinowitz, Chief Rabbi of the Western Wall and the Holy Places, who attended the dedication ceremony and spoke of his emotional connection with this special building.
Today, the building continues to house a very active maternity department where over 6,000 babies were born this past year, in addition to a cardiology department and numerous outpatient services.
Eduardo and Jovita attended the ceremony along with their four children and their spouses (two sons and two daughters) as well as several friends. Shaare Zedek's Director General, Professor Jonathan Halevy said at the ceremony, "You truly couldn't choose a more appropriate project to demonstrate your commitment to the future of our city and nation than by naming this building which actively brings new lives into this world…Through your support, we serve as partners in a remarkable mitzvah of providing advanced and compassionate care."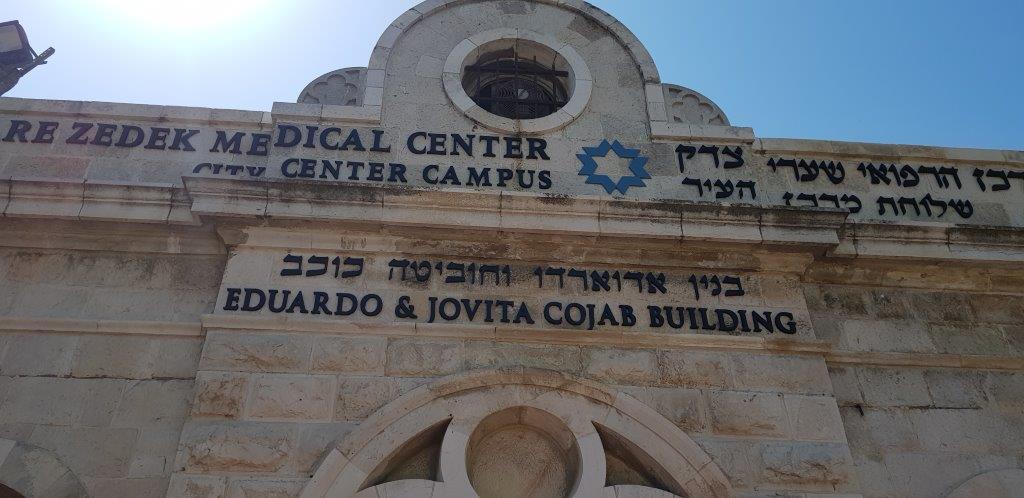 Mr. Jacobo Cojab, the son of Eduardo and Jovita, spoke at the ceremony and described the naming as a real zechut (merit) that will associate his family's name with a structure that each and every day symbolizes new life for Jerusalem and Israel.
Chacham Shalom Cohen of the Shas Council of Torah Sages, and Rabbi Avraham Tobal of the Monte Sinai Community in Mexico attended the dedication as well.
Special thanks to Mrs. Carol Broussi de Rubin, the Shaare Zedek Medical Center representative in Mexico.
Facebook Shaare Zedek Medical Center Jerusalem / המרכז הרפואי שערי צדק
Twitter https://twitter.com/ShaareZedekMed
https://www.instagram.com/shaarezedekjm
Photos by Silvia G Golan