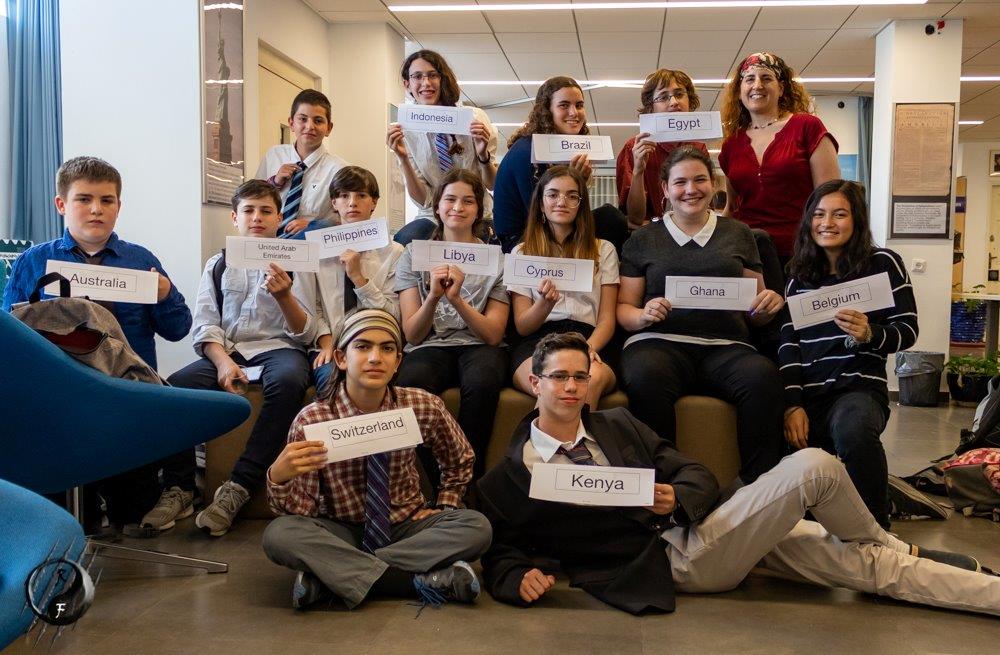 The final Model UN conference of the academic year was JEMMUN, hosted at the American Center Jerusalem on Tuesday, June 18th, with participation from 80 students from all over Israel. The conference was a joint effort of the US Embassy supported Debate for Peace program, and the Hand in Hand school, located in Jerusalem.
The conference theme was Education. Israeli and Palestinian students in grades 7 through 12 debated in separate committees designed for beginners and advanced delegates, while younger students participated in a separate committee held in Hebrew.
The majority of the students were participating in their first MUN conference and were filled with excitement and some nervousness leading up to the conference. Their chairs, Daniel, Hannah and Sindian in UNESCO, David and Nour in the UNGA English, and Gaia in the Hebrew UNGA, went to great lengths to make this a positive learning experience. Rivka Bronner (Hand in Hand school) said: "It was really fun. In the beginning, I was stressed but then I just started getting into it and I completely forgot about the stress and just had lots of fun."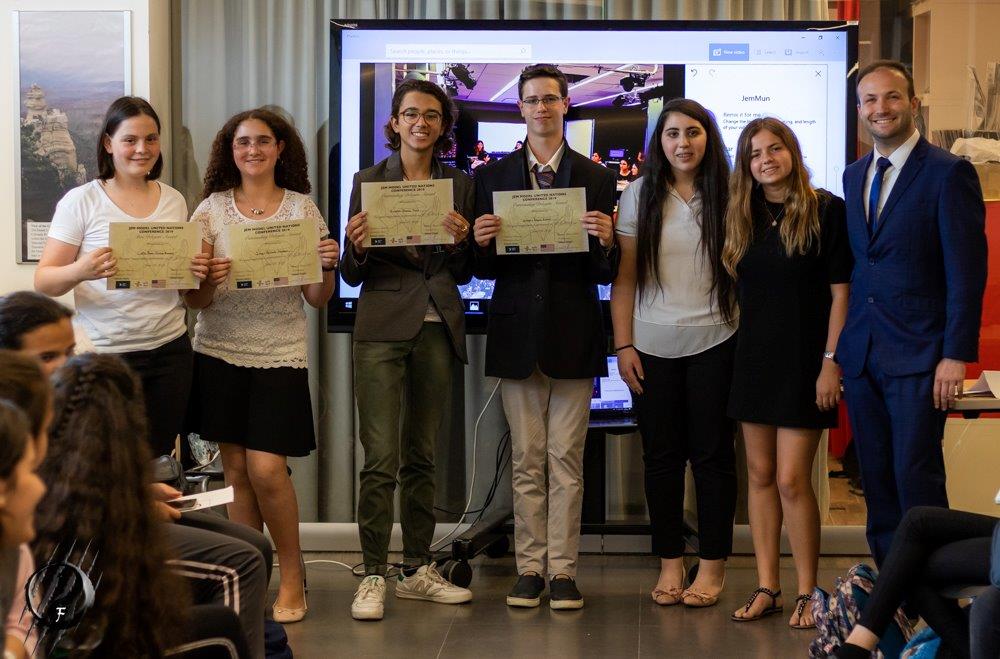 For many students, this was not just their first MUN experience, but also their first time competing with a Jewish or Arab peer, or engaging in a full day conference held in English. Nadav Qvit (Assif Misgav Upper School) said that "the Jerusalem MUN was amazing. I had so much fun talking and negotiating with the other delegates. It was really fun and interesting to speak in English the whole day. It was an amazing experience and I am definitely going to do more of these." Lior Sattarov (Young Ambassadors school) shared that "It is not always possible to reach a compromise, but it is always possible to understand and to continue living in spite of the differences, in order for us to live in harmony and peace."
Through several hours of debate, the students came up with a number of creative ideas. After continuing to negotiate, they eventually voted on these ideas. While only some solutions survived to the final resolution, all provided inspiration that youth can solve difficult challenges: from using education to close gender and socio-economic gaps, to combating illegal animal trafficking.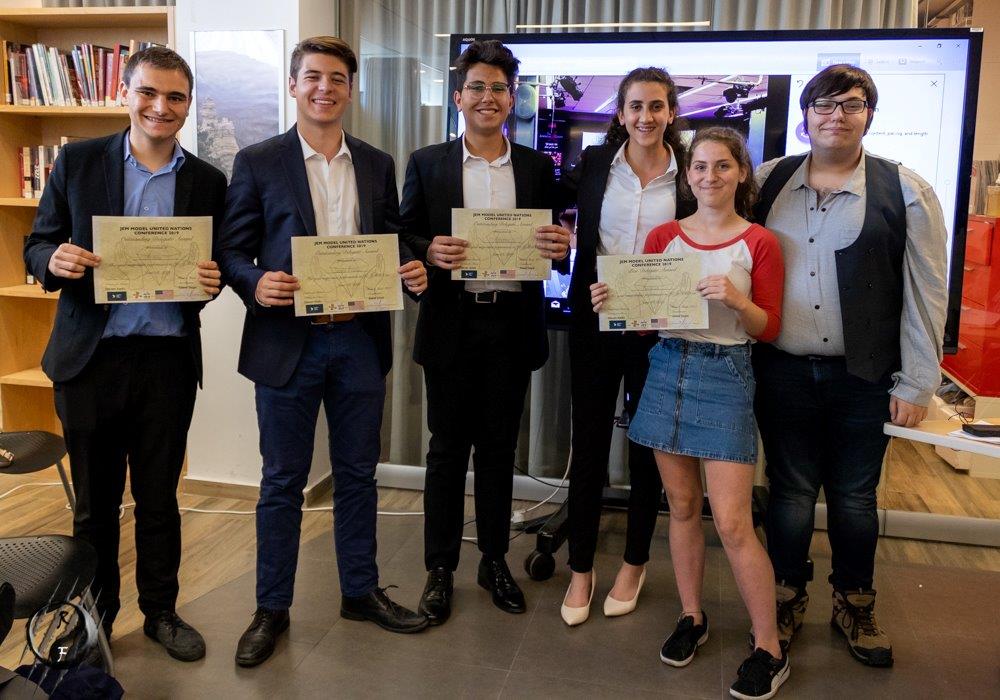 At the closing ceremony, the director of the American Center Jerusalem, Lisa Wishman, welcomed the students and told them how impressed she was by their drive to succeed through educational experiences. She invited the students to return to the center to take advantage of more learning enrichment opportunities.
The chairs of each committee were then called up to summarize their committees and read out awards for top performances. In the UNESCO committee, Romeo Zaid (Ecuador), Melilah Sinclair (Iraq), and Segev Fistel (Kenya) received Outstanding Delegate awards, while Rivka Bronner (Costa Rica) received the Best Delegate award. In the UNGA English, Alon Mor (France), Issam Shihabi (Guatemala), and Michael Backlund (Saudi Arabia) were Outstanding Delegates, while Ariel Talmor (Belgium) was the Best Delegate. In the UNGA Hebrew committee, Maya Gerbi (Czech Republic), Yuval Barak (Japan), Eviatar Sayada (Kenya), and Rotem Getraide (USA) received Outstanding Delegate awards, while Lior Brill (China) was the Best Delegate.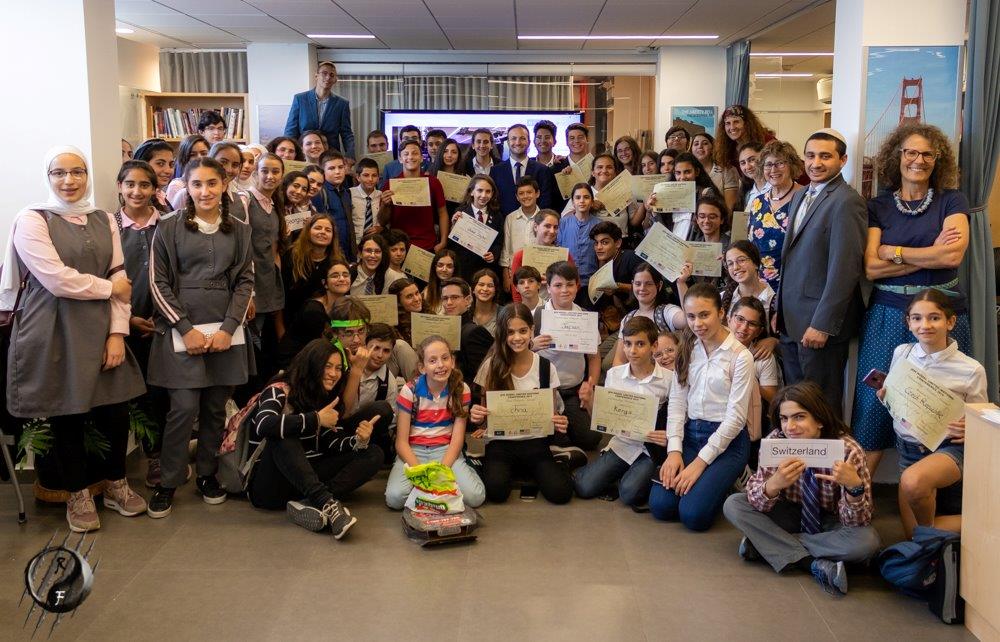 JEMMUN Director Elene Segal said "I was very worried about organizing our first MUN conference. However, thanks to my remarkable steering committee, Steven and Daniel, the conference was an enormous success. JemMun will become a tradition!" Nave Teller (Assif Misgav Upper School) added "I liked speaking in English all day. I also think that MUN is a great experience. For teens who think that they may want to become diplomats or work at the Embassy in the future, they need to attend a MUN conference!"
Diplomacy.co.il congratulates all of the participants and wishes them success in the upcoming MUN conferences. For more information visit Debateforpeace.org
Photos Hand in Hand school