The annual culinary event Round Tables by American Express, in cooperation with the Embassy of Spain in Israel, sponsored a cooking demonstration by two of Spain's leading chefs in Tel Aviv last week.
Chefs Rafael Centeno Moyer of Galicia and Javier Goya Carramolino of Madrid demonstrated the preparation of tapas to an audience gathered at the Dan Gourmet Fine Culinary Arts Cooking Center, in the presence of Spain's Ambassador to Israel Fernando Carderera.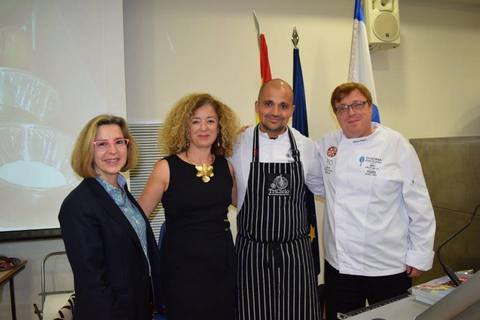 At a tapas reception held prior to the workshop, Ambassador Carderera welcomed participants to the event held under the heading "Spread the Culture." Spanish tourism attaché for Italy and Israel Carlos Hernandez Garcia explained that this initiative was in celebration of 30 years of friendship and diplomatic relations between Spain and Israel.
Guests were also greeted by Mercedes Sanchez, Madrid Tourism Market Manager for North America, France, Italy and Israel, and Maria del Carmen Pita Urgoiti, Promotional Director for the region of Galicia.
Chef Centeno, of the Michelin-starred restaurant Maruja Limón in Vigo, and Chef Goya of Triciclo, named among the top 10 tapas bars in Madrid, each prepared two tapas from their restaurants' menus.
Following the demonstration, which was facilitated by Israeli Chef Victor Gloger of Chloelys in Ramat Gan, guests were able to taste these tapas, accompanied by excellent kosher wine from Spain.
In the framework of Round Tables by American Express 2016 in Tel Aviv, Chef Centeno will be working in the kitchen of the kosher restaurant Liliyot, while Chef Goya will collaborate with Chef Gloger in Chloelys.
Round Tables in Israel is produced by restaurateur Yair Bekier, in association with the Karvat and Weiss Communications Agency.
Photo Silvia Golan