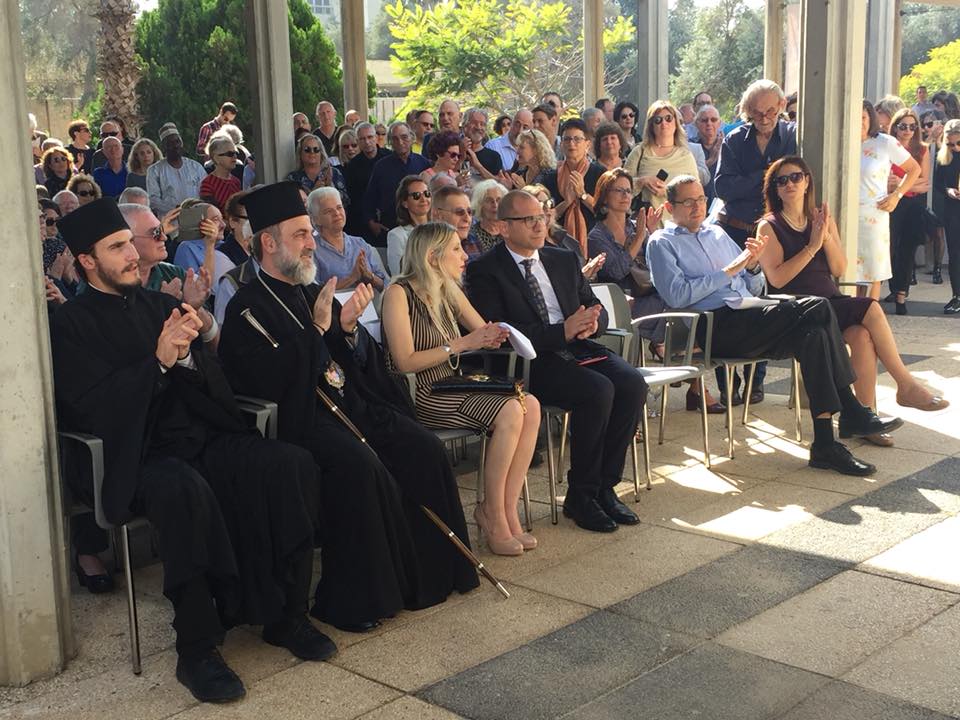 On Friday November 17th, the Musa Eretz Israel Museum, together with the Embassy of the Republic of Cyprus in Israel, held a joint event to mark the opening of a new exhibition at the museum. The exhibition, titled "Cyprus, the Art of Life," featured works of art and other notable artifacts collected during 1946-1949 by Jews fleeing from Europe who had been detained in Cyprus by British authorities.
The formal exhibition opening included remarks by the curator, Sigal Harari-Zonder. Harari-Zonder discussed the research that had gone into the project, and thanked the different people and organizations who had helped see it through to completion.
The Ambassador of Cyprus to Israel, H.E. Mrs. Thessalia Salina Shambos reiterated the thanks, and highlighted the importance of this link as part of the broader Cyprus--Israel friendship.
Mr. Ron Huldai, the mayor of Tel Aviv-Jaffa, congratulated the backers of the project, and expressed his own appreciation for its unique blending of art, history, and Jewish heritage.
"The Art of Life" exhibition preserves art created by the more than 50,000 Jews who were detained by British authorities in Cyprus after World War II, between 1946-1949, as well as artifacts they used to survive this difficult period. Exhibition pieces include printings and drawings, textile, and other decorative handmade objects, along with newspaper clippings, photographs, and interviews. Together, the exhibition shows the human ability to survive in tough times, and the daily life of a group of refugees on their way to Israel, hence the title "The Art of Life."
Some of the artwork was actually displayed in Tel Aviv before, 70 years ago, when an exhibition was held in Cyprus and then Tel Aviv in late 1947-early 1948. However they were then archived for more than six decades, before being retrieved for an exhibition in Cyprus in 2014, and now once again to be shown to the public in Tel Aviv.
Among the many illustrious guests at the event were Mr. Adamos Varnava and Mrs. Lina Papavassiliou-Varnava, Honorary Consuls of Israel to Cyprus; Advocate Zvi Hauser, Chairman of the board of the Musa Eretz Israel Museum; Mr. Ilan Cohen, Director General of the Museum, and Israeli ambassador Yitzhak Eldan, head of the Israeli Young Ambassadors school.
https://debateforpeace.wordpress.com/about/
Photos provided by Cyprus Embassy