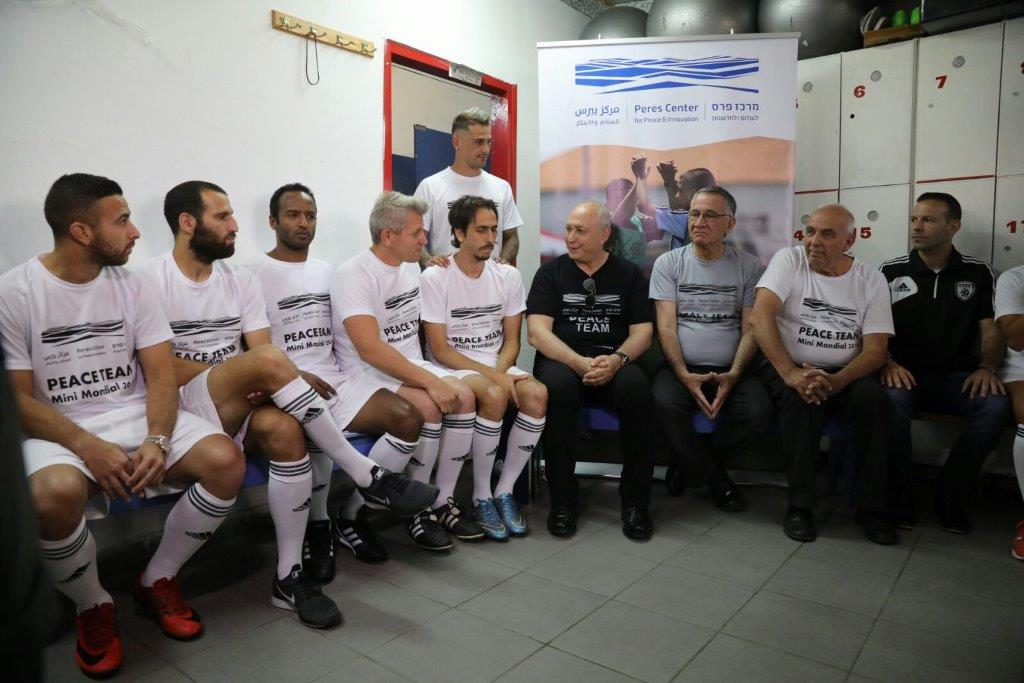 Mini Mondial for Peace – 2018
Ambassadors and Diplomats from around the world, Israeli Premier League Players, Mayors and Heads of Local Councils from across Israel, and 800 Arab and Jewish, Israeli and Palestinian girls and boys participated in the Peres Center for Peace and Innovation's 2018 Mini Mondial for Peace tournament
"Sport knows no boundaries and sees no culture or religion. Sport is an international language that unites us all"- President Shimon Peres
Herzliya, Israel – The Peres Center for Peace and Innovation kicked off the 15th annual Mini Mondial for Peace – bringing together 800 Arab and Jewish, Israeli and Palestinian girls and boys from communities across Israel and the West Bank through soccer. This event promoted shared-living and acceptance of the "other."
Ambassadors and diplomats from around the world, Israeli premier league players, and Mayors and heads of local councils joined with the players in the opening ceremony - held at the Herzliya Municipal Stadium.
To kick off the event, two exhibition games were held between the children and the Ambassadors and Mayors Peace Team and the Israeli Premier League Peace Team. Dia Saba, star of Maccabi Netanya and the league's top scorer, and Lee Falkon, Player of the Year, were presented with the "Sport Ambassador for Peace" award for their contributions to advancing understanding, peace and co-existence through sports in Israel.
Special guests included: Chairman of the Board of Directors of the Peres Center, Chemi Peres; CEO of Maccabi Tel Aviv, Ben Mansford; Mayor Moshe Fadlon of Herzliya; Mayor of Sakhnin Municipality and Head of the Arab Mayor's Forum, Mazen Ghanaim; and the children's TV star, Tal Mussari, who served as the event MC and game announcer.
The Ambassadors and Diplomats included:
Mission Director Monica Stein-Olson, USAID

Counsel Rogerio Mario, Angola

Secretary Andres Rojas, Argentina

Ambassador Chris Cannan, Australia

Counsellor David Millward, Canada

Deputy Ambassador Signe Biering Nielsen, Denmark

Ambassador Anu Saarela, Finland

First Secretary Gauthier Appriou, France

Ambassador Alison Kelly, Ireland

Ambassador Gianluigi Benedetti, Italy

Charge d' Affaires Jon Chessoni, Kenya

Ambassador Doulat Kuanyshev, Kazakhstan

Ambassador Edminas Bagdonas, Lithuania

Ambassador Magnus Hellgren, Sweden

Representatives from the Embassy of the United Kingdom in Israel
Chemi Peres said: "Today, with the security tensions, you are proving to everyone that there is hope for coexistence, tolerance, and partnership - for the children and the next generation, who are our future."
Photo Credit: Avi Doek
Who We Are
The Peres Center for Peace and Innovation was founded in 1996 by the Ninth President of Israel and Nobel Peace Prize laureate, Shimon Peres. Our mission is to advance his vision for a prosperous Israel within a peaceful Middle East.

The Peres Center is a leading non-profit and non-government organization focused on developing and implementing unique and cutting-edge programs. We work to build a stronger and more peaceful society in Israel and the region. We serve hundreds of thousands of participants of all ages, religions, genders and cultural backgrounds. Our focus includes advancing economic opportunity and inclusivity, delivering lifesaving medical treatment and community healthcare, and teaching youth leadership and peace education.
Our Approach: Sports in the Service of Peace


President Shimon Peres saw the impact of conflict on youth in the region and the susceptibility to develop negative perceptions of "the other". He witnessed the power that sport has to unite youth from diverse cultures and backgrounds, and to instill the values of teamwork and common goals through shared struggles and victories.
The award-winning Twinned Peace Sports Schools ("TPSS") program was thus founded in 2002, and is now the longest running peace education through sports program in the Middle East.
This program brings together hundreds of children every year from different communities across Israel and the West Bank. Through TPSS the children participate in bi-weekly trainings focused on improving soccer skills and peace education. They join soccer trainings and cultural activities with new friends from "the other side." Participants also learn basic words in their counterparts' language to communicate during joint activities.
The capstone event of the year is the "Mini Mondial", where all program participants come together for a day of peace building and a soccer tournament.
Our Impact


Founded in 2002, the Twinned Peace Sports Schools is the longest running peace education through sport program in the Middle East and has engaged over 20,000 boys and girls; Israeli and Palestinian, Jewish and Arab.
The program was developed with the goal of bringing youth together to mitigate fears, break down emotional barriers, and provide new generations with the necessary tools to become constructive and influential leaders within their communities and the region.
In 2017
-74% of program participants agreed they have a better understanding of the other.
-86% of girls participating in the program reported feeling more self-confident and enhanced feelings of empowerment as females who play soccer.
International Awards and Recognition
Beyond Sport - Leadership in Sport Award, 2016
Beyond Sport - Shortlisted, Best Project for Peace and Reconciliation, 2015
German Football Ambassador Award, 2015
Peace and Sport, Monaco - Best NGO, 2011
Streetfootballworld Network Board Member, 2005-2010
Wingate Award - Best NGO in the Field of Peace and Sport, 2010
The Global Sports Forum Barcelona - Best Project, 2010
Beyond Sport - Shortlisted, Best Project for Peace and Reconciliation, 2009
Strategic Partners
We are deeply grateful for our partners USAID, Denmark, Finland, Australia, as well as Adidas, FIFA, Laureus Sport for Good Foundation, streetfootballworld, and Beyond Sport.