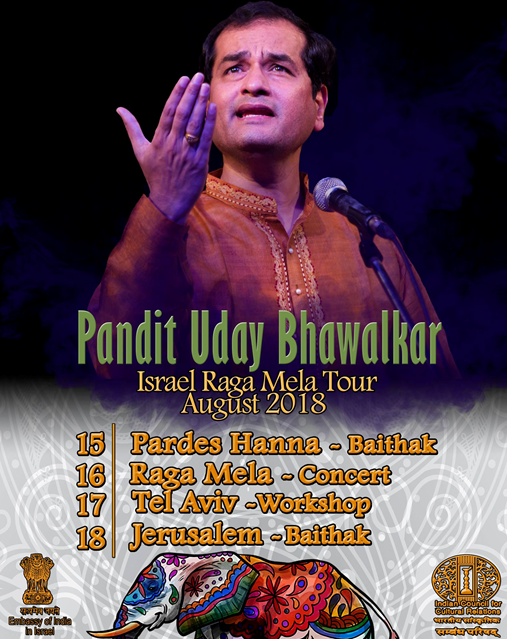 Visit of leading Indian singer in Israel on August 16 for the Raga Mela festival. White NIght of Indian classical music. With Israeli and Indian musicians
The Embassy of India in Israel with the cooperation of the organizers of the 6th Raga Mela Festival announce the upcoming performances of Pandit Uday Bhawalkar In Israel between 15-18.8.2018
This is considered as a historic visit of the torch bearer of classical Indian singing and his group Pandit Uday Bhawalkar in Israel.
Pandit Uday Bhawalkar glitters as a star in the world of Indian classical music. From an early age he studied with the great masters of the Drupad tradition, brothers Zia Mohiuddin and Zia Fariduddin Dagar. He quickly exhibited his talent and devotion and his star began to set foot in India and beyond.
He has appeared in the prestigious festivals of Indian classical music throughout the subcontinent and abroad including Sawai Gandharva Bhimsen Joshi Mahotsav, and Tansen Sangeet Samaroh. He has performed throughout Europe, the US and Canada and has worked with artists from other traditions, including contemporary dancer Astad Deboo, the modern ensemble of Germany, and others.
Uday ji's fascinating style and ability to reach out and communicate with audiences from all backgrounds helped him carve a niche for himself as one of the leading forces in spreading Drupad in the world.
His commitment to teaching, in India, and beyond had earned him a devoted and enthusiastic audience of students committed to pursuing Drupad. He has taught in many institutions in the world such as the Conservatory of Music of Rotterdam, University of Washington, Seattle. The Asian Music Circle in London, and the music company of Drupad, UK.
Uday arrives in Israel with two of his senior students who will accompany him on Tanpura and singing and with Pratap Awad, the gifted Pakhawaj player.
This visit was made possible through the support and cooperation of the Embassy of India and the ICCR - Indian Cultural Relations Association.
Planned events:
15.8 Performance at the Unicorn Club in Pardes Hanna. Audience Entrance 20:00 Start of performance 20:30
16.8 The main show at the Raga Mela Festival in Kfar Shmuel. Performances begin at 20:00 until morning.
17.8 Workshop and performance at the Neve Shechter synagogue in Tel Aviv at 10:30
18.8 An intimate performance at Makom la Ruach in Ein Kerem, Jerusalem. Doors open 20:30 Start of performance 21:00
Links to live performances:
https://youtu.be/jG21qUpkfUI
https://youtu.be/9afcN_YXUJ4
https://youtu.be/OVIEhhQHGtg
I will be on leave until August 16.
Photos Embassy of India