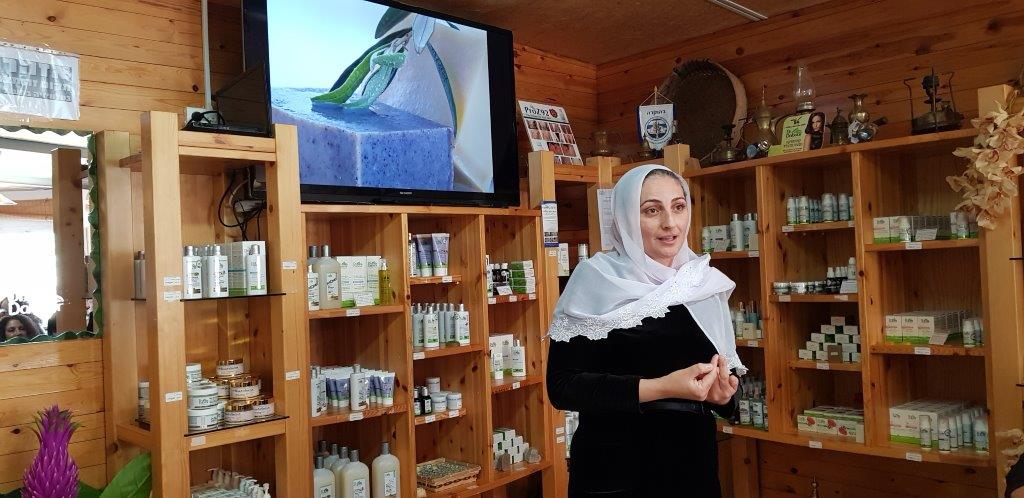 The 24th Olive Festival in the Galilee
I am happy to share with you some impressions from a preview trip to some of the Galilean Druze villages that will participate in the 24th Olive Festival that will be taking place over two weekends this November.
Festival Dates:
1-3 Nov 2018 between 10:00-16:00
8-11 Nov 2018 between 10:00-16:00
Trip Agenda Options
Druze Village Beit Jann
Dabour Cosmetics Visitors Center
The Ancient House
Ajiel Cave
Druze Village Hurfeish
Olive Oil Visitor Center Abu Afif
Embroidery Lace Hurfeish
Lunch at Ibtisam Faras
Trip Anchors
The Ancient House in Beit Jann
This authentic ancient house is presented by its 10th generation owner, Nidal Halabi. After a tour of the arched house and the inner water cistern, Nidal tells about the Druze culture and customs in the large guest room or Diwan where cakes and coffee are offered. Nidal also offers guided tours of the village including his ancient house that take up to 3 hours.
Contact: Nidal 050-756-0249
Late Lunch at Ibtisam Faras in Hurfeish
Enjoy a personal experience of Druze hospitality. Ibtisam invites you to partake of her family recipes of the delicious Druze cuisine in her lovely courtyard. I recommend it wholeheartedly.
Reservations at: 077-2308292
Additional Options
Dr. Dabour Cosmetics Visitors Center in Beit Jann
Dr. Ziad Dabour, the founder, was born and raised in the village of Beit Jann, situated at the heart of the Meron Nature Reserve where he grew up hearing about the traditional methods for using local plants. Years later he studied pharmacology and medicinal herbs until receiving a doctorate degree in medical science from the Technion. After serving as the chief pharmacist in the IDF for several years, he currently lectures on clinical pharmacology and organic chemistry on top of furthering the development of the dermo-cosmetic industry in the Galilee.
The products developed at his laboratories focus on medical skin products, facial care, anti-aging, hair-care, and toiletry. All are based on natural herbal ingredients that are extracted and formulated using advanced biotech formulation methods. At the visitors center, you will be able to hear more about his products and purchase them.
Address: Dabour P.O. 1042 Beit Jann
Contact:
Phone 04-9803711
email: This email address is being protected from spambots. You need JavaScript enabled to view it.
Website: https://drdabour.com/
Ajiel Cave
Ajiel cave also known as the Crusader or Byzantine cave is a three hundred square meter cave that served as a source of water and hiding place for the villagers. It was also used for prayer in a secret church of the first Christians in the Galilee.
You can reserve a guided tour at 04-9802457 or 050-9802457.
Olive Oil Visitors Center Abu Afif
The Olive Oil Visitor Center Abu Afif invites you to meet with a Druze family and learn about the production of traditional olive oil that has been passed on through the Afif family from father to son.
The tour includes a lecture regarding the olive harvest season and oil production, an explanation about the different types of seed oils and essential oils and their quality and even a bit about soap production. You will be able to try out the press and experience oil tasting and even register for one of the additional workshops offered such as preparation of natural olive oil soap, preparation of a tray of the oriental sweet called Kanafeh and a workshop for preparing authentic Druze dishes. At the visitors center's you can also enjoy a light Druze meal based on baked goods from the Taboon with Labane cheese, olives, and honey and purchase a wide variety of Galilean products from the region.
Contact: 050-654-7638
Embroidery Lace Hurfeish
The embroidery lace house at Hurfeish is an employment initiative for women living in the heart of the Druze community. Once a week, the women of the village gather in a large stone house, learn knitting and embroidery, and create decorative and fashion items in a traditional style.
A visit to the site includes an explanation of the project, the status of Druze women in the past and present, and a short tour of the village nucleus. In the tradition of Druze hospitality, guests will be greeted with coffee and cake. The visit should be scheduled in advance. For those interested, there is a possibility for registering for a knitting or embroidery workshop.
Address: Road 89, Hurfeish
Contact: 077-9964487
Food
The main meal at Ibtisam in Hurfeish was described above.
In the morning we enjoyed a light meal made by a local catering called Sajtag. You are welcome to contact the owner Tagrid and arrange for your own private meal.
Contact: 04-9803496
My Timeline
This trip filled up a day.
More information on the festival events can be found at the following website:
Olive Festival Hebrew Website: http://olivefestival.org.il/
Festival Dates:
1-3 Nov 2018 between 10:00-16:00
8-11 Nov 2018 between 10:00-16:00
I hope you enjoy!
https://www.israel-best-trips.com/single-post/2018/10/22/The-Galilee-A-Taste-of-the-24th-Olive-Festival
Photos Silvia Golan