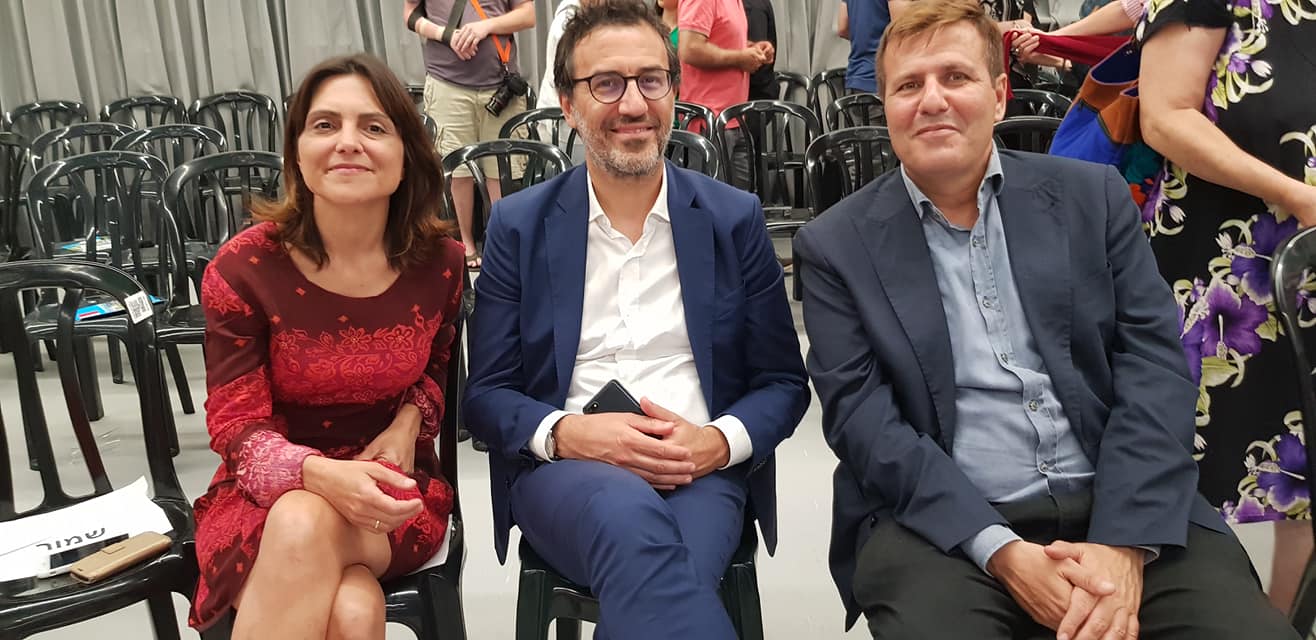 The Italian Institute for Culture in Tel Aviv gladly accepted an invitation by Bikurei Ha'itim Community Centre in Tel Aviv, for an evening of Italian Culture. Bikurei Ha'itim Municipal Centre is a professional studio for performing arts.
Fabio Ruggirello, the director of the Italian Institute of Culture, the guest of honor, accompanied by his lovely secretaries, Barbara and Miriam, greeted a local crowd of about a hundred people who gathered to experience the wonders of Italy. The Institute gave out copies of a beautiful booklet in Hebrew describing the cultural, historic and culinary treasures of Italy. The Italian Institute for Culture (Instituto Italiano de Cultura) is attached to the Italian Embassy in Tel Aviv with a branch in Haifa. The Institute offers Italian language courses and various cultural events.
Within the framework of the Eurovision Song Contest currently taking place in Tel Aviv, several Tel Aviv community centers "adopted" European delegations, and invited them to visit the centers. Bikurei Ha'itim is proud to host the Italian delegation to Eurovision.
The program included song, drama, dance, all performed by the students of Bikurei Ha'itim, and food provided by Pasta Mia restaurant. Three dance ensembles from Bikurei Ha'itim performed a Tarantella dance, a contemporary dance to Monteverdi's music (what an ingenious juxtaposition!), as well as a children's Hip-hop style dance choreographed, to the Italian song entry to be performed next Saturday's Eurovision final stage by Italian singer Bilal Hassani. Orr, an a ten years old boy, played a piano version of a Tarantella song and Vivaldi's "Spring". Mr. Alberto Levy sang a Hebrew version of the Neapolitan song Maruzzella, Mr. Gletzki acted out a humorous monologue of Geppetto complaining about his rogue son Pinocchio, and finally a trio dressed in red-white-green performed a Hebrew song.
Pasta Mia restaurant provided to each guest a glass of refreshing prosecco and a slice of tasty focaccia at the door, and then a taste of fine pasta in a rich tasting sauce at the end of the evening. Chef Ilan Moses was represented by Tsadok who told the audience the history of pasta, the traditions associated with pasta, and its serving style. Charming Mr. Riccardo Hoffman, the restaurant's promoter, was there to assure that we can all enjoy the food.
Websites:
Photos by Riccardo Hofmann and David Goland