Brazil Celebration of National Day Combined With Jewish New Year

The Country of Brazil celebrated its national day on September 7th. The Embassy of Brazil in Israel marked the occasion with an event in the Ambassador's residence in Herzeliya Pituah.

The event combined the Jewish new year in the celebration.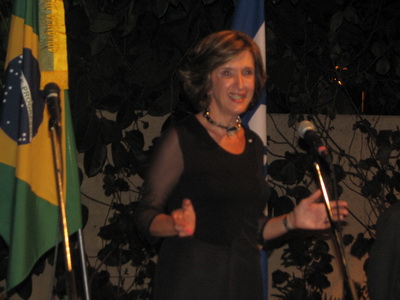 Ambassador Ms. Maria Elisa Berenguer welcomed the guests accompanied by consuls, military and economic attaches, and other respectable representatives.

A Brazilian band played lovely typical music from brazil to the enjoyment of the present who were delighted of the tasty food and beverages straight from the homeland.
Another pearl of the event was the beautiful design of the fruits in the cocktail table.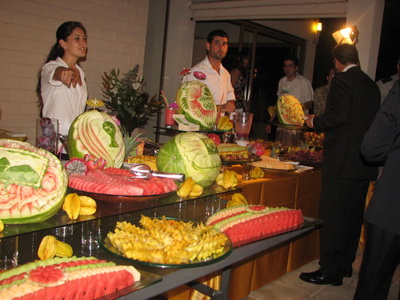 Ambassador Berenguer was the first speaker of the evening. She thanked all the guests in English and Hebrew for coming, and welcomed them to her home.
Ambassador Berenguer started by saying that she is very excited to serve in the holy land and looking forward to working in Israel.

Ms. Berenguer spoke of the Brazilian history and the Jewish history. Ambassador Berenguer mentioned that Israel and Brazil hold a great deal of economic relations and cooperation.
The Ambassador expressed her appreciation for the ability of Israel to succeed despite the challenges of size and security. Ms. Berenguer wished that this success will continue and grow.

Ambassador Berenguer ended her speech with a happy new Jewish year wish to everyone ("Shana Tova") and welcomed Mr. Binyamin Ben Eliezer, Israel's minister of industry and trade.
Mr. Ben Eliezer thanked Ambassador Berenguer for her hospitality and wished her a productive and enjoyable stay in Israel, Mr. Ben Eliezer added that he is sure that Ambassador Berenguer will quickly feel here at home.
Mr. Ben Eliezer spoke of Brazil as an economic superpower that keeps growing with time, he said that Israel should be proud of the vast economic cooperation between the countries.

After the speeches both of the anthems were played and afterwards the guests were free to mingle as the Ambassador Ms. Berenguer took pictures with the guests who wished.
Photos Silvia Golan