Germany celebrated its 20th anniversary to the unification of east and west to one Federal Republic.
The German Embassy hosted many of the German community in Israel, Ambassadors, Diplomats, business man and others to a party at the residence of the German Ambassador to Israel, Dr. Harald Kindermann.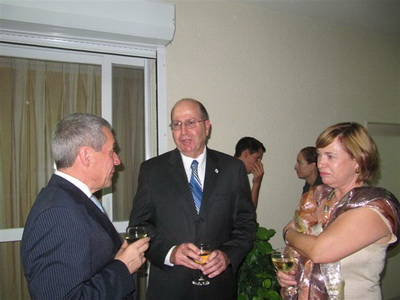 Ambassador Dr. Kindermann welcomed the crowd to the celebration to mark 20 years to a united Germany.
Dr. Kindermann spoke about the relationship between Israel and Germany and called them excellent and fruitful. He mentioned the great improvement of the friendship of the two countries and wished a continuation of that road.
Ambassador Dr. Kindermann couldn't help of mentioning the dark era of the German and Jewish people and said that the Nazis almost annihilated all Jewish life in Germany and the ones who could, for obvious reasons, left Germany.
But now, the Jewish Community in Germany is flourishing while keeping its own identity as the pressure for assimilation no longer exists.

After the Ambassador's speech, the representative of the Israeli Government, the vice prime minister and minister of strategic affairs, Mr. Moshe Ya'alon, took the stage.
Mr. Ya'alon thanked Ambassador Dr. Kindermann for his hospitality. He spoke about the special connection between the state of Israel and the Federal Republic of Germany. He said that he remember the falling of the Berlin wall, 20 years ago, a brief moment in the clock of history but the changes happened in Germany and Europe were vast.
Mr. Ya'alon mentioned that Germany stand alongside Israel and is concerned about Israel's security challenges, specially the Nuclearization of Iran.
Mr. Ya'alon said that he hopes that the friendship between both states will continue to develop and grow.
The special guest of the occasion was Mr. Wilhelm Hass, who was the Ambassador of Germany to Israel in the years 1985-1990.
Mr. Haas shared with the present memories from the time of the early 1990's and the long way that the relationship between Israel and Germany had came.
Mr. Haas ended his speech with a few sentences in Hebrew and wished the crowd all the best.
Photos Silvia Golan