On Wednesday evening, June 7th, the Embassy of Slovenia in Tel Aviv celebrated 26 years of independence, and 25 years of bilateral relations with Israel. The commemoration was held at the Peres Center for Peace and Innovation in Jaffa. The event was timed to coincide with visits by both the Minister of Education, Science and Sport Dr. Maja Makovec Brencic, and a high-level parliamentary delegation led by National Assembly President Dr. Milan Brglez.
Ambassador Barbara Susnik opened the evening festivities by noting how far Israeli-Slovenian diplomatic relations have developed over the past quarter-century. Citing the recent publication of Slovenian poetry in Hebrew, recent agreements for an Israeli-Slovenia day of science, and visits to Yad Vashem as just a few examples, Ambassador Susnik mentioned culture, trade, science and education as areas of cooperation between the two countries. She also noted the presence of Dr. Brglez, the first president of the National Assembly to visit Israel, along with the chairs of the Israel-Slovenia friendship committee and the EU committee, as evidence of a growing political relationship between the nations.
Ambassador Susnik called attention to the forum, the Peres Center for Peace and Innovation, as the ideal venue for the mutual interests in pursuing cooperation, peace and innovation as a blueprint for improving the well-being and security of citizens. She then thanked Slovenia's two honorary consuls in Israel, Mr. Adi Rosenfeld and Mr. Eival Gilady, and home appliance manufacturer Gorenje, sponsors of the festivities.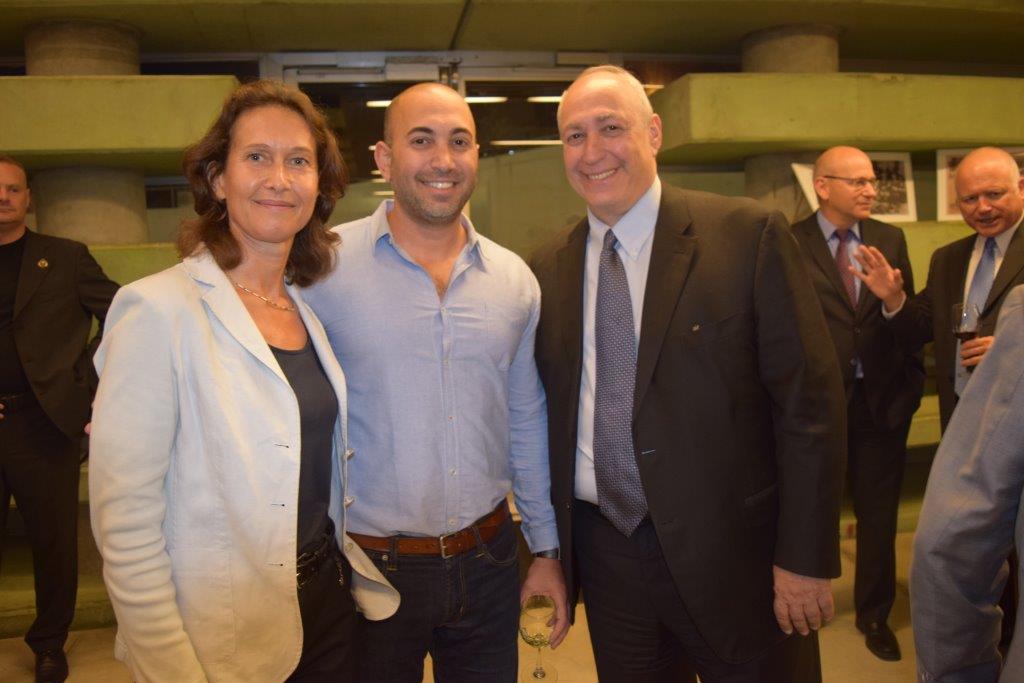 Dr. Milan Brglez, in his remarks, focused on the importance of peace, and the symbolism of holding the celebration at a center named for Nobel peace laureate and longtime Israeli statesman Shimon Peres. Dr. Brglez explained that Slovenia's independence, achieved in 1991 after a thankfully brief war, led to its commitment to peace, which in turn was a path to economic prosperity and growth. After listing some positive aspects of globalization, Dr. Brglez warned of a rise in xenophobia and racism, and the need to combat it via messages of tolerance and dialogue. In closing, Dr. Brglez invoked the words of Shimon Peres, that "war is not a choice, but a consequence of not having a choice," and that "an opportunity for peace should never be wasted."
Israeli Minister of Justice Ayelet Shaked offered congratulations on behalf of the Israeli government. She discussed the Slovenian parliamentary delegation, who visited the Knesset, meeting with Speaker of the Knesset Yuli Edelstein, and later visited Yad Vashem and had a meeting with President of Israel Reuven Rivlin. Minister Shaked highlighted the similarities between Israel and Slovenia as relatively small countries with modest natural resources which have thrived by harnessing their human capital. She also mentioned the rise in Israeli tourism to Slovenia, and expressed her hope that in the future she would get to be one such tourist and experience the beauty of Slovenia for herself.
Following the speeches, Ambassador Susnik led the room in a toast to the success and prosperity of both nations.
Happy Slovenia National Day from www diplomacy co il Staff !!!!!
Steven Aiello, founder of the Debate for Peace MUN program (debateforpeace.wordpress.com)
Photo Silvia G Golan