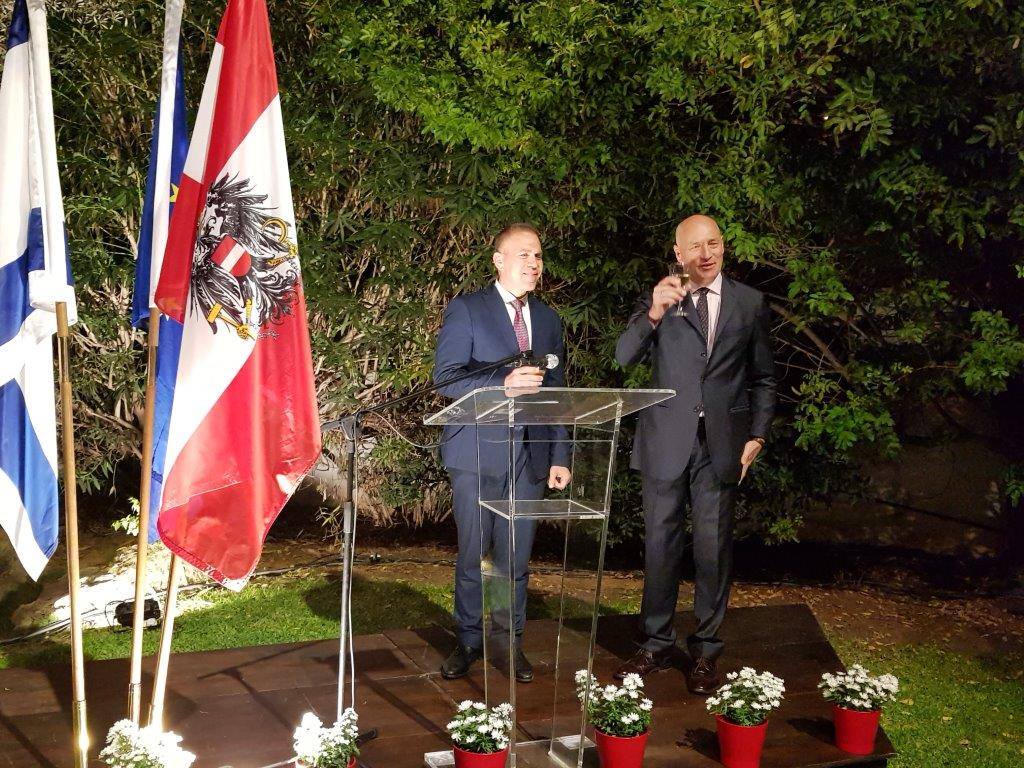 On Thursday evening the Embassy of Austria in Tel Aviv hosted its annual celebration at the home of Ambassador H.E. Mr. Martin Weiss and his wife Susi in Herzliya. Guests enjoyed live music, Austrian delicacies, and a friendly ambience all evening.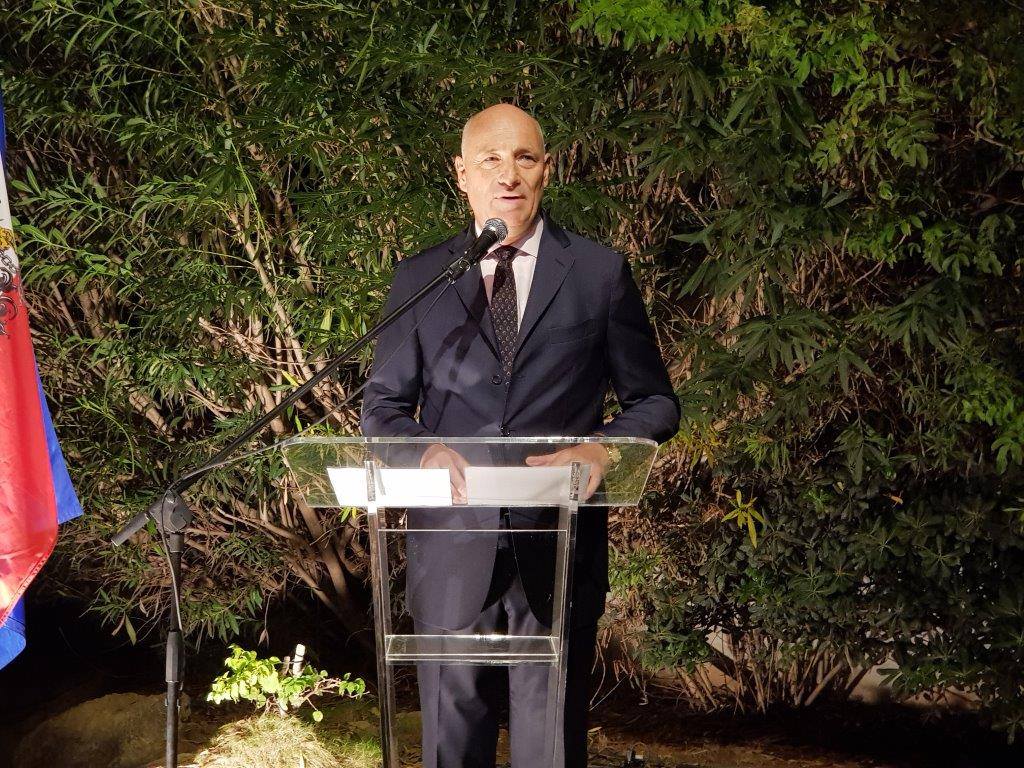 The evening opened on a somber note, with Ambassador Weiss calling for a moment of silence to honor honorary consul Pinchas Zeltzer, who recently passed away. Tackling another difficult topic, the ambassador mentioned the "elephant in the room" -- recent elections in Austria, which included relative electoral gains by far-right parties. Ambassador Weiss assured his guests that regardless of who the next government coalition would consist of, Austria would remain both pro-European and dedicated to protecting individual rights and fighting anti-Semitism and other forms of bigotry.
Gilad Erdan, the Minister of Public Strategy, Strategic Affairs, and Information, spoke on behalf of the Israeli government. Minister Erdan commented on the strengthening of Austria-Israel relations, as evidenced by many recent high-level diplomatic visits: Austrian chancellor Kern, then Foreign Minister Kurz, and Defense Minister Doskozil among others.
Minister Erdan discussed the need for democracies to cooperate in facing contemporary challenges, and mentioned a pending agreement between Austria and Israel in this regard. He also lauded Austria's efforts to remember and learn from the Holocaust via education and cultural initiatives, as well as its strong stance in combating all forms of anti-Semitism and bigotry. Sticking to the theme of education, the minister highlighted successful partnerships over the last year to enable and encourage Austrian and Israeli student exchanges.
In closing, Minister Erdan thanked Ambassador Weiss for the work that he and his staff do to bring the two nations together, and offered congratulations from the government of Israel to the government of Austria on the occasion of its national day.
A live band in the mezzanine section of the ambassador's residence then played both the Austrian and Israeli national anthems, and a toast was raised to bilateral relations and the success of both nations. Although the formal portion of the evening ended, guests remained to enjoy the live music and dinner, including Austrian beers and sausages.
Among the many prestigious guests in attendance were former Israeli ambassador to the US Professor Itamar Rabinovich and his wife Efrat; Yechezkal Daskal, the head of the Israel-Austria Chamber of Commerce; Mr. Andrea Nasi from the European Union Delegation to the West Bank and Gaza; Mr. Andreas Obereder from the Austrian company Frequentis, who was in Israel to oversee a joint project; Dov Randel, International Coordinator for the Israel Government Employee Association for Social Awareness, and Ariel Yacobi, Chairman of the Israel Union of Government Employees.
Happy Austrian National Day from www.diplomacy.co.il Staff !!!!!
Steven Aiello
Founder--DebateforPeace