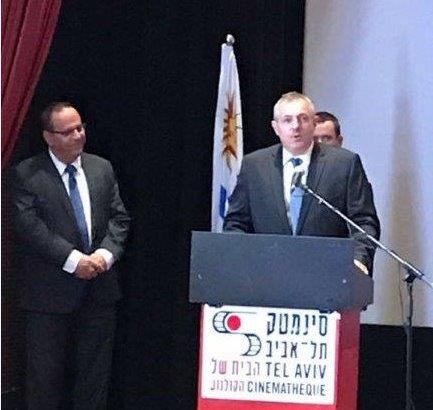 The embassy of Uruguay in Israel held a reception and private movie screening in Tel Aviv on August 28, marking the 193rd anniversary of the country's declaration of independence.
The event, hosted by Ambassador H.E. Bernardo Greiver del Hoyo and his wife Mrs. Karen Burcatovsky was attended by members of the diplomatic community and citizens of Uruguay,
as well as of many other Latin American countries, currently residing in Israel


Representing the state of Israel on the occasion was Minister of Communications Ayoub Kara.
The formal program of the evening began with the playing of the national anthems of Uruguay and Israel, followed by the reading of a message from Uruguay 's Minister of
Foreign affairs Mr. Rodolfo Nin Novoa, by Uruguayan Consul in Israel Giancarlo Ghibaudi.

In this opening remarks to the gathering, Ambassador Greiver welcomed Minister Kara and thanked the Tel Aviv Cinematheque for hosting the evening's event, noting that Uruguay likes to celebrate its independence through the arts.
Ambassador Greiver also observed that Uruguay and Israel have enjoyed 70 years of warm diplomatic relations and extended greetings to Mrs. Sapir Efron, the new consul of Israel in Uruguay.
In his message of greetings, Minister Kara noted that Uruguay has been a friend of the Jewish people since before the founding of the state of Israel, by aiding in the rescue of refugees from Nazi Germany. He also saluted Ambassador Greiver for returning to this country to serve a second term as Uruguay's envoy to Israel.
The evening, which had begun with a buffet reception, concluded with the screening of the award-winning Uruguayan movie Mr. Kaplan, a film by Alvaro Brechner.
The entire team at www.diplomacy.co.il wishes the ambassador and people of Uruguay a happy independence day.
Photos provided by the Embassy of Uruguay