His Excellency, Ambassador Gianluigi Benedetti, and his gracious wife Mrs. Sabina D'Antonio Benedetti hosted a sparkling dinner at the official residence in Ramat Gan last week, a special event to honor the Accademia Italiana Della Cucina – the Italian culinary association. Members of the Accademia gather from time to time, most often in authentic Italian restaurants, to celebrate Italian cuisine. The Academy was established in Milan in 1953 and is now a world-wide institution (with a Tel Aviv chapter as well). The association aims to preserve Italian gastronomic tradition and to promote and improve it in Italy and abroad, through various initiatives, reports, and information. It includes a study center, publishing activities, tastings, and more.
First, a word about the official Italian residence. There are few homes like this one in Israel. Classic, but modern. Large, but graceful. Luxurious, but classy. A house at peace with itself in its beautiful park-like garden, crystal swimming pool, mature trees, green lawns. We dined on the elegant balcony overlooking that serenity. In that setting, simple sandwiches would have sufficed to please us.
But the meal was anything but simple. A traditional four-course Italian dinner (served by white-coated waitstaff): antipasti, primo, secondo, dolce. Accompanied of course by appropriate Italian vini. Each course actually in two sections, with an elaborate menu (in Italian of course) describing it all, especially since the event was to honor several Italian specialists in the art of good food. Chef Michele Bozzetto outdid himself, demonstrating that his award "Massimo Alberini 2019" was appropriate and in place. Also honored with the " Giovanni Nuvoletti" award to Gelateria Arte partner-owners, Marco Camorali, and Sissi Pagani, for their unique and very special artisanal ice cream (served as part of the dessert course as well).
Stimulating conversation at the intimate tables added to the evening's pleasure. Stimulating and interesting, far from boring. Even the mundane had its moment, like when the discussion "raged" about whether the pasta was truly al dente as it should be. Some thought it had been cooked for 30 seconds too long, while others opined that it needed another minute in the pot. Ah – the finesse of real Italian cuisine.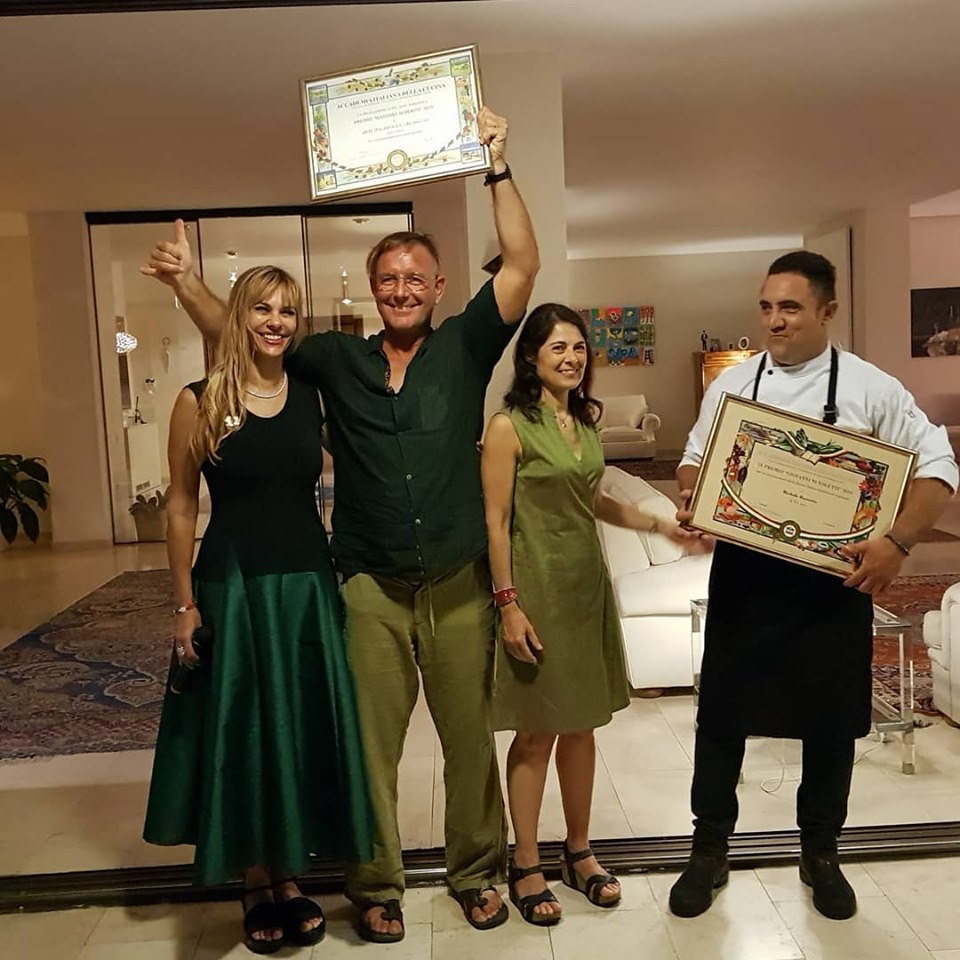 Guests were largely from the Israeli-Italian ex-pat community and included (in no particular order of importance)
ICE (Istituto per il Commercio con l'Estero - Italian Trade Commission) Manager Massimiliano Guido
Architect-artist Maurizio Minerva
World WIZO President Mrs. Esther Mor and Mr. Emanuel Mor
Chief of Italian Foreign Ministry Food Development Office, H.E. Ambassador Raffaele de Luzio
Italian military attaché Colonel Guido Cirioli
Italian Air Force Colonel Vincenzo Sicuso
Vice President, Italy-Israel Chamber of Commerce Roberto Della Rocca
Academic-Plastic Surgeon Dr. Dov Klein
Italian Consul Niccolo' Maniello with his wife Elmina Vincenti
Eitan Esrachi with his wife Ruti
Academic and ANSA journalist Massimo Lomonaco, journalist Fabiana Magrì, journalist-anthropologist Fiammetta Martegani, academic writer and anthropologist Nessia Laniado. And many more.
The entire event was ably orchestrated by Academy Honorary Mrs. Sabina D'Antonio Benedetti in collaboration with Academy Delegate Dr. Cinzia Klein and Vice Delegate Sabrina Fadlun.
Fino Alla prossima volta.
Photo by Silvia G. Golan
More pics at Facebook Israel Diplo https://www.facebook.com/diplomacy.israel