Last Sunday (1.3.2020) the Embassy of India with the cooperation of the Museum of Jewish people (Beit Hatfuzot) held an memorable event with the Paradesi Jewish community and screened the documentary "Sarah, Thaha, Thoufeek".
The film showcases a heartwarming real life story of human companionship.
Sarah Cohen, the oldest surviving Paradesi Jew in Mattancherry, Kochi (Kochi is in the state of Kerala in India); Thaha Ibrahim, a local tailor who helped Sarah with her embroidery work, including making kippahs, and looked after her; and Thoufeek Zakriya, an aspiring chef with interest in Hebrew calligraphy who laboured to make copies of the Torah.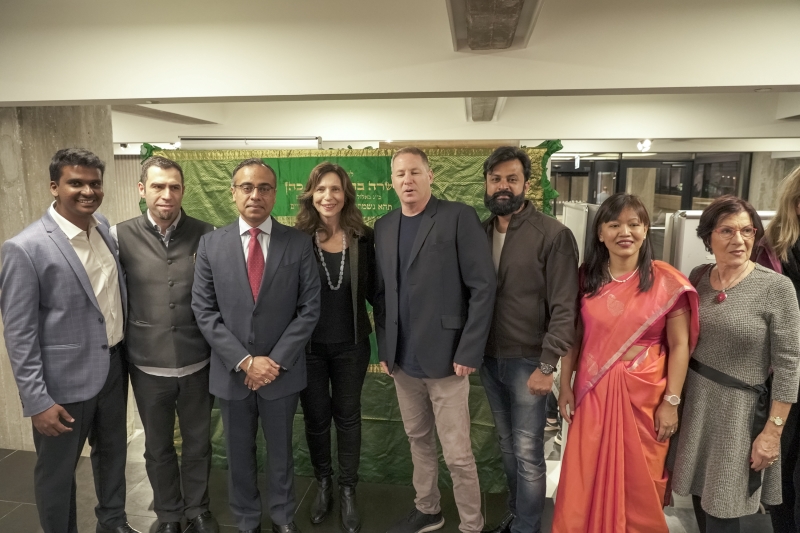 Directed by Sarath Kottikkal and produced by Thomas Kottackakom, the film was screened on 1 March at Beit Hatfutsot, Israel's Museum of the Jewish People, in the presence of Ambassador Sanjeev Singla, Mr. Dan Tadmor, CEO of Beithatfutsot, Sarah's friends and family that included her niece Becky Finkelstein and her grand nephew Yaakov Finkelstein, Israel's Consul General in Mumbai.
Sarah Cohen died on August 30, 2019. She voted in India's general elections in April 2019 at the age of 96.
The team that made the film comprises two time National Award Winning sound designer, Justin Jose who worked on Bollywood box-office wonders like "Bahubali", "Bajirao Mastani" and "Padmaavat" and Producer Thomas Kottackakom who was awarded in the 60th National Film Awards for "101 Chodyangal".
Photos Credit Alon Gergo