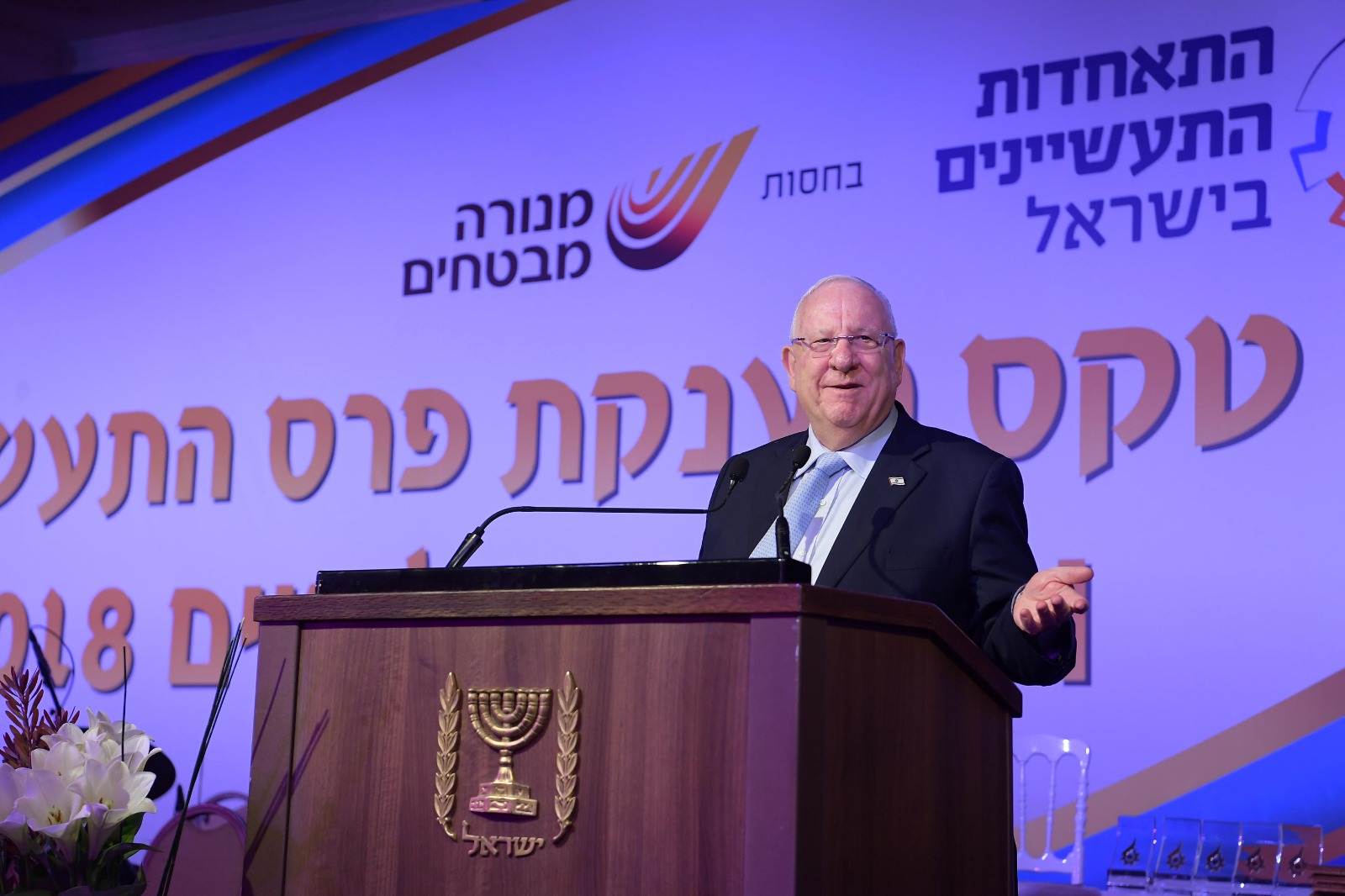 President Rivlin:
"Israeli industry is not only a source of pride, it is also an essential foundation for building the state and the people. We must turn Israel from a 'start-up nation' into a 'tech nation'. For Israel to be a country that is a powerhouse of knowledge in traditional industries and in which everyone can participate, we have to invest in and incorporate advanced production technologies in traditional industries as well, in order to bring young people from hi-tech to industry and specifically to invest in training a skilled workforce. A vision of where Israeli industry is cutting-edge in all sectors is a Zionist vision, an economic vision, and a social vision."
The president commented on the lack of women prize winners:
"I received many requests not to take part in the ceremony for this reason. But I decided to participate out of respect for the recipients and because industry is worthy of recognition and because it is not right that protest, however, justified, should be to the detriment of just and worthy recognition. But this is certainly the place and this is the opportunity to say that it is inconceivable that in 2018 there are no women recipients. Firstly, it is inconceivable that there were no worthy candidates who were women. Secondly, if we carry on like this and do not honor and recognize the talented female managers in industry, in 2028 we will still be making excuses and claiming 'there were no suitable candidates.' I would like to believe that all those responsible for the issue will make sure that at the next ceremony we congratulate prize winners who are women and that over the next seventy years we will see a growing number of women on this stage."
President Reuven (Ruvi) Rivlin spoke this evening, Thursday 8 November / 1 Kislev at the ceremony for the 2018 Industry Prizes of the Manufacturers' Association of Israel this year celebrating Israel's 70th anniversary of independence. President of the Manufacturers' Association Shraga Brosh also spoke at the event. During the event, lifetime achievement prizes were awarded to industrialists Ron Tuttnauer, owner and former CEO OF Tuttnauer; Avraham (Rami) Shani, Chairman of Hod Assaf; Rafael Alon, CEO of Alon Group; Aharon Shapira, CEO and owner of Pach Taas; and Daniel Wolfman ז"ל, Chairman of Wolfman Industries, who passed away earlier today. Recipients of the Industry and Industrialist Prizes were: Ran Meidan, CEO of Netafim; Avi Zinger, CEO of Ben and Jerry's; Daniel Birnbaum, CEO of SodaStream; Ruvi Shaibel, President of Flex and Henry Zimmerman, Chairman of Trellidor.
"Israeli industry is not only a source of pride, it is also an essential foundation for building the state and the people," said the president. "We must honor Israeli industry and strengthen it. Israel has no economy without Israeli industry. There are areas of excellence in Israeli industry that are world-famous, and this is what we are celebrating this evening, but there are also areas of unrealized potential. We must turn Israel from a 'start-up nation' into a 'tech nation'. For Israel to be a country that is a powerhouse of knowledge in traditional industries and in which everyone can participate, we have to invest in and incorporate advanced production technologies in traditional industries as well, in order to bring young people from hi-tech to industry and specifically to invest in training a skilled workforce. A vision of where Israeli industry is cutting-edge in all sectors is a Zionist vision, an economic vision, and a social vision."
"Each of the ten prize-winners is inspirational," said the president. "They represent the spirit of Israeli innovation, determination, and goal-orientation. They are a source of strength and of pride." President Rivlin mentioned Daniel Birnbaum, CEO of SodaStream: "SodaStream represents for me not only an Israeli success story but also a symbol of hope, that we can all – Israel Jews, Moslems, and Christians, Israelis and Palestinians – work together, live together and enjoy the fruits of success together."
"Unfortunately, this important ceremony is missing outstanding female industrialists," said the president. "I received many requests not to take part in the ceremony for this reason. But I decided to participate out of respect for the recipients and because the industry is worthy of recognition and because it is not right that protest, however, justified, should be to the detriment of just and worthy recognition. But this is certainly the place and this is the opportunity to say that it is inconceivable that in 2018 there are no women recipients. Firstly, it is inconceivable that there were no worthy candidates who were women. Secondly, if we carry on like this and do not honor and recognize the talented female managers in industry, in 2028 we will still be making excuses and claiming 'there were no suitable candidates.' It is appropriate to mention that the Israel Prize for Industry this year was awarded to Yehudit Bronicki, an exemplary industrialist who we are all proud of. The way to the top of the pyramid in the industry and in the economy as a whole has always been beset with challenges and barriers for women, and yet many of them have broken a path through for themselves, and by themselves. We need to tell these stories and not keep them in the shadows. This is both in our economy and our social interest. I would like to believe that all those responsible for the issue will make sure that at the next ceremony we congratulate prize winners who are women and that over the next seventy years we will see a growing number of women on this stage."
President of the Manufacturers' Association of Israel, Shraga Brosh: "I want to add a few more words about co-existence in this country. Over a month ago, there was a terrorist attack at the Alon Group factory at the Barkan industrial area, in which Ziv Hajbi ז"ל and Kim Levengrond-Yehezkel ז"ל were murdered in cold blood because they were Jews. The despicable terrorist's aim was to attack the important co-existence and wonderful daily life that has been a feature of the Barkan industrial area for over thirty years, exemplified by Jews and Arab working together, side by side, and on the understanding that this is the only way to achieve peace. Only by creating sustainable jobs, by ensuring livelihoods, and by creating economic peace that is greater than politics and disagreement, can we bring a real peace that we all wish for so much."
Photo credit: Amos Ben-Gershom, GPO