Details

Written by

Defense Ministry Spokesperson


The Defense Ministry Israel Missile Defense Organization (IMDO) and the US Missile Defense Agency (MDA), today (Tuesday, 3 September 2013) completed a successful flight test new version of the Sparrow target missile. This is the first flight out test of this new version of the Sparrow, and was conducted at Israeli test range over the Mediterranean Sea.



At 09:15 the Sparrow missile successfully launched and performed its planned trajectory, in according with the test plan. The Arrow weapon system's Super Green Pine Radar successfully detected and tracked the target while transferring the information to the Citron Treebattle management control system. All the elements of the system performed according to their operational configuration.



Israel Missile Defense Organization and US Missile Defense Agency officials conducted the flight test.
Details

Written by

Office of the President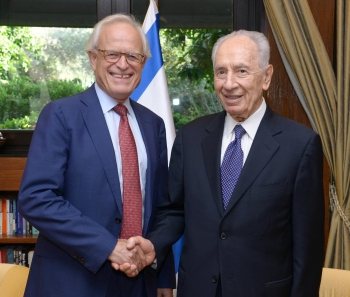 President Peres met with the US Special Envoy for Israeli-Palestinian Negotiations, Martin Indyk
The President of the State of Israel, Shimon Peres, conducted a diplomatic work meeting this evening with the United States Special Envoy for Israeli-Palestinian Negotiations, Martin Indyk. At the beginning of the meeting President Peres welcomed Indyk to Israel and congratulated him for the efforts undertaken by the United States to progress the peace process. President Peres said, "The support of the United States for the peace talks is crucial to produce real long lasting results between the two sides," The two discussed at length the peace process and the current situation in the Middle East.
Photo Credit: Mark Neiman/GPO
Details

Written by

Dutch Embassy
In a photographic competition "'Israel Through foreign lenses" , Charlotte Veldkamp, the daughter of the Netherlands Ambassador to Israel, won the second prize. Charlotte sent 5 pictures to the exhibition, amongst others 'Tel Aviv Thought' and 'In the heart of Tel Aviv'.
The political attaché at the Netherlands Embassy, Annemijn van den Broek, and three members of the cultural section attended the event last Wednesday on behalf of Charlotte, as she and her family are currently abroad.
Ambassador Caspar Veldkamp said: "The Netherlands has such a long and rich history when it comes to photography with famous Dutch artists such as Anton Corbijn and Erwin Olaf. Therefor when my daughter decided to go from taking family pictures to a more artistic approach I was immediately enthusiastic. I am so proud to see that her talent - at such a young age - is recognized by the The Diplomatic Club."
"'Tel Aviv Thought" photo by Charlotte Veldkamp