Inspired by the city's vibrant culinary scene, a duo of Russian investors who own restaurants in Russia and Europe have now established a presence in the heart of Tel Aviv.
Following a long search, the team identified a 3.5-storey bauhaus building on Dizengoff Street as their ideal location and spent months transforming it into a restaurant with a spacious al fresco area and two floors of tables, with a third underway.
The concept of the new restaurant is a cosmopolitan bistro where conversation is meant to flow, fueled by drinks and good food. Hence the name Table Talk, which derives from the literary genre that evolved from stimulating discourse.
The cuisine at Table Talk is fusion, while the menu is cosmopolitan with a solid Eastern European foundation. Among the specialties are calves' liver pâté, chopped herring, fresh salads with sunflower oil dressing, and the pièce de résistance -- blini with crême fraîche, red caviar, and salmon cured in-house.
There is a well-stocked bar, of course, with premium vodkas taking pride of place.
The Russian theme carries over into dessert as well, with delicious cherry vareniki topped with crême fraîche.
The restaurant is open all day, with enticing breakfast and brunch entrées on offer. There is even a children's menu.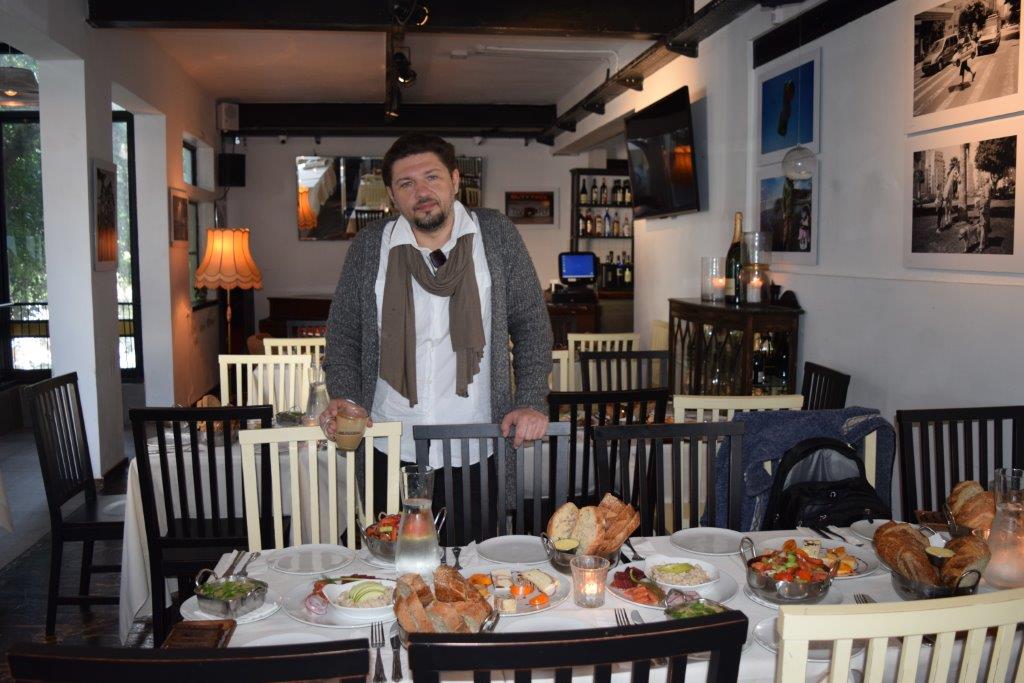 Table Talk is already becoming an active venue for cultural events, including exhibitions, literary evenings, film screenings and lectures. Musical performances are scheduled to take place every Thursday, with occasional artist meet and greets.
In addition, Table Talk is an attractive venue for private events and functions.
Photos by Silvia Golan