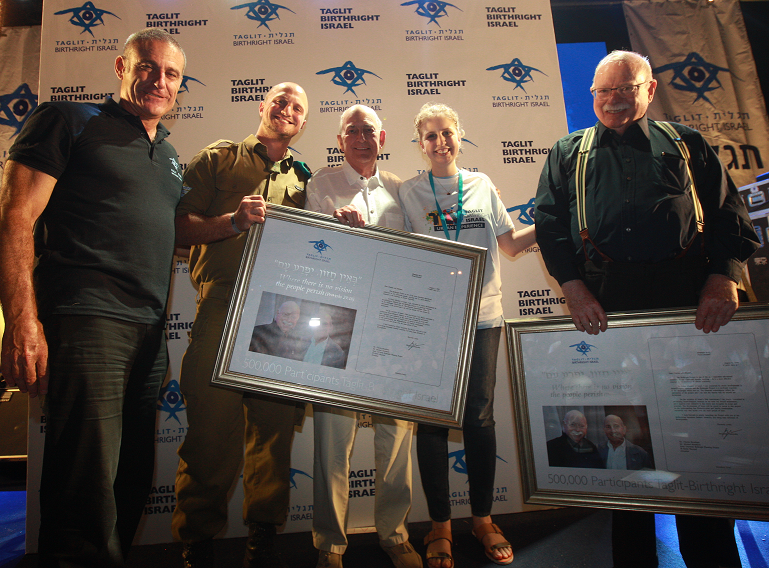 Taglit Takes Tel Aviv
Taglit-Birthright Israel celebrates 15 years and 500,000 participants with a unique Tel Aviv Urban Experience
Thousands of Taglit-Birthright Israel participants took part in the Tel Aviv Urban Experience, exploring contemporary Tel Aviv up-close and personal as part of the celebrations surrounding the 15th anniversary of the organization and reaching the milestone of 500,000 participants.
The three-day experience came to an enthusiastic conclusion at the Wohl Amphitheater in the presence of honored guests including Co-Founders Mr. Charles Bronfman and Mr. Michael Steinhardt. Bronfman and Steinhardt met on stage with Taglit-Birthright Israel's 500,000th participant, 24 year old Molly Dodd from New Jersey. Molly surprised the honorable guests by presenting them a framed letter dating back to 1998 written by Prime Minister Benjamin Netanyahu who welcomed the launch of Taglit-Birthright Israel. In the letter, Netanyahu described his strong belief that Taglit-Birthright Israel would play a central role in strengthening the connection between young Jews in the Diaspora with their Jewish heritage and the State of Israel.
"I am thrilled to discover Israel for the first time through Taglit-Birthright Israel, and excited to continue exploring my Jewish roots" said Dodd. "I am deeply moved to be the 500,000th participant of the most successful organization in the Jewish world. I feel honored to meet its founders and be able to show my gratitude and respect for the incredible impact they have had over the years."

on the photo from left to right: Staff Sergeant SHay giladi from the Search and Rescue Unit, Gidi Mark, CEO of Taglit-Birthright Israel, Mr. Charles Bronfman, Molly Dodd, Mr .Michael Steinhard
Photo credit: Erez Uzir