"Segal Winery" is proud to launch its New Year's collection 'Petit UF', it's "second flag" wine after its flagship wine. A powerful, elegant wine, with a dominant aroma, created in a unique process without filtering. Segal Winery's flagship wine is an unfiltered Cabernet Sauvignon, an iconic wine that has won numerous prizes and is one of the most prized and successful wines in Israel. The success of the unfiltered Sauvignon led Segal Winery to create another wine using the same unfiltered process.
Petit UF is its "second-flag" wine, after the flagship wine. A complex and elegant wine, the Petit UF is made from Cabernet Sauvignon grapes from the Plato vineyard, a young vineyard, with ingredients specially imported from France. The wine is aged 18 months in French oak barrels. This process gives birth to a rich tasting wine, powerful and tasting like it's fresh from the vineyard. The
label on the bottle is made of grapes and strawberry fibers, reflecting the
uniqueness of the wine-making process.
Petit UF 2015
Segal Winery is nestled in the upper Golan Heights, 835 meters above sea water. The combination of excellent soil and
ideal climate produces grapes of extraordinary quality. The Petit UF wine
produced from these grapes is an elegant and aromatic wine, combining a rich
fruity flavor with nuance and power. The unfiltered aspect of the wine helps to
preserve its unique character.
Vintage:
The 2015 harvest was an excellent year for winemaking. A colder than usual winter, and January snowfall in the Jerusalem and Galilee mountains, led to a good and uniform harvest throughout Israel. Most of the high temperatures were recorded at the beginning of the ripening season, which at its peak was surprisingly mild. In the summer months there were no significant events and temperatures were average, resulting in a uniform and good ripening of the fruit. Most of the high temperatures that year were in the beginning of the ripening season, which was surprisingly mild at its peak. The summer months featured average temperatures and no unusual weather activity, leading to a good and uniform ripening of the fruit.
Tasting notes:
The wine is a bright red hue. In
glass, the wine presents a complex aroma of dark fruits like plums and
raspberries, with a dash of black pepper, Mediterranean seasoning, dark
chocolate, smoked meat and hints of oak. In the mouth, the wine reveals a
fullbodied flavor, with powerful but perfectly level tannins, with a balanced
sourness accompanied by black plums, coffee and cloves, leading to a lingering,
spicy finish.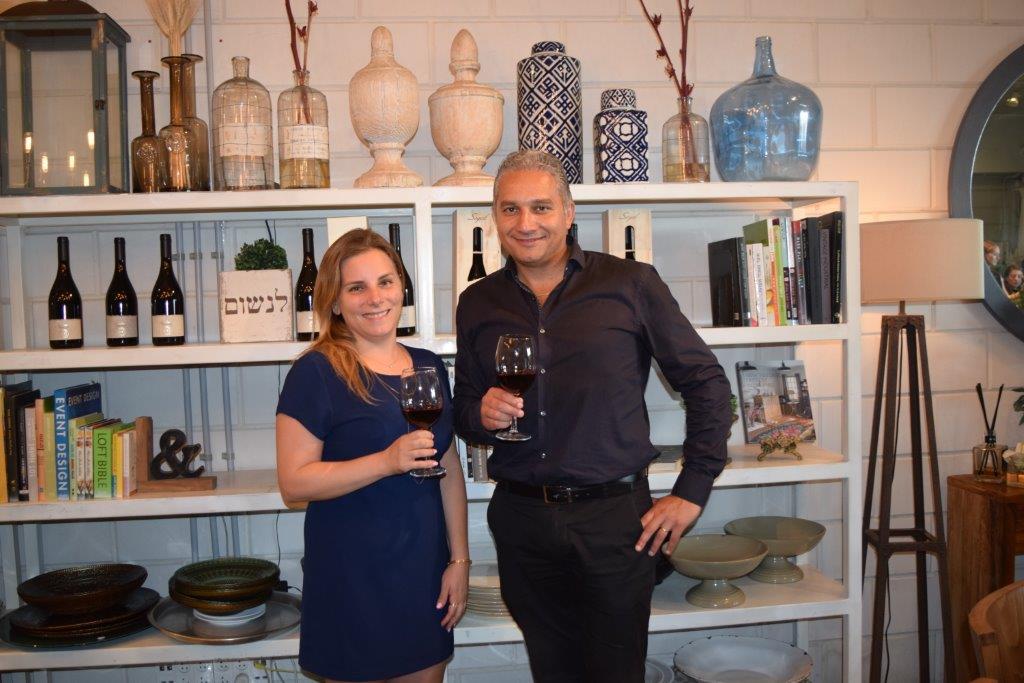 Technical notes:
Harvest: 2015
Composition: Cabernet
Sauvignon (85%), Petit Verdo (15%)
Vineyards: Cabernet
Sauvignon from Plato Vineyard (Dalton village), Petit Verdo from Beit Nekofa
Time and temperature
of fermentation: Fermentation and soaking on the shells
followed by 14-24 days for the various wines. Fermentation temperature - 25ºC.
Aging: 18
months in barrels, 70% new, solely from French oak
Alcohol: 13.7%
Density: 996
General Acid: 590
pH: 3.54
PETIT
UF Recommended price: 120 NIS, Sold in a luxury wine package in wine and
alcohol stores
Photos Silvia Golan