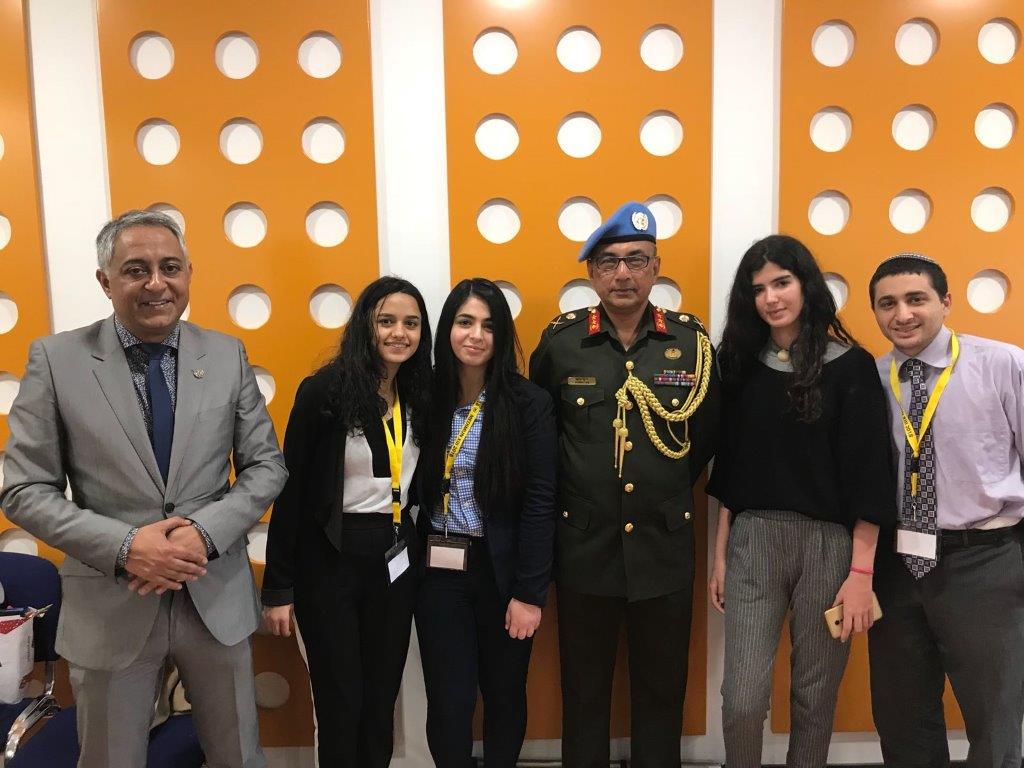 On February 9th 2018, a Debate for Peace delegation, including 18 students from a variety of schools and backgrounds, arrived at the European University of Cyprus to participate in the 3-day conference of the Mediterranean Model United Nations. Each of the students participated in a different General Assembly or special committee, and represented a different country (Albania, Germany, India, Mozambique, Nicaragua, and Thailand).
The students had the opportunity to make allies, deliver speeches, and vote for or against resolutions. More importantly though, they had the opportunity to see things from the perspective of their allocated country, which gave them a better insight to how the United Nations function and how each delegate makes decisions based on the prosperity of his country or his allying Nations.
The topics discussed in each General Assembly ranged from the question of autonomous weapons systems, measures to preserve endangered languages in the face of globalization, to a simulation of the proceedings of the Security Council in 2001, the year of the fateful attacks 9/11.
During the Opening ceremony, Permanent Secretary of the Ministry of Education and Culture, Mrs. Egli Pantelaki, took the opportunity to highlight the importance of learning outside the classroom, stating that knowledge acquired during such methods of learning is often in times deeper and more long-lasting. She also commented on the role of the MEDIMUN conference in creating active citizens, who fight for a better tomorrow, one without any extremities.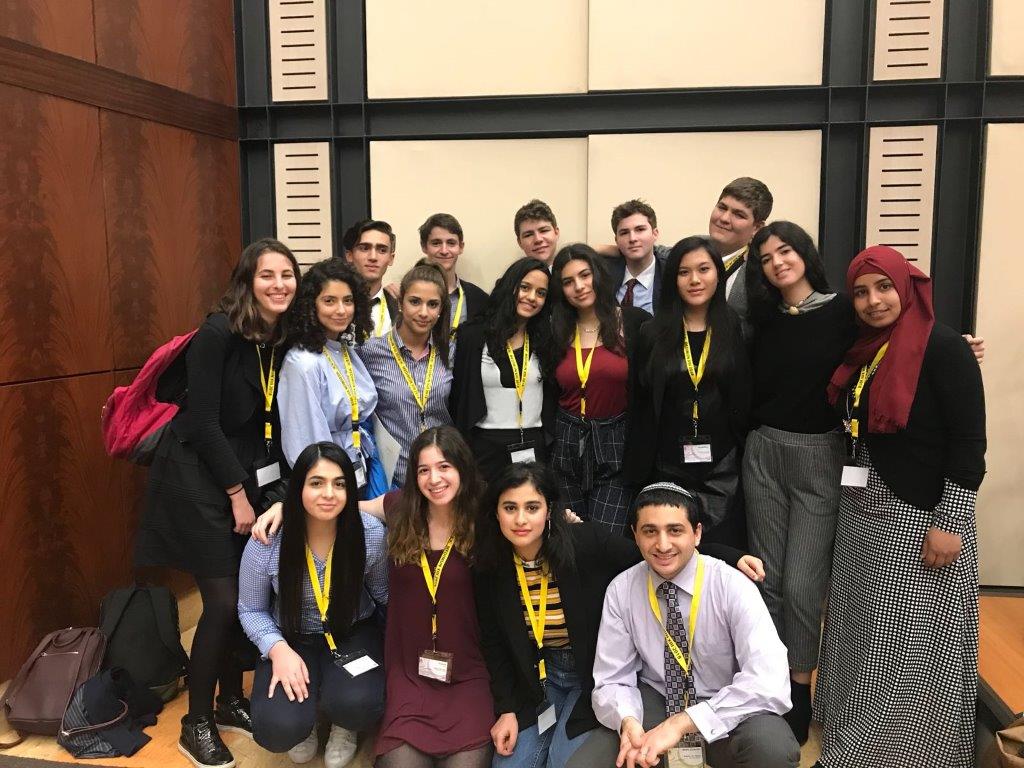 As the conference continued, the students also had the opportunity to hear speeches by various professionals who operate in Cyprus, in fields such as Bio-ethics and Child Safety Organisations for abused children. These speeches helped the students gain a better understanding of how measures of resolving problems can be applied in real-life scenarios, and what limitations often exist.
Throughout the conference, students further enhanced their debating and public speaking skills. Sharehan Aloqaily, who participated in General Assembly 1, said that she felt "proud to be a part of MEDIMUN, which is much like Debate for Peace. It brings together the youth from around the world to make a positive change in their community, in order to achieve their goal to live in peace and equality."
Arielle Lieberman, who participated in General Assembly 4, said that "this is my first international conference, so I find it really amazing to be meeting people from all over the world, including Cyprus, Shanghai and other places, which is really cool. The topics that we are dealing with are really interesting and from what I could tell for each topic a country was able to have a different opinion on each topic and there were no similar remarks. The people here I feel are very good at MUN, they know what they are doing so it's been really fun because I've been learning yet also participating."
She also added that the conference equipped her with valuable skills, stating that "I personally came in here not knowing how to write resolutions and now I feel like I'll walk out of here with excellent resolutions and go to all the conferences in Israel. I feel like I gained a lot of skills that I didn't have before coming here and people are cooperative and ready to help you if you need it. So having those two things together and also people from all around the world is a really amazing experience."
Following the first day of the conference, the delegation had a discussion and Q&A session with Mr. Aleem Siddique, the spokesperson for UNFICYP. After meeting the group, Mr. Siddique told the delegation: "I was inspired to meet so many young people from such diverse backgrounds interested to learn about the work of the United Nations. There is a great deal of opportunity for bright and inquiring young minds to apply themselves to the most critical of questions facing our world today. I hope you will continue to ask difficult questions and demand action for people living in the shadow of conflict across the world. Congratulations on your participation with the Model UN!"
On Sunday, the Plenary Session took place, where resolutions from all the different General Assemblies were debated, giving the delegates the chance to express their opinions on issues discussed by other committees.
The conference then came to a close with a motivating speech by UNFICYP Force Commander Major General Mohammad Humayun Kabir, who stressed the importance of the United Nations in resolving international conflicts and in preventing wars from breaking out. He also highlighted the fact that although the 21st century has brought about many useful technological advancements, it has also brought about some very serious problems, such as the situation in Yemen, the Syrian war and refugee crisis, global warming and water scarcity. He said that such problems cannot be tackled by one country on its own, and went on to underline the significance of international cooperation.
The Debate for Peace delegation to MEDIMUN was planned in cooperation with the Embassy of Cyprus in Israel, and included a preparatory session with Ambassador Salina Shambos. Ambassador Shambos told the group when they returned that after meeting Debate for Peace students in the summer, she was "delighted to observe that students like yourselves debate, negotiate and aim to resolve the most difficult and pressing challenges in international relations as a perfectly unisoned team. It is this conciliatory team spirit that gave me the idea that DfP participate at the Mediterranean Model UN (MEDIMUN) in Cyprus - something that I'm happy to learn proved to be an amazing experience." Ambassador Shambos further encouraged them to stay motivated and driven as they helped build a better future: "I hope you carry the torch of a different, better reality with you, throughout your lives. You are the shapers of your future. Make it your own. You have Cyprus' unwavering support."
Debate for Peace is part of the Interfaith Encounters Association.
Read more about Debate for Peace here: debateforpeace.wordpress.com
Photo credits: Debate for Peace and MEDIMUN