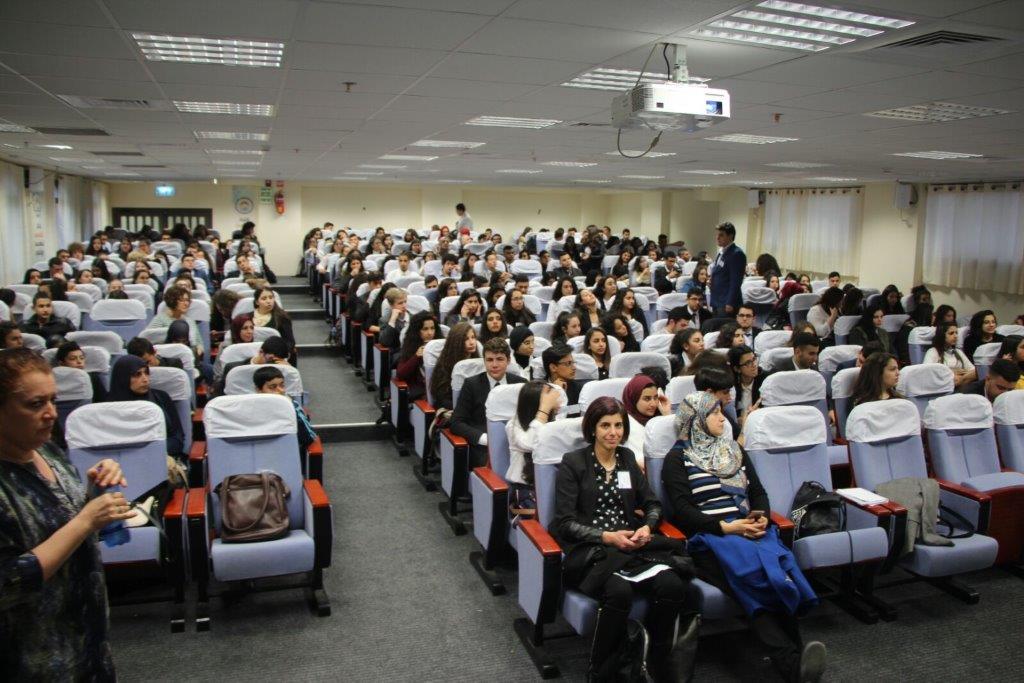 On Tuesday February 27, 2018, the second annual QASMUN conference was held at the Al-Qasemi high school in Baqa al-Gharabiya, focusing on youth in conflict zones.
During the conference 250 students from over two dozen schools and cities participated in seven committees, addressing the situation of youth in conflicts in Yemen, Pakistan and Myanmar, as well as the issue of child soldiers, and the role of education during armed conflicts. An advanced committee created a resolution that offered recommendations for a binational Israeli-Palestinian curriculum to promote peace.
After a full day of debates and negotiations, the committees voted on their respective initiatives. The students then had a dinner break before heading to the closing ceremony.
At the closing ceremony, Dr. Dalia Fadila, principal of Al-Qasemi, welcomed the guests to the Al-Qasemi school and conference. The director of QASMUN, Reham Abu Asba, thanked all of those who had helped in making the conference happen. Rev. Canon Nicholas Porter, the founder of the Jerusalem Peacebuilders, offered words of encouragement for the MUN participants, many who had come to a conference for the first time.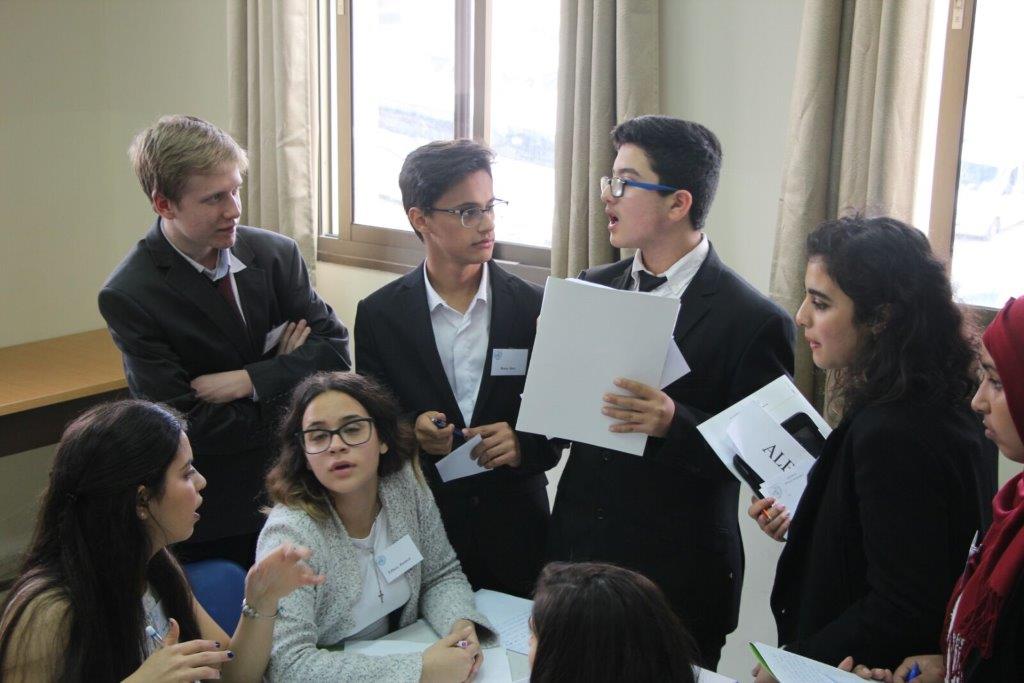 Stephanie Baric, an international relief and development professional with almost 25 years of experience addressing poverty and social injustice in the Middle East, Africa and the Balkans, was the keynote speaker, and also addressed a range of questions from students on the issues of feminism, youth empowerment, and the Israeli-Palestinian conflict.
QASMUN Secretary General Taqwa Ghanayem discussed what she has gotten out of MUN:
"Model United Nations helped me grow into a leader, get to know more what is going in the world, and become confident in myself. MUN gave me the passion to keep working hard and to change myself and my community. I am so grateful that I had the chance to become part of the wonderful MUN world!"
During the awards part of the ceremony, the top delegates in each committee were called up to the stage to receive their awards. These included Muhammad Omar Darawshi (Iksal HS), Eman Abu Abeid (Al-Qasemi) and Baraa Abu Ras (Salesian Sisters) in UNGA1; Husain Hasan (St. Joseph), Malk Halil (Hand in Hand), and Khadija Nukati (Beit Safafa) in UNGA2; Layan Sharkei (Al Qasemi), Ibrahim Alian (Beit Safafa) and Hala Asaad (Salesian Sisters) in UNGA3; Shahd Massarwa (Almjd Taybe), Yara Qudsi (Salesian Sisters), and Leen Jabara (QSchools Tira) in UNGA4; Majdi Yassin (Salesian Sisters), Mira Afifi (St. Joseph), and Bana Shadafneh (Iksal) in HRC; Dona Milhelm (QSchools), Samira Hallak (Hand in Hand), and Feras Marjieh (St. Joseph) in UNICEF, and Daniel Mikhailov (Ort Rabin), Tala Abu Dalo (Beit Safafa), and Almira Farah (St. Joseph) in the Special Committee.
Additionally, a number of students were called on stage as Jerusalem Peacebuilders scholars for the 2018 summer, including: Aviv Liverant, Banan Shadafni, Baraa Abu Ras, Daniel Mikhailov, Eliran Ben Yair, Khadija Nukaty, Leen Jabara, Mariam Abdallah, Rama Halabi, and Tamim Mansour.
QASMUN 2018 was part of the Debate for Peace MUN series, as an Interfaith Encounter group supported by the U.S. Embassy in Tel Aviv.
For more information about future events, please see the website here: https://debateforpeace.wordpress.com/upcoming-events/
Photo credits: Faris Hans/Debate for Peace