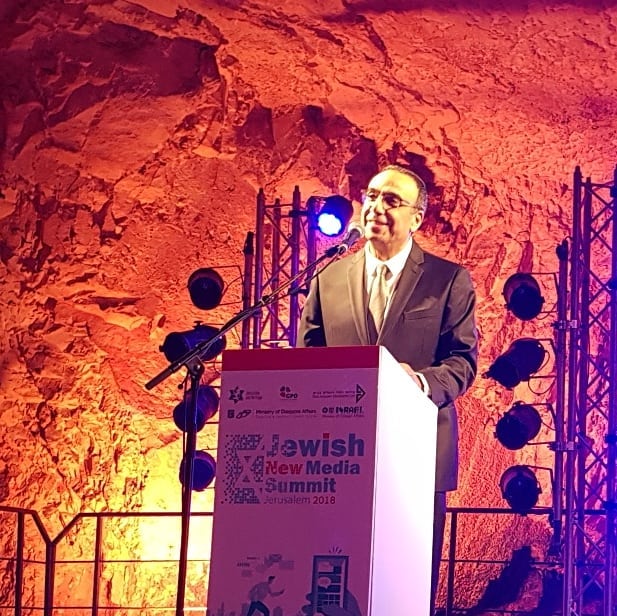 The International Jewish Media Summit opened last night in Jerusalem. Among the participants are bloggers and opinion-makers who cover Israel and Judaism from various angles and together receive exposure to hundreds of millions of followers on social media. Government Press Office Director Nitzan Chen: "The past year saw difficult and complex moments between Israel and global communities."
The international Jewish Media Summit opened last night (Sunday, 25 November 2018), in a festive gala at Zedekiah's Cave (King Solomon's Quarries) in Jerusalem, in the presence of approximately 150 Jewish bloggers and journalists. This third conference will be held over four days led by the Government Press Office in cooperation with the Diaspora Affairs Ministry, the Foreign Ministry and the Jerusalem and Heritage Affairs Ministry.
The summit is being held this year under the keynote of 70 years of the establishment of the State of Israel. Participants will meet Diaspora Affairs Minister Naftali Bennett, President Reuven Rivlin, and Knesset Speaker Yuli Edelstein. During the conference participants will be exposed to key players working to strengthen Israel-Diaspora relations such as Benjamin Levy, CEO of Mosaic United, which works with Jews on dozens of campuses in the United States. There will also be various panels including one with MKs Sharren Haskel, Eleazar Stern, and Rachel Azaria.
Among the summit participants are bloggers who cover Israel and Judaism from various angles including culinary, culture, education and others. These are leading bloggers who together receive exposure to millions of followers on social media. Also participating are Jewish journalists from Hong Kong, Armenia, Georgia, South Africa, Poland, Mexico, Russia, and other countries.
At the opening of the summit last night, GPO Director Nitzan Chen said: "It is not a given that 150 journalists would take time to come. We appreciate the effort and hope that this summit will be produced through the holding of respectful discussions. This past year saw difficult and complex moments between Israel and the global communities. While the stones of Jerusalem seem different when seen from different angles and at different times, the differences that also represent us as a people do not come at the expense of unity."
MK Michael Oren, who was present, said: "This is an opportunity in Israel's international relations and we are in a unique position. This is the friendliest US administration since 1948, from the President through the Secretary of State and the Ambassador to the UN. This is a rare opportunity for us even if it is a small window. If we want to advance peace, we must utilize a good connection with the American administration."
MK Oren added: "The President wants to advance the peace plan, even if it is difficult for both sides. Israel has never been in a better place, security-wise and economically. This is the moment to take a step forward and thus also solve problems such as BDS."
Photos by Silvia Golan