The first ever Forbes Global Women's Under 30 Summit officially kicked-off with the ringing of the opening bell at the Tel Aviv Stock Exchange. Moira Forbes introduced the event and called up to the stage all of the women on the Under 30 list. Over 400 participants joined in the celebration.
Forbes hosting the inaugural Under 30 Global Women's Summit to bring about meaningful social change benefitting women everywhere. For four days, this international group of women and men will gather to bring change, build bridges, discuss challenges, and set goals of establishing new standards for women, all within the richness of Israel's culture.
Speakers who participate in the summit include:
Ty Haney, Founder & CEO, Outdoor Voices

Payal Kadakia, Founder & Executive Chairman, ClassPass

Amanda Nguyen, Founder, and CEO, RISE

Jasmine Jones, Cofounder & COO, Cherry Blossom Intimates

Leanne Fremar, Chief Brand Officer, JPMorgan Chase

David Fialkow, Cofounder, General Catalyst

Daniel Birnbaum, CEO, SodaStream

Randall Lane, Chief Content Officer, Forbes, and 30 Under 30 Founder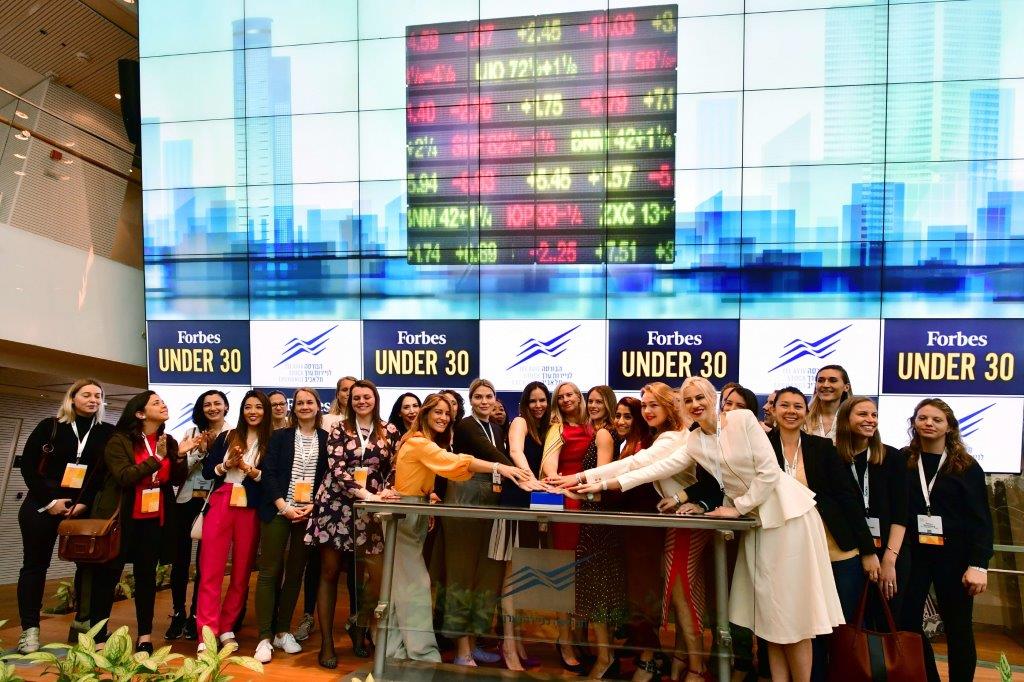 Following the opening bell ceremony, a group of the Under 30 participants traveled to the SodaStream factory in the Negev desert, where they were given a tour of the facility by CEO Daniel Birnbaum, who told them about the history of the factory, the company and the employees, which include both Palestinians and Israelis working side by side. Birnbaum calls the factory an "island of peace in an area where terror and hate often rage."
Day One of the Summit concluded with a food festival and party at the famous "Gordo on the Beach" in Tel Aviv, featuring food and drink from across the region.
Day 2 of the Women's #Under30Summit:
Randall Lane opened the day with a fireside chat with Lynn Schusterman, who spoke about why she joined the Giving Pledge and how she approaches her philanthropic endeavors. "The main reason I joined the giving pledge is to teach people that it's important to give their money away," she said. "The bottom line why I really signed is for the next generation and the generation after - I totally believe that young people are the future, I count on each and every one of you, the future belongs to each of you." At the end of the conversation, Randall presented Lynn with a limited edition cover of Forbes, with her picture and trademark "Shalom, y'all" on the top.
Lynn was followed on stage by Amanda Nguyen, who was the power behind the Sexual Assault Survivors' Rights Act, one of 23 bills to pass unanimously through US Congress. Amanda inspired the audience with her story and left everyone with a powerful message: "The most powerful tool we all have is our voice. I want everyone to remember that no one is powerless when we come together and no one is invisible when we demand to be seen," she said.
The morning continued with a panel of women from the Israeli cybersecurity industry: Mor Chen, Managing Director, 8200 For Startups, Galit Zuckerman Stark, Founder & CEO, Medasense Biometrics and Noa Shafir, Cofounder & CPO, Odo Security. The three all spoke about their experiences as women in elite IDF technology units, the lessons they learned and how they incorporated those lessons into their professional careers leading cybersecurity organizations and companies.
The morning session closed with a one on one interview with Daniel Birnbaum, CEO of SodaStream, which was recently acquired by Pepsi for over $3B. He spoke about his work at SodaStream, the growth of the company and the unique opportunity that the company has at building what he calls an "island of peace," in its factory in Israel, which includes both Israeli and Palestinian employees. He encouraged the audience to "dare to dream," explaining that "as we age and we have to be serious and make a living we tend to lose our childhood dreams - let's embrace that childhood dream. It changes, but chase it. You'll be surprised that we can succeed very often. He also highlighted the importance of surrounding yourselves with the right people: "the most important thing is to surround yourself with great people - you want people around you that are energy givers, not energy takers. The best - and worst - business decisions for me have always been people decisions." Birnbaum also announced on stage the launch of SodaStream's new "out of home" reusable bottles.
Tenzin Seldon, the Cofounder & CEO, Kinstep, a platform to help immigrants find work, highlighted the afternoon session of the Summit, sharing her story, her work, and her vision. During her remarks, Tenzin highlighted the fact that 1 billion environmental refugees will be forecasted to not have homes by 2050, saying that "this may be one of the greatest issues of our generation, yet we are not panicked and we should be - we have to ask how do we integrate these individuals, these human beings, with dignity."
Amani Abu Tair, Founder & CEO, WAZZA INC, inspired participants with her story. WAZZA is a digital management platform for the preschool sector, which provides a simple and direct user- friendly interface for teachers to provide live attendance reporting, maintain daily records, manage billing, communicate calendar activities, send announcements & receive confirmations. Amani told the crowd to not be apologetic about being both a mother and a business leader - embrace both equally, and when needed, merge them, telling the Summit about when she needed to bring her child to a pitch meeting with a VC firm, asking the partner at the firm to watch her son while she pitched her company.
Leanne Fremar, the Chief Brand Officer, JPMorgan Chase spoke about the work the firm is doing on promoting women's careers, highlighting JPMorgan Chase's "Women on the Move" program. The program focuses on three areas: 1. Helping women-led businesses by providing greater access to capital and resources; 2. Providing tools to help women feel more comfortable with their finances; and 3. Empowering women at the firm by providing coaching, leadership training, benefits, etc. aimed at helping to get more women into leadership positions at the company.
To view the full agenda and speaker line-up, please visit https://www.forbes.com/forbes-live/event/under-30-summit-global/.
Photos by Forbes