The Peres Center for Peace and Innovation - the home of the Innovation Nation
"It takes more courage to make peace than to make war." - Shimon Peres
Shimon Peres' legacy was realising dreams. As you approach the entrance to the Peres Center for Peace and Innovation, an enormous sign reminds you to "DREAM BIG." It's framed on one side by the sparkling blue Mediterranean Sea, and on the other, by a modernist angular building, commissioned by Shimon Peres and completed in 2009, that now houses the Israeli Innovation Center: four floors of Israeli innovation past, present and future.
Shimon Peres established the Peres Center for Peace in 1996 to bring people together - people of all ages, genders, cultural backgrounds, religions, and from all walks of life, from Israel and around the region - through mutual interests in innovation, medicine and healthcare, business and entrepreneurship, education, and more.
Since Peres' death in 2016, the original Peres Peace House (designed by Massimiliano Fuksas and local architect Yoav Messer) has been transformed in line with his vision to exhibit the world's first interactive innovation hub; the Israeli Innovation Center.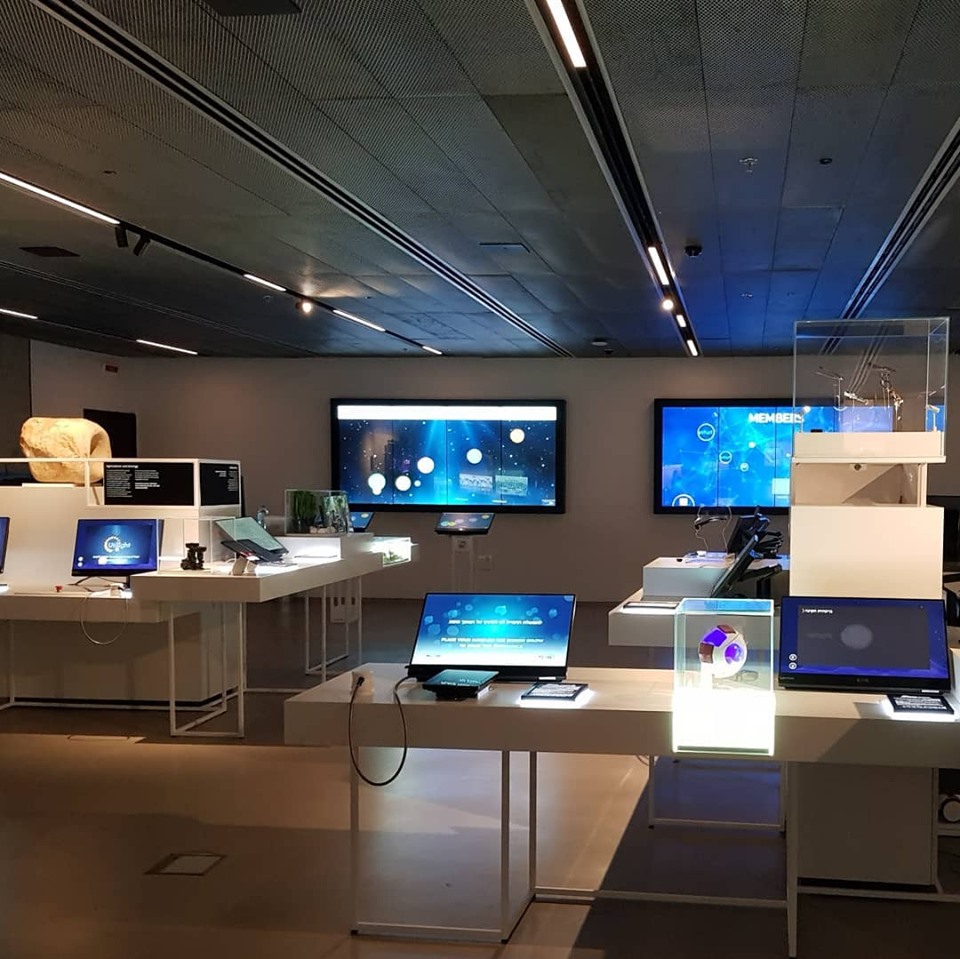 The Israeli Innovation Center, which opened to the public in February 2019, highlights the global human impact of Israel's achievements - from Cherry Tomatoes and Drip Irrigation to Waze and Mobileye - and explores how to expand the "Start-up Nation" into the "Start-up Region". It also continues to run its scalable and impactful programs designed to bridge the region's communities.
The Peres Center is proud to partner with Israel's leading organisations, and friends from across the globe. This unique network of partners and supporters include the Israeli Innovation Authority, the Israeli Ministry of Economy and Trade and several innovation partners: Adama – Crop protection and innovators in global food security; Orbotech – Innovators in electronics; Checkpoint – One of Israel's innovators in cyber security since 1993; Intel – Computing; IAI -- Israel Aerospace Industries; and the Manufacturers Association of Israel.
One of the country's leading non-profit NGOs, the Center has hosted delegations of global leaders in politics and business to learn about Israeli breakthroughs, connected professionals to the local start-up ecosystem, and supported youths from all backgrounds to discover their inner techie, entrepreneur, and peacebuilder.
Visiting the Israeli Innovation Center
The Hall of Inspiration: As you enter the lobby you are struck by the films showing on the screens that take up the entire right wall and continue onto the circular screens scattered on the ceiling. The films depict the global innovations developed in Israel: in agriculture, medicine and healthcare, aerospace and security, hi-tech, and information communication technology.
Secrets of Innovation room: Have a chat with one of 18 life-sized innovator holograms from across the hi-tech, agriculture, cyber and medicine sectors. Speak to them in Hebrew, English, Arabic or Chinese to learn about their inspiration and the problem they were trying to solve. Behind each hologram screen you can find some of the personal artefacts and books that inspired our innovators, that they have donated to the exhibit.
Shimon Peres' Study: A replica of Shimon Peres' study houses his desk, as well as artifacts including his Nobel Peace prize, his collection of his role model David Ben-Gurion dolls, and pictures of the highlights of his achievements.
Innovation Nation Room - Find out how Israel became the Start-up Nation with an interactive timeline and a chance to see original examples of Israel's technological and medical achievements, including the first Israeli Airforce flag in space and the capsule endoscopy (a miniature camera in a pill that can be swallowed to see what's happening inside the gastrointestinal tracts).
The Capsule - An unrivalled VR experience, The Capsule, designed with input from Roey Tzanana and Yuval Noah Harari features technology provided by Inception, to enable users to play futuristic games in which they perform medical procedures, travel into space or design the city of the future.
The Israeli Expo - DSV and Intuit are the hosts for this floor which was curated in partnership with the Ministry of Economy and Trade and the Israeli Innovation Authority. The room is divided into four islands showcasing the 45 most exciting Israeli innovations today:
○ 1. ICT – Information, Communications and Technology
○ 2. Aerospace and Security
○ 3. Healthcare
○ 4. Agriculture and Energy
Above each Island is a loan from the Israel Antiquities Authority representing ancient innovation from days of old, bringing full circle the idea that this region has always been a basin of innovation.
Flagship programs the Peres Center for Peace and Innovation runs:
The Peres Center for Peace and Innovation is a leading non-profit and non-government organization focused on developing and implementing unique and cutting-edge programs that promote peace and build bridges. It serves hundreds of thousands of participants of all ages, religions, genders and cultural backgrounds. It runs special programs in Innovation, Sports, Cultivation of Leadership and Entrepreneurship, Medicine and Healthcare, Business and Environment. The programs are implemented with a network of local, regional, and international partners.
Starting-Up Together - Launched in 2017, Starting-Up Together addresses challenges of inclusivity and opportunity by encouraging underrepresented communities in Israel to become involved in entrepreneurship, innovation, and the high-tech sector while promoting shared-living and creating a sense of community among its Israeli Arab and Jewish participants.
The participants, aged 25 and above, possess the motivation and vision to succeed in their field, but do not have access to the training or connections needed. Each program cycle includes 30-40 participants, half Israeli Arabs and half Israeli Jews, with an emphasis on women, minorities and underrepresented communities. This holistic pre-accelerator program grows entrepreneurs and opens the door for their participation in the Start-up Nation through workshops, boot camps, meetings with experts, mentoring, networking opportunities, and more. Alumni continue to receive support for 12 months following the end of the program. Starting Up Together is conducted through an important partnership with the Edmond de Rothschild Foundation.
CityZoom - Launched in 2018, CityZoom creates connections between innovators, local and multinational companies and city governments by implementing meet-ups between industry leaders, municipal stakeholders and academics; round table discussions and webinars with innovation experts, entrepreneurs, researchers and city leaders; and an International Smart City Conference. Partners include Tel Aviv University, Atidim, the Israeli Ministry of Economy, the Israeli Ministry of the Interior, and Digital Israel.
Strengthening Private Sector and Business-to-Business Cooperation - Together with local, regional, and international stakeholders, the Peres Center identifies and targets challenges and opportunities in order to facilitate easier trade and economic growth through policy, structural research and practical action. Ongoing programs work to assess needs, build capacities, and link the Israeli and Palestinian economies, while fostering cross-border, people-to-people interaction.
Startup-Link - Startup-Link aims to expand the Start-up Nation into the Start-up Region by the creation of a new Palestinian startup incubator-accelerator, which trains the next generation of Palestinian entrepreneurs. The project also brings together experienced
Israeli innovators and young Palestinian entrepreneurs to strengthen ties and mutual understanding and invigorate the Palestinian innovation ecosystem.
SharakehTech – Partnership for New ICT Horizons - The potential of the Palestinian hi-tech sector is widely recognized but struggles to penetrate markets. Launched in 2018, this program exposes 40-60 Palestinian and Israeli professionals and ICT companies over 3 years to mutually beneficial business opportunities and capacity building through a multilayered process and match making opportunities.
In addition, 50-70 Palestinian students and recent graduates receive work experience and exposure to the ICT industry. This program connects the Israeli and Palestinian hi-tech sectors and promotes cooperation, thus strengthening innovation in the Palestinian private sector and forging unique cross-border business relationships.
Sport in the Service of Peace – Twinned Peace Sports Schools - Launched in 2002, twinned groups of Jewish and Arab, Israeli and Palestinian girls and boys come together through sport, breaking down barriers and building lasting friendships. Over 20,000 participants from 60 communities have participated in the Peres Center's unique methodology that includes bi-weekly training and peace education sessions, joint soccer training, inter-language learning, and the annual "Mini Mondial" tournament. During the last activity year (2017-18), the project reached 500 participants from 20 communities. Member of 8 international networks; 19 delegations sent abroad; recipient of 8 awards including: Beyond Sport 2016 "Leadership in Sport Award"; Peace and Sport, Monaco 2011 "Best NGO"; the Wingate Award 2010 "Best NGO in the Field of Peace and Sport".
YaLa Young Leaders – Launched in 2011, this program connects almost 1 million young people from around the MENA region through Facebook and virtual platforms. Over 1,500 participants from Israel, the Palestinian Authority, Egypt, Tunisia, Morocco, Lebanon, Syria, Jordan, Iraq, Sudan, Algeria, and more have participated in in-depth virtual training programs. 4 regional face-to-face conferences and 5 on-line conferences have been held.
Training Doctors - Launched in 2005, Training Doctors trains Palestinian physicians and medical personnel in Israeli hospitals for 2-5 years, creating a network of Israeli and Palestinian medical professionals. To date, over 260 Palestinian healthcare professionals have been trained, in turn treating over 1.5 million Israeli patients. Of program graduates, 90% continue to serve in the Palestinian public healthcare system, and 20 have gone on to become heads of hospitals or heads of departments. 40 are in training today.
Saving Children - Launched in 2003, Saving Children has provided lifesaving treatment to Palestinian children in Israel when treatment is not available within the Palestinian healthcare system. Working with every major public and non-profit hospital in Israel and the Palestinian Authority, over 12,500 children have been treated. Following years of
successful best practices and by request, this program was expanded to include Syrian children when the geopolitical situation enabled us to do so.
Israel Innovation Center is the first and only visitor center of Israeli innovation in which you will be exposed to the unbelievable story of the state of Israel, the innovation nation, in a fascinating journey inspired by the vision of the late Shimon Peres.
-Tour of the Israel Innovation Center for NIS 30 until the end of August
- Planning a convention, event or gathering?
- Donate ;Be a part of our work! legacy of innovation, creativity, and the pursuit of peace.
Your support matters. Thank you!
*Please note - donations made through this page are tax deductible only in the USA but can be made from any country.
Site Web : https://www.peres-center.org/
- Facebook :The Peres Center for Peace & Innovation מרכז פרס לשלום ולחדשנות
Address: Kedem 132, Tel Aviv-Yafo
Phone: 03-568-0685
Photos Silvia G. Golan