Former President Shimon Peres and Michael Douglas held discussion before hundreds of young Jewish leaders
Michael Douglas to Shimon Peres about the threats against Israel:
"I am very concerned about the development of nuclear weapons in the region and the threats of boycotting Israel"
When asked by Douglas about his opinion on the BDS movement, Peres expressed "The Boycott is an anti-peace movement. The only solution that would guarantee stability for both peoples is the two state solution".
Laughter was heard after Douglas revealed his age and Peres called him "a baby"

"You're 70 years old, for me you are still a baby and have all the future ahead of you"
Former President Shimon Peres and Genesis Prize Laurate Michael Douglas appeared before hundreds of young Jewish leaders at an event held at the Peres Center for Peace. The special meeting was entitled "Jewish voices talk peace" with the participation of former President Peres, Jewish Agency Chairman Natan Sharansky and Michael Douglas.
Douglas said about the attempted boycott against Israel and the threat of Iran developing nuclear weapons: "I am a UN ambassador for peace and I would like to say that from my experience the biggest problem in the world are nuclear weapons. However, I am optimistic when I look at former President Peres. I know that the world can lead to good directions, but I'm still very concerned."
Douglas took advantage of the opportunity of being asked what he would say if he could address the knesset, saying "I respect the fact that I am not Israeli, but I am very concerned about the attempts of boycotting Israel and I am not comfortable with the response at the moment. I hope that the Knesset parties will overcome internal differences and work together".
Former President Peres called Jewish youth to represent Israel in the world and continue to support the peace process: "Peace is the vision of the greatest majority of the people in Israel and most of the world supports it. Only through peace will we create two independent and free states, and we must not ignore that. We must negotiate with those who disagree with us to make compromises. We have to be brave and never lose hope. "
Addressing Iran, Peres added that the world should join forces to prevent Iran from developing nuclear weapons
"The problem is that the regime wants to have nuclear weapons while threatening Israel's existence. We must prevent Iran from obtaining a nuclear weapon and it is better to do it with a coalition than alone. There is an existing coalition that President Obama built with other countries and all options are on the table. Of course if Iran can be dissuaded to abandon its nuclear program diplomatically it would be better, but we are not ruling out any options. "
Douglas: "I am always amazed at how many Jews are not in Israel- the most important thing is to come here and feel Israel. Everyone has his own narrative, and I encourage all of you to find your Jewish narrative and keep it in the future.
Before the event, Douglas took a tour of the Peres Center with Shimon Peres, in which Peres talked about Israel being a Start-Up Nation as well as the current coexistence situation in Jaffa that reflects the tolerance and mutual respect between people of different religious backgrounds.
It should be noted that the Genesis Prize aims to recognize outstanding individuals who have a global reputation in their field their activities, in addition to their achievements embodying the character of the Jewish people through commitment to Jewish values, community and / or the State of Israel. The Prize recognizes Jewish values and contribution to the improvement of humanity.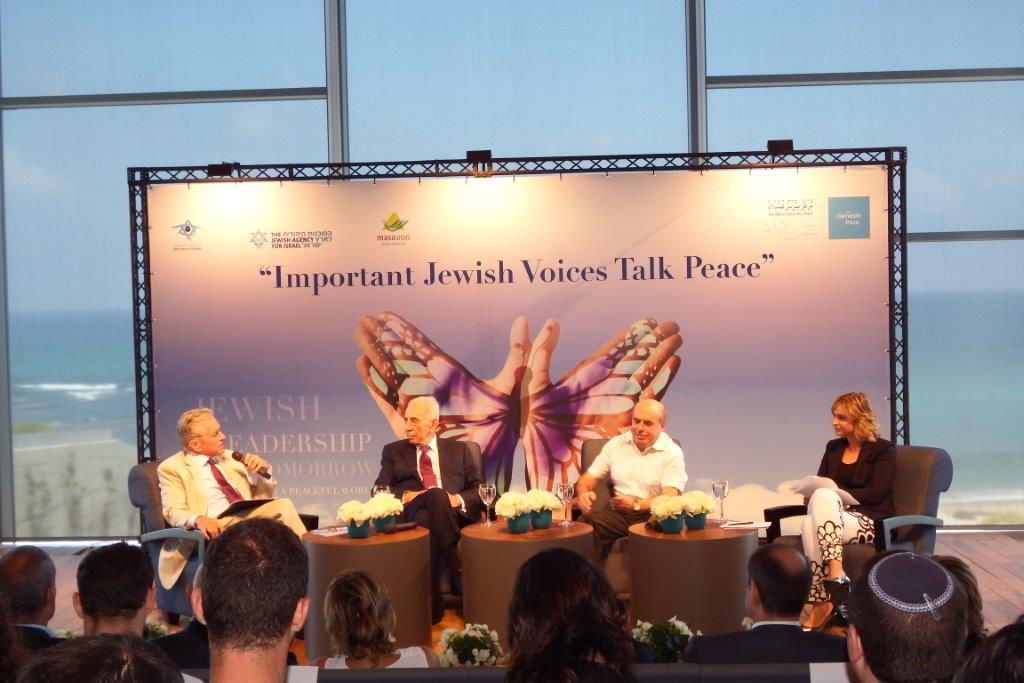 Photos Silvia Golan