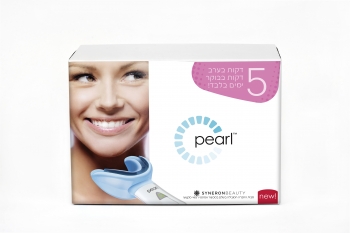 Syneron Beauty Inc., the Israeli company that pioneers the development and marketing of medical aesthetic products for the home users, announced the launch of its Pearl Brilliant White Ionic Teeth WhiteningSystem in Israel. This important event took place in the Dan Tel-Aviv Hotel a few days ago, on Sunday 3/11/2013. Pearl has been successfully soldin the USA and Canada, and declared by the American "New Beauty" magazine as the best product for home treatment for teeth whitening.
Pearl was developed to solve the increasing aesthetical need of customers throughout the world to enjoy a white and radiant smile, and obtain an attractive look. Pearl includes an electronic bite that activates the whitening gel operation, including the removal of stains located in the teeth for years. Pearl also helps neutralize bacteria that may cause a bad smell in the mouth, and so provide a white, clean and fresh smile.
The treatment with Pearl is simple: 5 minutes, twice daily, morning and evening, for 5 days, incorporated in the daily teeth cleaning routine. Clinical and technological research proved that whitening up to 7 shades can be achieved in less than a week (50 minutes of accumulated treatment only!), in an effective and secure fashion, while maintaining the teeth enamel.
DDS Veda Faith Afsahi, leading dentist in California, USA, managed a comprehensive clinical research on the Pearl system and said that Pearl is a revolutionary solution for home treatment for teeth whitening. The ionic technology on which the system is based allows the achievement of whitening results comfortably and safely, without the worries that characterize professional treatments that involve the use of high concentrations of active material. She added that Pearl is comfortable and easy to use, and the results obtained are similar to those achieved with whitening professional treatments, without patient sensitivity in most cases. Pearl is most comfortable for those seeking teeth whitening results at home, by just a short and simple treatment of 5 minutes twice a day during 5 days.
Syneron Beauty entered the field of mouth aesthetical treatment a year ago, when it launched Pearl in USA. After this event, Pearl won prestigious prizes for offering the customers an advanced solution for teeth whitening at home. The "New Beauty" magazine described it as the best product in 2012 for home treatment for teeth whitening.
Omry Khayat, Operation Deputy Director, saidthat with the launch of Pearl™, Syneron Beauty continues to provide access to innovative and advanced solutions from the professional medical world, this time in mouth care. We are the only ones that offer an advanced technology of ionization for teeth whitening approved by the FDA for home use, by means of a technological patent developed in Israel, which allows our customers to obtain professional results at home that are maintained for a long time with no damage to the teeth or gums.
Adi Eckhouse, International Marketing Operation Manager, said: We, at Syneron Beauty, are proud to present a revolutionary product in the field of medicalaesthetical instrumentation to the Israeli customer, following mē™,for permanent hair reduction, and zap™, for Acne treatment. We are launching now another unique and revolutionary technological instrument for teeth whitening, which follows the line of efficient and safe home instruments sold in Israel and the world.
The participation of Super-Pharm in Israel allows us to provide customers, in the widest distribution, of efficient and safe products of the most advanced technologies.
Syneron Medical Ltd. was founded in Israel in 2000 by Dr.Shimon Eckhouse, inventor of IPL and elōs, and is presently considered the largest and leading company in the world, with the widest variety of products in the field of medical aesthetical professional instrumentation. The company products are sold in over 90 countries at about of 264 million dollars a year. The company holds many patents in its field, lead by elōs technology.
The company is considered as a pioneer in the design, development and distribution of energy-based products for home use in personal aesthetics, specializing in the supply of professional, innovative and efficient solutions based on proven technologies in the field of clinical/aesthetical treatment, carried out in professional clinics throughout the world. The main product of the company for home users is mē, for permanent hair reduction.