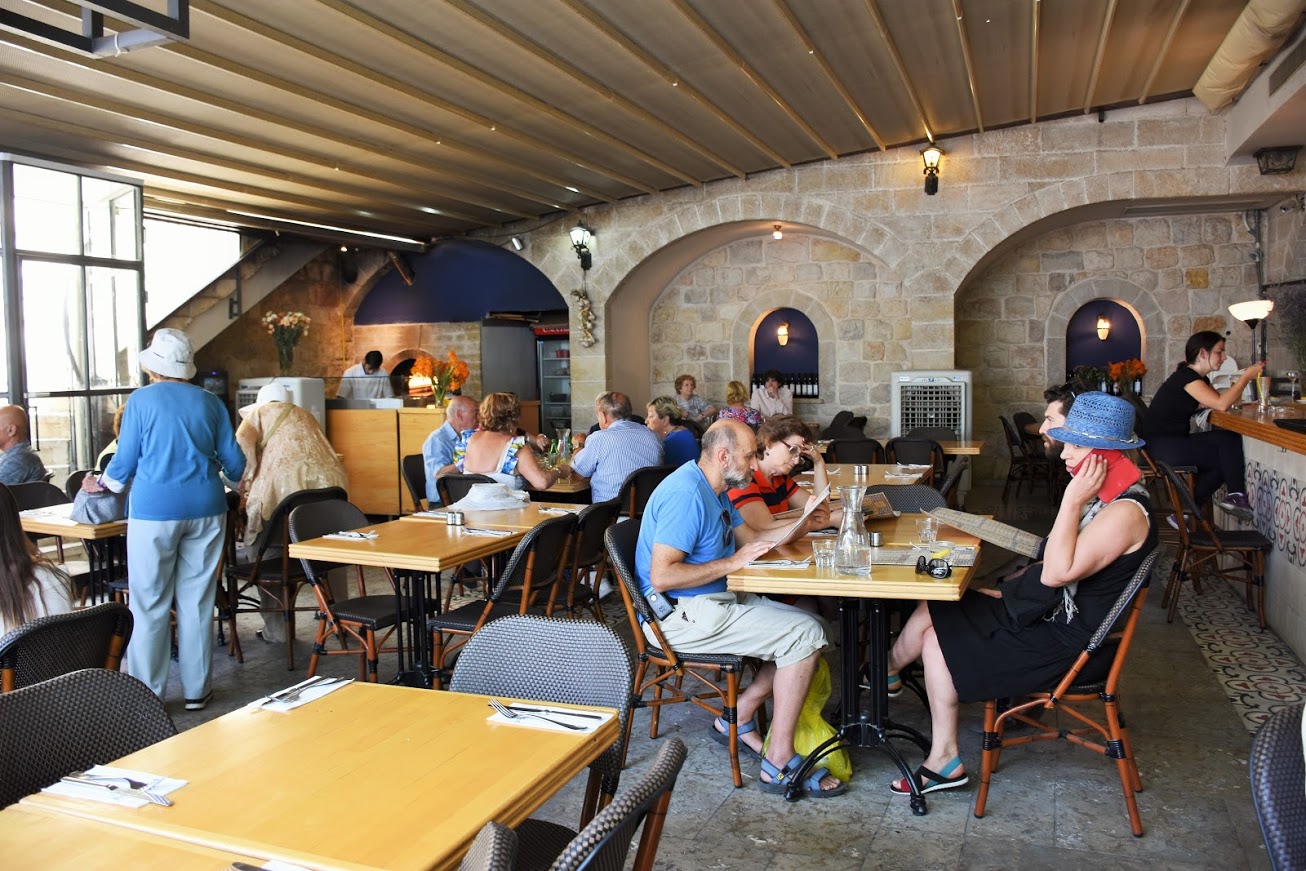 The Ein Kerem Inn - one of Jerusalem's longest-standing and most popular restaurants
On May 15th 2016, I visited the Ein Kerem Inn, a popular and well-frequented restaurant on Hama'ayan St. in the magical village of Ein Kerem, Jerusalem, and met with Shimon Levy, who has owned the restaurant since 1986. The restaurant, which opened in 1985, was originally housed in a different building, now a hotel. Shimon told us that the restaurant's present location is a protected Spanish building whose interior has been totally reconstructed by him and in keeping with its Spanish style. In addition to the large ground floor restaurant space and al fresco dining area, the Inn's upper storey is reserved for private events.
Open seven days a week from 9 a.m. to midnight, the Ein Kerem Inn is indeed an integral part of Jerusalem's buzzing restaurant scene. Some of the clientele has been frequenting the restaurant since it opened. Shimon and his staff have got to know the regulars personally. "We take part in their joyful celebrations and are there with them in the sadder events of their lives" he adds. "These people are the restaurant's mainstay, but" he adds "providing for local tourism is an important aim of the restaurant." Weekends are a very busy time, with people there enjoying the village. Shimon Levy's background is academic; he made his acquaintance with the restaurant business working as a student. Most of the Ein Kerem Inn's waiters and waitresses are students from the nearby Hadassah Medical Center or at the Giv'at Ram Hebrew University campus.
I asked Levy what typifies the restaurant's cuisine: "We have an award-winning chef in Oren Hemo; our aim is to prepare good food that appeals to all kinds of people – we serve fish, meat, pasta… you could call it French-Italian fusion and we have the taboon oven, in which our focaccia is baked." The menu offers a wide choice of dishes; sometimes there are daily specials. There is also a business lunch menu. The restaurant makes its own Italian ice-cream daily; in fact, absolutely everything is prepared in the restaurant kitchen and from the highest quality ingredients.
We began our meal with fresh, crusty focaccia, served with dips of sun-dried tomatoes, pesto, labneh (yoghurt cheese) and an olive paste. As to the main courses, the goulash soup was a hearty, savoury, not over-fatty broth, in which the beef, paprika and fennel flavours were both present and satisfying. The restaurant imports the spices for this dish from Hungary. For the generous salad topped with stir-fried mushrooms, the salad dressing combined a spicy mix with a hint of sweetness. The oven-baked eggplant came with a tahini mix, flavoured with garlic; it was flavoursome, the garlic not overpowering. The deep-fried St. Peter's fish was fresh, tender and moist. It came with a generous serving of mashed potatoes, garnished with fried onions. Hot dishes came to the table piping hot. For dessert, our waitress suggested the biscuit cake; it was perfect – creamy, subtle and not over-sweet. As to the restaurant's homemade berry-, passion fruit- and coconut sorbets, every spoonful was a tastebud delight.
The restaurant was busy, but there was enough staff to keep everything running smoothly, with guests looked after attentively and served quickly. Our waitress managed well in English; she was friendly, helpful and efficient. Prices are moderate. The Ein Kerem Inn's welcoming, upbeat atmosphere and tasty food beckon one to return.
http://pamelahickmansblog.blogspot.com
http://pamelahickmansmusicinterviews.blogspot.com
Photo Shirley Burdick