July is Chefs and Beer Month at Porter & Sons
Porter and Sons, the restaurant whose slogan is Kitchen and Beer, is hosting a special Chefs and Beer festival this month, featuring new dishes created by four guest chefs, with beer pairings specially selected to complement each dish. The restaurant, with 120 kinds of domestic and imported beer on tap and in bottles, has a rich tradition of pairing beers and ale with food.
Chefs and Beer month is being held in cooperation with Israel Beer Breweries Ltd Carlsberg, brewer and importer of many of the country's leading beers and ales. The beer pairings were conceived by IBBL Carlsberg in conjunction with Itai Laifer, manager of Porter and Sons.
The chefs for this event, who represent some of Tel Aviv's most popular restaurants, are:
Avivit Priel, of Ouzeria

David Almakias, of David and Yossef

Orel Kimchi, of Popina

Guy Mualem, of Porter and Sons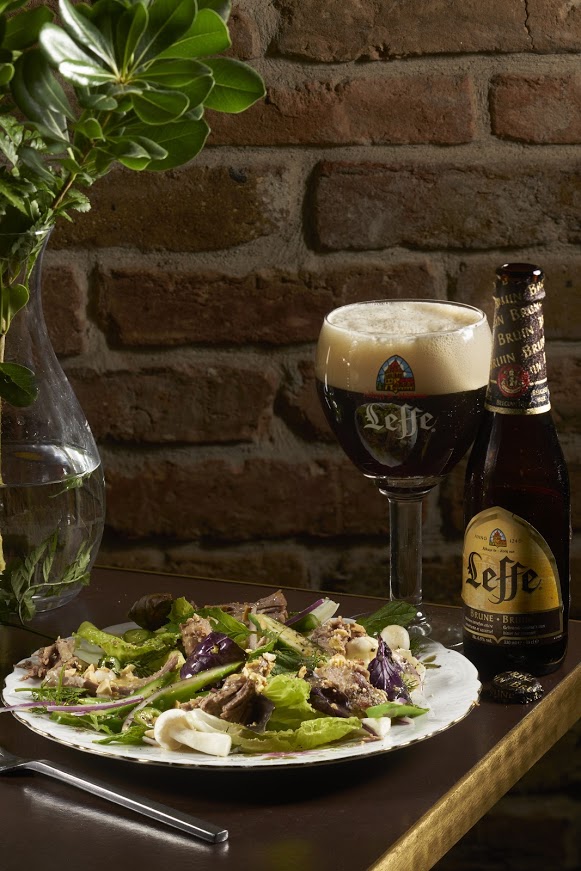 The dish created by Ms. Priel is lamb tartare with freekeh (green wheat) and Tassos olives, garnished with chili peppers and topped with yogurt dressing. The perfectly seasoned raw lamb is meant to be wrapped in accompanying fresh lettuce leaves. The beer paired with the lamb tartare is Jacobean saaz blonde, a Danish ale.
The dish devised by Almakias is a salad of pulled lamb shank with mixed greens, Thai okra, shimeji mushrooms, asparagus and peanuts in a spicy lime vinaigrette. There is a very nice interplay of flavors going on in this dish, reminiscent of a Thai salad, which is well-suited to warm weather. It is paired with Leffe brown, a Belgian dark ale, selected for its full body that stands up to the spiciness of the dish.
The dish from Popina chef Orel Kimchi is smoked asado in a bourbon and beet barbecue sauce, with cornbread. The beef short ribs were cooked sous vide, so they came out tender and flavorful, in a sauce that enhanced the slightly fatty meat without or overwhelming it. The cornbread was also moist, having been soaked in a sauce with a touch of sriracha. The asado is paired with Guinness, for its familiar bold flavor that is strong enough for the pungency of barbecue without adding extra body to the very substantial beef dish.
Guy Mualem returns to the kitchen of Porter and Sons to create his mussels in heavy cream with tomatoes, green onions, herbs and Hoegaarden. The mussels, cooked perfectly in the beer and cream sauce seasoned with thyme, tarragon, coriander and mustard, melted in the mouth. This dish is paired with, not surprisingly, Hoegaarden. According to Laifer, this wheat beer spiced with coriander seeds and peels of Curaçao oranges is ideal for the hot Israeli climate.
Porter and Sons' complimentary house beer bread comes in very handy to mop up the delicious sauce.
Dessert continues the beer pairing theme: a wedge of Porter and Sons' New York cheesecake served with a shot glass of Leffe Ruby, a beer flavored with red berries that evokes the sweetness of the fruit without losing its essence as a beer. A nice extra touch is a scoop of pearls of gelatin flavored with the unique beer.
Porter and Sons' Chefs and Beer dinners are served nightly for the first three weeks of this month, commencing at 19.00. The dinners are a la carte, and course may be combined with items from the regular menu. The beers are available in regular full-sized glasses or special tasting sizes.
Porter & Sons
Not kosher
Ha'arba'a Street 14, Tel Aviv
Tel. (03) 624-4355