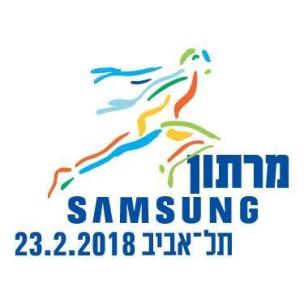 The Tel Aviv Samsung Marathon will take place on February 23, 2018. 40,000 runners will participate in Israel's biggest sporting event of the year. A record number of 2,500 international participants from Germany (335 runners), Poland (192), Russia (185), US (182), UK (118), Italy (105), France (102) and more are set to hit the city to take part in the Tel Aviv Samsung Marathon, including a large delegation of elite international runners attempting to break the marathon record. The current record was set in 2016 by William Kiprono Yagon from Kenya at a time of 2:10:30. Any runner who succeeds in achieving a result of under 2:07:59 will receive $40,000.
This year, the Tel Aviv Marathon will take participants on a stunning 42km route winding its way through the beating heart of the city. Runners start at the Tel Aviv Convention Center in northern Tel Aviv and then follow the route through many of the city's most celebrated neighborhoods, including Sarona Market, Rabin Square and Old Jaffa - one of the most ancient port cities of the world. The route also takes runners along the white sandy beaches of the Mediterranean Sea.
150,000 spectators are expected to attend the event this year to cheer the runners on. The Marathon Expo, the largest sport and active lifestyle exhibition in Israel, will be held at Rabin Square during the week leading up to the marathon. CineMarathon, a free film festival will also be held on the premises, showcasing a selection of acclaimed films about running.
The Tel Aviv Samsung Marathon continues this year to support social and community engagement, and encourages marathon runners to take advantage of their participation to raise funds for charity. On the official Tel Aviv Samsung Marathon website, participants can choose from a list of more than 90 charitable organizations to support and create a donation page to share with their friends, family and colleagues. In addition, the Tel Aviv-Yafo Municipality invites more than 1,000 soldiers to participate in the marathon at no cost.
Ron Huldai, Mayor of Tel Aviv-Yafo: "The Tel Aviv-Yafo Municipality is proud to promote the sport culture in the city. We are pleased that every year the number of international participants rises, placing the city as an important destination for marathon runners from Israel and abroad. We welcome the 2,500 runners joining us from abroad to participate in the unique experience that we create annually in the city."
The marathon heats:
Marathon – 42.195 km (kick-off time: 7:00)
Semi-Marathon- 21 km (kick-off time: 6:15)
10 km race
5 km race
Hand-cycle race
Mini-Marathon for kids- 500m and 1km (Wednesday 21st, 16:00 at the Sarona Compound)
To register for the event, or for more information, updates and maps of the routes, visit: http://www.tlvmarathon.co.il/Default.aspx?l=en