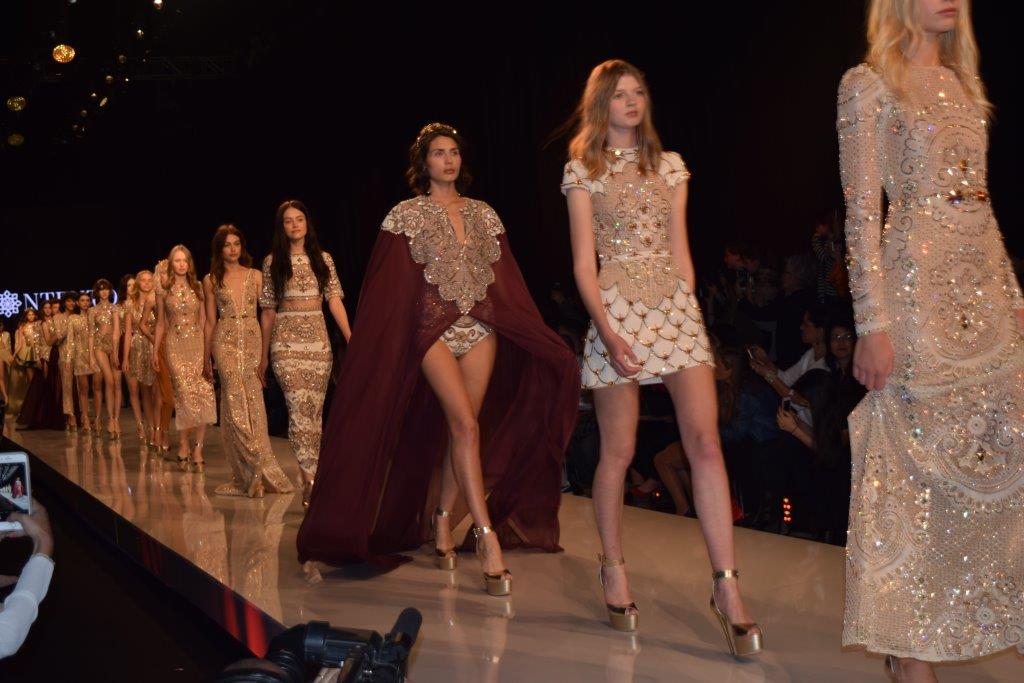 Fashion Week Tel Aviv is returning on March 10th for the 6th time since its initiation in 2011. Israel's biggest fashion event will be held from March 10 - 13 on the historical Hatahana Compound by the seashore of Tel Aviv.
Tel Aviv Fashion Week is supported by the Municipality of Tel Aviv-Yafo, the Export Institute and the Ministry of Foreign Affairs, which are instrumental in helping host international media, buyers and other influential personalities in the global fashion field.
Fashion Week will open with a gala event in partnership with the world's leading jewelry brand PANDORA, attended by Tel Aviv Mayor Ron Huldai and other dignitaries. The event will expose the SHINE collection as part of the largest international brand launch. The SHINE collection presents sterling silver 18K gold plated items in intricate designs and combines traditional techniques with high-end modern jewelry and available price range. 25 Israeli women of all ages, including artists, actresses, singers, models and others, will walk the runway wearing PANDORA's new collection. 25 leading Israeli fashion designers of different backgrounds and styles will personally design gold and silver dresses inspired by the PANDORA SHINE collection, specifically for the show.
"This year, for the first time in Israel and around the world, Fashion Week will feature models of all ages, sizes, colors and religions. I believe I'm involved in great changes happening today in the fashion world and beyond. Fashion Week Tel Aviv will introduce a different beauty standard, which will be visible throughout most of the shows", said Motty Reif, founder and producer of Tel Aviv Fashion Week Tel Aviv about his disruptive vision for the fashion industry.
The line-up of designers and brands showcasing their collections at Fashion Week Tel Aviv 2018 includes: Alon Livne , Lara Rosnovsky together with Magnolia jewelry, Holyland Civilians (Dor Chen and Anat Meshulam), Shenkar fashion design department, Dror Contento, "Turning Tables" - a unique project to help women get out of the cycle of prostitution in collaboration with Yvel jewelry brand, G.R.A.S. jewelry, Twentyfourseven, Dorin Frankfurt and others.
UPCOMING DESIGNERS:
For the third time fashion week will feature the winners of the National Lottery competition for emerging designers, including: Shahar Avnet, Ariel Bassan, Adi Benjo, Eran Shani, Dana Cohen and Moriel Dezaldeti.
Other special shows will display the collections by Idan Laros, Gideon Oberson and Karen Oberson KO, Rima Romano in cooperation with the international shoe brand Reebok, a fashion show by jewelry designer Maya Geller, and other graduates from the National Lottery competition, which went on to establish their own brand: Gal Shenfeld - Mews, Nadav Rosenberg - Northern Star and Hili and Ari - Hili Ari.
Talented brands such as SAMPLE by designer sisters Einav Zini and Nofar Mahluf, Chana Marelus abd Maoz Dahan NOUVEAU RICHE DOG will be back, furthermore, Evyatar Myor, a new designer, will showcase his new collection. Fashion week will end with a festive show by Vivi Bellaish.
Events
Sunday, March 11th
14:30 – 20:00
Showroom of selected designers, some of which are doing their first ever pop-up. Showroom will carry streetwear, accessories and shoes.
Monday, March 12th
10:00 – 20:00
Showroom
16:00
Fashion Show by upcoming designers for Tel Aviv Digital card holders
18:30
Book Launch Event with author, Adam Katz Sinding at Story
Tuesday, March 13th
10:00 – 20:00
Showroom
17:00
Fashion Tech Event at Ultima Studio
Photo Silvia G. Golan