The Israel chapter of the Italian Academy of Cuisine (l'Accademia Italiana della Cucina) congregated at the Hod Hasharon restaurant Nono for dinner on May 9, 2018. The evening's symposiarchs were Delegate Cinzia Klein, Vice Delegate Sabrina Fadlun, and Francesca Torrini.
Nono is a large Italian restaurant whose centerpiece is a wood-fired oven imported from Italy. The popular family-owned restaurant has a pleasant rear garden al fresco area, where Nono hosted the Accademia.
The special menu prepared for the evening comprised four traditional courses, beginning with focaccia and no fewer than three antipasti: sea fish carpaccio with grilled artichokes, and two vegetable salads, insalata cuscinetto and insalata del contadino. Also accompanying the antipasti was Nono's signature white pizza, with mushrooms and a hint of truffle.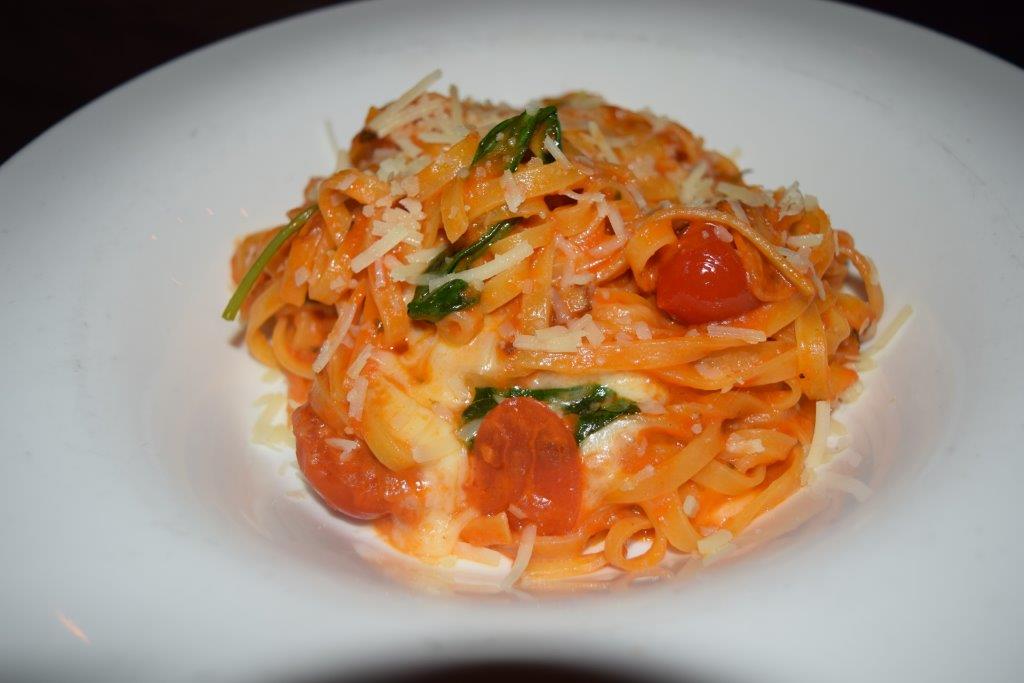 There were three pasta dishes served as primi: spinach gnocchi in a Gorgonzola sauce; a vegetarian cannelloni roll; and linguine napoletane. The latter two dishes were both served in tomato sauce.
For secondi, diners had a choice of one of three main courses: a whole sea bass; slow-cooked shoulder of beef; or baked chicken. All three were accompanied by baked potato.
The dessert course featured a particular specialty of Nono: a reverse cassata, consisting of mascarpone gelato, tuile, and butterscotch biscotto. In addition, the restaurant served an assortment of four flavors of gelato and two of sorbetti, all handcrafted on the premises.
Unusually for an Accademia function, the red and white wines accompanying the meal were not imported from Italy; rather, they were from the winery of the restaurant owners' family: Lewinsohn, with the private label Garage de Papa.
At the conclusion of the meal, the Tel Aviv chapter of the Accademia presented with the owner of the restaurant with the gift of a book on the role of cheese in traditional Italian cuisine. It also awarded Nono a score of three stars, which ties the establishment for the highest rating it has awarded any Israeli restaurant.
Among the distinguished guests attending the event were H.E. Mr. Gianluigi Benedetti, the ambassador of Italy to Israel and his wife Sabina, along with other embassy officials, including First Counsellor and Deputy Head of Mission Mr. Gianmarco Macchia; First Secretary for Press and Political Affairs Mr. Francesco De Angelis; First Secretary for Political and Consular Affairs Mr. Niccolò Maniello and his wife Elmina Vincenti; and Mr. Francesco Meucci, chief of the Bureau of Economic and Commercial Affairs.
Other notable guests included H.E. Mr. Oded Ben-Hur, former ambassador to the Holy See, Lithuania, Latvia and Estonia and his wife Edna; Mr. Ottavio Viglione, branch manager, Edison Israel; Judge Emeritus Uri Goren and Mrs. Orna Galazane Goren, Esq.
Photos by Silvia Golan