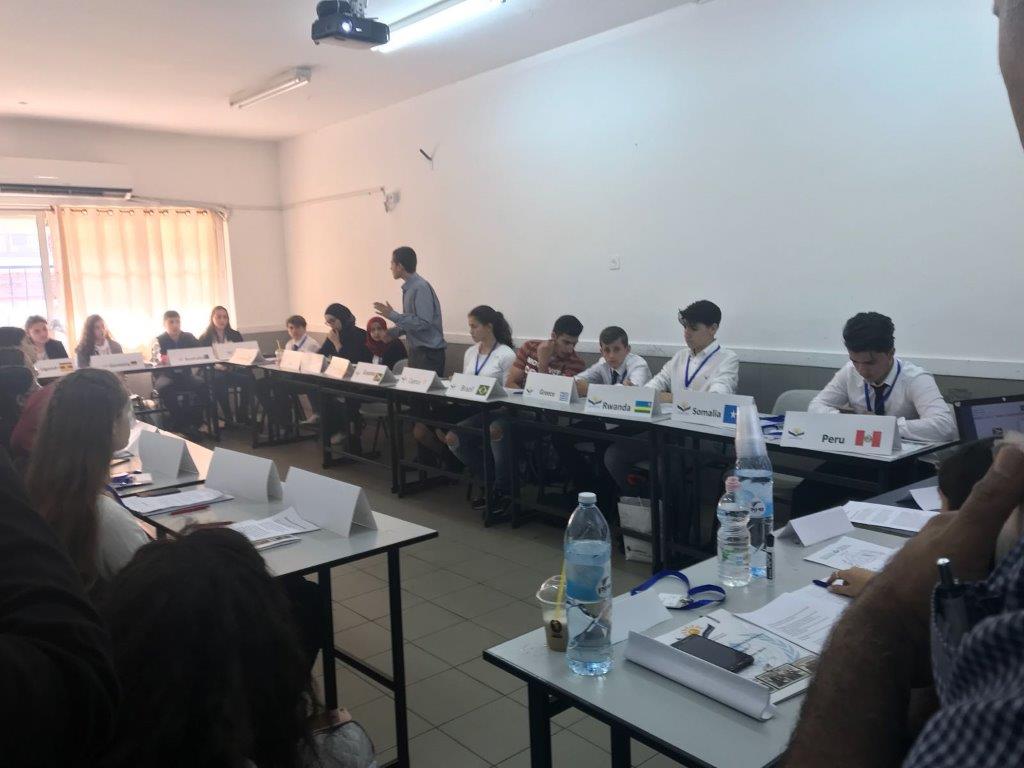 On Thursday November 2, 250 aspiring diplomats participated in BashaerMUN, Debate for Peace's opening Model United Nations conference of the year. The conference was hosted by the Bashaer School for Science in Sakhnin, and co-sponsored by the US Embassy in Tel Aviv.
The students came from 50 cities and towns all around Israel, and were divided into 8 different committees: GA 1; GA 2; HRC; ECOSOC; EU; UNICEF; UNDP; UNCTC. The conference theme was "Contemporary Challenges," with topics including cybersecurity; migration; violent extremism; drones; social media and education; the far right in Europe; cryptocurrencies, and lone wolf terrorism. After 5 hours of speeches, debates, and intense negotiations, the various committees voted on and passed their respective resolutions. As the opening MUN conference of the year, this was the very first MUN experience for most of the participants, and students left with far more confidence in their diplomatic skills.
The closing ceremony opened with reflections from Jameel Ghantous, a Bashaer MUN student and one of the UNICEF chairs. The principal of the Bashaer school, Ameer Haj, addressed the delegates, teachers and advisers, welcoming them to Sakhnin, and expressing his support for the MUN program. Steven Aiello, Co-Director of Debate for Peace, spoke on behalf of the Interfaith Encounters Association (IEA), telling students that while this may have been their first meaningful interfaith experience, they should make sure that it would be the first of many.
After a musical interlude led by singer Rahma Badarneh, Salah Fokra, the MUN Director at Bashaer, spoke. Salah thanked the various partners in this initiative: the US Embassy, the IEA, Mr. Ameer Haj and the entire Bashaer school for their support in helping to realize the dream of bringing an MUN conference to Sakhnin.
Political Counselor Michael Snowden spoke on behalf of the US Embassy in Tel Aviv. Drawing on his experience as a diplomat all over the globe, Mr. Snowden listed the various skills that MUN students would be able to use in their own lives, regardless of their chosen career paths. He closed by expressing his confidence in the ability of these young leaders to handle the challenges of the future.
During the awards ceremony, top-performing students from each committee were called up to receive certificates. The award-winners were: El Salvador (Ayala Grossman) and Lebanon (Adi Bishara) in the GA 1; Ireland (Leen Jebara), the Philippines (Antonio Kai) and Poland (Farah Nashif) in GA 2; India (Shahar Ben Dor), Germany (Baraah Masalha) and Guyana (Sahar Gvura) in ECOSOC; Eritrea (Oren Siton), Cuba (Margalit Bak) and Ethiopia (Roni Jino) in UNICEF; Sweden (Maayan Walfer), Hungary (Guy Sertchook) and Italy (Adi Alagem) in the EU; India (Itamar Levy); Brazil (Dima Jameel) and the United Kingdom (Malak Lahham) in HRC; Belarus (Benjamin Chelsky) and the United Kingdom (Sama Mazzawi) in the UNDP, and Senegal (Zohar Yaron), Ukraine (Botros Elemy), China (Chai Margalit) and Israel (Bashar Shama) in the UNCTC.
Salah Fokra, Director of the MUN program at Bashaer High School, and the director of Bashaer MUN, told Diplomacy that "bringing 250 Arab and Jewish students to Sakhnin to negotiate 21st century challenges cannot be taken for granted. However, with the will and support of a wonderful group of teachers this has happened and it was more than perfect. Students chaired committees in this Model United Nations conference and represented countries as delegates, be they Arabs or Jews. To us in Sakhnin, we believe this is how tolerance can be built, and prejudice get destroyed. The amount of effort the students have put in organising this event was tremendous. We look forward to participating in more conferences and keeping this trend at our school."
Ameer Haj, the principal of the Bashaer school added that "It is an honor for us to host such an event at our school. Not only do we care about developing our students' English, but also creating a mutual respect and coexistence with the students from the Jewish sector. We believe that those kind of gatherings will create a brighter future for our students."
Sharehan Alwkili, one of the students who came from the farthest away to participate, summed up her feelings: "I'm very happy to be a part of this awesome program; for me it was my first conference. In the beginning i was so confused but after we spoke I felt comfortable and excited, especially when we started the debate to find common solutions for our countries.There was competition but we did not feel it because we were working together, in order to achieve the peace in all fields that we need. In the end, through social communication and discussion on finding a compromise to achieve peace, we can overcome national differences and barriers. I believe that every human being can overcome negative thoughts and problems through negotiation, respect for others and humane treatment."
The next Debate for Peace conference will be held on December 14th in Tamra. For more information visit the Debate for Peace website: debateforpeace.wordpress.com
Photos DebateforPeace