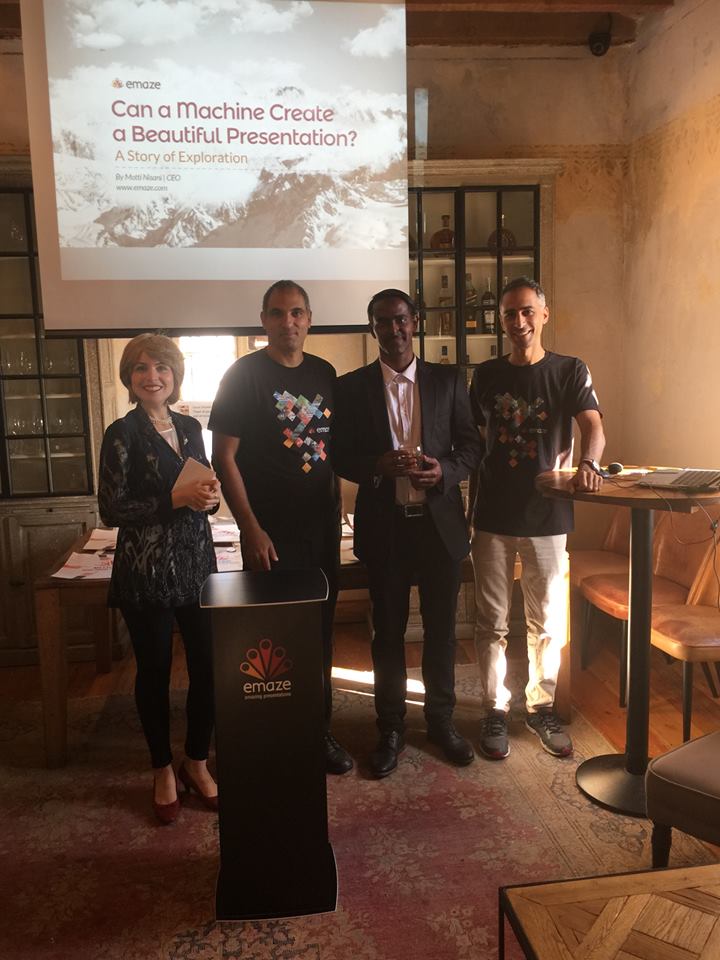 Israeli Startup Emaze Challenges PowerPoint and Releases the Next Generation of Presentations
Advanced Tool for Automatically Transforming PowerPoint Slides into Beautifully Designed Presentations in Just Minutes
Tel-Aviv, October 15, 2015 - Everyone who presents before an audience knows the difficulties involved in creating a presentation that will impress your audience and convey your message in a compelling manner. Certainly, the templates offered by PowerPoint fall short with their limited and uninspiring designs.
Israeli startup emaze aims to solve this problem with it's new feature, Automaze, which enables users to transform PowerPoint slides into well crafted and beautifully designed presentations – in just a few minutes. The Automaze feature, based on advanced algorithms involving Big Data and Machine Learning, scans the text and photos in the PowerPoint slides and offers a visually stunning version that is best suited to the content of the slides. With this new technology, everyone can present like a pro with an elegant, impressive presentation- created in just minutes with no additional design required.
In addition to Automaze, emaze offers innovative presentation making capabilities such as the ability to add in gifs, media, live data, hyperlinking, and more. Video, pan and zoom and 3D transitions, guide your audience through a fascinating visual journey that captures the essence of your narrative.
In addition, these presentations can be shared easily via social media, thereby transforming into valuable marketing tools. Each presentation can also be tracked based on how many views it received, where those views occurred, and further segmentation options to meet the needs of each user.
How does it work?
The user enters emaze through the website and uploads their existing PowerPoint presentation and chooses from any of their designer templates. Automaze technology scans the contents of the Powerpoint presentation and then utilizes its extensive database of 10M presentations to beautifully redesign the original presentation. Within minutes, the user receives their new and improved version.
Motti Nisani, the founder and CEO of emaze, notes that "we all have occasion to present before some kind of audience – students, investors, potential clients, etc., and we spend hours, even days, designing a presentation that will convey our message and make the desired impact. But, at present, there is a gap between the boring templates offering by PowerPoint and the compelling content that we create. emaze bridges that gap by enabling us within seconds to transform our PowerPoint slides into fantastically designed emaze presentations that captivate audiences by bringing them into our story through dynamic, state-of-the-art features. All of this is possible without any design skills and within literally a few blinks of an eye. In a world in which more than 30 million slide presentations are created every single day, we're striving to be the Wix of the presentation universe and to set the industry standard for years to come".
Is there a cost?
emaze is available for free, or with premium upgrades, available to individuals at a cost of $9 a month, or $14 a month for businesses.
emaze currently operates out of The Time accelerator, is led by advertising executive Ilan Shiloah, and has 11 employees.
Photo Silvia Golan