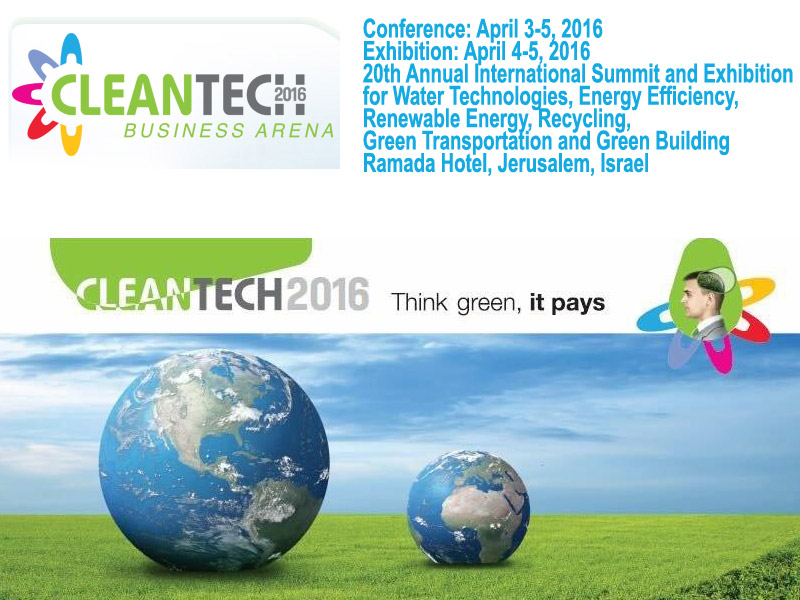 CleanTech 2016
Over 5000 participants and exhibitors from around the world are expected to attend CleanTech 2016 , the 20th annual international event for Clean Technologies: environmental quality, infrastructures and green building, renewable energy and water technologies. The event will take place at the Ramada Hotel, Jerusalem and will be a central meeting point for the CleanTech industry in Europe, Asia and Africa. The World CleanTech Awards will be delivered to outstanding candidates at the official ceremony.
The geographical location of CleanTech 2016 - in the middle of the three continents - Europe, Asia and Africa - makes it an international magnet for companies to expose their products and services to international customers and traders and for buyers to create new commercial contacts.
Though Israel is a small country with limited natural resources, it stands out as one of the most competitive economies. The country's market economy can be characterized as advanced technology based and globally oriented. In recent years Israel has been focusing on CleanTech and there are now more than 600 companies in Israel that can be defined as specializing in the CleanTech field.
CleanTech Exhibition has gained the status of a high quality international business platform, where companies, researchers and professionals display their newest developments, novel technologies and outstanding quality services in the fields of environmental protection and green solutions, infrastructure, renewable energy, waste treatment, water technologies for treatment, desalination, harvesting, purification, filtration and more. The exhibition includes professional conferences, seminars and symposiums.
Renewable Energy
Global investment in renewable energy sets new records every year, according to a reports released by the Renewable Energy Policy Network for the 21st Century (REN21). Technologies such as wind, solar, biomass, geothermal, and small hydro now provide hundreds of gigawatts of electricity generating capacity. Subsequently renewable energy markets have been growing robustly. According to the forecasts the market capacity may at least double itself within a relatively short period of time. The steep rise in air pollution and oil prices has spurred the development of energy alternatives that will reduce dependency on expensive, environment-polluting oils. Israel must keep abreast with the developed countries and increase its use of renewable energies. The Exhibition promotes the technologies in this crucial area.
Green Building
In recent years there has been a growing awareness of "green construction," that is, building that provides a higher quality of life and healthier environment by cutting back on the overall bad effects on the environment from the process of construction and building use. The exhibition will emphasize the environment as a central factor in the planning and implementation of green construction projects.
Natural Gas
Gas demand, which is rising at a slightly faster rate than oil, is currently being driven by rapid growth as a fuel for clean and efficient electric power generation. As with oil, gas resource additions have exceeded demand for most of the last century. Much of this supply was discovered between roughly 1960 to about 1980. This was driven by major discoveries in Russia, the Middle East, the Netherlands and Indonesia. Israel has begun setting up a natural gas system to provide this energy source to industrial plants and national and privately owned power stations throughout the country. The expo will also display technologies for transporting oil and gas that are safety guaranteed and environmentally friendly.
Waste and Recycling
Recycling is an economic development tool as well as an environmental tool. Reuse, recycling, and waste reduction offer direct development opportunities for communities. According to different sources the worldwide recycling industry employs the skills of more than 1.5 million employees as well as using a great armoury of sophisticated machinery. With a total annual turnover exceeding US$ 160 billion, it is also a capital-intensive business. Annual investments and R&D in the recycling industry amount to around US$ 20 billion. Each year, the global recycling industry processes more than 600 million tonnes of commodities such as ferrous and nonferrous metals, paper, plastics, textiles, glass, tyres and much more. CleanTech 2016 will display cutting-edge technologies and solutions for this industry.
Air Pollution
The contamination of the air we breathe is the curse of the developed countries. Special factors in Israel, such as population density, the continuous rise in the standard of living, and meteorological conditions exacerbate the problem. Unfortunately Israel lags far behind the first world in the treatment of air pollution and the effects that can cause disease and suffering. The exhibition management targeted this area for special concern by raising public awareness of the need to cope with this problem seriously.
Organization Name: Mashov Group Ltd.
Address: Ramada Hotel, Jerusalem
Start Date: 03 Apr 2016 End Date: 05 Apr 2016
Country: Israel
Phone Number: +972-8-6273838
Fax Number: +972-8-6230950
Email: This email address is being protected from spambots. You need JavaScript enabled to view it.