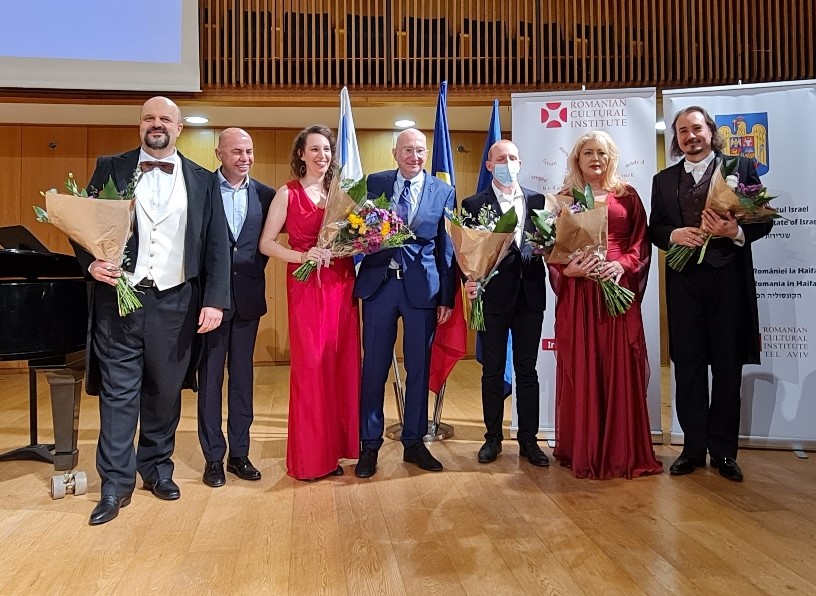 Tel Aviv came to life with the captivating sounds of Romanian opera on Wednesday night, as diplomats, expats and friends of the Romanian embassy were treated to a concert celebrating Romanian Cultural Heritage day, and the 15 year anniversary of Romania's ascension to the European Union.
Martin Salamon, the Director of the Romanian Cultural Institute, opened the evening by explaining the context for the evening–the significance of Romania's joining the EU, and the country's growth in the last 15 years as an active member of the organization.
This concert, featuring soprano and baritone singers from Romania and Israel, led by an Israeli musical director, highlighted the vibrancy of Romanian culture and its interaction with Israeli society, a key mission of the Romanian Cultural Institute.
Ambassador Radu Ioanid welcomed all the guests, and noted with appreciation the ability to enjoy this concert despite the challenges brought by Covid-19. The Ambassador emphasized the key economic and development benchmarks achieved since Romania joined the European Union on January 1, 2007. Keeping his remarks short, Ambassador Ioanid stated that there was little need to talk when "music can speak for itself", and invited the audience to enjoy the concert, led by Ethan Schmeisser, artistic director of the Bucharest Opera.
Four singers: Sopranos Shiri Magar and Mirela Grinarinaru, and baritone singers Ionut Pascu and Sebastian Catana, took the stage to regale the audience with both solo and duet operatic pieces.
The performances were stunning, with the singing enhanced by the engaging stage presence.
During several interludes Ethan Schmeisser provided explanations and commentary, including highlighting when original pieces were performed for the first time.
The evening concluded with a standing ovation from the audience, as Ambassador Ioanid and Director Salamon presented bouquets to the artists.
Diplomacy.co.il congratulates the Embassy and people of Romania on the 15 year anniversary of Romania's ascension to the European Union.
Photos credit Silvia G. Golan
More Pics at Facebook Diplomacy Israel / Israel Diplo