Visits
Details

Written by

Silvia G. Golan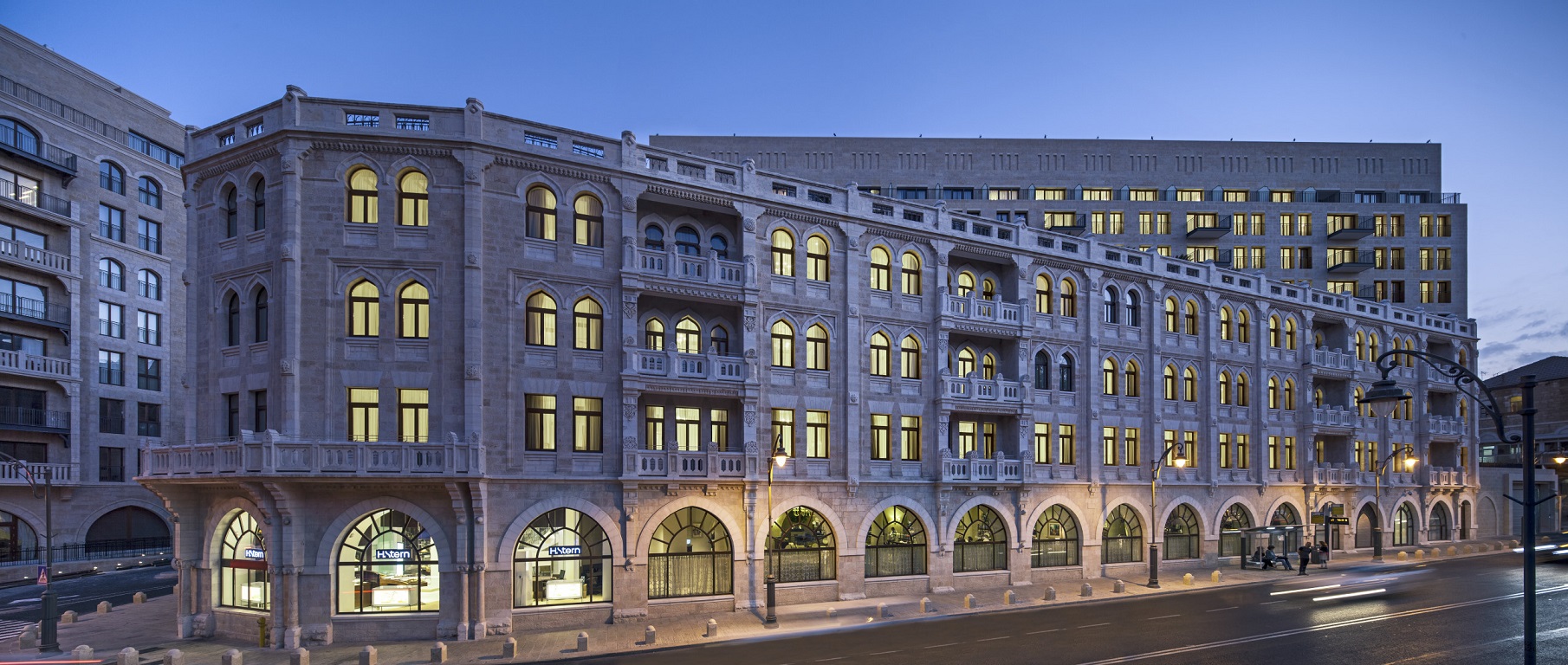 Waldorf Astoria Jerusalem was Voted as One of The Five Best City Hotels In North Africa And The Middle East Of 2023 By The Esteemed Travel + Leisure Magazine
Waldorf Astoria Jerusalem is the only Israeli hotel to be on the Travel + Leisure list for 2023
Every year Travel + Leisure Magazine asks their readers to take part in the World's Best Awards survey, to weigh in on travel experiences around the globe and to share their opinions on the top hotels, resorts, cities, islands, cruise ships, spas, airlines, and more.
Nearly 165,000 readers completed the 2023 survey, an increase of nearly 25 percent over pre-pandemic voting levels. A total of more than 685,000 votes were cast across over 8,500 unique properties (hotels, cities, cruise lines and more).
Waldorf Astoria Jerusalem has been selected as one of the five best city hotels in North Africa and the Middle East for 2023, the only Israeli hotel on the list, along with Burj Al Arab in Dubai, La Memonia in Marrakech Morocco, Four Seasons hotels in Morocco and Cairo.
https://www.travelandleisure.com/best-city-hotels-in-north-africa-and-middle-east-2023-7508608
The readers rated the Waldorf Astoria Hotel in Jerusalem a score of 92.80 out of 100.
This is the Waldorf Astoria's fourth win in Travel + Leisure magazine as one of the best hotels in North Africa and the Middle East, having also won in 2017, 2018 and 2020.
The magazine, established in 1998 which is celebrating its 25th anniversary this year, is considered one of the worlds' leading magazines for global tourism in English-speaking countries in particular. The New York based magazine is published monthly, reaches about 16 million readers who are considered active tourists that use the magazine to plan vacations and business trips.
Avner On, General Manager of Waldorf Astoria Jerusalem: "It is a great honor for the Waldorf Astoria Jerusalem and its Team Members to be voted as one of favorite five hotels in North Africa and the Middle East. Waldorf Astoria Jerusalem goes to great lengths to prove that it is possible to provide the highest level of service and quality available in Israel. I am certain that we will continue to maintain the high level of service, atmosphere and hospitality experience that is so unique to the hotel. I also invite the local audience to come and enjoy this level of hospitality, service, spa and culinary experience that the hotel provides, even to those who do not stay at the hotel". "I am sure that this vote will continue to make waves around the world and will bring more tourists to Israel who enjoy staying in international chains, and receiving the best quality and service".
The Waldorf Astoria Hotel was built on the foundations of the famous luxury Palace Hotel in Jerusalem, and is considered one of the most expensive hotel projects in Israel with an investment cost of about $150 million. The hotel has 226 rooms, including 29 suites, a luxurious ballroom, state-of-the-art meeting rooms, gourmet restaurants, Fitness Center, a luxury spa by Guerlain and a level of service and luxury never seen before in Israel.
For more information and reservations: +972 2 542 3300 This email address is being protected from spambots. You need JavaScript enabled to view it.
Waldorf Astoria Jerusalem | Historic Old City Jerusalem (hilton.com)
Photo Amit Giron
Details

Written by

Silvia G. Golan
Against the backdrop of the climate crisis:
i4Valley commemorates its third anniversary with a summit conference scheduled for June 21, 2023, at the Braude Academic College of Engineering in Karmiel.
Esteemed industry executives will be in attendance to celebrate this milestone.
i4Valley aspires to transform the Galilee region into Israel's own Silicon Valley while promoting the development of Israeli technologies that foster the creation of exceptional products with reduced material usage,
energy consumption, and environmental pollution. i4Valley, an investor in early-stage start-ups and ventures, invests in companies that are at the forefront of developing the next generation of sustainable production technologies.
These advancements aim to minimize energy and material consumption, reduce carbon emissions, and mitigate environmental pollution.
The conference will be attended by distinguished attendees, including the mayor of Karmiel, Moshe Koninski; Prof. Arie Maharshak, president of the Academic College of Engineering Braude;
Hanan Brand, Vice President of Israel Innovation Authority and head of the Startup Division; Oz Katz, Deputy Director General Industries at Ministry of Economy and Industry; Zvika Weinstock, i4valley 's CTO;
esteemed high-tech entrepreneur Zohar Levkovitz, as well as other prominent industry executives. Moreover, the conference will draw the participation of innovation managers, ESG managers in leading companies, industrialists,
academic representatives, government officials, and representatives of media outlets.
The CEO of i4Valley, Sivan Yechieli: "Our primary mission is to champion innovative technologies that enable the production of goods with decreased energy consumption, minimized material usage,
and the utilization of superior, environmentally friendly materials".
Please find enclosed a link invitation to the conference:
https://www.i4valley.com/summit-3
Photo courtesy:Tomasz Solinski
Details

Written by

Silvia G. Golan
Yeshiva University (YU), together with Amudim Israel, will open for the first time the Jerusalem Therapy Center in September 2022
YU Launches New Mental Health Therapy Center in Israel
Center Fills Void for English-speakers Amid Mental Health Pressures Such as Covid
Yeshiva University (YU), together with Amudim Israel, will open the Jerusalem Therapy Center in September 2022. Providing professional care for English speakers, gap-year students and Israelis, the Center will offer mental health counseling that has become ever more important during prolonged lock downs and affiliated stresses caused by the Covid 19 pandemic and other factors.
The Center will be run in partnership with YU's Wurzweiler School of Social Work and Amudim Israel, a social services organization serving individuals and families impacted by trauma, addiction, and other complex mental health related issues. Staffed by Wurzweiler graduate students, recent graduates and other professionals who specialize in a variety of modalities and concentrations such as addiction, anxiety and trauma, the Center will address the pressing mental health needs of English-speaking immigrants — from those suffering psychologically from the pandemic to gap-year students away from home for the first time and new immigrants struggling to adjust to life in Israel.
"Wurzweiler is unique in its ability to both educate the next generation of mental health professionals and provide much-needed and high-level services to our community in Israel," said Dr. Selma Botman, YU provost and vice president for academic affairs. "This is an exceptional opportunity to connect to YU's larger mission of serving the needs of those living in Israel. As a world-renowned institution, YU is proud to provide exceptional training, support, and expertise to the people of Israel."
Gap year students come to Israel to study for a year fresh out of high school and will be a key focus for the Center. These students are away from their families and familiar support systems, often for the first time, and are not usually covered for mental health counseling by the tourist/temporary health insurance. The Center will provide vital, affordable, quality mental health care to this vital population.
For many in Israel's English-speaking community, dealing with mental health issues can be difficult, complicated and confusing. Diagnosis and treatment can be trying under the best of circumstances and locating appropriate English-speaking practitioners can add layers of complexity, while navigating and understanding the mental health services offered through the health system can be challenging.
Recognizing the challenges faced by English-speakers in Israel, in May, Wurzweiler co-sponsored a Mental Health Expo in Jerusalem, which drew over 1,500 participants. The large turnout was just one of many catalysts for opening the Jerusalem Therapy Center.
"Our community is in real need of mental health services," said Nechama Munk, a director of Yeshiva University's Wurzweiler School of Social Work. "One of our basic values is to help those in need, and the Therapy Center will be here to offer relief and hope. Getting good, affordable treatment is challenging for all Israelis, and even more so when your mother tongue isn't Hebrew."
And good mental health services have never been more necessary. Studies have shown that anxiety and depression have increased by 25 percent since the onset of the pandemic, a wake-up call to countries around the world to step up mental health services and support. And while Munk says that COVID did not create new mental health issues, it exacerbated existing difficulties. "When everything was shut down, the people who were lonely were much lonelier, and the people who were depressed became more depressed."
The Center will also serve other often over-looked demographics, who may suffer alone with mental health challenges: soldiers struggling with PTSD; and those who make aliya and find the financial, cultural, and psychological stress overwhelming.
Another long-term benefit of the Jerusalem Therapy Center: it will create English-speaking clinical fieldwork placement for Wurzweiler graduate students — supervised by experienced clinicians — who will help students gain skills and give back to the community. In addition, the Jerusalem Therapy Center will provide training and enrichment seminars for gap-year administrators, educators, directors and therapists; giving them the tools they need to gain new skills and properly guide students who may be struggling.
Visit the YU Web site at www.yu.edu.
In the photo: President Berman.
Courtesy: Yeshiva University.
Details

Written by

Silvia G. Golan
InCarEye -an exclusive technology which combines artificial intelligence (AI) with a video analytics sensor, monitors the driver's in-cabin, real-time movements and reactions to mobile phones while driving
Cutting-edge technology developed by senior executives in Israel's automotive industry, veterans of the Traffic Division of the Israel Police and former IDF officers, will reduce the main cause of traffic accidents in the world – mobile phone distractions while driving. InCarEye, the only technology in the world that combines artificial intelligence (AI) with a video analytics sensor, scans and analyzes in real-time the movements and reactions of drivers to their mobile phones while they are at the wheel.
This is a one-of-a-kind system that alerts drivers of possible danger from their behavior. After two consecutive alerts, a third external one is activated using the four emergency buttons in the vehicle to warn drivers and pedestrians nearby.
The InCarEye solution is designed for Tier 1 automobile manufacturers, the OEM and aftermarket market, vehicle fleets, insurance companies and insurance tech, bus companies, and truck owners, among others. This system easily interfaces with advanced telemetry systems such as Ituran, Pointer, Questar, and others so it can also issue alerts to the insurance companies about the driver's behavior. Its multiple capabilities in collecting driver behavior data will make it an extremely valuable tool, especially for vehicle fleets and OEM manufacturers, for whom this type of information is essential. This development is a significant breakthrough since the systems that exist today detect mobile phone use only about six seconds after the phone is touched. In addition, because some require the installation of a dedicated application, this is definitely a groundbreaking innovation that can be integrated into various other applications in the future.
InCarEye is designed to identify all types of distractions, sound a real-time warning and even reconstruct behavior history and predict expected behavior, with the main emphasis at this stage placed on mobile phone distraction. The InCarEye team combines specialists from auto-tech industry, such as retired Deputy Superintendent Ilan Mor, a former senior official in the Transportation Department of the Israel Police; Shlomi Ofir Afriat, founder and chairman of the company; Ofer Segal, CEO and co-founder; Zohar Raz, partner and safety expert, who is an accident investigator for Israel's National Road Safety Authority; and Eyal Avidov, a partner and business executive for the international market.
The InCarEye system includes hardware embedded in the vehicle that operates independently of it, without any need for the driver's involvement. AI algorithms ​​teach the system to recognize the driver's behavior, while unique sensors and tiny smart cameras know how to identify the driver's movements and even analyze and transmit them. When necessary, it will generate an alert in the cabin, sound a voice warning or activate another indicator. Based on this unique approach, InCarEye delivers a high level of detection capability and level of accuracy that will transform the company into a significant player in the world of autonomous vehicles, in which the need for monitoring passenger behavior will only increase in comparison to where it is today.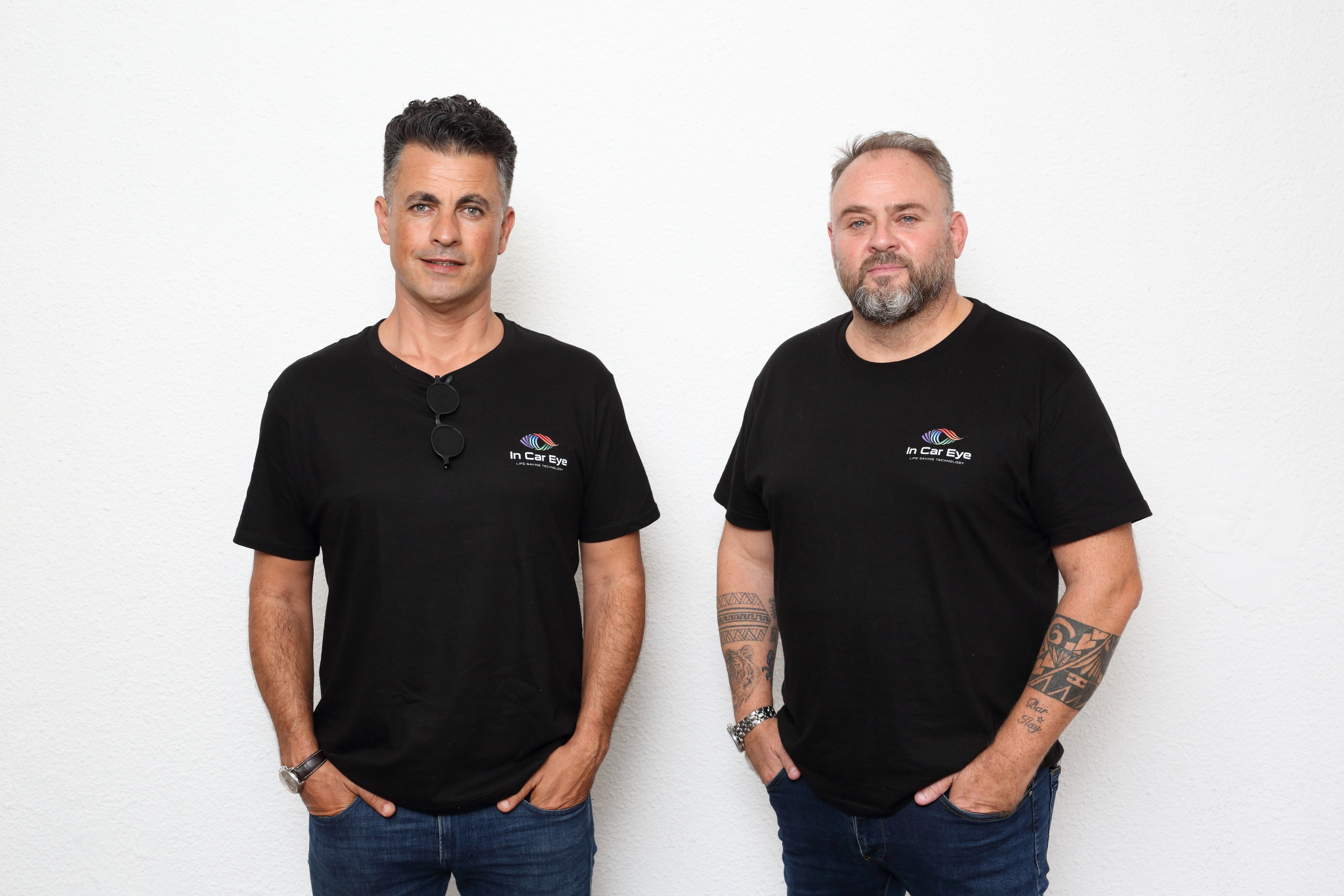 This development was born out a real need. The number of people killed in road accidents worldwide is increasing at a constant rate. Most of them could have been prevented in advance. Statistics indicate about 25%-35% of all traffic accidents are caused by cell phone use. Prompt government intervention and legislation are required, therefore, to require drivers, organizations and car manufacturers to implement technologies that reduce distraction while driving. In Europe, every vehicle driving on the road will be required to be equipped with a distraction prevention system and a black box for the vehicle beginning in 2023. In the U.S., states such as Texas and California have also begun to adopt this standard in order to protect lives of many.
Ilan Mor, the retired Deputy Superintendent in the Transportation Division of the Israel Police, states:
"There is a severe worldwide addiction to cell phones and, as it becomes more widespread, the risk of road accidents and their scope rises as well. In Israel, the amount of road accidents due to cell phone use is about 35%, about 1.6 million accidents per year. In the United States, the cost of road accidents to the economy is estimated to be approximately $300 billion annually, a particularly high figure that we aim to reduce with this new development."
Shlomi Ophir Afriat, founder and chairman of the company InCarEye, explains:
"The main innovation we present is characterized by analyzing the body movements of the driver and passenger in the vehicle space and predicting abnormal behavior. While existing technologies focus on monitoring the driver at and above the shoulder, InCarEye monitors the driver's seat, and from this we obtain a deeper understanding for the purpose of predicting abnormal behavior. To do so we harnessed the best experts, with decades of experience, to lead an agenda to being about significant change and offer a comprehensive horizontal solution. We anticipate that in the near future, given the superior analytic capabilities of the system, we will be able to expand the scope of monitoring distraction from cell phone use to other aspects, such as responding to autonomous vehicles, detecting children left in the car, and more."
Ofer Segal, CEO and Co-Founder of the InCarEye company, notes:"The uniqueness of the system means that it can be installed in any vehicle, including heavy vehicles. Its strength is that it can be adapted to both the manufacturers and the aftermarket. In light of the increasing number of traffic accidents, we expect the Israeli government to follow the lead of the European Union, either by charging vehicle owners for the installation of various technologies, or by offering partial subsidies or other benefits in insurance premiums, for example. This will protect what is our most precious possession ‒ life itself ‒ and drastically reduce the number of road accidents. The launch of InCarEye in Israel is strategic and important, but simultaneously, we are preparing to introduce our systems worldwide, with our main focus on Europe, the United States and Canada."
Website: www.incareye.com
LinkedIn: https://il.linkedin.com/company/in-car-eye-ltd
Facebook: https://m.facebook.com/InCarEye
Link to a video illustrating the technology: https://youtu.be/uUfwfwbbSSQ
About InCarEye
A hi-tech startup, InCarEye provides a comprehensive and innovative technological solution to addressing driver distraction in order to reduce the volume of traffic accidents worldwide. Its unique technology, which combines built-in artificial intelligence (AI) systems with a video analytics sensor, scans the driver's body and processes advanced analytics relating to the driver's movements while the vehicle is in motion. In addition, this solution also helps teach drivers to shed the life-threatening habit of using a cell phone while on the road.
InCarEye was founded by a group of senior automotive, technology and transportation executives — among whom are Shlomi Ophir Afriat, Ilan Mor, a former senior officer in the Traffic Division of the Israel Police, Zohar Raz, Ofer Segal, and Eyal Avidov — who joined together to further their common mission to eradicate the deadly worldwide phenomenon of fatal road accidents and provide a solution for driver distraction.
The company, which is privately owned and self-funded, is currently undertaking a recruitment round and it already has attracted the interest of strategic parties both in Israel and abroad.
Photo credit: Gilad Artzi.
photo of Ofer Segal Ceo and co founder+ Shlomi Ophir afriat- Chairman and founder of Incareye.
Video credit InCareEye
Details

Written by

Silvia G. Golan
Preparing for the future: the Agromashov 2022 exhibition will be held as a sign of innovation in agriculture and the transformation of the reform from a threat to an opportunity!
Between one corona wave and another, the agricultural world is already preparing for the big event of the year 2022 - the Agromshov exhibition and professional sessions in the fields burning on the agenda of Israeli agriculture. In the era of the Corona and in the shadow of the reforms that pose great challenges to the Israeli farmer, the exhibition and the seats have great significance. The event takes place every year, this time the Agromashov exhibition will be held for the 31st time, on September 5- 6, 2022, registration has begun!
The Agromashov exhibition invites you to an extraordinary experience of Israeli agriculture at its best and a long list of innovations as the exhibition is expected to take place again this year in the capital of Israel - Jerusalem. As part of the two-day exhibition, there will be professional sessions on the agricultural issues that are on the agenda, with the theme that will lead the event being innovation in Israeli agriculture and the transformation of the reform from a threat to agriculture and the farmer, to an opportunity and renewal.
At the exhibition, new developments and crops will be presented to the general public, breakthrough technologies that place Israel at the top of global innovation in the field of agriculture, protective measures and safeguarding of the agricultural areas, innovative irrigation methods, etc. As part of Agromashov 2022, there will be a 'round tables' activity in the various fields of agriculture, an activity that began at the Israel Conference on Agriculture and was a great success and will now also continue at Agromashov 2022. Also, the event will be held in the presence of ministers, members of the Knesset, heads of agricultural organizations, owners of marketing chains and many farmers.
Haim Aloush, CEO of Agromashov, noted: "Even in the era of the Coronavirus, we keep the embers alive and continue to hold the significant events for the Israeli farmer and our agriculture. The Agromashov exhibition in 2021 was the first agricultural event in the era of the Corona virus, and this year we will also continue this tradition for the 31st year with the leading and professional exhibition in Israel in the field of agriculture, where the goal is both to present the innovations and developments and to create deals between the farmers, as well as to hold professional discussions and promote Israeli agriculture.
So far, the Agromashov 2022 exhibition, the largest and oldest agricultural event in Israel, has registered over 15 huge delegations from different countries in the world, dozens of exhibitors and thousands of farmers who will take part in the event, the conferences and the various competitions that will be held during the Agromashov event in the Nation Buildings in Jerusalem on September 5-6, 2022.