Visits
Details

Written by

Silvia G. Golan
i4Valley, The first and only entrepreneurship incubator in Israel for entrepreneurs living and breathing the fourth industrial revolution (i4.0) marked its first year founding
in Karmiel – with the participation of high-tech, industry and government executives.
i4Valley was established in Karmiel, with the aim of developing the high-tech industry in the Galilee and the State of Israel. The incubator serves as the first technological investment center of its kind in Israel for this industry
The Israeli government has identified the enormous economic potential of Industry 4.0, which is expected to add $ 25 billion to the state over the next five years
Industry 4.0 is a term that represents an organizational concept for managing factories and industrial processes in a smart and modern way while integrating technologies such as: the Internet of Things, real-time information analysis, Robotics, Artificial Intelligence and cyber protection.
The conference was attended by: Mayor of Karmiel, Moshe Koninsky, Prof. Arie Maharshak, President of the ORT Braude College of Engineering, Karina Rubinstein – Director of Business Development at Israel Innovation Authority,
Erel Margalit, Founder & Executive Chairman JVP and Margalit Startup City, Zuri Dabush , Chairman of Klil Industries, Sivan Yechieli, CEO of i4valley, Zvika Weinstock, CTO of i4valley and other senior executives from the industry.
The technology incubator invests in early-stage start-up companies (Pre Seed and Seed, which are selected after careful sorting. The goal is to reach 6 to 8 companies a year in the areas of: cyber protection, AI, Cleantech, Virtual Reality, Robotics and more
I4valley CEO Sivan Yechieli said at the conference: "The technology incubator, which is the first technological investment center of its kind in Israel of Industry 4.0, creates great value for the Galilee and industry in the State of Israel. It is leading to an increase in the number of high-tech companies and leveraging innovation, entrepreneurship and human capital in the field"
Photos Courtesy: Michael Tomarkin.
From right to left: Mayor of Karmiel, Moshe Koninsky, Erel Margalit, Founder & Executive Chairman JVP and Margalit Startup City, Zuri Dabush, Chairman of Klil Industries and Sivan Yechieli, CEO of i4valley. (125)
Sivan Yechieli, CEO of i4valley with Prof. Arie Maharshak, President of the ORT Braude College of Engineering (32).
Details

Written by

Silvia G. Golan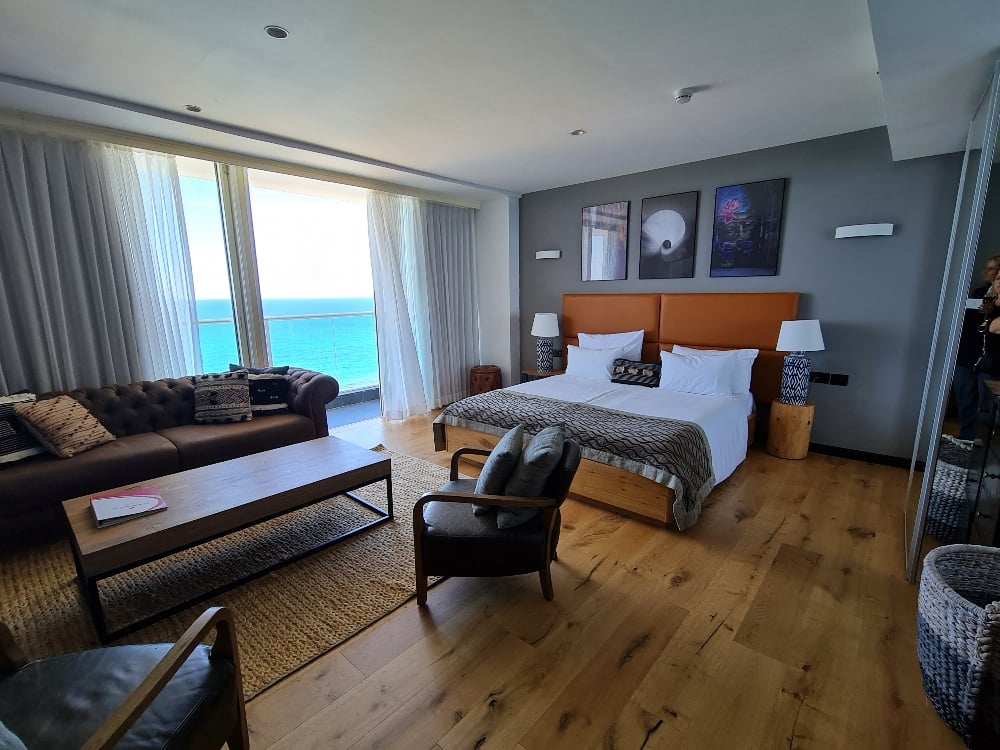 GREAT NEWS ISRAEL WELCOMES A NEW HOTEL CHAIN JACOB HOTELS
In the downtime when the country was quarantining during Covid-19, a new hotel chain appeared on
The Jacob Hotel Chain includes 5 unique hotels with a total of some 430 rooms covering more than 28,000 sq.m. (more than 300,000 square feet). Jacob Hotels are located in Jerusalem, Tel Aviv, Tiberias, Nahariya and Hadera. Each excels in its particularized character, and although differentiated from each other they nonetheless share certain traits, such as uncompromising standards, a warm, inviting aura, and top quality service. Each hotel is like a world of its own, each having a specific atmosphere which draws diverse types of guests. In this way, the chain offers a total experience to a wide range of people. Our focus on quality service, styling which pays attention to the finest of details, and the unique atmosphere of vacation felt in these hotels, delights and pampers our guests. Our hotel staff's courtesy assures guests that they will enjoy an unforgettable experience.
These hotels are privately owned by an Israeli businessman who decided to perpetuate and commemorate his late father's name by calling the hotel chain after him. The past few months have seen the hotels undergo wide scale upgrades and renovations to the tune of some NIS. 100 million! As the summer season opens, the Jacob Hotel Chain is ready to receive guests and provide outstanding service.
The Jacob Hotel Chain aims to set women in key and senior managerial roles. Some weeks ago the chain appointed Ms. Anat Shaul as CEO of the Ramada Hadera, and Ms. Tali Kadosh began her position as CEO of Sea Life Nahariya a week ago. Out of our 5 hotels, the CEOs of four are women. Overall, the chain's administration is 80% women.
The chain's employees are driven by their inherent love of people and their love of hosting. Jacob Hotels offer a warm and caring hosting experience that will make every guest feel wonderful.
Tali Pessach, representing the proprietors: "I'm excited to launch the Jacob Hotel Chain today. It's Israel's newest chain, numbering 5 hotels with a national spread earmarked for the Israeli public and its various preferences. Right now we're examining options for expanding the chain and look forward to Israelis filling our hotels, enjoying themselves, and appreciating quality that is true value for money."
The hotels:
Nahariya Sea Life Hotel
Sea Life Hotel is located on Israel's northern shore line. Every room overlooks the stunning Mediterranean sea, infusing the experience with the sense of being in a resort that presents the beachfront, open lawns facing the sea, an outdoor pool, and sun tanning and seating areas. The hotel's covered pool is open for use year round. Sea Life's spa is built around a unique concept with a natural salt room, the only one of its kind in Israel and imported specially from Romania. Salt rooms are known for their numerous health benefits. Sea Life Spa offers a range of body and facial treatments integrating minerals and salts which boost the health of your body and skin. Enjoy the Jacuzzi, the wet sauna and the dry sauna. With 64 rooms, choose from 40 overlooking the sea, or 24 stylized garden and terrace suites which give you a sense of privacy and comfort in a boutique structure. Conveniently located adjacent to tourist attractions and the recently renovated Nahariya pedestrian promenade, Nahariya Sea Life Hotel is also close to wonderful and highly popular treks and outings throughout the Galilee.
74 Haaliya Street, Nahariya. Details: *6367 | email | website
Hadera Ramada Resort Hotel
The Hadera Ramada Resort Hotel focuses on relaxation and leisure, spa options and luxury business solutions. It is located on one of Israel's most beautiful shorelines and is actually one of the few hotels in Israel that are almost on the beach. The hotel, fully renovated in the past few months at a cost of millions of shekels, bears the unique stylistic and elegant stamp of Emanuel Stern. Its touches of Mediterranean atmosphere are now ready to receive guests and provide you with a rich, well-appointed hosting experience as befits a premium hotel. Modern and accessorized, all 171 rooms face the sea with its stunning lagoon and picturesque vistas. The hotel's spa includes an outdoor pool, open in the summer and overlooking the sea, sun tanning lawns, the baths including the year round covered pool, Jacuzzi, Finnish sauna, wet sauna and gym. Near the hotel is the open air shopping area where you'll also find the first slide pool of its kind in Israel, an ice rink, children's games and amenities, and more. A few minutes' drive away you'll find the Alexander.
2 Rehavam Zevi Street, Hadera. Details: *6367 | email | website
Tel Aviv Shenkin Hotel
This boutique hotel is right in the throbbing heart of the world famous White City in one of the swankiest, hippest and mythological Tel Aviv neighborhoods. The hotel is literally surrounded by dozens of bars, restaurants and eateries of countless cuisines, and curiosity arousing boutiques and shops. The hotel's contemporary styling and superb chic integrate classic Israeli design with meticulous attention invested in every detail and object, all of which are carefully chosen to create a calm restful atmosphere which envelopes guests in a sense of endless tranquility. The patio, together with the hotel's delightful lobby café offering snacks on the house, makes these spaces inviting and relaxing. The hotel's 30 rooms present stylization with close attention to the finest details. Tel Aviv Shenkin also offers two spa areas for guests wanting relaxing treatments. Spacious and overlooking Tel Aviv's urban vistas, the hotel's rooftop is where you'll find sun tanning beds, seating areas, a Jacuzzi, and refreshing shower.
Tel Aviv Shenkin won the TripAdvisor's Travelers' Choice Award for its outstanding hosting to each and every guest.
21 Brenner Street, Tel Aviv. Details: *6367 | email | website
Jerusalem Bat Sheva
Bat Sheva Boutique Hotel is in Jerusalem's heart, and adjacent to all the leading sites, attractions and historic locations of importance, from the Great Synagogue to the Western Wall, the Mamilla Complex and the Mahane Yehuda Market, and everything else that makes up the vibrant holy city. Bat Sheva Hotel is a truly old-new encapsulation, simultaneously ancient and modern, a mosaic of tastes and aromas. The hotel's 79 rooms face the city of Jerusalem's historic views: the golden dome, the western wall, the city rooftops with their quirky and wonderful shapes. The hotel's stylistic concept is founded on capturing and freezing a moment in time in a city where its rich past become an evident and dominant motif, turning it into a contemporary Jerusalem language. The rooms are designed to convey nostalgia, warmth, and memories of times gone by, or as Dana Oberson, the project's architect, noted, "The hotel is the story of the bridging of eras, of a journey through time." The hotel's kitchen is ably managed by Chef Moshe Asoulin. You'll find unique breakfasts and brunches based on locally available food of the freshest and highest quality and offering you Jerusalem's unique flavors and scents. The hotel has an outfitted gym, a luxurious business lounge, conference and events hall for up to 80 people, and a stunning rooftop overlooking Jerusalem's amazing skyline where you can also rest in the pleasant seating area and enchanting atmosphere.
42 King George Street, Jerusalem. Details: *6367 | email | website
Tiberius Jacob Hotel
The Tiberius Jacob Hotel is situated in a historic Ottoman building in the city center. The hotel blends old and new, classic and contemporary. Yehuda Gedalyahu outfitted the hotel with European elegance seamlessly merged with the typically Ottoman architecture. The hotel's refined styling infuses a sense of otherworldliness and prestige. This hotel slips a modern twist into the historic city of Tiberius, an ancient location which makes up part of the most important holy sites for several religions. Tiberius Jacob Hotel overlooks the Sea of Galilee, its 78 spacious and comfortable rooms having been outfitted for the modern tourist. Of those, 18 rooms come with balconies overlooking the city of Tiberius. Rooms are air conditioned, outfitted with 32" TVs, everything you need to make yourself a hot drink whenever you feel like it, a work table and safe, minibar fridge, and bathroom with hair dryer and washing amenities suited to the lone traveler, couples or touring families. In the heart of the city and close to restaurants and numerous tourist attractions, the hotel is just a 10 minute walk from the Tiberius promenade and 15 minutes from the Sea of Galilee shores.
2 Ohel Yakov Street, Tiberius. Details: *6367 | email | website
Photo Silvia Golan
Details

Written by

Silvia G. Golan
Starting Today: A Mobile Key for Every Vehicle in Israel
COBRA announces the Israeli launch of Mobile-Key technology, which enables car doors to be opened and closed and the motor to be switched on and off without a key using a dedicated smartphone app
A new groundbreaking technology is now available in Israel that provides all drivers with the same advanced features enabled by the key fobs offered by Tesla and other luxury car manufacturers. It is suitable for vehicles ordered directly from car importers and can also be installed in many late model vehicles now on the roads.
It is not uncommon for drivers to forget the car keys, even several times a year, or even lose them. Duplicating an original key is expensive and can cost between NIS 1,000 to NIS 4,000 depending on the vehicle manufacturer. Thankfully, as of today, this innovative development means that the original car keys are no longer needed.
The End of Car Keys
COBRA's Mobile-Key is an innovative and safe way to open and lock your car using your smartphone. It is an efficient and convenient solution that can be installed in vehicles by car importers as well as those already on the road. Either way, Mobile-Key provides the exact same functions as the key fobs that come with a Tesla and other brand-name luxury cars. Those functions include opening and closing doors, moving the vehicle, opening the trunk, and flashing the lights, all in accordance with the vehicle manufacturer's specifications.
Mobile-Key, which is based on BLE technology, operates using Bluetooth within 15 square meters from the vehicle in an urban environment, and is secured using the most sophisticated encryption available. Even following installation, however, the key can continue to be used, so the driver has the option to open the vehicle either manually or via the app.
Due to the capabilities of the original key fobs provided by the vehicle manufacturer, there is no need to carry Mobile-Key with you at all times. COBRA's "blue and white" technology makes it possible to share and unshare access over laptops with as many as five additional users via the app and the Mobile-Key card. The solution also includes a fail-safe module that allows the vehicle key to be left with a valet parking service in a parking lot.
"We are excited to be the first to make the most talked-about technology accessible to the Israeli market, both through the country's largest car importers as well as in the aftermarket environment, enabling it to be installed immediately in hundreds of thousands of vehicles on the roads," COBRA states. "We are proud of our leadership role in the industry, so it is a source of satisfaction for us that we are now able to afford all Israeli drivers a life without car keys. It's a convenient and accessible solution that will undoubtedly save the forgetful among us a lot of money on duplicating keys."
"Of course, we will also be actively collaborating with institutional customers, car importers and car rental companies, for whom this is a necessary tool for emphasizing their uncompromising innovation. In the coming months we plan to expand our activities and launch the product abroad, with the first phase planned in the United States and Europe."
System installation, connection to the vehicle's electrical system and standard synchronization take 60 minutes and can be completed by a qualified technician at the customer's home. Mobile-Key can usually be installed in vehicles with a built-in power button that have been on the road since 2014. Some manufacturers, however, will allow installation in even older vehicles, so in those cases it is recommended to check with them directly.
The recommended retail price of Mobile-Key is NIS 1,190 NIS plus VAT. The cost of the system includes installation at the customer premises.
The dedicated Mobile-Key app is available for download on various iOS and Android devices at https://m-key.co.il.
Facebook: www.facebook.com/COBRAMKEY
Instagram: www.instagram.com/cobra_mkey
Youtube https://www.youtube.com/watch?v=HI4YwtDAB64
*** The brand names are registered trademarks of their respective owners. The use of any brand name is intended solely for the presentation of similar technology and does not imply any connection between Cobra and those brands.
About COBRA
Cobra is a veteran leader in the fields of automotive safety and protection systems, multimedia devices and comfort solutions. For more than three decades, it has manufactured, imported, marketed and installed a wide range of technologically innovative products that are at the forefront of the automotive industry.
The company distributes advanced navigation and entertainment and communication systems, comfort and safety accessories, parking sensors, front and rear auxiliary cameras, rear monitors, innovative vehicle protection systems, luxury design products, and various complementary systems. It specializes in complex installations in all types of vehicles. The company also acts as an independent contractor for carrying out installations for Delek Motors.
New launch of mobile Key from Cobra's development.
Photo of the Mobile Key+ Video :Credit: Cobra.
Photo Silvia Golan
Details

Written by

Silvia Golan & Steven Aiello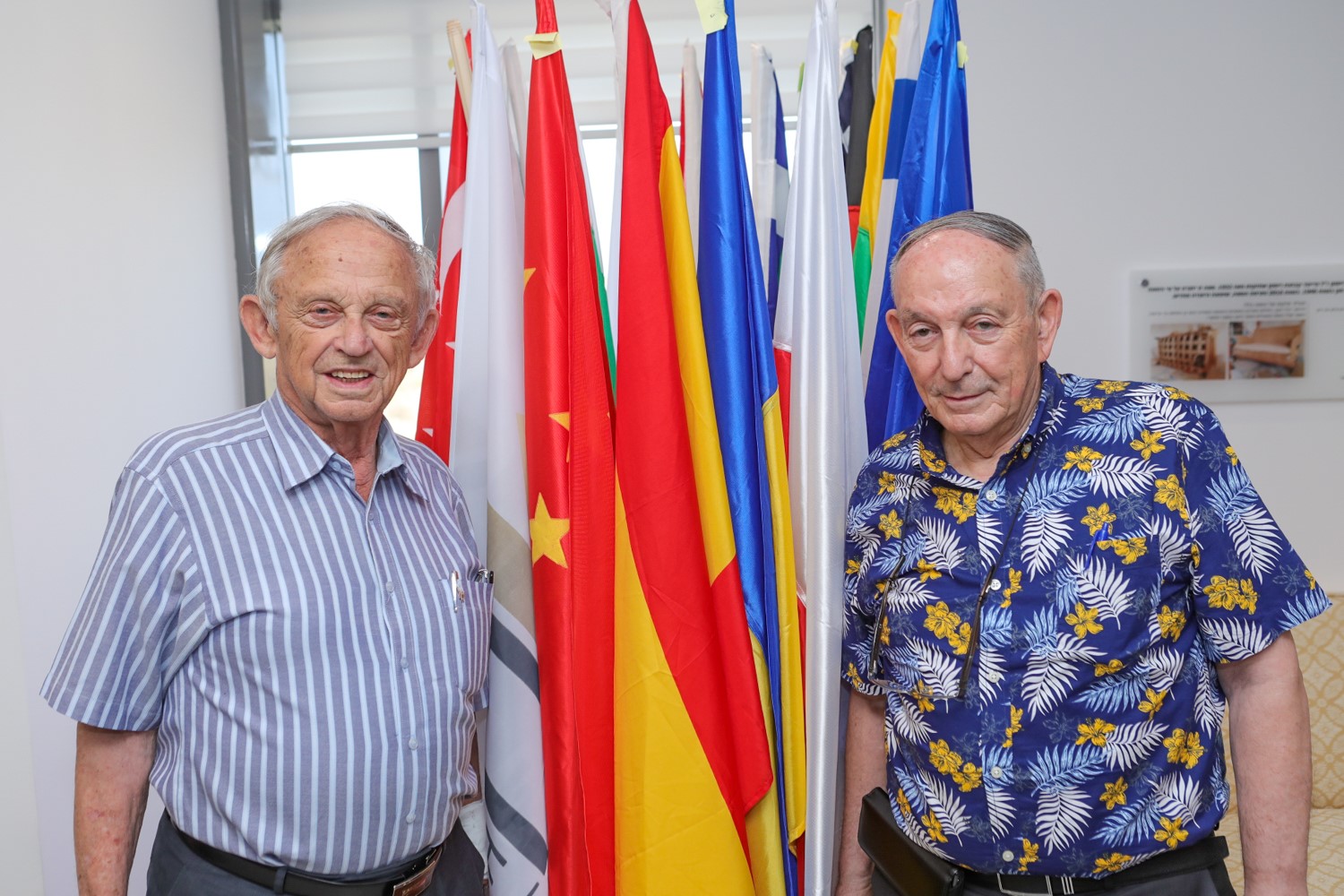 Israeli Wissmann Holdings receives Outstanding Leader Award at the 2021 International Furniture Leadership Awards
The sustained excellence and clear vision of Wissmann Holdings, a furniture company founded by immigrants before the state of Israel had even been founded, was recognized recently when President Arie Wissmann received the Outstanding Leader award at the 2021 International Furniture Leadership Awards. This award, the latest in a long line of achievements for the Wissman family, shines a spotlight on a unique Israeli success story.
Ninety years ago, artisan Leo Wissmann, and his wife Yehudit, emigrated from pre-World War II Germany. Founding a furniture business in Jerusalem, they gradually built a reputation for quality craftsmanship. None other than Israel's first prime minister, David Ben Gurion, turned to the Wissmans to furnish his home, as did many of Israel's early ministers. Their handiwork was also used in many famous buildings around Israel, including the President's Residence, Hebrew University, Mormon University, Israel Museum, Hadassah and Shaare Zedek hospitals and the King David, Hilton and Four Seasons hotels. Internationally they carried out projects in Egypt, Iran, Mauritius and Africa.
Ensuring that their business would continue as a family affair, sons Arie and Nachum studied furniture and interior design before assuming leadership positions in the company. Today they are the Chair of the Board, and President, respectively. The company has grown to employ over 150 workers, with its US $10 million 7,700 square meter industrial center at Bar-Lev Park in Western Galilee.
The company goals include a target to have Wissmann furniture in every home in Israel, along with broadening their international impact. They provide a wide range of products, including imports from 16 countries, geared towards 35-65 years old customers living all over Israel, as well as abroad.
In addition to their longevity, growth, and local impact, the most recent award highlights the long-standing achievements of the Wissman furniture company on an international scale. In addition to the quality of their products, the family business turned industry leader prides itself on its customer service and attention to detail.
Chairman Arie Wissmann noted that over the years there have been many challenges, but that "our golden path was always, first of all, professionalism. There was no middle path for us. Success was achieved according to the rules. Honesty and fairness towards our employees and suppliers, who are partners on the road to success." The company further promotes social cohesion by employing both Arabs and Jews who work in harmony together.
Previous awards include the "Jerusalem Honored Citizen Award" awarded to Leo Wissman in 1976. Leo and both of his sons have all received the "Medal of Honor of Israeli Industry" - Leo in 1982, and his sons over three decades later, in 2013, in a rare instance in which both father and offspring were bestowed the award. Now there is one more award to add, a well-deserved honor.
Shomrat.Hazorea Facebook שמרת הזורע
Instagram shomrat_hazorea
Photo Carmit Boaz / Shomrat.Hazorea
Details

Written by

Silvia G. Golan
For the first time, unique smart artificial technology adapted to managing a country's water infrastructures for achieving significant increased energetic efficiency.
For the first time, an Israeli technological group in the artificial intelligence field has lead and established a pioneering venture for managing the water infrastructure system in the country – In Israel. "Mekorot", which is one of the leading water corporations in the world in managing water infrastructures and technology associated with water, has chosen "Evolution Water" and has decided to assimilate "Evolution Water's" technology into the company's systems and to be Evolution Water's strategic partner in Israel and, afterwards, throughout the world.
"Evolution Water" CEO Amir Yaar: I am proud to be involved in such a unique strategic business procedure, which constitutes business promise and will enable significantly increased energetic efficiency for both "Mekorot" and the State of Israel in general, via managerial access and supportive worldview in reinforcing environmental quality in Israel and the world by realizing the aspiration "to do more and better – with less effort". I am happy to be included in the winning team that includes "the Evolution Group" and "Mekorot" led by Mekorot CEO, Mr. Eli Cohen and Mr. Motti Shiri, Engineering and Technology VP at Mekorot and to be a partner in a procedure that will generate a global revolution in management streamlining and increased strategic efficiency of the infrastructures in the country, using artificial intelligence."
For the first time, an Israeli technological group in the artificial intelligence field has managed to establish and lead a pioneering venture in the water infrastructures field, which will develop, promote, manage and commercialize technologies for electricity economies in the drinking, effluent and reclaimed water carrier systems. Mekorot has chosen "Evolution Water" from the "Evolution Networks" Group, to be the company and technology for executing increased energetic efficiency in its systems. "Mekorot," the Israeli national water corporation, expected to increase efficiency and reduce its electricity costs by 10-18 percent gradually. Reference is to annual costs of NIS 800-900 million, comprising about 10% of the State of Israel's annual electricity consumption cost.
The parent company, "Evolution Networks," (www.evolution-networks.com is the first Israeli startup in which, together with General Electric, the Energy Division of Berkshire Hathaway invested (Warren Buffet) in 2015 and, two years ago, strategic investors from Japan and Hong Kong also joined them. The subsidiary "Evolution Water," focuses on plotting and implementing artificial wisdom-based strategic increased energetic efficiency for countries by assimilating it into the water infrastructures and is part of the group's strategic perception of establishing various ventures in the various infrastructure fields, together with international strategic partners. In addition to the water field, the group leads project in electricity, mobile and datacenter fields and additional ventures in development.

The water arena has become a center of discussion and interest in the infrastructures field because of the ongoing climate crisis and global warming, in the wake of which experts fear that, in the future, there will not be sufficient water for the global population. Water economics and water, air and electricity resource economies were defined in the Paris Agreement, the international treaty (that was established in November 2015 and, which, recently, the new President, Joe Biden, declared the US would readopt), as essential for continued existence on planet Earth. "Evolution Water" has unique technological capabilities and the revolutionary applications that it has developed, enable total management of the countrie's water systems. "Mekorot" has chosen to be "Evolution Water's" first strategic customer, as well as to invest in a joint company.
Amir Yaar, "Evolution Water's" CEO, is a highly experienced international entrepreneur, who leads a number of technological companies: "The capabilities of the unique technology together with the appreciated strategic cooperation with "Mekorot" will, for the first time, enable deployment and expansion to a global level and adopting solutions and advantages by governments and government water corporations throughout the world. We will strive to attain increased energetic efficiency and improved environmental, national and global safety, an additional contribution of Israel to the world that reinforces its status as "an environment nation" and not only as "a startup nation."
Yaar adds that because of monitoring and processing a database that is considered as superior, such as that weighs and integrates the activity of interfaced systems, understanding the patterns and predication of the big-data is translated for substantially increasing energetic efficiency - "Evolution Water"'s system studies and can study activity templates of the national water corporations in every country and executes optimization of the components in the database: Switching off according to consumption, decreasing loads at the data centers, directing activity during emergencies and other developments according to need. The system executes optimization after the charting stage, in order to trace patterns and predict them in advance.
According to Yaar, in accordance with the expectations of the research entities and experts – the global demand for water will increase by tens of percentage points by 2030 in comparison with the ability for an optimal supply at present (especially in the undeveloped continents and countries). The understanding that improving water productivity and other trends in the field such as an increased supply are expected to provide a solution and supplement half of the shortfall, is seeping into the cognition of decision-makers. It is also clear to anyone involved in the matter that the remaining half will come from an investment in infrastructures, reform in water policy and developing new technologies and management capabilities including the assistance of artificial intelligence.
He adds, "I am happy to be a part of the winning team that includes "the Evolution Group" and "Mekorot" led by Mekorot CEO, Eli Cohen and Mr. Motti Shiri Engineering and Technology VP and to be a partner in a procedure that will generate a global revolution of management streamlining and increased strategic efficiency in the infrastructures in the country using artificial intelligence".
Without an increase and significant development of increased efficiency and management in the global water infrastructures field, a significant global strategic challenge expected in view of the following trends:
Global warming at an average additional temperature of at least 2-3 degrees Celsius
Rapid population growth, primarily in Asia
Climatic changes and pollution and their effect on rainfall cycles
The need to continue investing in water infrastructures and prevent the erosion of existing water infrastructures and the need to renew them including preventing leaks and loss of water in the dams and distribution system
A substantial increase in the entire desalinization issue
Challenges that humanity is facing following the Covid 19 virus pandemic
"Evolution Water's" algorithm analyzes the gamut of the water systems activity holistically, while assimilating the "brain" into the brain of the existing complex and heavy systems. The system executes management and commercial optimization after the charting stage, traces patterns and predicts them in advance. Such capabilities enable new standards in all associated with managing water infrastructure systems etc.
This transaction is accompanied by Deloitte Israel and by Atty. at Law Ziv Preis from the Lipa Meir Law Offices.