Visits
Details

Written by

Slovak Embassy

The launch of a new website promoting cooperation with Israel in R&D
On Friday, December 1st 2017, the Slovak Embassy in Tel Aviv launched the website of the Slovak-Israeli Scientific and Innovation Society SKILL. The ambition of this initiative is to give further boost to the cooperation between scientific and academic communities in Slovakia and Israel.
Details

Written by

Silvia
Some 500 representatives from over 200 countries will attend the conference, titled "Coping with International Terrorism." Among other speakers will be Ministers Katz, Shaked, Steinitz and Levin, as well as the ambassadors of the United States, Spain and France.
Details

Written by

AJC Congress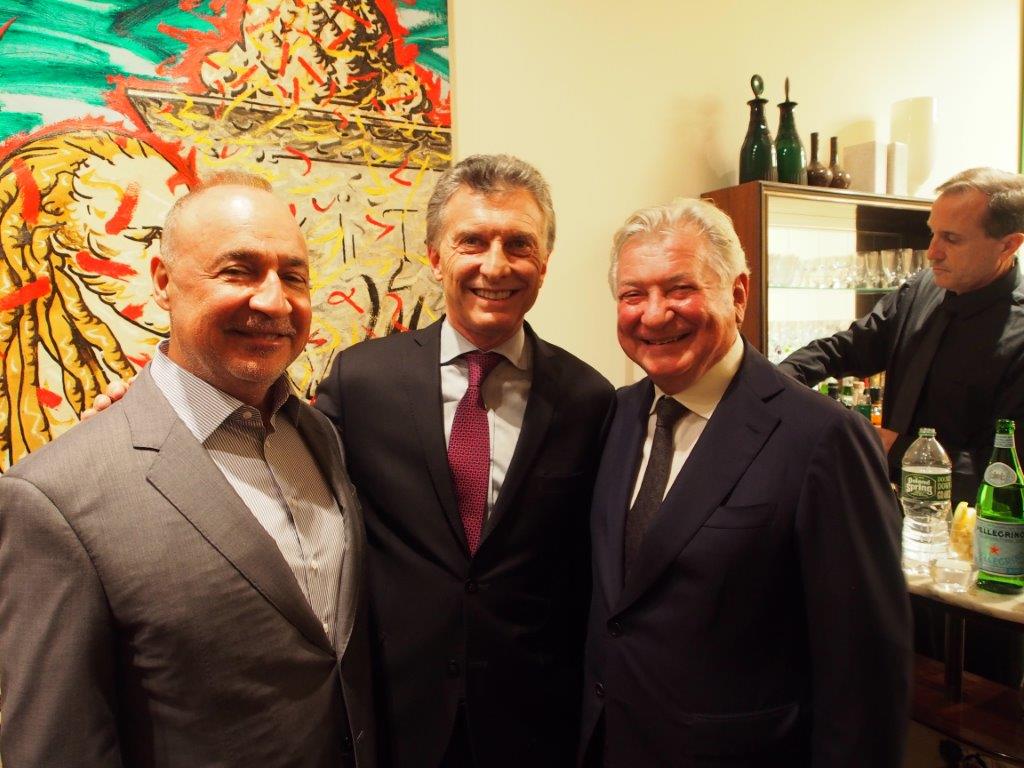 Jack Rosen hosted a private dinner at his New York home in the presence of Robert De Niro and Len Balvatnik
Details

Written by

Steven Aiello
On Thursday evening November 9th, the Israel-Latin America Chamber of Commerce held a special conference on "Doing Business with Cuba." The event was held in preparation of a business delegation of Israeli firms to Cuba taking place from December 5-7 2017.
Details

Written by

Silvia G Golan
The Israeli Association of Fire Protection joined the International Association of Firefighting and the CFPA
The organization's delegation from Israel participated in the Fire China exhibition in Beijing.
The Israel Fire Protection Association was accepted as Israel's representative in the international organization and CFPA, which includes 30 leading fire protection organizations from countries such as the United States, England, Germany, France, Switzerland and Spain.
The goal of the international organization is to mobilize collective resources to reduce the global fire problem, increase safety and save lives by sharing experience, research, technical know-how and fire statistics.
The Israeli delegation, headed by the chairman of the association Dr. Shmuel Netanel, the secretary of the association Yaakov Azuz and the members of the executive committee, participated in the World Congress held in Beijing as part of the events of the international exhibition Fire China.
The decision to accept the organization was unanimously accepted by the organization headed by Egyptian representative Dr. Hatem Kahiri, who was invited to the annual conference of the Israeli association in December.
According to Dr. Shmuel Netanel, Chairman of the Israel Association, "We view the acceptance of the international organization as an expression of confidence in the professionalism of the Israeli organization in terms of advanced methods of fire fighting, and the cooperation with the organization will add to the knowledge base and the toolbox in the important field of safety and fire protection".
Photo Credit: Israel Fire Protection Association
Products & Services
Weather
Jerusalem Israel
Partly Cloudy (day), 17 °C
Current Conditions
Sunrise: 6:30 am | Sunset: 4:36 pm
21%
6.3 m/s
31.684 atm
Forecast

Tue

Low: 10 °C
High: 21 °C

Wed

Low: 11 °C
High: 18 °C

Thu

Low: 11 °C
High: 16 °C

Fri

Low: 8 °C
High: 15 °C

Sat

Low: 9 °C
High: 16 °C

Sun

Low: 10 °C
High: 17 °C

Mon

Low: 13 °C
High: 20 °C

Tue

Low: 13 °C
High: 20 °C

Wed

Low: 12 °C
High: 17 °C

Thu

Low: 12 °C
High: 17 °C
Tel Aviv Israel
Mostly Cloud (day), 21 °C
Current Conditions
Sunrise: 6:32 am | Sunset: 4:37 pm
34%
1.8 m/s
33.957 atm
Forecast

Tue

Low: 14 °C
High: 22 °C

Wed

Low: 14 °C
High: 20 °C

Thu

Low: 16 °C
High: 20 °C

Fri

Low: 13 °C
High: 19 °C

Sat

Low: 12 °C
High: 20 °C

Sun

Low: 12 °C
High: 20 °C

Mon

Low: 15 °C
High: 20 °C

Tue

Low: 13 °C
High: 21 °C

Wed

Low: 15 °C
High: 20 °C

Thu

Low: 15 °C
High: 17 °C
Haifa Israel
Blustery, 19 °C
Current Conditions
Sunrise: 6:33 am | Sunset: 4:35 pm
33%
13.0 m/s
33.824 atm
Forecast

Tue

Low: 17 °C
High: 23 °C

Wed

Low: 16 °C
High: 20 °C

Thu

Low: 17 °C
High: 19 °C

Fri

Low: 16 °C
High: 18 °C

Sat

Low: 14 °C
High: 20 °C

Sun

Low: 15 °C
High: 21 °C

Mon

Low: 16 °C
High: 21 °C

Tue

Low: 17 °C
High: 23 °C

Wed

Low: 18 °C
High: 20 °C

Thu

Low: 13 °C
High: 18 °C