Diplomatic Events
Details

Written by

President's Spokesperson
Sunday, 5 November 2023 / 21 Cheshvan 5784
President Isaac Herzog today, Sunday, received the diplomatic credentials of incoming United States Ambassador to Israel, Jacob J. Lew.
Under the shadow of the ongoing war against Hamas, the ceremony at the President's Residence was conducted without the traditional guard of honor and national anthems. The Ambassador presented his credentials, after which the two made statements to the media.
President Herzog:
"Ambassador Lew, it's a true honor to welcome you here today and receive your credentials here in Jerusalem. Welcome. I know of your record of excellence over many decades of public service in the United States, and of your deep connection to Israel and to the Jewish people. I also want to thank Deputy Ambassador Hallett for serving as acting Ambassador for the last few months. A crisis is always when you're reminded who your friends are. This is true of people, and it's true of countries. I'm speaking for all Israelis when I say: never has American friendship been more evident or more valued than it is right now. We are grateful to President Joe Biden for his unwavering support of Israel and its people. We value the immense efforts and repeated visits by Secretary Blinken and high-level officials. We are grateful for everything that the USA has done for us and is doing as we speak. We will never forget it. I'd love to greet you at a time of peace. You deserve the full welcoming ceremony. But, unfortunately we both know that you arrive and begin your service here at a tipping point for Israel and the region, maybe for the world. On October 7, (the Jewish festival of) Simchat Torah, we were subject to a barbaric attack that changed this country forever.
Our army is now fighting in Gaza against a terror organization that uses its civilian population as a human shield and the source of its attacks, that conceals its forces in ambulances and hides its headquarters underneath a hospital. Yesterday, our forces were opening a humanitarian corridor to get Palestinian civilians to safety when they were attacked by Hamas. This organization, and the other Iranian proxies in Lebanon, Yemen, and elsewhere in the region, are the threat we face – but it's also what America faces, and ultimately what the entire civilized world faces.
This war is about much more than Israel and Hamas. It's about whether the world will accept the violation of our most basic values as human beings. We treasure the clarity we've heard from President Biden, who called the Hamas threat by its true name – evil. Evil is the accurate word for terrorists holding more than 240 people, including babies and the elderly, and including American citizens, without any news of their fate. This is an ongoing war crime, and anyone concerned with humanitarian aid must act to secure their immediate and unconditional release. As secretary Blinken heard on Friday, we are committed to humanitarian assistance wherever possible to the uninvolved civilian population of Gaza. But we know that the only way to stop the suffering of Israelis and Palestinians is to remove the threat of Hamas.
These trying times are a test for us all. But as you know, Israel is a country founded on hope. Our national anthem is called Hatikva, which means, "the hope." Together, Ambassador Lew, we can defeat the forces of chaos and violence and make our hopes for the region a reality. May you go from strength to strength, and I wish you much success."
Ambassador Lew:
"Mr. President, I'm honored to stand beside you today as I present my credentials as the United States Ambassador to the State of Israel, particularly at this moment of history. This is a difficult time. Representing the United States as Ambassador to the State of Israel is a profound honor. I arrived in Israel only days after being confirmed last week, arriving on Friday to join the Secretary of State for important consultations. These are not normal times and this is not a normal transition. In fact I am told it's the shortest time from a vote in the Senate to arriving in country - reflecting the urgency in the moment. In that spirit, I appreciate you receiving me today.
I was raised with a deep appreciation of the importance of Israel, and I worked over my career in government to deepen the US-Israel relationship to meet critical immediate security needs, and also to build enduring approaches that span many years. Over many visits, I have developed a deep respect for the people and history of this country. I have many friends here as I arrive, and I look forward to building new relationships even during these hard early days. This past month has tested Israel and it has also proven that the bond between our nations is unshakable. As two great democracies, we share values that underlie how we make decisions. That explains why we remain so close.
I met this morning with families of hostages and there are no words to explain the pain they feel and we share. Working for the release of over 200 hostages, including Americans, will remain a top priority until their captivity comes to end. As President Biden has said so passionately, Israel has a right and indeed a responsibility to defend this nation and it's people in a manner that reflects the values that we share. We remain committed to providing the support to be successful in that effort. Even during a time of crisis, we must remain focused on the long term strategic challenges that will shape a future of greater stability and security, with better opportunities for all people of goodwill, regardless of religion. There's much to do, but we'll do it together. And is in that unity of purpose that I find hope for a brighter future. What took place on October 7 is a stain on humanity. It cannot happen. And so I want to reiterate what President Biden and Secretary Blinken have said countless times since that very dark day: the United States stands with you. We will work together. Our resolve will remain strong. Thank you for this honor, and I look forward to working with the Government and people of Israel."
Photo credits: Amos Ben-Gershom (GPO)
Details

Written by

President's Spokesperson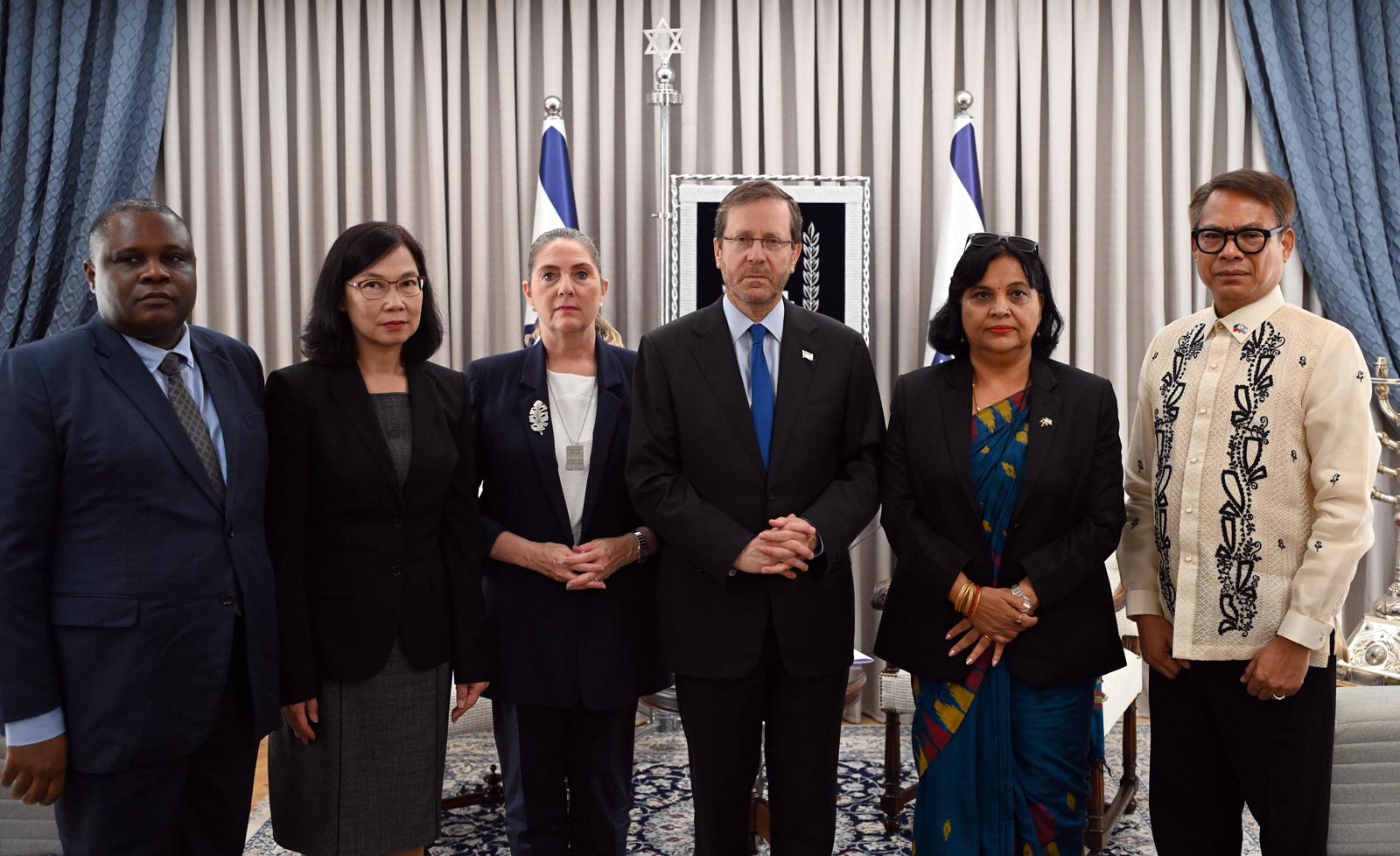 Thursday, 2 November 2023 / 18 Marcheshvan 5784
President Herzog meets Ambassadors from nations with citizens killed and taken hostage in the October 7 Hamas terror attack
President Isaac Herzog today, Thursday, met with the ambassadors to Israel from Thailand, Philippines, Tanzania, and Nepal, whose citizens were killed and taken hostage alongside Israelis in the barbaric terror attack by Hamas on October 7.
Among those killed and captured, were students studying agriculture, caregivers, and farm workers. The President stressed the important contribution of the foreign nationals to Israeli society and industry, and that he shared in their grief and concern. He noted that this was testament to the fact that Hamas' atrocities did not differentiate between the faith, ethnicity, or beliefs of their victims.
President Herzog said, "We are here because of the tragedy that has befallen the people of Israel, and many people from your nations. We know that many of your citizens in Israel were murdered, killed, tortured, wounded, and unfortunately, taken hostage.
Ambassador of Thailand, Pannabha Chandraramya, thanked the President and said, "It's a sad occasion as you mentioned, for us, the Thai people, we are suffering a lot, I think we are the second group after Israel who suffer with this loss. So far, we have confirmed that 23 Thai people were murdered, there are still some to be identified. As for those murdered, they were identified by the DNA test. And as of now we have four still in the hospital, one is still unconscious from the very first day, and we got confirmation of 29 that are held hostage."
She added, "The news about Israel is everyday in the Thai media, and we are concerned about the well being of the Thai people who are still living and working here in Israel, and also a we have grave concern for those who have been abducted. We want to know where about they are and how could we help them."
Ambassador of the Republic of the Philippines, Pedro R. Laylo, Jr. said, "Because of the attack four Philippine citizens were murdered. They were caregivers. In one one account, she was protecting her ward, and they poured gasoline over them."
President Herzog responded, "Please convey to the President of the Philippines and the entire nation, our heartfelt sorrow and pain. I cannot describe how the caregivers are so important to our society."
Ambassador of Nepal, Kanta Rizal, said, "Ten Nepali students, young students who come here every year for 11 months for the MASHAV program were murdered, one is missing and we have four injured." She explained that five of the victims' remains were only identified from DNA because they were burned.
Ambassador to United Republic of Tanzania, Alex Gabriel Kallua, said, "Tanzania has more than 262 students doing intense agriculture studies. And we have two missing. They were working in the south near the Gaza border. From the information we have, nobody's recovered them, and we think that they are among the abductees in Gaza."
President Herzog concluded, "I want to thank you Ambassadors. Your citizens are part and parcel of the people of Israel in facing the atrocities of the worst kind of 7th October, witnessing the horrors and showing immense bravery, solidarity, and strength. Many have lost their lives in tragic circumstances because they were attacked, because Hamas does not differentiate between any religion, any belief, any country, any state. Thirty-six countries are represented in this entire tragedy. But your countries are represented the most in terms of the fact that so many citizens of yours have faced this horrendous atrocity. We know how painful this is because we all were in agony, and your nations are in agony, and we will work tirelessly to bring everybody back home. Your citizens have been ruthlessly abducted and taken to Gaza as innocent people who came to study and work in our country and do good. The Israeli people love and appreciate your people."
Photo credits: Haim Zach (GPO)
Details

Written by

Silvia G. Golan
On Wednesday, September 20th, 2023, the Embassy of the People's Republic of China in Israel, held a celebration for the 74th Anniversary of the Founding of the People 's Republic of China at the Hilton Hotel in Tel-Aviv. Upon registration, guests received lapel pins of the Chinese and Israeli flags, and after being greeted by the Ambassador and his wife, they entered an international Pictures exhibition called "An Extraordinary Decade of China in the New Era."
At the ball room, guests gathered and enjoyed a wide selection of Hors d'oeuvres on small plates, traditional Chinese food and desserts, and a variety of beverages. At the center of the ballroom a stage was set with decoration of traditional flowers, China and Israel flags on the sides, and a yellow background with titles in Chinese and English "Celebrating the 74th Anniversary of the Founding of the People's Republic of China" and the Embassy's title below. In addition, two giantantic LED screens displayed video pieces of Esther Hui, who performed at the event, pieces of the Chinese Ballet, and videos showing the scenery and terrains of the Chinese republic.
The ceremony started with a solo performance of the Chinese singer Esther Hui ( HaHui - Asaph) , who was joined by the Israeli musician Yair Levi for an exciting duet of the song "Rafa Na." After the live performances of the two national anthems, the President of the State of Israel, H.E Isaac Herzog, delivered a recorded speech.
The President started by offering his warmest congratulations to the Chinese Embassy in Israel,to President Xi (Shee) Jinping, and to the entire Chinese people for the joyful occasion of the National Day of the People's Republic of China. He elaborated the elements the two nations share in common; both are bonded by a direct link to ancient civilizations that have made deep and enduring contributions to humanity, and both have proud histories that continue to fuel the nations' success as modern nation states.
In this fashion, the President mentioned that the establishment of the People's Republic of China 74 years ago has led to remarkable growth and development for modern China, helping drive innovation, progress and prosperity, domestically and globally. Naturally, he continued, Israel attaches great value to the strong diplomatic relations between the countries.

Mr. Herzog recalled that his father, Israel's sixth president Chaim Herzog, talked about his official state visit to China in December of 1992, just as China and Israel had established diplomatic relations. He shared that his dad was so struck by the deep points of connection that bind the two ancient and magnificent nations; by the enormity of what China was accomplishing; and by the potential for relationship between the two nations.

The President said that the two nations have a thriving and singular partnership, grounded in mutual regard, ongoing high-level diplomatic dialogue, strong people-to-people exchange, and economic collaborations.
He specified the China-Israel Joint Committee, which has deepened the ability to leverage the striking ingenuity of both nations, and to deepen the bilateral ties. Mr. Herzog expressed his satisfaction that it will shortly be convening for the sixth time.
The President thanked Ambassador Cai Run for helping steward the excellent relations toward their full potential and shared his anticipation of their continued growth. Mr. Herzog concluded by sending his best wishes to the People's Republic of China with hope for a year of peace, goodwill, prosperity and success.
President Herzog's speech was followed by the Ambassador of China Mr. Cai Run's formal remarks. He began by thanking President Herzog's friendly and kind words and extended warmest welcome and gratitude to friends from all sectors who have long been caring for China's development and supporting China-Israel friendship.
Over the past 74 years, as the Ambassador mentioned, the Communist Party of China (CPC) has united and led the Chinese people in forging ahead persistently, in holding the future of the nation firmly in their hands, and in successfully blazing a path to the great rejuvenation of the Chinese nation. Facts have proved that the path of socialism with Chinese characteristics is not only right and viable, but also steady and solid.
The Ambassador mentioned that China has implemented the people-centered development philosophy, and developed the world's biggest systems of education, social security and healthcare, improving people's life in all aspects and making advances in pursuing common prosperity. China's economy, as he explained, has entered a new stage of high-quality development with accelerated efforts to increase self-reliance in science and technology, building China into a country of innovators.
Guided by the philosophy that clean waters and green mountains are just as valuable as gold and silver, China has taken solid steps towards green, circular and low-carbon development. Despite the complex and severe international environment, in the first half of this year, China's GDP grew by 5.5% year-on-year, the biggest growth rate of all major economies in the world. It demonstrates the strong resilience of the Chinese economy. The fundamentals of China's long-term economic growth have not changed.
Over the past 74 years as the Ambassador stated, China adhered to the path of peaceful development and has always been a builder of world peace, a contributor to global development, and an upholder of the international order. China is committed to win-win cooperation and fostering a new type of international relations and a community with a shared future for mankind, as reflected by the Global Development Initiative, the Global Security Initiative and the Global Civilization Initiative. Such initiatives offer Chinese solutions and undertake China's responsibility for human development and progress.
The Ambassador mentioned that China has contributed more than 30% to world economic growth for more than ten consecutive years. As this year marks its 10th anniversary, the third Belt and Road Forum for International Cooperation will be held in Beijing soon. The "Belt and Road" initiative is becoming "a belt of prosperity" and "road to happiness", benefiting people across the world.
"Belt and Road", the Ambassador explained, contains elements that are common to the modernization processes of all countries, but it is more characterized by features that are unique to the Chinese context. Chinese modernization is the modernization of a huge population, of common prosperity for all, of material and cultural-ethical advancement, of harmony between humanity and nature, and of peaceful development.
The Chinese future is bright, the Ambassador stated, but added that there is still a long way to go in building a modern socialist country in all respects. China is committed to its fundamental national policy of opening up while pursuing mutually beneficial, high-standard opening up. China will draw development momentum from the world's openness and cooperation, and will continue to provide new opportunities and greater benefits for all countries with our new development.
Focusing on the relations with Israel, which were established 30 years ago, The Ambassador shared how they have kept a sound momentum. He shared that President Xi Jimping and President Isaac Herzog stay in close communication and have reached important consensus on the China-Israel relationship, providing strategic guidance for its development. The Chinese practical cooperation in various fields has yielded fruitful outcomes, benefiting both countries and peoples. China, as the Ambassador showed, has become Israel's largest trading partner in Asia and second largest in the world, as well as Israel's largest source of imported goods.
The Ambassador then elaborated on how Chinese companies participate in Israel's infrastructure construction. Projects like the Haifa New Port and Tel Aviv Red Line Light Rail are now in operation, making contributions to Israel's economic and social development. The China-Israel Changzhou Innovation Park and Shanghai Innovation Hub, jointly established by the two sides, continue to make progress. Innovation cooperation has become a highlight and driving force in our bilateral relations.
The Ambassador also mentioned the quick resumption of people-to-people exchanges after the pandemic. He pointed out the direct flights from Chinese cities including Shanghai Beijing and Shenzhen to Tel Aviv, the outbound group tour to Israel, and the growing number of sister cities between the two countries which now stand on 29 pairs.
The Ambassador concluded that with complementary strengths and driven by strong internal dynamics, China-Israel cooperation delivers benefits to both sides and demonstrates huge potentials and broad prospects. The Ambassador expressed the Chinese willingness to work with the Israeli friends to act on the important consensus reached by the leaders of the two nations and jointly create a better future for China-Israel relations.
Next spear was Haim Katz, Israel's Minister of Tourism, who spoke on behalf of the Israeli government and on behalf of Yitzhak Goldknopf, who serves as Israel's Minister of Housing and Construction. Katz mentioned that the good relations between the two countries are based on mutual respect and appreciation, frequent high-level political dialogue, economic cooperation that doubled in the past decade, deeper ties between universities and through cultural exchanges and tourism.
The Minister spoke about the fact that both China and Israel are two ancient peoples connected by culture and history through ancient languages and the ancient Silk Road. Relations with China are based on Israeli recognition of China's importance in the international arena, of being a large market for Israeli products, and its influence on the world economy. Katz shared his belief that it is important that both countries will invest in the future generation so that young people from both countries will recognize the advantages that exist in each of the two countries.
He added that it is also very important to return the same pre- Corona volume of direct flights and even more. Katz suggested that it will help the joint ambition to significantly increase the number of tourists from China, to return to levels of over 160,000 tourists per year and much more. He mentioned the successful roadshow of Israeli and Chinese travel agents to promote mutual tourism in four cities in China.
The Minister thanked the Chinese ambassador for his help in adding Israel to the list of approved countries for group tourism a few weeks ago and for the increasing number of Chinese tourists. Katz concluded his remarks by inviting the Chinese Minister of Tourism to the outgoing tourism fair in February 2024 and wished all the Chinese people happiness and success.
Among the distinguished guests were Mr. Gil Haskel, Chief of State Protocol at the Israeli Ministry of Foreign Affair; Rafael Harpaz, Deputy Director General of the Asia Pacific Department of the Israeli Ministry of Foreign Affairs; Michael Ronen, Head of Bureau South East Asia - Pacific Division at the Ministry of Foreign Affairs; Yoel Razvozov former Israel Minister of Tourism; Adi Baruch, Senior Counsel of MK Benjamin Netanyahu; Editor - in - Chief , The Jerusalem Post, Avi Mayer ;Asher Ben Artzi, Chief Superintendent (ret.) and the Ret, Director of Interpol at Israel Police; Yona Bartal, representative of the Peres Center for Peace and Innovation; Andrea Yip Zidkilov from the Andrea Yip Consulting Group and many Ambassadors, others diplomatics, military and business leaders.
Diplomacy.co.il
congratulates the Embassy , Government and People of China on the National Day, and offers best wishes for the continued success and growth of the ties between China and Israel.
Photos Silvia Golan
More Pics at Facebook Diplomacy Israel and Israel Diplo / Silvia G Golan
2000-2023 www.diplomacy.co.il | Israel | All rights reserved

Details

Written by

GPO
FM Cohen met with dozens of foreign ambassadors whose citizens are being held by Hamas in Gaza: The release of the abductees is our foremost priority.

Minister of Foreign Affairs Eli Cohen is joined by 22 ambassadors and diplomats from countries whose citizens have been abducted to the Gaza Strip in a call for the immediate release of the abductees and to allow visits by the Red Cross.
FM Cohen: "Hamas' crimes are unforgivable. The kidnapping of civilians, including babies, children, women and Holocaust survivors, is against every international law and every human norm.
"We will do everything in our power to release the abductees, regardless of their citizenship.
"In cooperation with the other countries whose citizens are missing, we will be able to exert significant international pressure on the Hamas terrorist organization for the return of all the abductees.
"We demand that the international organizations and the Red Cross visit the abductees to verify their condition and the conditions in which they are being held."
Minister of Foreign Affairs Eli Cohen met today at the Ministry of Foreign Affairs with dozens of foreign ambassadors from countries whose citizens were abducted by Hamas and asked their cooperation in pressuring Hamas for their swift release.
The ambassadors and diplomats were from Tanzania, Russia, Romania, Portugal, Peru, Serbia, Colombia, Austria, Ethiopia, Argentina, Philippines, Georgia, Sri Lanka, France, Mexico, Denmark, Hungary, Italy, Thailand, Canada, the Netherlands, Poland and the European Union.
FM Cohen meeting with foreign diplomats. Phtoto: MFA Spokesperson's Office.
Details

Written by

Silvia G. Golan
On Tuesday, September 19th, 2023, the Embassy of Nepal in Israel held a celebration of Nepal Constitution Day in Herzliya. Upon arrival, guests greeted by the Ambassador of the Federal Democratic Republic of Nepal, H.E. Ms. Kanta Rizal standing in front of a beautiful banner showing some of Nepal's highest mountain peaks decorated with traditional flowers. Before the ceremony, guests enjoying Hors d'oeuvres on small tables covered by red table cloths, with small Nepal and Israel flags on top.

After a brief introduction by Mr. Arjun Ghimire, Deputy Chief of Mission of the Embassy, the national anthems were playing and a Nepalese traditional candle lighting ceremony was held, followed by a promotion video of the country which showed some of the faces and views of the beautiful Nepal and its people.
First speaker was Mr. Nadav Ben-Yehuda, who serves as a Senior Advisor to the Embassy and the Chairman of Israel-Nepal Chamber of Commerce. In his speech, Ben-Yehuda engaged the audience with the trivia question of who was the first to reach Everest's peak? As Ben-Yehuda shared, on 29 May 1953, Sir Edmund Percival Hillary KG and Sherpa mountaineer Tenzing Norgay became the first climbers confirmed to have reached the summit of Mount Everest and that we can learn that we should never do missions like this alone.
For the question of who added 2 feet to the 29,000 height, that was Radhanath Sikdar who was an Indian mathematician best known for calculating the height of Mount Everest. Ben- Yehuda continurted by sharing his personal climbing experience in Nepal, specifically Mount Annapurna, and perhaps breaking the record of the highest chess game ever being played.
The speech was followed by a beautiful traditional Maruni dance by two female dancers wearing traditional Nepalese customs. Ambassador Rizal then began her formal remarks by sharing that she is deeply honored and privileged to welcome the guests and that this day marks the anniversary of a new constitution, which was promulgated via Constitution Assembly on the 20th September 2015. On this day, the entire nation celebrates this day with the full spirit of unity.
The Ambassador elaborated that the new constitution embraces the principles of republicanism, federalism, secularism and inclusiveness, and that it frames the fundamental political principles, procedures and duties of the government and guarantees the human rights of its citizens.
Considering Nepal's diverse culture and traditions, which vary from one region of the nation to another, the constitution has recognized all the local languages spoken within Nepal as national languages. In this fashion, since Nepal enjoys a rich tapestry of cultures and traditions blended to form a national identity, the Ambassador explained that the Nepalese celebrate a wide variety of festivals that turn later to family gatherings.
Nepal is the country with many of the religious sites for the Hindus, Buddhists and Kirats, some of them has been regarded as the world heritages sites. Despite that, as the Ambassador stressed, Nepal has adopted religious secularism by the new constitution.

Then, the Ambassador focused on the relationship between Nepal and Israel, established in 1960. She said that despite the topographic and climate variations, hosting the highest and the lowest points on the earth respectively, Nepal and Israel share a unique bond and a lot of similarities in actions.
It started when Nepal, an ancient country nestled between two great Asian civilizations ,and Israel, a newly established country in the Middle East with ancient history, decided to establish diplomatic ties that turned out to be a milestone in international relations of both countries and people.
It continued with Israel's support to train and educate Nepali farmers how to use new technology to boost agriculture production, and with Israel's remarkable assistance during the devastating 2015's earthquake in Nepal, through Israel's assistance to Nepal during Covid-19 pandemic.
Till date, Nepal is well loved by Israelis and vice versa with deep respect for eternal faith and trust between the two countries that doubtless go beyond time. Thus, The Ambassador thanked and expressed gratitude on behalf of Nepal for all hands of cooperation provided by Israel for the development of Nepal.
The Ambassador concluded by expressing confidence that in the days ahead the bilateral relations will grow stronger. She thanked the Minister and the Excellency Ambassadors, Senior Government officials, members of the diplomatic corps, fellow Nepali compatriots and other distinguished guests for joining the celebration.
Next speaker was Israel's Minister of Diaspora and the fight against anti-Semitism and Minister of Social Equality Mr. Amichai Shikli, who shared how pleased and honored he is to represent the government and the people of Israel in congratulating the government and the people of Nepal on the occasion of its Constitution Day.

He mentioned that Nepal was the first country in South Asia to recognize the State of Israel and to establish diplomatic relations with it, followed by the first visit of its Prime Minister, B.P. Koirala, who met with then Israeli Prime Minister, David Ben- Gurion, in the Summer of 1960.
Just two years ago it was the 60 years anniversary of strong diplomatic relations between the two countries consisting of fruitful cooperation across many areas such as agriculture, health, education, tourism, security and humanitarian aid.
The minister elaborated on MASHAV, and participation in the "Learn & Earn" agricultural training program which has already successfully trained some three thousand "graduates" that have since returned to Nepal equipped with unprecedented knowledge and experience in modern Israeli farming technology.
He also mentioned hundreds and thousands of Israelis have come to Nepal to volunteer in programs for the development of Nepal and some simply as tourists to partake in treks throughout this phenomenal country, forming strong connections with local Nepalese. He predicted that 2023 may break the record for the highest number of Israeli tourists visiting Nepal.

Similar to Ambassador Rizal, Minister Shikli also mentioned the assistance Israel provided to Nepal after the terrible earthquake and during the Covid-19 pandemic.
He also appreciated and admired the care-giving services generously offered by Nepalese citizens to elderly population here in Israel, and that they are being welcomed to Israeli society with the same warmth and caring that they provide our elderly population.

Ironically, as the Minister noted, Nepal and Israel are also connected through geographically opposite extremes – Nepal is of course famous for having the highest mountain in the world, Everest, and Israel, for its part, is famous for having the lowest point on earth, the Dead Sea.

Last, Minister Shikli mentioned the Nepalese football player who joined the Israeli women's team known as SAMBA. He concluded his remarks with warm wishes for a future of peace, stability and economic prosperity and that the friendship between the countries will grow ever stronger as each day goes by.
Following the wine toasting by the Ambassador and the Minister, the guests enjoyed the traditional dishes, with the ambience of festive lights and decorations.
Among the distinguished guests were Mr. Gil Haskel, Chief of State Protocol at the Israeli Ministry of Foreign Affair; Rafael Harpaz, Deputy Director General of the Asia Pacific Department of the Israeli Ministry of Foreign Affairs; Ilan Nir, Honorary Consul of Nepal; Stephen Abrahams of the Ministry of National Infrastructures Energy and Water Resources; Ariel Goldshtein, Senior Advisor to the Chief of Staff at the Prime Minister Office; and many foreign Ambassadors, militars, business leaders and members of the Nepal community in Israel.
The Staff of
www.diplomacy.co.il
congratulates the government, people, and Embassy of Nepal on the occasion of their Constitution Day. ! NAMASTE !
Photos Silvia Golan
More Pics at Facebook Diplomacy Israel and Israel Diplo / Silvia G Golan
#naturallynepalonceisnotenough
2000-2023 www.diplomacy.co.il | Israel | All rights reserved