Diplomatic Events
Details

Written by

Silvia G. Golan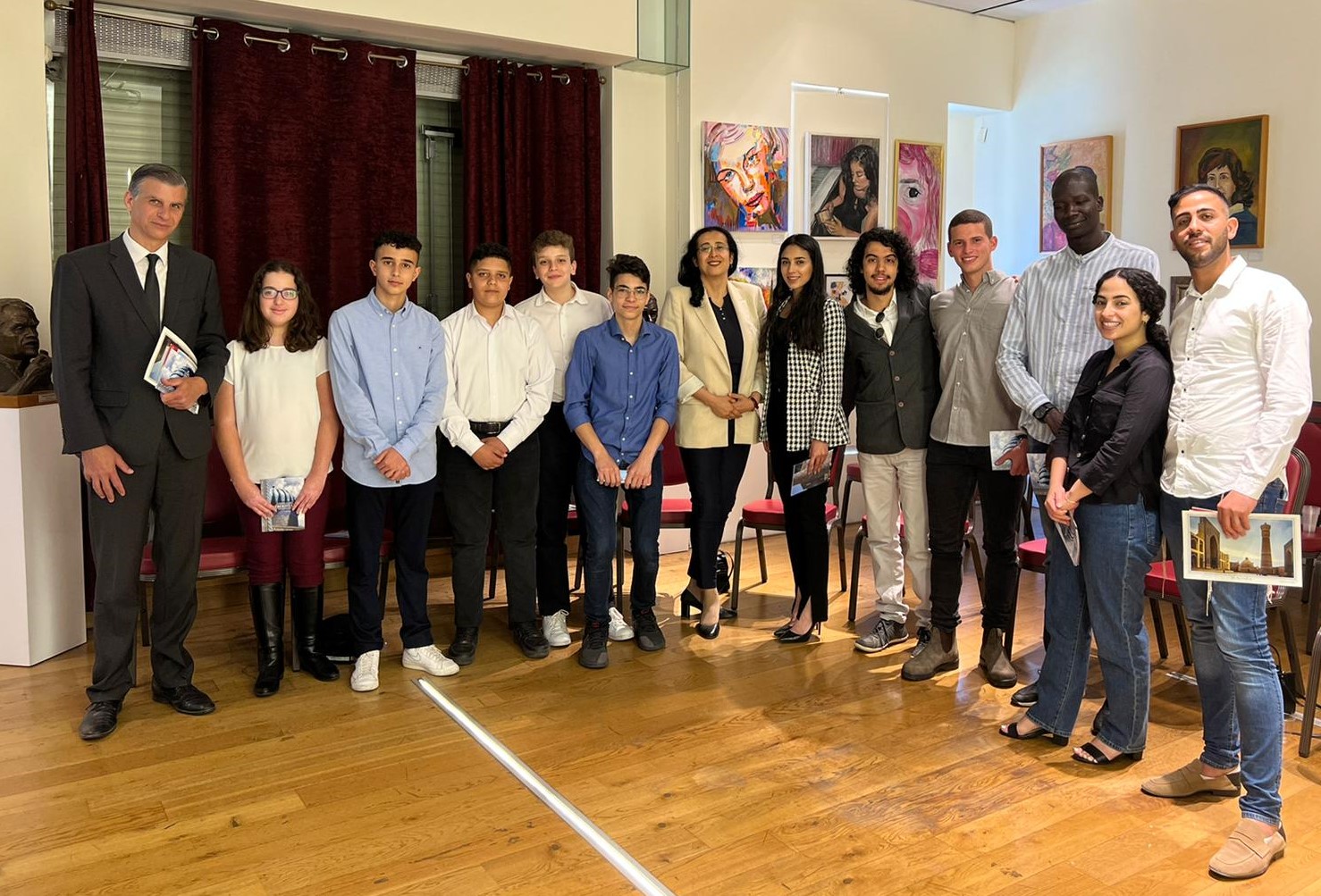 On Friday morning, May 20, H.E. Ms. Feruza Makhmudova, Ambassador of Uzbekistan to Israel, met with Debate for Peace students at the ZOA House in Tel Aviv. Ambassador Makhmudova is the first female ambassador appointed to represent Uzbekistan as an ambassador, and she spent time talking with the Model UN and diplomacy students about the bilateral nations between Israel and Uzbekistan. The students also watched several films highlighting the sights, sounds and colors of Uzbekistan.
Ambassador Makhmudova explained that although formal relations between the two countries only began following Uzbekistan's independence in 1991, they rest on a bedrock of goodwill between the Jewish people and their neighbors in Uzbekistan, including the historic communities of Bukhara, Samarkand, Tashkent and Khiva. Uzbekistan maintains a strong Jewish community today, with numerous synagogues, and the diaspora community in Israel is a boost for enhancing the relations between Israel and Uzbekistan.
The Ambassador mentioned the beauty and diversity of Uzbekistan, with over 130 nations and languages and 16 religions represented, many living in the various mahallas (community neighborhoods). Among the goals for strengthening bilateral relations she noted enabling the import of fruits and vegetables from Uzbekistan, sharing that the produce from Uzbekistan is richer in taste and diversity. Other areas include sharing technological know-how and promoting innovation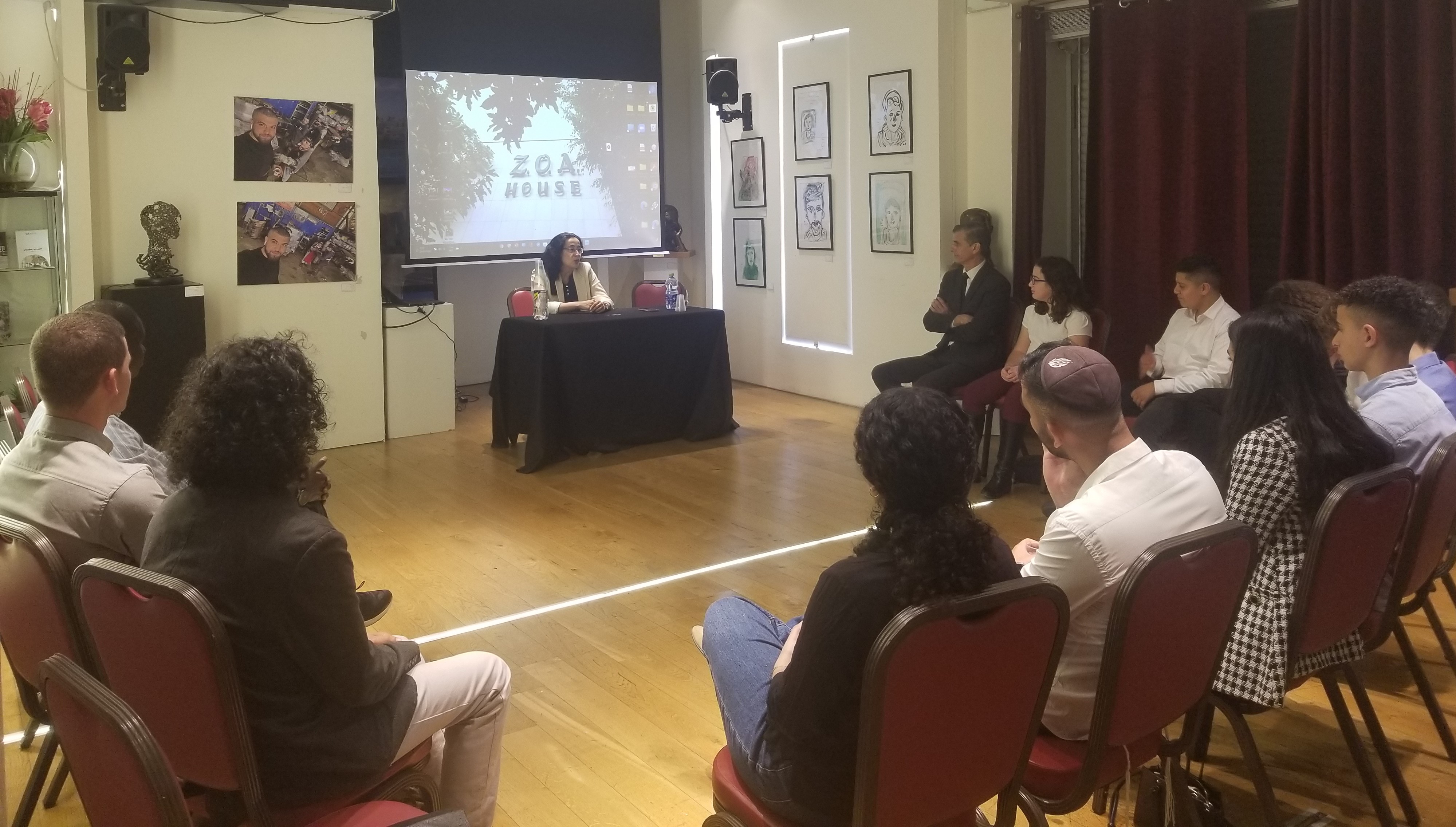 Students from the College de frere, Open University Model UN Association, University of Haifa, Tel Aviv University international MA program, and Petah Tiqva Model UN club all participated in the discussion. The students received booklets describing some of the touristic highlights of Uzbekistan and were invited to visit Uzbekistan. Discussion was also initiated on the topic of student-exchanges and academic partnerships. In closing, Ambassador Makhmudova stressed Uzbekistan's desire to advance via diplomacy, open communication and goodwill with all nations, and welcome students to come for a visit themselves.
Rafael Rotstein from the Open University told Diplomacy.co.il he "learned a lot about this rising country in Central Asia, and the new government's ideas for internal, regional and global development through Diplomatic Relations based mainly on dialogue" through the fascinating meeting. Uwar Mathew Donato from the Tel Aviv University international MA program added that
He was struck by something the ambassador said "We believe in respect for one another and peaceful relations with our neighbors and other countries in the world" -highlighting the importance of better dialogue and good cooperation.
Steven Aiello
Founder--DebateforPeace
Photos credit: Debate for Peace/Steven Aiello
Details

Written by

Silvia G. Golan & Steven Aiello
Tel Aviv Shines Blue and Yellow as the European Union Delegation and Members Mark Europe Day with a Show of Support for Ukraine
EuroParty 2022 was held on Thursday evening, May 12, in Tel Aviv's Ganei Yehoshua park. This year's celebration of Europe Day was dedicated to showing support for Ukraine, with a concert featuring Ukrainian and Israeli musicians, and a fundraiser for victims of the war.
The evening opened with refreshments served in the open-air space of the Wohl Auditorium. Tables were set up to display handmade Ukrainian crafts for sale, with proceeds going to the charities supporting Ukrainian victims.
Ambassador of the European Union to Israel, Mr. Dimiter Tzantchev, opened with greetings in Hebrew, noting that in his third posting in Israel, he is witness to the growth in the Israeli-EU relationship across numerous dimensions.
The ambassador touched on many of those areas of cooperation, from health (12 million doses of Covid 19 vaccines imported from the EU to Israel) to trade (EU-Israel trade rose from 31 billion euros to 37 billion euros in 2021, accounting for 30% of Israel's international trade), to research and innovation (Israel is an active member of the Horizon Europe program).
Ambassador Tzantchev emphasized the EU's commitment to peace in the region, and to Israel's safety. He stated the EU's clear condemnation of the recent wave of attacks in Israel, stating his remarks in English and Hebrew.
The theme of the night of course was European unity, peace and prosperity, represented by the May 9, 1950 Schuman declaration. The ambassador discussed the EU and member states' unprecedented support for Ukraine, and stressed appreciation for Israel "standing with Europe and the US on the right side of history", and to Minister of Health Nitzan Horowitz for being the first Israeli cabinet minister to visit Ukraine.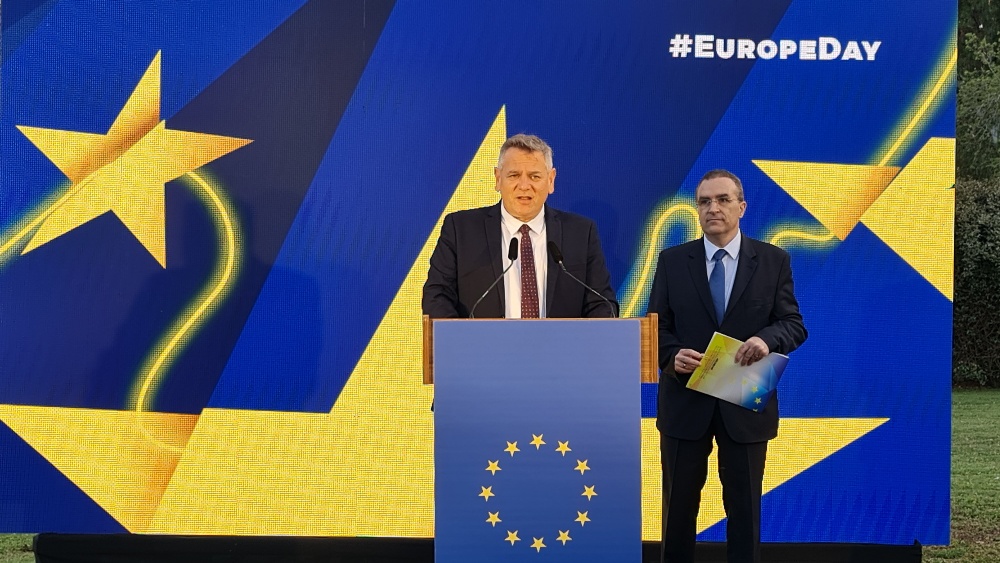 Minister Horowitz spoke on behalf of the Israeli government. Complimenting the ambassador's impressive display of Hebrew, the minister noted that the Schuman declaration "serves as a symbol of the power, vision and determination of the human spirit." He reiterated the values shared by Israel and the EU: "peace, democracy, rule of law, and sanctity of human life."
Minister Horowitz expressed his appreciation for the EU's Comprehensive Strategy on Combatting Antisemitism. He also noted the European Union's efforts to advance peace, tolerance and democracy in the region and thanked the EU for providing financial support for the Palestinian Authority and the Palestinian national economy.
Following the speeches, the national anthems of the European Union and Israel were played, and a toast was then raised. After enjoying dessert, guests were invited to the amphitheater for a concert featuring Ukrainian singer Viktoria Leléka and her European Jazz Quartet, and Israeli pop star Ivri Lider. Viktoria Leléka introduced her songs with stirring words of the need to bring peace for all people, as well as with the environment.
The distinguished guests at the celebration included H.E. Mr. Gil Haskel, Chief of State Protocol at the Israeli Ministry of Foreign Affairs; Assaf Moran, Director of the Department for Multilateral European Organizations and NATO at the Ministry of Foreign Affairs; Professor Tamar Safra from Tel Aviv Sourasky Medical Center (Ichilov hospital); Dan Catarivas, Director of the division of Foreign Trade and International Relations at the Manufacturers' Association of Israel; Boaz Moldawsky, President of The Israel Diamond Exchange; Gidon Bromberg Director of EcoPeace Middle East Israel, as well as ambassadors, military attaches, and Israeli business and civil society leaders.
Diplomacy.co.il congratulates the EU mission and all EU members on Europe Day and offers best wishes for peace and prosperity.
More Pics at Facebook Diplomacy Israel / Israel Diplo / Silvia G. Golan
Details

Written by

Silvia G. Golan & Steven Aiello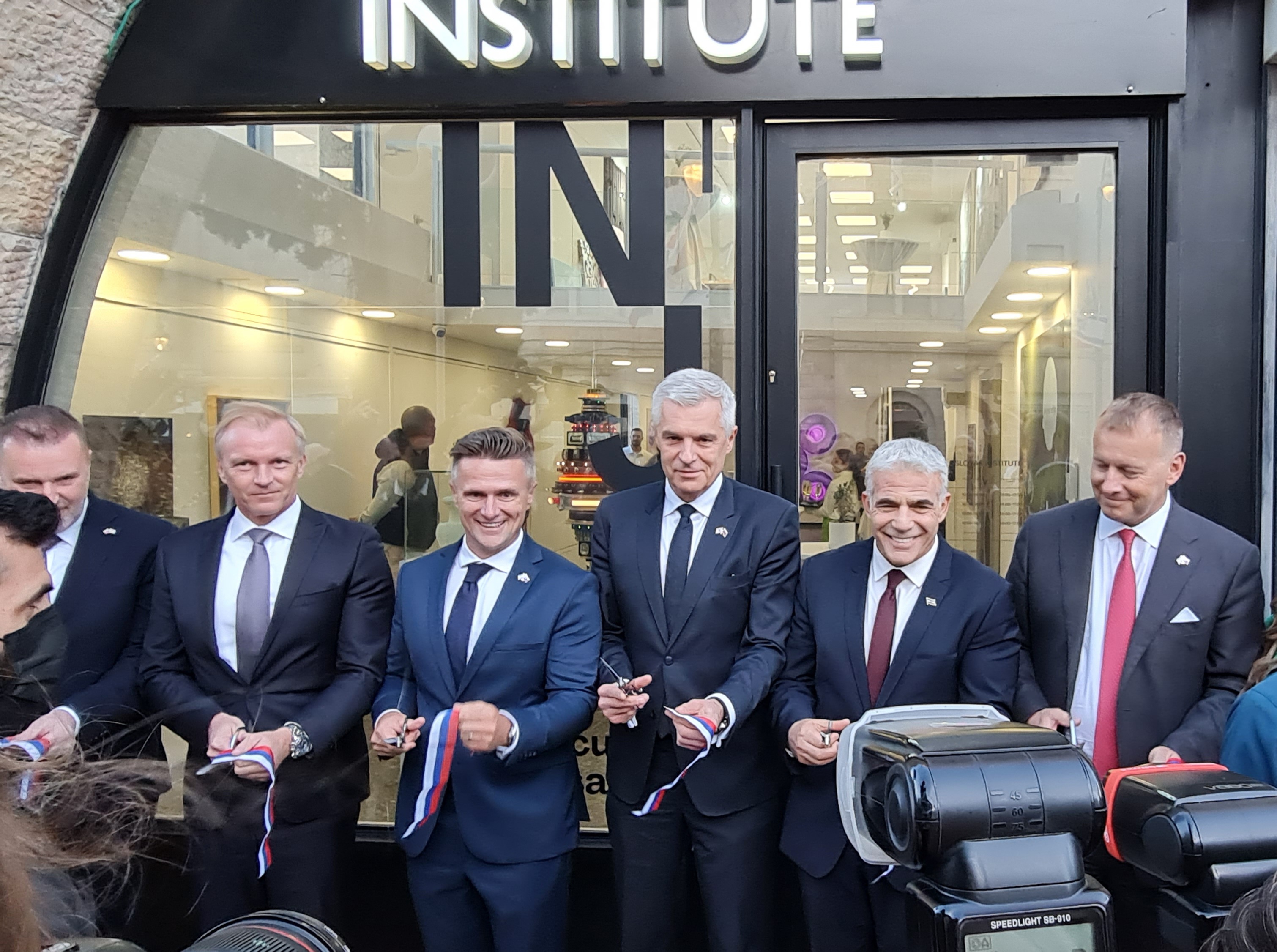 Minister of Foreign Affairs Ivan Korčok Inaugurates the Slovak Institute in Jerusalem, Opening a New Chapter in Israel-Slovakia Relations.
The Minister of Foreign Affairs and European Affairs of the Slovak Republic H.E. Ivan Korčok, together with the President of the National Council of the Slovak Republic, H.E. Boris Kollár and Minister of Labor, Social Affairs , H.E. Ambassador of Slovak Republic to the State of Israel Igor Mauks, Director of the Institute Mr. Urik Jakub and Family H.E. Milan Krajniak inaugurated the Slovak Institute in Jerusalem on Wednesday evening.
"The opening of the Slovak Institute in Jerusalem opens a new chapter in relations between Slovakia and Israel. This piece of Slovak land in Jerusalem will be a meeting place not only for artists and representatives of the cultural community but also for all friends of Slovakia and Israel, including thousands of Slovak pilgrims who visit the Holy Land every year," said Minister Korčok. There are currently nine such cultural institutes in the world, with Jerusalem being only the second one located outside the European Union.
"I see cultural diplomacy as one of the best tools for the presentation of Slovakia abroad, which opens the door to new opportunities for artistic cooperation, but also to support Slovakia's interests abroad. That is also why the support of culture and art is one of the priorities of the Ministry of Diplomacy," said Minister I. Korčok.
At the ceremony, Minister Korčok thanked the present mayor of Jerusalem, Moshe Lion, and Israeli Foreign Minister Yair Lapid, for their helpfulness in setting up the Slovak Institute in Jerusalem. The institute has been operating since September 1, 2021, but due to Covid 19 safety measures, the grand opening ceremony had been postponed. The director of the Slovak Institute in Jerusalem is an experienced cultural diplomat, Jakub Urik.
"We can be proud of this piece of Slovakia on the prestigious King David Street in Jerusalem. It is a modern multifunctional space, which currently has the largest exhibition of Slovak contemporary art abroad," said Jakub Urik, director of the Slovak Institute in Jerusalem. According to him, dozens of top Slovak artists who exhibit in the best galleries in the world will be able to exhibit in Israel for the first time through the Slovak Institute.
"Since September 1, 2021, since the Slovak Institute in Jerusalem began to function officially, we have already managed many projects. At the Institute, we currently have the largest exhibition of Slovak contemporary art abroad, EXPEDITION 10, curated by Vladimír Beskid. The most important Israeli cultural institutions are interested in cooperating with Slovak artists, and the city of Jerusalem, which is visited by 4.5 million tourists a year, placed a statue of the leading Slovak sculptor Bohus Kubinsky in one of its parks in the city center. The Slovak Republic will be the main guest of the jubilee 10th year anniversary of the largest photography festival in Israel, Israel Photo, the best private galleries in Tel Aviv are interested in presenting Slovak artists and the recent tour of Slovak jazz performers was sold out in all clubs in February".
Slovak institutes belong to the network of diplomatic institutions of the Slovak Republic, which manages the diplomacy department. They are an integral part of the tools through which the Slovak Republic supports cultural cooperation and develops international relations.
At the opening ceremony, Israel Minister of Foreign Affairs Yair Lapid spoke on behalf of the government of Israel: "We appreciate and cherish this moment, and even more so - the years to come. We will continue to strengthen cooperation and ties between our countries."
www.diplomacy.co.il and DebateforPeace congratulate the government, the Embassy and the Slovak Institute for inaugurating this important new chapter in relations between Slovakia and Israel.
www.facebook.com/Slovak-Institute-in-Jerusalem-
www.instagram.com/slovensky_institut_jeruzalem/
Steven Aiello
Founder--DebateforPeace
Photos credit Silvia G. Golan
More Pics at Facebook Diplomacy Israel / Israel Diplo
Details

Written by

Silvia G. Golan
In honor of Israel's 74th Independence Day, President Isaac Herzog and First Lady Michal Herzog host a festive reception for the foreign diplomatic corps
Today, Israel's 74th Independence Day, President Isaac Herzog and First Lady Michal Herzog hosted a festive Independence Day reception at the President's Residence for the foreign diplomatic corps.
At the official reception in the gardens of the President's Residence, the guests were treated to a selection of boutique Israeli wines and cheeses and fine Israeli ice cream. The diplomats were also treated to a musical performance by the eclectic Jerusalem-based brass band Marsh Dondurma.
The reception was attended by around 400 guests, including ambassadors and high-ranking officials from around 120 countries and organizations. Foreign Minister Yair Lapid and his wife Lihi, Deputy Foreign Minister Idan Roll, Office of the President Director General Eyal Shviki, MFA Director General Alon Ushpiz, and other dignitaries also participated.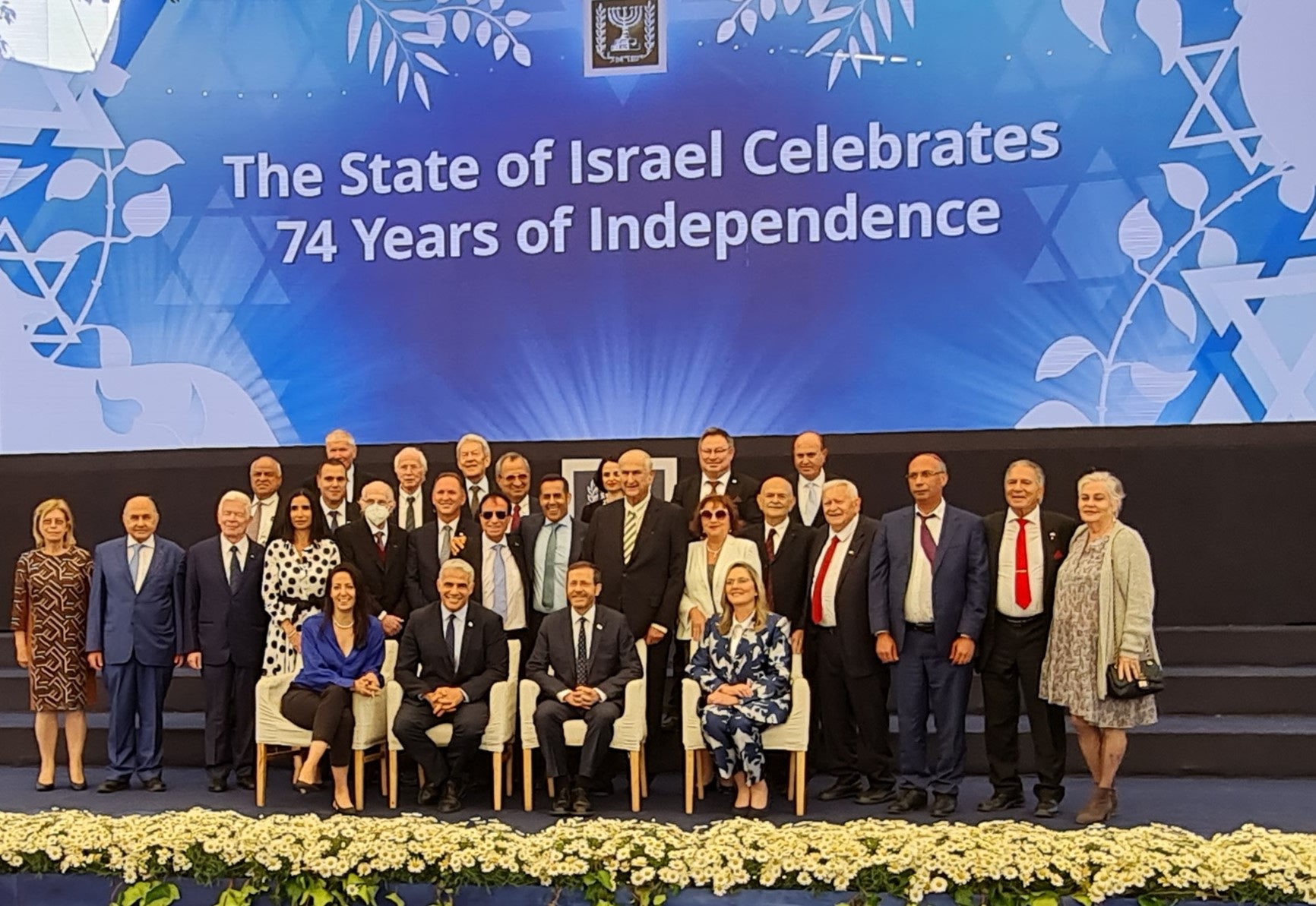 President Isaac Herzog's full remarks:
It is a great privilege to celebrate Israel's 74th Independence Day with you all, in this traditional gathering, which began with our first president, Dr. Chaim Weizmann. Gathering here amongst friends old and new, in a strong, independent, Jewish democratic State of Israel evokes the words of the Prophet Isaiah: "Joy and gladness shall be found therein, thanksgiving, and the voice of melody."
Growing up in Tel Aviv in the 1960s, my mother and father were clear in articulating that our modern-day miracle in our ancient homeland was not to be taken for granted. They recounted in our ears the all-encompassing hope for the State of Israel coupled with the deep uncertainty they experienced with the establishment of the Jewish state.
My wife Michal and I and our friends, Minister Lapid and dear Lihi, all recall hearing from our parents the struggles of these early days. It is therefore such a privilege to gather today and salute our parents' and grandparents' generations for what they created.
Ladies and Gentlemen, today we celebrate 74 years of a vibrant, multicultural democracy, in which all faiths are respected and all worshipers enjoy freedom of religion. Seventy-four years of courage and creativity in turning seemingly-impossible challenges into a catalyst for cutting-edge innovation.
Seventy-four years of keeping our hands outstretched in peace while standing strong against those who oppose us. And here, on this festive afternoon, Michal and I are delighted to open our home both to those who helped solidify our independence and to those with whom we could have only dreamed of sitting together on our 74th birthday.
Dear friends, since assuming office I have had the opportunity to travel to several countries, including many of our Middle Eastern neighbors. Throughout our region, I was met with sincerity and warmth, hospitality and curiosity, open-mindedness and dialogue. I encountered a willingness to find common ground and a profound effort to work together, despite our differences.
In short: I have seen a historic change.
The Abraham Accords, signed back in 2020, are but the most recent, exciting example of peace, following the groundbreaking, historic peace agreements with Egypt in 1979 and with Jordan in 1994. Peace made possible by a decision to focus on future prosperity and wellbeing rather than past conflicts and hate; by an understanding that lasting peace not only requires meetings between politicians, but is dependent on true friendship between peoples.
Step by step we are all learning to navigate this Renewable Middle East, building on win-win cooperation, stability and modernization, and slowly realizing the extraordinary potential of our region. If we succeed, the impact can be far broader than our Middle Eastern community. The world at large can benefit from the Middle East transforming into a global hub of sustainable solutions at the forefront of renewable energy, climate technology, innovative agriculture,
and environmental preservation. The entire world can benefit from a Middle Eastern strategic alliance of moderate forces, that can act to deter and defeat radical actors, and can enhance the security of our region.
As we well know, when peace takes root, extremism and terror insist on preserving the old path of incitement, violence and hate.
Just this week, Israel faced another murderous terror attack, following weeks of terror. But in the face of threats, assaults and hatred our message is rather clear:
When they attack us, we grow stronger. When they try to divide us, we grow more united. Israel we will do whatever is necessary to protect our cities and our citizens.
Dear friends, I am excited that after 74 years, this vision of a developed Middle East is materializing. And, I call upon each of the countries represented here today: Join the momentum created by the Abraham Accords; inform your citizens of the potential and the treasures of Israel; urge them to explore Israel's medical institutions and scientific industry; encourage companies and corporations to explore opportunities and take advantage of the innovation, resources, and entrepreneurial spirit resonating throughout the Middle East. Join us in creating shared initiatives and ventures, and in rediscovering and redesigning the region.
Ladies and gentlemen, I take this opportunity to personally thank Minister of Foreign Affairs Yair Lapid, Ministry Director-General Alon Ushpiz, Chief of State Protocol Gil Haskel, and their teams, and each and every member of the Ministry's dedicated staff and outstanding diplomats.
Thank you all for your cooperation, for your professionalism, and for your hard work together with me, with my director-general, and with the team at the Office of the President and its diplomatic department.
Happy Independence Day to all!
Minister of Foreign Affairs Yair Lapid also attended at the reception for the diplomatic and consular corps hosted by President Herzog. Following are excerpts of his remarks:
"States are established by optimists. Pessimists sit and wait for the worst to happen, and it usually does. Optimists try to make their dreams come true. I know most of you by now, and I know the stories of your countries: Garibaldi and modern Italy, Mahatma Gandhi and India, Jomo Kenyatta and Kenya. All very different stories, all with one thing in common - our nations were created because there was a magical coming-together of circumstances and ideas that made people believe in the impossible. David Ben-Gurion, Israel's founding father, once said: "A Jew who does not believe in miracles…is not a realist." The State of Israel is a miracle. But miracles do not happen by themselves. They need to be helped. They need an army to defend them, an economy to support them, and good friends to stand beside them.
"This past year, a new government was established in Israel, which also set out a new policy direction. We opened new embassies and consulates in the United Arab Emirates, Bahrain, and Morocco. We appointed more than forty new Ambassadors around the world. We created new and exciting partnerships, like the Negev Summit where six Foreign Ministers, in an extraordinary and intimate atmosphere, formed new cooperation that is changing the Middle East. Like our renewed relations with Europe, restored on the basis of dialogue and honesty. Like our return to Africa and acceptance as an Observer to the African Union after too many years.
"We also strengthened our most important alliance, with the United States. Opponents of our alliance tried to test it in a vote in Congress on funding for the Iron Dome. It ended with a majority of 420 in favor to only 9 opposed. I doubt there is another country in the world that earns such sweeping, bipartisan support in American politics. It was an impressive display of friendship, and an expression of an alliance based on shared values.
"More tests await us, and we need to cooperate with you all to make the world a safer place. First and foremost, there is the Iranian threat: a fundamentalist terror state trying to achieve a nuclear capability. The world cannot afford a nuclear Iran, it would cause a new arms race endangering everyone on the planet.
"One learns over the years that friends are not only those who support you in difficult moments, but those who know how to share in your happiness as well. I thank you, my friends, for coming to share in our happiness today. Happy Independence Day!"
Photos credit Silvia G. Golan
More Pics at Facebook Diplomacy Israel / Israel Diplo / Silvia G. Golan
Details

Written by

Spokesperson of the President's Office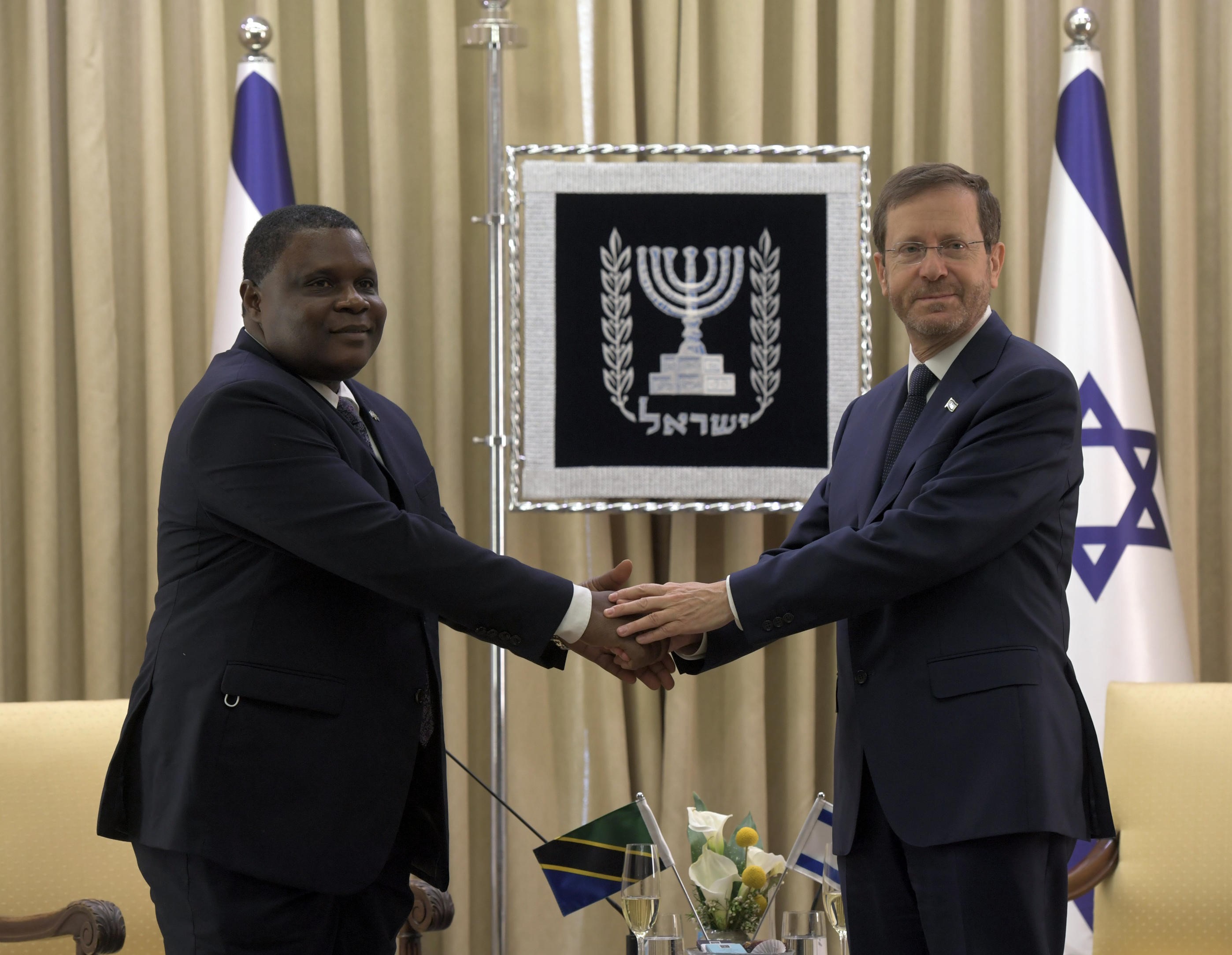 President Isaac Herzog today received the credentials of the new ambassadors of Tanzania, Armenia, Austria, Singapore, and Kyrgyzstan upon the assumption of their diplomatic duties in Israel. The incoming ambassadors were welcomed by the IDF Band playing their respective national anthems and they inspected an IDF honor guard, after which they presented their letters of credence to the President in the Great Hall of the President's Residence in Jerusalem. The ambassadors held a meeting with the President and then signed the guest book. At the end of each credentials ceremony, the Israeli national anthem was played.
The first ambassador to present his letter of credence was the Ambassador of the United Republic of Tanzania, H.E. Alex Gabriel Kallua. The Tanzanian Ambassador extended President Samia Suluhu Hassan's personal regards to President Herzog and her wishes for enduring cooperation between Israel and Tanzania. President Herzog emphasized his desire to strengthen Israel's relationship with Tanzania in a range of fields, including tourism.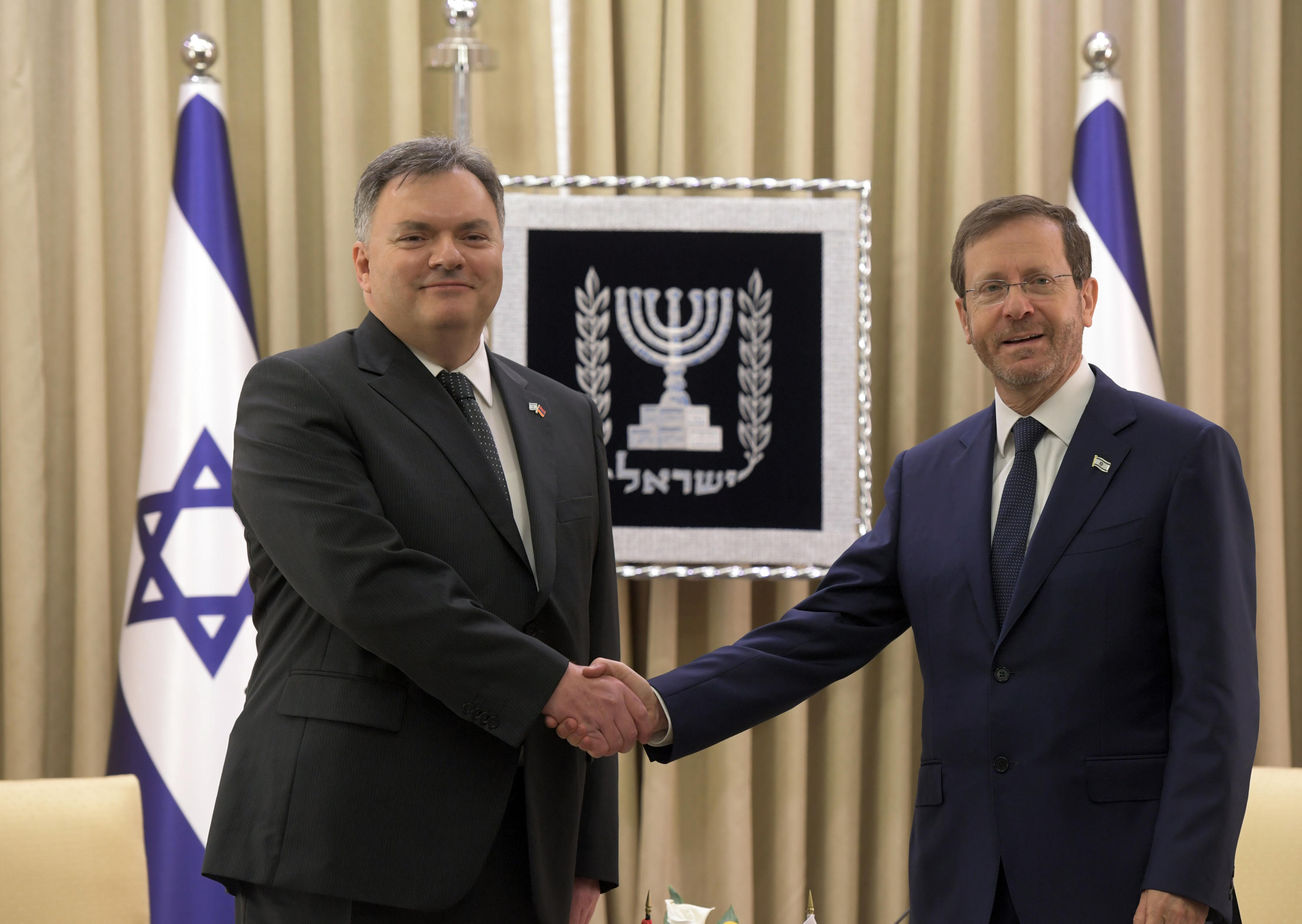 The second ambassador to present his letter of credence was the Ambassador of the Republic of Armenia, H.E. Arman Akopian, who begins his posting in Israel after serving as Armenia's ambassador to Brazil. The Ambassador presented his credentials in fluent Hebrew and signed the guest book in Hebrew. President Herzog and Ambassador Akopian discussed the 1,700-year-old history of the Armenian community in the Holy Land and affinities between Jews and Armenians as peoples with independent states and worldwide diasporas.
President Herzog noted that his father, the late Sixth President of Israel, Chaim Herzog, received the credentials of the first Armenian Ambassador to Israel after the establishment of diplomatic relations. The Ambassador extended President Vahagn Khachaturyan's personal greetings to the President and the people of Israel.
At the end of the ceremony President Herzog invited the Armenian Ambassador to walk down to the reflecting pool with him, to show him the works of ceramic art by Armenian-Jerusalemite artist Marie Balian introduced to the President's Residence by the President's late mother, former First Lady Aura Herzog.
The third ambassador to present his letter of credence was the Ambassador of the Republic of Austria, H.E. Nikolaus Lutterotti. President Herzog welcomed the Ambassador and thanked him for Austria's friendship with Israel, saying: "We have a very unique, important and strong relationship between our nations." President Herzog added that he looks forward to meeting Austria's leadership, and Ambassador Lutterotti conveyed Austrian President Alexander Van der Bellen's personal regards. The Ambassador noted that the Austrian Government has tripled its spending to protect and promote Jewish life in Austria "to make it the vibrant part of our society that it used to be."
The fourth ambassador to present his letter of credence was the Non-Resident Ambassador of the Republic of Singapore, H.E. Chuan Poh Lim, who has previously served as the head of the Singapore Armed Forces. Ambassador Lim updated President Herzog on the progress toward the establishment of a permanent Singaporean embassy in Israel soon, further to the Singaporean Government's decision last month. President Herzog and Ambassador Lim discussed Israel and Singapore's shared challenges, including urban density and water security, and noted that both nations have learned much from each other.
The last ambassador to present his letter of credence was the Non-Resident Ambassador of the Kyrgyz Republic, H.E. Kubanychbek Omuraliev, who also serves as Kyrgyzstan's ambassador to the Republic of Turkey. Ambassador Omuraliev arrives as Kyrgyzstan's first ambassador to the State of Israel in twenty years. President Herzog began by wishing Ambassador Omuraliev a Ramadan Kareem and handed him a personal letter to President Sadyr Japarov of Kyrgyzstan on the occasion of thirty years of diplomatic relations. President Herzog and Ambassador Omuraliev discussed opportunities to expand trade, academic and cultural cooperation, and reciprocal tourism between Israel and Kyrgyzstan.
Photos credit: Haim Zach/GPO.