Art & Culture
Details

Written by

Technion Spokesperson
Turning a Dream into Reality

The Technion inaugurates the "Mehoudar Center for Inventors" – a center for creative and engineering design dedicated to Raphael Mehoudar
The Technion – Israel Institute of Technology inaugurates the Mehoudar Center for Inventors – a center for creative and engineering design. The center will encourage inventors from all over the country, school children, university students, and faculty members to dream and imagine. Most importantly, the center will provide them with the necessary engineering tools for building and testing prototypes - with the assistance of a highly skilled technical team and the resources to plan and execute. The Mehoudar Center for Inventors will also be home for cross-faculty collaborations - for example, the development of multidisciplinary final projects.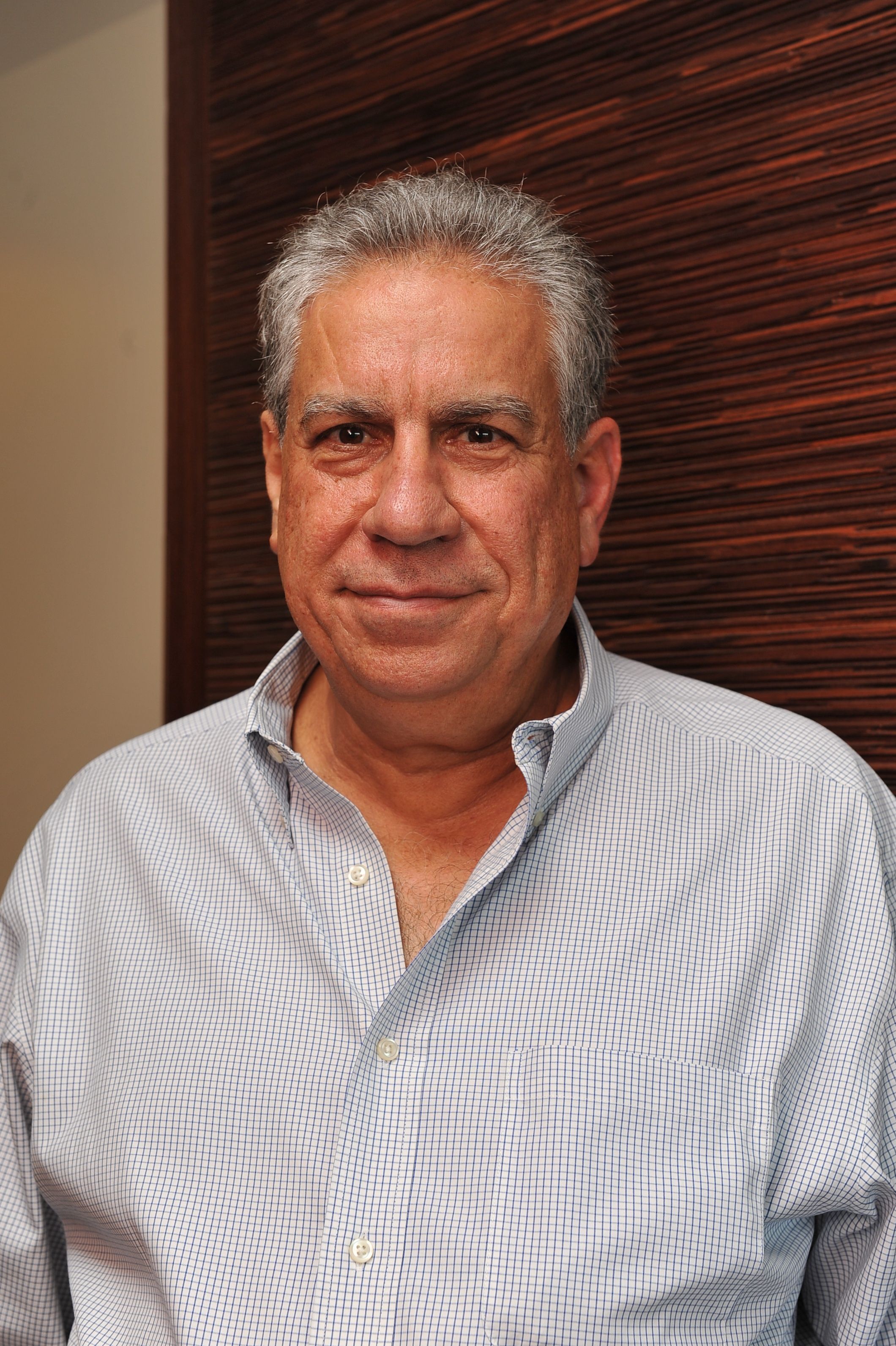 The center is named in honor of Technion graduate Raphael (Rafi) Mehoudar, graduate of the Faculty of Mechanical Engineering at the Technion (1966) and the recipient of an Honorary Doctorate from the Technion (2014). On Israel's 67th Independence Day (2015), Mehoudar was given the honor of lighting one of the torches in acknowledgement of his contribution as "a successful, world-renowned engineer and entrepreneur who developed the drip irrigation technology that became an international success."

Technion President Professor Uri Sivan stated that "The Mehoudar Center for Inventors offers a new and innovative approach to the challenge of maintaining and fostering the spirit of ingenuity in our students, faculty, high school students, and anybody interested in building and testing a prototype. The center will allow its users to transform their creative ideas and innovations into models and prototypes using its advanced new facilities, as well as experienced mentors. A hands-on approach will provide them with access to a productive space to explore and test their ideas and research before taking them to scale. We are confident that this approach will greatly inspire current and future creators to turn their inventions into practical technologies and follow the example set by Rafi and others."
Prof. Peretz Lavie, Chairman of the Israel Friends of the Technion and former Technion president, noted that " Raphael (Rafi) Mehoudar will be remembered in history as the person who has made one of the most important contributions to modern agriculture and by that has changed the life of millions around the world. Mehoudar's drip technology enables farmers to achieve greater yield of quality crops with reduced use of water, soil and fertilizer resources, and with little impact on the environment. Millions of farmers currently use these systems in more than 110 countries around the world."
Prof. Ezri Tarazi, Head of t-hub – the Technion Center for Entrepreneurship and Innovation, said that "Hundreds of millions of people around the world owe Rafi Mehoudar the very food that is laid out on their table every day. The global climate crisis and the desertification process affecting large parts of the planet only reinforce the vital need for Mehoudar inventions, for the purposes of sustainability and survival."

At the age of 20, while still at the Technion, Raphael Mehoudar developed the dual flush toilet mechanism, currently in-use in almost every home in Israel. At the same time, he developed a unique sprinkler for watering square areas - as opposed to the standard 360° sprinkler. The Standards Institution of Israel was very enthusiastic about the young inventor and, after his release from the IDF, they recruited him for a part-time job within the institute. 'Netafim', which heard about the pressure regulator that he had developed, contacted him, and the rest is history: Mehoudar went on to invent and develop the drip irrigation technologies that changed the world of agriculture, and today he has about 400 patents registered to his name.

The new center will cover an area of about 1,000 square meters on the lower floor of Danziger Laboratories, which was built in 1966 and is located next to the Faculty of Mechanical Engineering.
Photos: Sharon Tzur, Technion Spokesperson
Details

Written by

India Embassy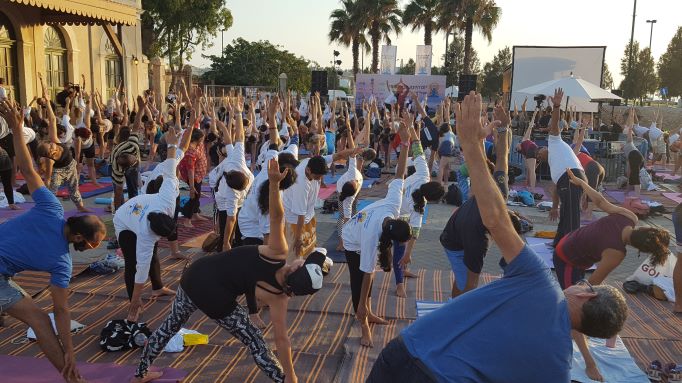 8th International Day of Yoga (21 June 2022, Park HaTachana, Tel Aviv-Yafo
भारत का राजदूतावास
Indian Cultural Center
Embassy of India
June 21, the longest day of the year, was adopted as the International Day of Yoga (IDY) through a UN Resolution that was proposed by India and co-sponsored by 177 nations in 2014. Since then, the International Day of Yoga (IDY) is being celebrated all over the world with great enthusiasm and positive spirit. The Indian diplomatic missions all over the world take the lead in organizing events to mark the IDY.
The Embassy of India in Israel has been celebrating IDY every year since 2015 with a grand-public yoga event in the city of Tel Aviv along with partnered events across various cities in Israel. The theme for this year's International Day of Yoga is "Yoga for Humanity". The newly established Indian Cultural Center under the aegis of Embassy of India will be celebrating the 8th International Day of Yoga by organizing a public Yoga event coupled with spiritual music performances by renowned artists on 21 June (Tuesday) at the iconic Park HaTachana, Tel Aviv. The event is being organized in association with Municipality of Tel Aviv-Yafo and the Israel Yoga Teachers Association.
The year 2022 marks two historic milestones of the 75th Anniversary of India's independence and the 30th anniversary of establishment of full diplomatic relations between India and Israel. To commemorate the two occasions, the Yoga day event in Tel Aviv this year has been selected for the global Guardian Ring initiative, a relay Yoga streaming event, which will capture and weave together live digital feed of yoga events being organized by select Indian Missions across the world.
The event is free of cost, open to all, and suits all yoga level practitioners. Interested participants can also reserve their spots by registering at https://bit.ly/3QmbLz4
Date: 21 June (Tuesday) 2022
Event Schedule
| | |
| --- | --- |
| 1830 hrs | Welcome Greetings and Announcement of Event Instructions/Guidelines |
| 1835 hrs | Chanting of Shanti Mantra by Israeli musician Ron Paz (Niranjan Jyoti) |
| 1845 hrs | Inviting Guests to ascend the podium and Lamp Lighting Ceremony |
| 1850 hrs | Indian and Israeli National Anthems (Instrumental Music) |
| 1855 hrs | Welcome Greetings by H.E. Ambassador Sanjeev Singla |
| 1900 hrs | Remarks by Chief Guest Mr. Ron Huldai, Mayor of Municipality of Tel Aviv-Yafo |
| 1905 hrs | Rhythmic and Artistic Yoga Performance by Yoga students of ICC |
| 1915 hrs | Sun Salutations (in Hebrew) by Israeli Yoga Teacher Eyal Chehanowski |
| 2000 hrs | Common Yoga Protocol by Indian Yoga Teacher Shri Uday Kumar Saama |
| 2100 hrs | Music Performance by Israeli artist Ron Paz & Team |
| 2200 hrs | Vote of Thanks |
In addition to the event on June 21, the Embassy is also organizing a special Yoga event at Ganei HaYehoshua (HaYarkon, Tel Aviv) on 18 June (1800hrs); and also a public yoga event in the city of Ashdod in association with Ergun Shevet Oley Hodu and the Municipality of Ashdod on 20 June, 2022 (1830hrs).
Yoga practitioners and enthusiasts are encouraged to practice the Common Yoga Protocol in advance by visiting this link - https://www.youtube.com/watch?v=Av5ib_XRKT4
The link to the official Facebook page of International Day of Yoga celebrations in Israel is - https://www.facebook.com/yogadayisarel
The social media handles of the Indian Cultural Center are:
Facebook: https://www.facebook.com/ICCRinIsrael
Twitter: https://twitter.com/iccr_israel
Instagram: https://www.instagram.com/iccr_israel
Photo Ilan Spira
Event Schedule
18:30 – Gathering
18:35-18:45 Chanting of Shanti Mantra by Israeli musician Ron Paz (Niranjan Jyoti)
18:50-19:05: Official Ceremony attended by the Ambassador of India in Israel H.E. Sanjeev Singla and Mayor of Municipality of Tel Aviv-Yafo Mr. Ron Huldai
19:05-19:15 Rhythmic and Artistic Yoga Performance by Yoga students of ICC
19:15-20:00 Sun Salutations by the renowned Yoga instructor Eyal Chehanowski
20:00-21:00 Common Yoga Protocol by Indian Yoga Teacher Shri Uday Kumar Saama
21:00-22:00 Music Performance by Israeli artist Ron Paz & Team
Details

Written by

David Goland & Silvia Golan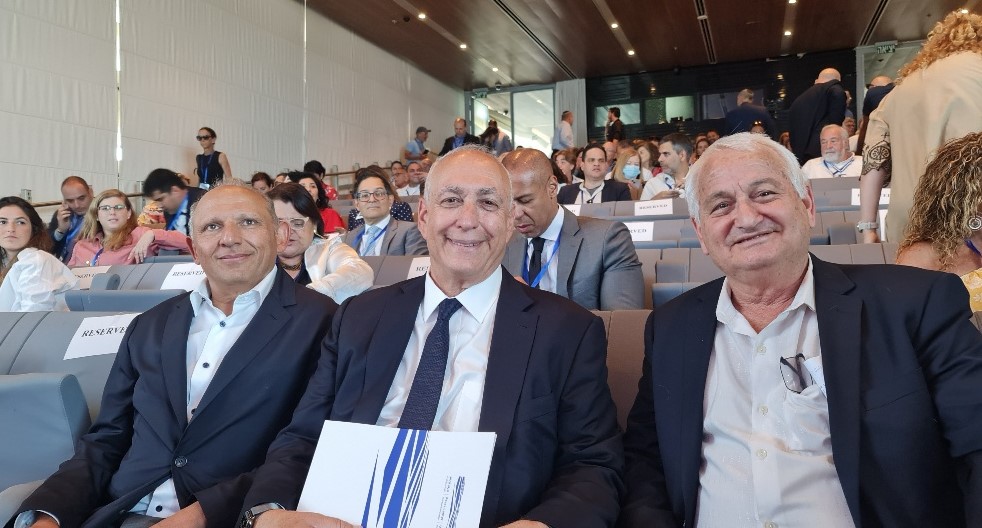 The Peres Center for Peace and Innovation was the host of the award ceremony of ILAN – Israel Latin America Network .
"Global Circle of Friends of Peres Center" was established and is managed by Ms. Yona Bartal, who has worked closely alongside president Shimon Peres for over 20 years. She served also as deputy director-general of his offices for Galilee and Negev regions, lieutenant prime minister, and the deputy director-general at the Presidents House for seven years.
The circle of friends consists of opinion influencers and policy makers, prominent businessmen and visionaries from Israel, London, North America, Europe and China.
The Circle of Friends participates in educational projects of the Peres Center for Peace and Innovation, supports and assists at major events such as launches and special visits throughout the Middle East. They have just returned from an important visit to the UAE where they met with policy makers and heads of government. They are about to pay an important visit to Morocco.
Yona Bartal initiates meetings with groundbreaking technological innovators and introduces The Circle to heads of leading companies, delegations and international investors.
ILAN – Israel Latin America Network has awarded on June 9th 2022, several prominent entrepreneurs with the Innovation Award in memory of Shimon Peres. It was a celebration of Israeli innovators, strengthening the relations with Latin America for greater good. The event took place at the Peres Center for Peace and Innovation, a beautiful venue on a hill overlooking the Mediterranean in Tel Aviv.
The invitees gathers in front of the building on a sunny day with a refreshing sea breeze to mingle and enjoy Tania Sax's saxophone music, until the ceremony started inside the auditorium.
The celebratory gathering of diplomats and Latin American Ambassadors to Israel included also Israel's deputy minister of defence Alon Shuster, and ILAN founder, businessman and philanthropist, Isaac Assa, reinforcing the bridges between the countries. For the first time, the ceremony was held in the Peres Center, for presenting the Shimon Peres lifetime awards by ILAN – the pro-Israeli lobby for promoting Israel - Latin-America relations, awarded to key and world-renowned leaders in the fields of health, environment, economy and technology. Also participating in the ceremony were Chemi Peres, chairman of the Peres Center for Peace and Innovation, director of ILAN Dov Litvinof and ambassadors of Latin America to Israel.
Among the award winners were Prof. Shulamit Levenbert of The Technion, who has developed, for the first time ever anywhere in the world, a lab-manufactured steak entrecote; Dr. Amir Kershenovich, manager of the neurosurgery unit at Shneider hospital who, together with his wife Hila, set up a charity project for complex brain surgery for third-world children; Mr. Henrique Cymerman, an Israeli journalist of a Spanish-Portuguese origin, who works as a field reporter in the Middle East for several communication organizations. Mr. Cymerman serves also as the president of the chamber of commerce for Israel-Jordan and the Persian Gulf states. Another award winner is Jack Tato Bigio founder, partner and CEO of UBQ Materials – a start-up company for conversion of household waste into reusable materials. Award winner Ela Castellanos is a newcomer from Mexico, founder of HolaLand website – a platform for connecting South Americans and Israelis and a partner in Canera Caipal venture fund for enterprises in Israel and in Mexico
In his speech, ILAN founder Isaac Assa said that during the past year we have established unique ties directly between Israel and the Latin American countries. Through ILAN they have established a strategic treaty with several branches throughout America, who will strengthen its economic, political and social robustness.
Chemi Peres, Chairman of Peres Center for peace and Innovation noted that President Peres used to say 'The future mustn't just be imagined - it must be created'. He added that it is a great honour to see the people we are honouring today are creating the future. He said: "Each one of you is striving for change in your field, a change for the better, a change that will effect Israel, Latin America and the entire world". Chemi addressed Isaac, saying that he was glad to see in Isaac, a dear friend and a partner in a journey into a better future, and to share with Isaac Chemi's father's vision of global cooperation and innovation as a way to march forward.
Deputy Minister of defence Alon Shuster gave his best wishes to the winners of the lifetime achievement Shimon Peres award via ILAN, with the cooperation of Peres Center for Peace and Innovation. He added that the winners are trail blazers proving that a combination of social activism and innovation is a winning recipe for a better world. In the winners' unique way they are strengthening our important ties with the states of Latin America and with the growing Hispanic population in the United States.
ILAN is a pro-Israeli lobby for Israel-Latin America ties, which was established last year by Isaac Assa, a Jewish Mexican-Syrian businessman and philanthropist. The lobby works for advancing and tightening Israel-Latin America and the USA connection, by exposing to the Latin American states the Israeli innovation in the fields of hi-tech, health, and economics.
Among the distinguished guests in attendance were also : Former Minister Uzi Bar Am; Jonathan Peled- Deputy Director General for Latin America Israel MFA ( Former Israeli Ambassador to Mexico) ; Dov Litvinoff CEO ILAN Israel ; Efrat Duvdevani · Director General at Peres center for peace and innovation; Ayelet Frish spokesperson and media advisor; Former Ambassador from Chile to Israel Sally Bendersky; Former Minister Ophir Pines Paz; Shlomo Sapir - IAI ( Israel Aerospace Industries) ; Edu Pollak Director for Latin America , Spain & Portugal at the hebrew University of Jerusalem; Efi Stenzler former KKL-JNF World World Chairman; Gaby Miodownik & Esteban Socolsky - Netafim; Zeev Kirtchuk Ilan Israel - Latin American Network; Genaro Hurtado Brive Company ( Mexico); Dr. Mira Marcus - Kalish TAU; Monica Nagel - Costa Rica; Deby Roitman ( mexico) and more...
Following the Awards the guests enjoy the beautiful performed of Moran Levi ( singer) and Itay Abramovitz ( piano)
Diplomacy.co.il congratulates the winners , ILAN – Israel Latin America Network and the www.peres-center.org on this wonderful event
Photos by Silvia G. Golan
More Pics at Facebook Diplomacy Israel / Israel Diplo / Silvia G. Golan
Details

Written by

Silvia G. Golan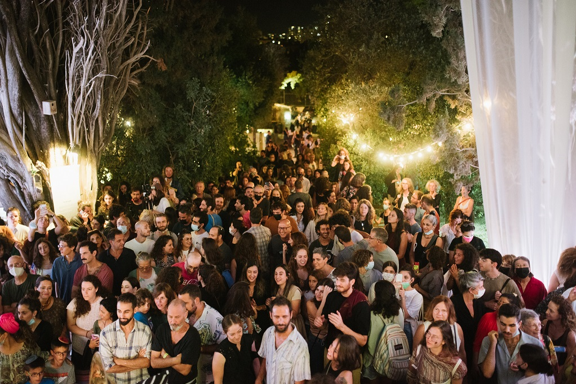 Hansen House Presents: FOR NOW | לעת-עתה | الوقت الراهن Jerusalem Design Week 2022 June 23-30, 2022
Hansen House Center for Design, Media and Technology
The eleventh edition of Jerusalem Design Week takes place in the Hansen House Center for Design, Media and Technology, from 23rd–30th June 2022. The flagship event of Hansen House—and Israel's foremost design event—Jerusalem Design Week will showcase a wide range of exhibitions, installations, and special projects by more than 150 Israeli and international designers. Rooted in the discipline of design, each one is based around the event's annual theme: 'For Now'. This year's theme explores the ephemerality of design and the design of ephemerality, and asks how time can be harnessed for a positive effect in uncertain times.
On the festive opening night, alongside the exhibitions and installations, Hansen House will present a series of musical interventions and interactive performances. Designers will welcome their audience to experience, in real time, what happens when sound sensors are connected to a working pottery wheel, participate in an endless loop created by an Austro-Italian artist, musician, and dancer, receive custom-made shoes in 15 minutes, witness a robot grow a structure from the ground, and many more exciting surprises.
Highlights include, a performative project by Italian artist Aldo Giannotti will question time and repetition. The artist's diagrammatic style will envelop Hansen House, alongside an ongoing performance that incorporates music and dance. 'Clean motion' an exhibition curated by Takeshi Yamamura, Natalia xSanz, Arieh Rosen, and Noam Levinger, is an exhibition that explores cleaning as part of Japanese culture and the tools used in Japanese cleaning rituals. Istanbul-based design collective Piknik will create real-time illustrations in Hansen House, using its signature electric blue style. Works by Piknik will address the question of time, with content built on both random and planned conversations.
In its fifth year, the 'Matchmaker' project is spearheaded by designer Daniel Nahmias. For its 'third age' edition, the project will once again connect local contemporary designers and Jerusalem-based artisans, with a focus on the elderly. Working together, older craftspeople and younger designers will create new objects and stories. An exhibition curated by designer Shahar Kedem, will show both new works and antiquities- In partnership with the Israel Antiquities Authority, the exhibition will explore the connection between archaeological findings and the stories we weave around them.
Focusing each year on creating new work and harnessing its public funding for the support of non-commercial design work, these are just fragments of a myriad of projects, installations, exhibitions and performances that create the| meta exhibition which is Jerusalem Design Week.
@hansen_house
General Management: Smadar Tsook and Ran Wolf, Ran Wolf Ltd.
Chief Curator: Tal Erez
Artistic Director: Anat Safran
Jerusalem Design Week was initiated by the Ministry of Jerusalem and Heritage and the Jerusalem Development Authority, and is managed by the Ran Wolf Company.
Hansen House Center for Design, Media and Technology
14 Gedalyahu Alon St, Jerusalem
Opening Hours:
June 23, 2022 - Opening Night 19:30-24:00
June 24, 2022 10:00-16:00
June 25, 2022 10:00-23:00
June 26-30, 2022 16:00-23:00
Jerusalem Design Week events are open to the public and free of charge
Photos by Dor Kadmi
Details

Written by

Silvia G. Golan
✼ Three days of music in the magical atmosphere of Ein Karem ✼
The Festival program includes seven concerts of classical music - both western and eastern, alongside special arrangements of folk and popular music, featuring outstanding musicians, led by conductor and percussionist Chen Zimbalista.
The concerts will take place in the court of St. John BaHarim church (in a shaded area)
Ein Karem Music Festival June 3-5, 2022 Shavuot
Music Director: Chen Zimbalista
Tickets: bit.ly/einkaremfest *6226
St. John BaHarim church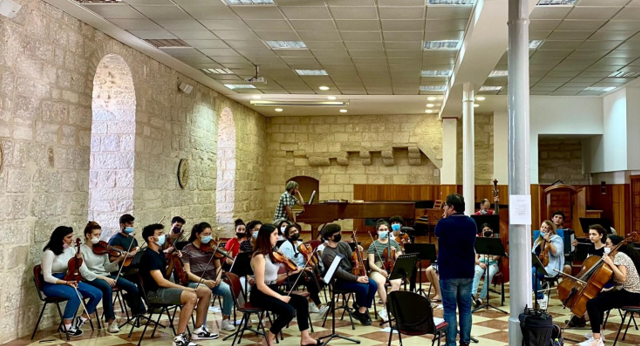 Concerts:
Friday, June 3rd | 10:30
Spring & Summer - Beethoven, Chopin and Gershwin
Saturday, June 4th | 10:30
Family concert featuring the Music Factory orchestra. Bizet, Chick Corea, Elias, Jenkins and more
Saturday, June 4th | 18:30
Garden Concert 1 - Mozart, Sarasate, Rolnik, Ben Shaul and more, performed by young musicians
Saturday, June 4th | 20:30
Beirut-Paris - The Music Factory orchestra hosting Tamara Halabi (vocals and oud). Bizet, Elgar, Chick Corea, Elias, Fairuz
Sunday, June 5th | 10:30
Voices of Monks - The music factory orchestra featuring the Magnificat vocalists. Telemann, Elgar, Piazzola
Sunday, June 5th | 18:30
Garden Concert 2 - Brahms, Schubert, Schuman, Albinoni and Kurzbard, performed by young musicians
Sunday, June 5th | 20:30
Full of Love - The music factory orchestra featuring Trio Ben Haim - Guy Figer, Yotam Baruch and Ron Trechtman, and the vocalists Aregitu Gebeyehu and Rivka Maru. Mendelsshon, Einstein and Ethiopian folk songs.
Content director and producer: Nofar Cohen
*All concerts will take place in a shaded area in the courtyard of St. John BaHarim, courtesy of Custodia di Terra Santa
Photo: Yanam Zimbalista, Yoel Levy, Ran Shimoni