Art & Culture
Details

Written by

Steven Aiello
Wednesday evening July 10th bore witness to a very moving event combining youth empowerment, intercultural learning, and sports diplomacy. A special ceremony held in Bnei Brak and attended by the ambassadors of Brazil and Germany to Israel marked the 10 year anniversary of Capoeira activities led by Abada Capoeira Israel.
During the unique celebration, 300 Haredi Capoeira students taught under the supervision of Haredi Capoeira trainer Miki Chayat and his brother Yehuda Chayat, received their belts. The participants came from Bnei Brak, Jerusalem, Bet Shemesh, Rehovot, and Petah Tiqva, and were recognized with their families in attendance. They received their belts from Abada Capoeira Israel trainers, along with Mestrando Mobilia from Brazil; Professor Teco from Barcelona, and two senior trainers who came from Germany to join the event.
The ambassador of Brazil to Israel, H.E. Mr. Paulo Cesar Meira de Vasconcellos addressed the audience and offered a Mazal Tov on their achievement. H.E. Dr. Susanne Wasum-Rainer, the ambassador of Germany to Israel spoke as well, congratulating the participants in Hebrew on their intercultural learning and achievements. Israeli Ambassador to Macedonia H.E. Mr. Dan Oryan also attended, impressing the audience by performing a professional handstand.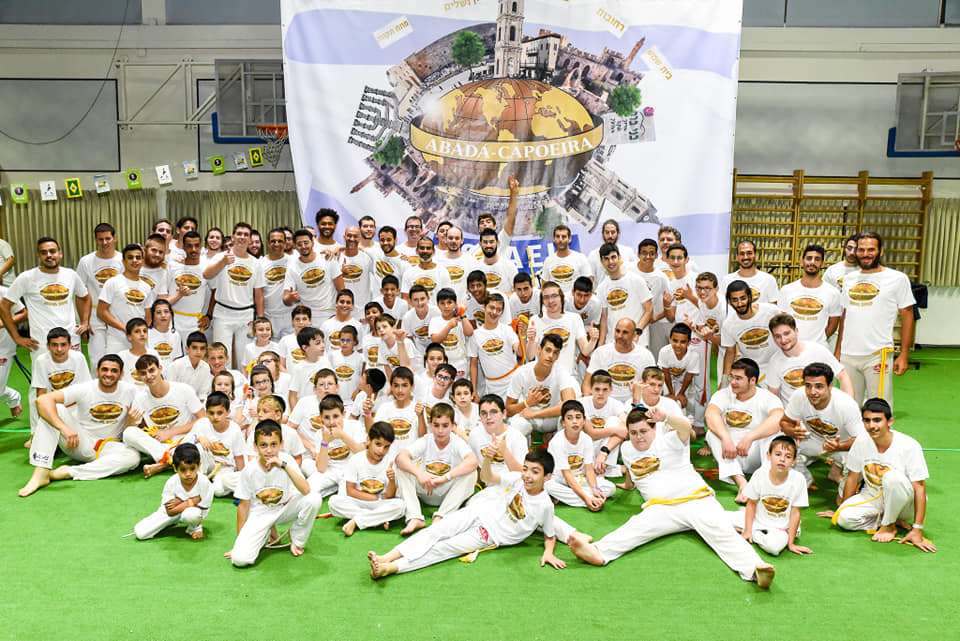 The event celebrated both this year's participants and a decade of achievements by Miki Chayat. Chayat, a world-renowned and decorated Capoeira competitor and instructor who has trained around the world, uses Capoeira to build bridges between cultures, and in particular to empower Haredi youth. His non-profit "Haredim in Beat" empowers at-risk Haredi youth via sport and martial arts, advances sports and health in the Haredi sector, and intercultural understanding and coexistence.
Diplomacy.co.il congratulates Miki and Yehuda Chayat, Abada Capoeira, and all of the participants.
Photo credit: Roey Tochband
Details

Written by

Silvia Golan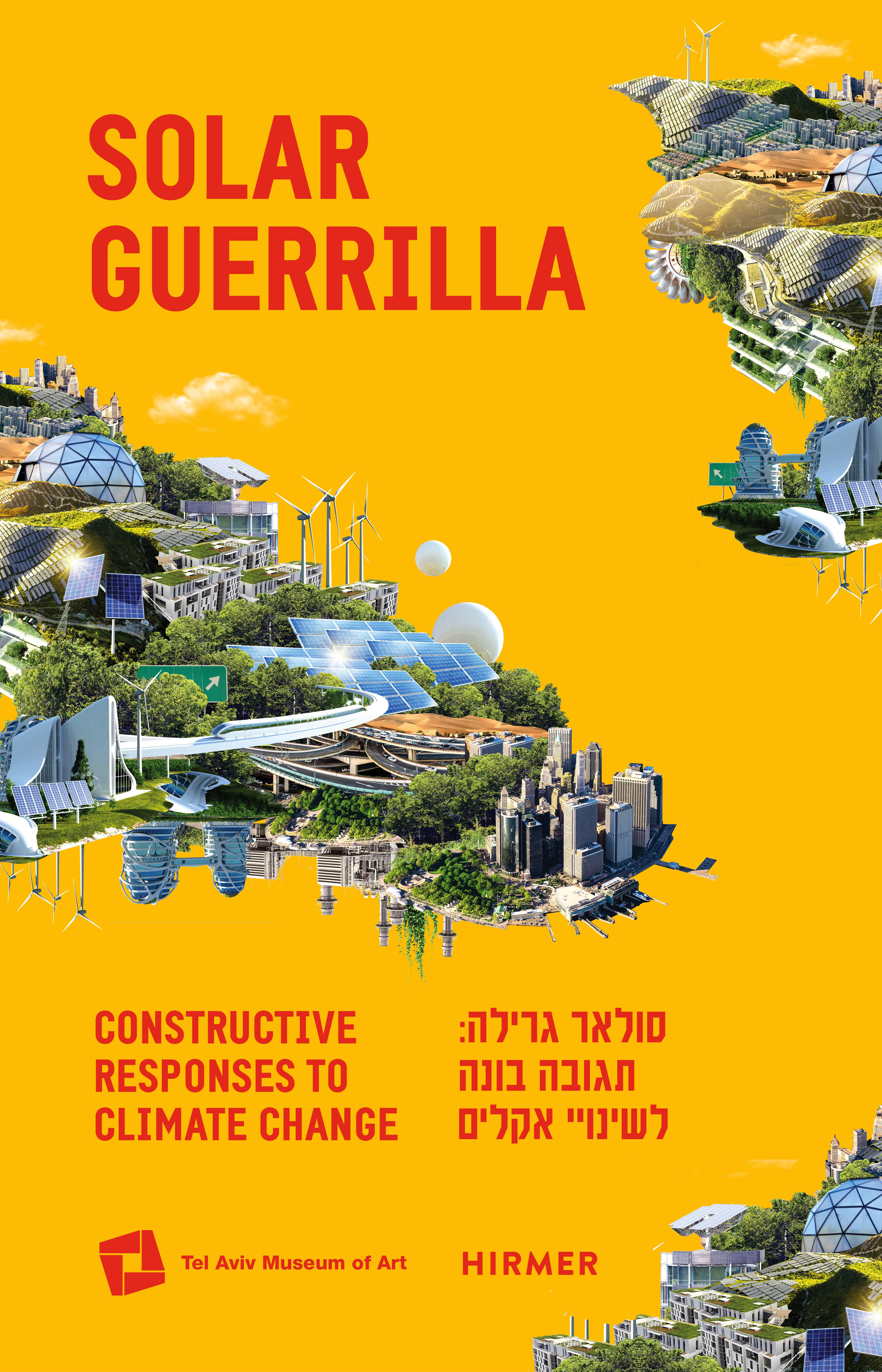 A new exhibition entitled Solar Guerrilla: Constructive Responses to Climate Change will open July 18, 2019, at the Tel Aviv Museum of Art. The exhibition, which is the first of its kind in the world to address the issue of climate change from the perspective of cities as tools for instigating change, showcases a series of interdisciplinary collaborations with a range of public and private institutions, commercial companies, and professionals from around the world. This includes thirty participants and thirty-five case studies from cities including, among others, New York, Chicago, Copenhagen, Shanghai, Singapore, Hong Kong, Masdar, and Tel Aviv.
Tel Aviv Museum of Art Director Tania Coen-Uzzielli: "Extreme climate events, which are growing increasingly frequent, are among the most urgent concerns currently faced by our world. The term "climate change" – which refers to the outcomes of both natural forces and human actions – brings together a wide range of environmental, social, political and economic scenarios that point to the severity and extent of this phenomenon. Given the limited amount of time remaining to instigate significant change, the Tel Aviv Museum of Art has sought to contribute to the public discourse on this subject through an exhibition and book.
Solar Guerrilla: Constructive Responses to Climate Change presents new activist developments and innovations in the fields of architecture and design. This project partakes of the museum's larger commitment, in parallel to both global and local discourses, to exploring our relationship to the environment through a series of projects in the fields of architecture and design, art and craft."
Efficient solutions to climate change concerns may be found on a local level, where the engagement of urban communities may prove to be effective in combating environmental damage. Cities can serve as laboratories for experimenting with solutions and lively hubs for the generation of new ideas, offering fertile ground for collaborations and initiatives. "Solar Guerrilla: Constructive Responses to Climate Change" addresses an approach involving multiple possibilities for climate-related actions, most notably in the context of individual cities.
The exhibition – and the English-Hebrew language book which is published by Hirmer Publishers – is organized into six thematic chapters/sections, whose titles are borrowed from contemporary discourses prevalent among active architectural firms or utopian architects, city planners and landscape architects, activists and the developers of various apps, the environmental departments of municipalities, technology companies, product designers and science-fiction writers.
Each chapter/section presents a professional approach – social, political, environmental, or technological – which promotes a different relationship with our planet:
1.5 to 2 degrees Celsius (addressing global warming)
SolarPunk (offering accessible sources of green and renewable energy to urban populations most in need)
Sponge City (cutting-edge, sustainable methods for managing potential floods and using the water to promote urban development; methods for creating potable water in arid areas)
Anti-Smog (strategies designed to reduce, or even eliminate, the emission of polluting gasses that contribute to the creation of smog)
Sunroof (exploiting solar energy as an efficient substitute for fossil fuels)
Passive House (voluntary building standard for energy efficiency in a building, neighborhood, district or entire city, which significantly reduces its ecological footprint.)
Cities can serve as laboratories for experimenting with solutions and lively hubs for the generation of new ideas, offering fertile ground for collaborations and initiatives. This project is concerned with cities as tools for instigating change. The exhibition features a range of possible initiatives adapted to specific geographical environments: some of them are currently being implemented in different cities around the world, others will be implemented in the future, and yet others will remain utopian suggestions.
Leading international architectural firms participating include, among others, WOHA (Singapore); Turenscape – Kongjian Yu (China); The Big U (New York and Copenhagen); Third Nature (Copenhagen); and Foster + Partners (London), as well as cooperation with, among others, MIT, the UN Climate Change Secretariat, American science fiction writer Kim Stanley Robinson, American environmentalist Bill McKibben and Israel-based Breezometer and SolarEdge Technologies.
Click here for a detailed digital press kit, including images with credit for free download.
Exhibition curator: Maya Vinitsky, Design and Architecture Department
Photo PR
Details

Written by

the Romanian Cultural Institute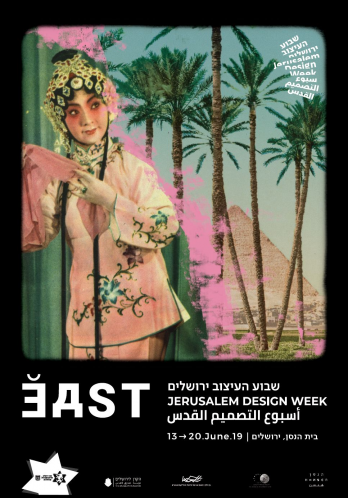 Jerusalem Design Week is initiated by the Hansen House for Design, Media, and Technology (www.hansen.co.il), and is taking place between June 13-20, 2019 in Jerusalem. Last years events (2016- 2018), were very successful with over 20,000 visitors during the week and a diverse program of exhibitions, conferences, workshops, and performances both from local and international designers.
As part of the yearly theme of EAST, Jerusalem Design Week sees great importance and opportunity with projects exploring the Eastern European context.
Kajet is a Romanian based journal focused on research into eastern European encounters, founded and led by Petrica Mogoș andLaura Naum. Following their second issue dealing with Utopias and Eastern futurism, Kajet was invited to create an interactive installation, "Histories of Easternfuturism", dealing with the past and future of eastern Europe in general and Romania specifically. Using archive and pop materials, Kajet would create a series of videos exploring those contrasts, while inviting visitors to place themselves inside those scenes through an interactive experience. The Romanian project "Histories of Easternfuturism" will be presented as part of an international section, in a specific space dedicated to it, next to representatives from India, Japan, and China.
"Histories of Easternfuturism" Kajet
"Histories of Easternfuturism" is a critical lens into the past and future of Eastern Europe. With its narratives that visually unfold the contradictions of the region, the video installation relies on a collaborative effort between machine and audience, between technology and its users.
The immediacy of feedback – this back and forth ludic ploy – is invaluable, as the reciprocal loop of participation represents the exchange that puts the whole installation into motion. In order for the narratives to be deconstructed, and for the meaning to be produced, "Histories of Easternfuturism" raises the following questions: Who chronicles history and for whom? How do we interact with recent history and how do we make sense of the past? How do we decode archival footage and how do we use public interconnection in order to produce meaning?
Jerusalem Design Week - opening hours:
Thursday, June 13, 7:30 PM – 11:00 PM
Friday, June 14, 10:00 AM – 4:00 PM
Saturday, June 15, 10:00 AM – 10:00 PM
Sun – Thur, June 16-20, 4:00 PM – 10:00 PM
The Jerusalem Design Week has been held under the management of the Hansen House Center for Design, Media and Technology since 2011. Hansen House hosts a spectrum of diverse activities throughout the year to promote the design sector in Jerusalem and in Israel. Jerusalem Design Week is the main event in Hansen House's tapestry of annual activities and constitutes its flagship project, as the largest and most influential public design event in Israel. In 2016, the Jerusalem Design Week expanded and became an international event that takes place in several locations throughout Jerusalem, and offers a multitude of events, performances, and local and international design exhibitions. Each year, the Jerusalem Design Week focuses its attention on a central theme that examines particular situations of international relevance specific to Jerusalem and/or Israel, with the idea that the cultural landscape unique to Israel and Jerusalem allows for this kind of living laboratory to explore urgent global issues, and with the belief that design must respond to such issues. Jerusalem Design Week is an initiative of the Ministry of Jerusalem and Heritage Affairs and The Jerusalem Development Authority. The event is supported by The Jerusalem Foundation and managed by the Ran Wolf Company.
About the Romanian Cultural Institute
With its central headquarters in Bucharest, the Romanian Cultural Institute evolved continuously over the past years and today it is represented in 19 major cities abroad: Berlin, Beijing, Brussels, Budapest, Szeged, Chisinau, Istanbul, Lisbon, London, Madrid, New York,
Photo & Poster provided by the Romanian Cultural Institute
Details

Written by

Silvia Golan
Deborah E. Lipstadt, Dorot Professor of Modern Jewish History and Holocaust Studies at Emory University, Atlanta, will deliver the keynote address at the 27th Annual B'nai B'rith World Center Award for Journalism on "Old Wine in New Bottles: Antisemitism in the Contemporary World." The event noting outstanding journalism in Israel will take place at 7:30 p.m. July 3rd at the Menachem Begin Heritage Center in Jerusalem.
Winners of the 2019 Award for Recognizing Excellence in Diaspora Reportage, in memory of Wolf and Hilda Matsdorf, are Antonia Yamin, chief Europe correspondent for KAN - Israel Public Broadcasting Corporation (for broadcast media), and Zvika Klein, Jewish World correspondent for Makor Rishon and NRG360 (for print media). A certificate of merit in memory of Luis and Trudi Schydlowsky will be conferred on Attila Somfalvi, lead anchor of ynet news.
A special citation for Fostering Israel-Diaspora Relations through the Arts will be presented to singer, actor and Israel Prize laureate Yehoram Gaon.
Lipstadt writes on the Holocaust and contemporary Jewish life. In her best-known book, "History on Trial" (2005), Lipstadt chronicled the London courtroom battle that erupted when English author David Irving, a Holocaust denier, filed a libel suit against her in the United Kingdom for having called him a Holocaust denier. After a 10-week trial, Irving lost his case, and the proceedings exposed the true depth of his association with neo-Nazi groups. "History on Trial" became the basis for the critically acclaimed 2016 feature film "Denial," starring Rachel Weisz.
Her recent book, "Antisemitism: Here and Now" (2019), addresses the ever-present danger of anti-Semitic hatred and violence. It has already been translated into German and Hebrew and was an Amazon best-seller.
Yamin will receive the award for a series of reports on Jewish life in Great Britain and Austria and on anti-Semitism in Germany. Klein will receive the award for his series Distant Relatives (https://distantrelatives.makorrishon.co.il/) that explored Israel and Jewish American relations. Somfalvi will receive a certificate of merit for a series of reports and commentaries on the relationship between Israel and American Jewry.
Gaon, 2004 Israel Prize winner for Hebrew song, is an iconic Israeli singer, actor, producer, TV and radio host and public figure. Throughout a career that has spanned six decades, Gaon has been responsible for countless hit songs, plays and movies that have become woven into the common culture of Israel and Diaspora Jewry. The son of an educator and historian, Gaon has taken profound interest in promoting Jewish historical themes and in engaging with Jewish audiences around the world. Gaon's civic career also shows a profound dedication to Sephardic and Ladino heritage.
B'nai B'rith International has advocated for global Jewry and championed the cause of human rights since 1843. B'nai B'rith is recognized as a vital voice in promoting Jewish unity and continuity, a staunch defender of the State of Israel, a tireless advocate on behalf of senior citizens and a leader in disaster relief. With a presence around the world, we are the Global Voice of the Jewish Community. Visit www.bnaibrith.org
Courtesy: Bnai Brith world center.
The picture Of Yehoram Gaon – Ilan Bsor.
Details

Written by

Silvia G Golan
In light of the dazzling success of the "Arabesque" Acre Festival for classical Arabic and Andalusian music last year, the festival is being launched once again!
The event will take place throughout the city, between 11-15.6.19.19 - Attached is a press release and photos for your use.
The event will last for 5 days of live performances by the best artists of the genre - Sarit Hadad, Miri Mesika, the Jerusalem Orchestra and more - http://www.arabesquefestival.com<http://www.arabesquefestival.com/>
This is a very interesting and distinguished music festival, in which Arabs and Jews play together, so does the audience, both Jews and Arabs.
The festival will be held under the general direction of Albert Ben-Shloosh, CEO of Acre Municipality and under the artistic direction of the musician, composer and conductor - Tom Cohen.
According to the Artist, Composer and Conductor of the "Al Maseye Group" – Kamil Sharjawi –
"Music is the language of cultures and peoples, it is the nourishment of the soul and the soul, and it is a language that crosses borders and reduces gaps,
It connects the members of that society and gives us peace that undoubtedly affects our daily behavior in order to build a promising generation that has grown up on the values ​​of brotherhood and honor.
Those who grew up on the love of music will never be able to fight violence, racism, and hate. "
About the "Arabesque" Acre Festival: https://www.youtube.com/watch?v=5OyZi0MOFd4
The Arabesque Acre Festival – 2019
The International Festival of Classical and Andalusian Arabic Music, under the artistic direction of Tom Cohen, will be held for the second year in the Crusader fortress in Old Acre and throughout the city.
The festival will host leading artists from Israel and abroad: Sarit Hadad, Miri Mesika, Jerusalem East and West Orchestra, Firqat El Nour Orchestra, Raymond Abecassis, Mike Karutchi, Violet Salameh, Sanaa Marahati, the "Al-Masaia Orchestra of Nazareth" conducted by Kamil Shagrawi and others.
Arabesque Festival 2019, Acre - Tuesday- Saturday, June 11-15
The Arabesque Festival, the Acre International Festival of Classical and Andalusian Arabic Music, will take place for the second year in the unique city, creating a diverse and historic setting that is thousands of years old, alongside a modern and new landscape. For five days, June 11-15, the festival will feature authentic Arabic and Andalusian music and will give the audience a glimpse of its roots and history, alongside the story of Acre and its residents - Jews and Arabs, secular and religious, new and veteran immigrants who are living together in a shared existence.
The festival, under the artistic direction of Maestro Tom Cohen, will host multiple leading Israeli and international artists in the Crusader fortress in Acre. Alongside diverse music that Mediates disagreements and conflicts, and provides a fruitful and enriching discourse, that focuses on the cultural layer and the common roots.
The Jerusalem Philharmonic Orchestra – "Firqat El Nour", which consists of ultra-Orthodox Jews and Arabs, will open the first evening of the festival (Tuesday, June 11, 20:00). They will host the great diva of Moroccan poetry in Israel, Raymond Abecassis, who is widely admired in Morocco and in Moroccan communities around the world, Mike Karutchi, one of the greatest Moroccan singers in Israel, who was awarded the recognition of the King of Morocco, and the successful poet Moshe Locke. Together they will perform some of the best folk songs from Morocco.
The 20-years-old "Al-Masaia Orchestra of Nazareth", conducted by the virtuoso violinist Kamil Shragawi, who plays innovative adaptations for classical Arabic music with elements from the pop and rock world, will perform on the second night of the festival (Wednesday, 12.6, 20:00). A tribute to the great Lebanese and Syrian singers with the popular singers in the Arab sector - Louis Saruji, Haitham Jishi and Nancy Hawa.
The Jerusalem East and West Orchestra conducted by Tom Cohen, will host a women's poetry performance on the third night of the festival (Thursday, 13.6, 20:00), with Sarit Hadad, Miri Mesika, Violet Salameh - one of Umm Kulthum's most respected performers in the Arab world today, and the beloved Moroccan singer - Sanaa Marahati, which will come especially for the festival. The four giant stars will all sing in Hebrew, classical Arabic, Moroccan Arabic and more.
In addition, the festival will include a master class for the children of the municipal conservatory in Acre, with international kamancheh artist Elad Levy, senior violinist Fadel Manna, and cellist Mayo Shviro. In addition, a symposium entitled "Music and a Shared Culture" will be held under the guidance of Tom Cohen, with the participation of Prof. Taysir Elias, Prof. Joseph Sheetrit and Paul Dahan. Every evening of the festival, there will be street performances of authentic Berber music from Marrakesh, and on Saturday a magnificent "Kabbalat Shabbat" and a Shabbat of prayers and "Piyyutim" with liturgical poets Lior Elmaliach, Yaniv Madar, Sinai Edri, Mordechai Elharar and Moshe Locke in various synagogues in the city.
Mayor of Acre and Chairman of the Arabesque Festival, Shimon Lankri: "We are proud to host the festival for the second year in a row, which already has become a tradition for our city. Acre is a symbol of coexistence hence deserves the most, to be the place that presents the rich contribution of classical Arab and Andalusian music to Israeli culture. The audience that will arrive at the festival will enjoy the city's landscapes, the amazing atmosphere, and the emotional and soul levels that the participating artists will demonstrate in street performances and other activities".
Festival Director - Albert Ben Chelouche: "The second Arabesque festival takes place in the Crusader fortress in Acre and reunites all again, for a celebration of authentic music and sounds that incorporate layers of rich culture in all its components. The sounds that will be performed in Acre during the five days of the festival, are the result of a unique artistic work, weaving its way through all the sounds of Arab and Andalusian music into one big melody that can only exist in Acre. We hope that this celebration will continue to unite people and contribute to the sense of brotherhood because this is the only choice".
Artistic director of Arabesque, Tom Cohen: "We are proud to announce the second edition of this important artistic and cultural festival. This year we will all celebrate together - the residents of the city of Acre along with all the residents of the country and dear guests from abroad - the culture and the traditions shared by all of us and all the neighbors around us, a celebration that is so required to take place in this beautiful and historic city. Happy holiday!".
For more information about the festival's events - click here.
Photo credit Festival Arabesque Acre – 2019