Art & Culture
Details

Written by

Prime Minister's Office
Prime Minister Benjamin Netanyahu at the Cornerstone-Laying for the Community of Ofir, named after the Late Sha'ar Hanegev Regional Council Chairman Ofir Leibstein: "We will rebuild and expand the communities, and we will add more communities."
Prime Minister Benjamin Netanyahu, today (Wednesday, 29 November 2023), laid the cornerstone of the community of Ofir, in memory of the late Sha'ar Hanegev Regional Council Chairman Ofir Leibstein. Those attending the emotional event, together with Construction and Housing Minister Yitzhak Goldknopf and local council heads from the area adjacent to the Gaza Strip, praised the courage of the late Ofir Leibstein and noted his heroic fight, together with his late son Nitzan, in battles against Hamas terrorists at Kibbutz Kfar Aza on Saturday October 7th.
Prime Minister Netanyahu to the local council heads from the area adjacent to the Gaza Strip [translated from Hebrew]:
"All of you endured very difficult days here. Friends were murdered. Leaders were murdered – men and women who fought, soldiers and police officers. It is simply unbelievable what happened here on the day of this ultimate test. The people of Israel hold onto our land by the fingernails, repelled the murderers, the monsters, and now we are in the midst of action that will continue to its end.
We established a state, an army, communities and cities. We welcomed immigrants, but the battle continues as it has for 100 years and more. It most definitely continued here on that terrible day and we will overcome them.
This construction expresses what we are now doing. Several months ago, we decided to establish a new community and called it 'Hanun' and today we are changing its name to 'Ofir' after the late Ofir Leibstein, a leader, a man of the Land of Israel, a builder and a man engaged in settling the land. Here children will grow up and be educated about his contribution, heroism and sacrifice.
We will continue to build, not one community but communities, here in this place. We will build and we will continue to build, here and all throughout the Land of Israel. We will rebuild and expand the communities, and we will add more communities."
Participating in the event were Sdot Negev Regional Council Chairman Tamir Idan, Sderot Mayor Alon Davidi, Merhavim Regional Council Chairman Shai Hajaj, Eshkol Regional Council Chairman Gadi Yarkoni, Sha'ar Hanegev Regional Council Acting Chairman Yossi Keren and Hof Ashkelon Regional Council Chairman Itamar Revivo. Also in attendance were Tekuma Authority Director Moshe Edri, head of IDF Home Front Command Maj. -Gen. Rafi Milo, the Prime Minister's Chief of Staff Tzachi Braverman, the Prime Minister's Military Secretary, Maj.-Gen. Avi Gil, and Prime Minister's Office Director General Yossi Shelley.
The cornerstone-laying for the community of Ofir is a direct continuation of the Government decision, by the Prime Minister and the Construction and Housing Minister on 5 February 2023, to establish a new community in the area adjacent to the Gaza Strip to be called Hanun (which was defined as a provisional name).
Photo credit Silvia G Golan ( this is one of the last photo of Ofir Leibstein - taken 2 days before the massacre )
Details

Written by

Silvia G. Golan & Stella Szpira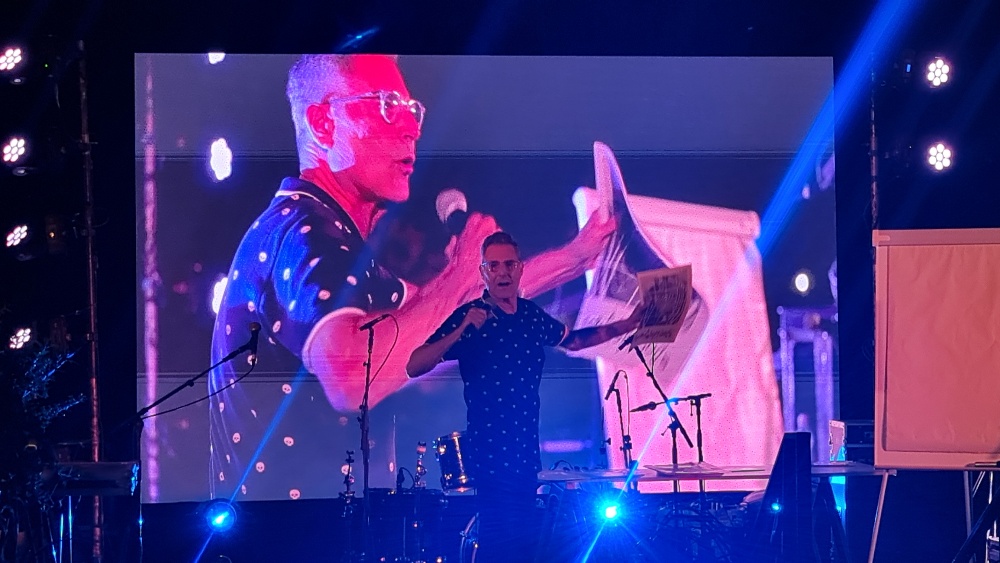 Today, November 26, 2023, 3rd day of liberation of the kidnapped persons by the terrorist group "Hamas", I had a conversation with Uri Geller, British-Israeli mentalist, worldly famous for his psychic abilities, reader of minds and bender of metals, whom I admire a lot and met personally in Jerusalem.
I remembered that he mentioned 15 days ago in the program "Ofira Vecatorza" that he warned about a Black Saturday exactly two months before the fateful October 7. I asked him: "Uri, did you really have premonitions of the coming catastrophe and you warned about it?".
Uri: "Yes, exactly on July 13 I sent a special letter to authorized sources warning about the danger".
The letter said: "Israel is like the Titanic traveling toward an iceberg. Israel is in a clear and immediate danger. We are busy with internal ears between us and we are sedated by politicians of all sides of the spectrum helped by all communication media. The retired generals and politicians tell us grandmother stories about being strong. In short terms we deal with a war with five scenarios at the same time: Siria, Iran, Lebanon, Gaza inside Israel". For twenty years our enemies have gathered and have an arsenal of 250.000 missiles, they will launch 5.000 missiles and unmanned aerial vehicles everyday over Israeli cities``.
Geller warned that "at the same time there are 600.000 weapons in the Arab settlements, and that chaos will reign in streets of cities like in Shomer Homot. Many people don't know the strength of Radwan of Hezbollah, which is the strength of command with thousands of soldiers whose aim was to penetrate the Lebanese border from Gaza to all the settlements. It is supposed that the situation is difficult with hostages, a massacre, we must be prepared for a total war with the FDI, which is based on the immediate reserve army".
Geller concluded the letter with a call to equip the residents with weapons and recruit many for the combat service. The weapons must be redistributed between all the residents, each settlement along the conflict line must be equipped with weapons, food and medicines. The National Guard must be immediately established with 100.000 volunteers, religious, traditional and secular, armed and trained. We must be enlisted for combat service. "Am Israel Jai".
Finally I asked Geller: How do you see the continuation and ending of this war?
Uri Geller answered me: "Firstly our goal is to bring back all the kidnapped people. We will have a few more days with a ceasefire, but at the end of the day we need to destroy Hamas, not only for the cruel murders they have carried out. In the world, there was no such thing, maybe in the time of barbarians hundreds of years ago, maybe because we need peace in the south, and that's why Hamas will disappear. As for the north, it is more problematic, but there too we will have to do something. I am an optimistic person and I believe that even in the north we will be able to restore peace of mind to the people, and return to their homes. Don't forget that we are now under attack by 7 countries. I am an optimist!
Photo Silvia G Golan
Details

Written by

Silvia G. Golan
The World Cup of Agriculture and Green Innovation is Coming to Israel, September 5 -6 / 2023 . Diplomats please contact to me by mail , phone, Silvia G Golan.
After the era of the Covid-19 Pandemic, people are positively itching to get together as a community again and gather with like-minded individuals on projects that inspire their hearts and build towards a better future together. The Agromashov 2023 Exhibition offers precisely that and is a hub for technological innovation and startup companies.
At this event, you can expect the best of the best, with leading cultural representatives and delegates from several countries from around the world to bolster cooperation with Israeli companies and farmers.
The attendees are members from Albania to Uzbekistan, and many others. In addition, delegations and representatives of companies from Dubai, India, Uganda, and more will also attend to foster a collaborative 'worldwide' approach. Such a gathering of different nations has earned the nickname, The World Cup of Agriculture and Green Innovation.
Major companies have also confirmed their arrival – the Sri Lankan equipment company "Inomi Agro Technica" and the Georgian packaging company "Allpacka" which will exhibit over the two days of the leading international agricultural exhibition in Israel – Agromashov 2023.
The event will also be attended by Cabinet Ministers, Knesset Members, heads of agricultural organizations, owners of marketing chains, and farmers.
Israeli agriculture is considered a leader in the field by many individuals and organizations across the globe. Dozens of representatives from around the world have confirmed their attendance at "Agromashov," the central agricultural exhibition in Israel, which will be held at the Expo complex in Tel Aviv.
The Agromashov 2023 Agricultural Exhibition is scheduled for September 5th-6th, 2023. Every stall and vendor at the exhibition is tied to agriculture and relates directly to the bottom-line industry members deal with on a day-to-day basis. This exhibition has been around for 32 years and is one of the oldest and most prominent global agricultural events.
This year the exhibition will focus on the connections between the people and areas of advancement from within agriculture to increase profitability and viability through utilizing technological innovation and agricultural startup companies.
The CEO of Agromashov, Haim Alousche, predicts that "Millions of dollars worth of deals will be closed, and Israeli agriculture will be better for it. Every year deals worth hundreds of millions of dollars are being closed, and this year, in view of the increased interest from abroad, I believe that Israeli agriculture will be even more profitable."
The exhibition is aimed at farmers, large companies, entrepreneurs, and startup companies, for whom we have established a special complex to present developments and ventures in agriculture and the environment.
As part of the Agromashov Exhibition, there will be 'round table discussion' activities in the various fields of agriculture as a continuation of the professional discussions around the tables in various fields from the Israel Agriculture Conference. Invaluable topics are scheduled to be represented at the event; an extraordinary chance to experience Israeli agriculture at its best and a long list of innovations.
As part of the exhibition, there will be professional sessions on the agricultural issues on the agenda, emphasizing innovation and hi-tech in agriculture and how farmers can use these to enhance their bottom line.
Furthermore, a unique startup complex will be established at the exhibition where innovations and developments in the fields of startups for agriculture and the environment will be presented as part of the understanding that the agriculture of the future is based on hi-tech, startup companies, developments, and innovation.
The 10 vendors you don't want to miss
At the epicenter of the exhibition, there will be a TOP 10 competition to select the ten most groundbreaking innovations and developments of the past year. These ten groundbreaking innovations and developments that are chosen for the exhibition in the Top 10 will receive extensive exposure and great appreciation. To obtain such recognition from such a long-standing and steadfast event is an opportunity many businesses would desire.
For example, the ten innovations that won in 2022 have since made significant breakthroughs this year and include:
● A solar-powered fence to protect rural settlements, manufactured by the renewable energy company "Teralite"
● An apple of the "Gala Star" variety that came from the Matityahu farm
● The tractor revolution of the "Bobcat" company, with attachments that are adapted to agricultural work
● The automatic drones of the "Beefy Agro" Company
● The "Cordial" tomato of the "Gedera-Syngenta Seeds" Company
● The pomegranate of the "Akko" variety
● The Bookman mini-loader
● The "Fascination" watermelon of the "Gedera Syngenta Seeds" Company
● Vanilla plants for home cultivation from the "Neto Seedling" nursery
● And an autonomous irrigation and fertilization system from the "Agrinoze" Company
Israel, a leader in agricultural change
The world of agriculture is undergoing significant changes and is evolving into something quite unique. The industry no longer just deals with land and cultivation; agriculture has become a hi-tech industry that reaches far beyond farmers and traders and involves startup companies and advanced innovative agriculture. Even with climate change concerns within Israeli agriculture, Israel is still looked to as a leader in this realm due to its connection to surrounding countries and varying climates throughout the country, offering unique agricultural opportunities in one country.
Chaim Alousche, the CEO of the Mashov Group, stated: "The Russian invasion of Ukraine and even prior to that, the climate crisis and the Coronavirus pandemic, have drawn the attention of politicians and heads of state all over the world to the importance of independence in critical areas such as energy, food, natural resources, etc. Israeli agriculture has always been at the forefront, and now it is undergoing a process of renewal and rejuvenation in order to continue catapulting the State of Israel to independence in the field of food production. Moreover, we believe that Israeli agriculture has a cardinal contribution to the entire world. This is the 32nd year that the leading and professional central exhibition in Israel will enable the exposure of innovation, connections between people and businesses, and the promotion of Israeli and global agriculture."
You can expect a variety of advanced and innovative technologies for farmers and the world of agriculture, new crops, and groundbreaking developments. There will also be professional conferences with hundreds of exhibitors and thousands of farmers and entrepreneurs in the field of agriculture. The future of agriculture is coming to life at the 32nd Agromashov exhibition- don't miss it!
www.agromashovgroup.com/
www.facebook.com/FreshAgroMashovAgricultureExhibition
Details

Written by

President's Spokesperson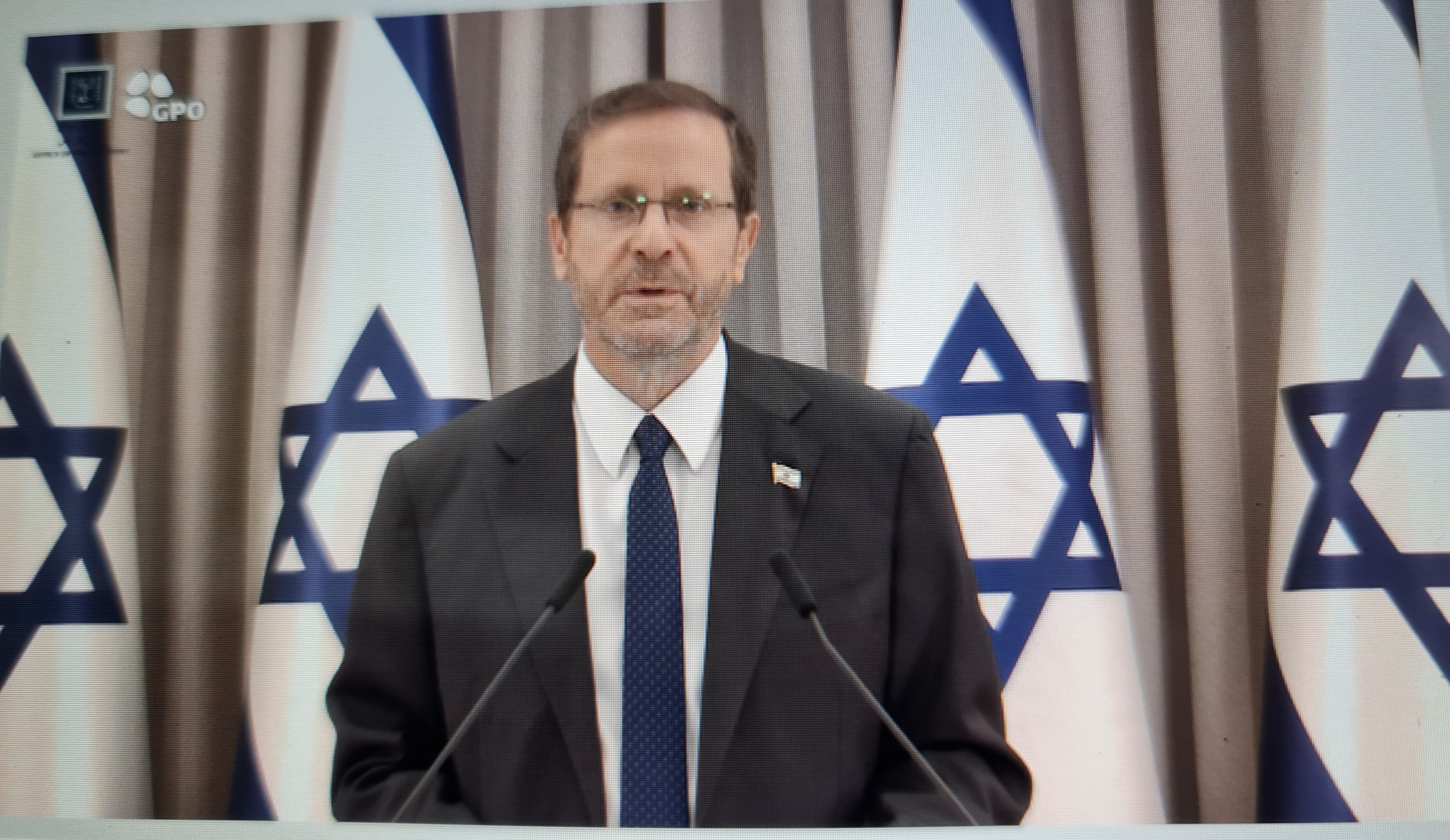 Wednesday, 1 November 2023 / 17 Marcheshvan 5784
President Herzog addresses the nation
President Isaac Herzog this evening made an address to the nation, in which he stressed the strength and resilience of Israeli society.
Text of the President's address
"Citizens of Israel, tonight I would like to address each and every one of you, personally, and talk about resilience, spirit and soul, on a personal and national level. It's been almost a month since our country underwent a serious change. For almost a month we have been in a war like no other. Almost a month has passed since that cursed day, when the sun rose, the flowers blossomed, and butchers slaughtered, slaughtered and slaughtered - women and men, elderly and infants, from kibbutzim, communes, communities, cities and towns. It is close to a month since that utter horror – which flashes again and again before our eyes, day after day, hour after hour.
Degrees of grief overflow in a way that cannot be contained at all, in a way that cannot be grasped in heart or mind. It surrounds and rocks us. We all feel it, for ourselves, for the parents, for the children. The displacement of hundreds of thousands of people from their homes, hundreds of thousands of reservists recruits, and the war being fought – from the frontline to the back – affects us, all of us mentally, both personally and nationally. And the fallen – the best of our children – whom we have mourned over the last days, only adds to the pendulum of pain that we are all experiencing at this time. We will forever remember those who fought bravely and fiercely in the mission of defending the people and our homeland. We embrace their families and pray that they will know no more sorrow. In war, each of us endure moments which are simply unbearable. Every day, I meet families and communities displaced from their homes, I visit the wounded in the hospitals, and families of those missing or being held hostage. Truly an Israeli mosaic like no other. The pain of the families of the hostages and the missing is simply unfathomable. My conversations with them are the most painful conversations I have held in all of my life. Mothers and fathers, families, spouses and partners, have not slept for more than three weeks. The cruelest and darkest abyss, engulfed these families and us as a nation. I say you what I told the families, unequivocally, the hostages are in our thoughts, and their return is an integral part of the success of this campaign – of course – alongside victory in this decisive war against the enemy and restoring security to all Israeli citizens.
I knowingly commit to you, that the best minds - thousands of Israelis, from the country's leadership to every level of the security services – will work with professionalism and dedication, every minute of the day, to fulfil our moral duty as a country – to bring them back home.
Just this week we saw an example of success in these efforts, with the rescue of the soldier, Uri Megidish, from Hamas, in a bold, resourceful, and determined joint operation by our forces. Last night, I was at the operational headquarters of the security forces, and I can testify firsthand, that the response of Hamas – as if they had not been holding Uri – was false and reflects the level of pressure they are feeling.
The monstrous enemy is trying with all its might to conduct a psychological campaign against us as well, employing the most abhorrent of tools. We saw it this week many times, and I estimate that we will also see it many times in the future in different forms. They want to scare us with videos, rumors, and lies. They try to undermine us psychologically, to hurt our personal and national spirit. We will not let them succeed. We just won't give it to them. Our spirit cannot be broken. Hamas must not be trusted. Human monsters must not be believed. You must not fall into the traps of psychological warfare. We must not let them play cruelly with our heads and souls. Please, we must all act responsibly at this time. Don't spread unfounded rumors.

I would like to express my appreciation for the responsibility shown by the Israeli media in their decision not to play into the hands of the brutal psychological terror of our enemies.
This is true for us as a country, and this is true for each and every one of us.
Among other things, the enemy seeks to incite hatred within us - between Jewish citizens and Arab citizens. Such attempts must be fought uncompromisingly and unequivocally. We must eradicate any incarnation of enmity, racism and violence towards different groups within us. Remember that there are dozens of Arab citizens here who paid with their lives in the terrible massacre, and as part of the security forces and the IDF. Remember the mutual responsibility as displayed by the overwhelming majority of the Arab society in Israel.
Citizens of Israel, we are in a time of war that has been imposed on us, that unfortunately - as is the nature of a fierce and protracted war – will bring more ups and downs, moments of hope and moments of sadness and pain.
I would like to share with you, words that I said just this morning to the mother, and the bereaved family, of nine year old Tamar from Ashdod, who died as a result of an anxiety attack, after having tripped on the way to a shelter during a siren for a missile attack.
Words that I have said repeatedly over recent weeks to hundreds and thousands of individuals, families, and whole communities.
On a very personal level, I understand how overwhelming and challenging these moments are. These feelings are so very natural and human, and must be given space to be felt. It is appropriate, even recommended, to express the pain, concern, and tears. It is appropriate and recommended to verbalize the anxiety. Looking after and tending to the soul at this time is so important. With such a reality, it is important that each of us finds strength, even a modicum of strength, in something that provides a little calm, soothes, keeps busy, however mundane and simple it may be. Both Michal and I find this strength on the road, as we journey through the country and meet the Israeli people. This strengthens and moves us. This empowers us and gives us hope.
I would like to speak of another source of great hope at this time, even now- in the fog, especially now. The Israeli spirit. An unbreakable spirit. The spirit of a storm which rose from ashes and destruction and is already blowing with all its might. This spirit has revealed itself mightily, in thousands of heroic stories from the frontline and the home front. It blows through each outreached hand, in the exemplary Israeli volunteerism and mutual responsibility, seeking to strengthen, to embrace, to support. It blows in every corner of our remarkable country – every corner. It is an eternal spirit, passed on to us from the generations before us, a spirit which will continue to guide us, generation to generation.
This spirit is you- my sisters and brothers – the people of Israel. Israeli society is our true secret weapon. You are my greatest hope, our greatest hope. Am Yisrael Chai (The People of Israel lives).

I pray from here for the healing of the wounded - in body and soul. I embrace the bereaved families stricken with grief, I wish to offer strength and encouragement to the forces of the IDF, the ISA, the Mossad, the police and the prison services, their commanders, all the security, emergency and rescue forces, along with the welfare, health and education workers. All those engaged in the holy work.
I appreciate the national responsibility shown by the Opposition, and their desire to back and strengthen the leadership of the country and the war cabinet in conducting the war, so that it will lead to victory - with God's help.
We have a solid country, and a wonderful and magnificent people. We have important and powerful allies all over the world. We have Jewish sisters and brothers in the Diaspora, who stand by us with all their might despite the attacks and threats against them. And above all, we have national resilience and unending strength. And with us at every moment, we have the power of hope. A hope that has existed for thousands of years, the breath in our lungs, a hope unparalleled in history, of a people to return to their country, to their homeland. A hope that we will rebuild, we will build, we will plant and grow. A hope - that the crops in the fields and orchards of the kibbutzim, communities, towns and cities, will grow again and again and again, and we will grow with them, all the people in all their diversity, all over the country.
We will always remember the eternal words: "Our hope is not lost. The two thousand years old hope. To be a free people in our country, the land of Zion and Jerusalem."
Link to the address (Hebrew)
https://media.gostreaming.tv/?r=512&k=87a8cfc6d6
Details

Written by

Silvia G. Golan
Last week I was invited to an Cultural and interesting tour of the HIT Holon Institute of Technology.
This HIT Holon Institute of Technology summer semester academic program for students from Azerbaijan and Uzbekistan that complete their studies in BS.c. in Applied Mathematics and Computer Science, is an intensive program that combines interdisciplinary knowledge transfer and practice-oriented industry-academic project work. The program included subjects as Sustainability , Water Technology, Agriculture technology, Algorithms development, big data analysis , culture heritage technologies and other important subjects with innovative approaches combined with cultural and historical tour.
The first seminar of the program included a very interesting tour in Baha'i Gardens in Haifa . The students were amazed by the unbelievable beauty of the gardens, We were honored to be hosted in person by Bahai International Community representative in Jerusalem, Mr. David Freeman and his wife Tracy, who is also president of the Diplomatic woman club in Israel. The interesting conversation with them was focused on equality between women and men in modern society.
Equality of the sexes is, for Baha'is, a spiritual and moral standard essential for the unification of the planet and the unfoldment of world order. Without the qualities, talents, and skills of both women and men, full economic and social development of the planet becomes impossible. Trance explained "For The world of humanity is possessed of two wings — the male and the female. So long as these two wings are not equivalent in strength the bird will not fly. Until womankind reaches the same degree as man, until she enjoys the same arena of activity, extraordinary attainment for humanity will not be realized; humanity cannot wing its way to heights of real attainment."
After a wonderful conversation with Mr. Freeman and his wife Tracy, students visited the Innovation Hub of Haifa and firms . Firms representatives shared their vision of the importance of working in groups , team work to develop solutions and initial project ideas. Here participants in the project contribute their knowledge and skills. In smaller groups they can decide for themselves which ideas they will pursue and develop into projects. This practice is intercultural communication, and organization of students in joint projects with industry and acquire methodological skills. At the end students learned to present their concepts and share their work experiences. In sessions with inspiring lecturers, students received deepen knowledge of industrial experiences
Benefits to students from participating in such seminars combining hi tech , knowledge, innovation and culture are very high and important. This meeting with Haifa municipality innovation hub and Reader ltd, also drew conclusions about the model that has enabled benefits to flow to all involved – students, industrial partners and educational institutions.
The tour continued with a visit to the memorial gardens and the nature park in Ramat Handiv, the great dream, the wonderful story of Baron Edmond Benjamin de Rothschild
Webs for those who are interested in learning or knowing about the Holon Institute of Technology and for visit The Baha'i Gardens in Haifa
https://www.ramat-hanadiv.org.il/
Photos credit Silvia G. Golan
More Pics at Facebook Diplomacy Israel / Israel Diplo