Visits
Details

Written by

President's Spokesperson
President Rivlin: "We are marching here, and our fallen march with us. We are walking here, and with us are your children, your grandchildren, your families, your fellow members of the delegation, all those who have not for one moment forgotten you. We are walking here, with Israeli sportsmen and women, Olympic medal winners, who saw in you a symbol and role model, and fulfilled your dreams to return to compete in the Olympic Games, and bring a medal home to Israel. Also for you. Also in your name. Because your dreams were a legacy."
Details

Written by

Prime Minister's Media Adviser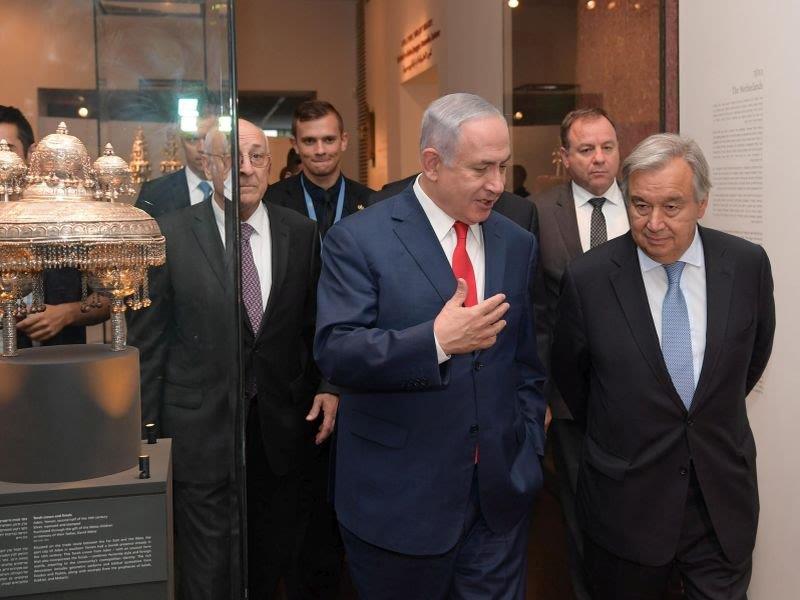 PM Netanyahu: I think that changing the UN's approach to Israel is important not only to Israel, but also to the United Nations, and certainly to the parts that comprise it. I hope that this visit to Israel will help promote these grand ideas.
Details

Written by

Yad Vashem
09 June 2017 – Jerusalem) The U.S. Permanent Representative of the United States to the United Nations Nikki Haley visited Yad Vashem today. The Ambassador was guided through the Holocaust History Museum by Dr. Robert Rozett, Director of Yad Vashem Libraries, participated in a memorial ceremony in the Hall of Remembrance, visited the Children's Memorial and signed the Yad Vashem Guest Book.
Details

Written by

Silvia G Golan
A senior delegation from Tanzania, headed by Dr. Aloyce Nzuki, Permanent Secretary Ministry for Natural Resources and Tourism, arrived in Israel for a series of meetings and events designed to increase cooperation with the Israeli tourist industry, and encourage Israeli tourism and investments to enchanted, exotic Tanzania.
Details

Written by

President's Spokesperson
President Reuven Rivlin today (Wednesday) met at his residence in Jerusalem with United States Permanent Representative to the United Nations, Ambassador Nikki R. Haley.
President Rivlin welcomed her and said, "You are a dear friend of Israel. We appreciate your strong stand on the world's most important stage, in support of the security of the people and the State of Israel. With your support we see the beginning of a new era. Israel is no longer alone at the UN. Israel is no longer the UN's punching bag."
He continued, "When I spoke at the UN on Holocaust Memorial Day, I said that the UN must learn from the lessons of the past, and stand up against hatred and racism. I said it must end its obsession with targeting Israel. Progress has been made. Israel's standing at the UN has improved. But sadly, we have a long way to go. Both in holding to account, public statements made by officials, and in supporting regulation to reduce the ridiculous number of discussions and resolutions against Israel. This is also true in the Human Rights Council - which has been hijacked as a weapon against Israel - and in UNESCO, where they seek to rub out the history of the Jewish people."
The President thanked the Ambassador for her great contribution to the State of Israel, and said, "Ambassador Haley, as the representative the US - Israel's greatest and strongest ally - we appreciate very much your support of Israel, and all you do to stand up for the values of freedom and democracy which we share. Welcome to Israel, welcome to Jerusalem."
Ambassador Haley thanked the President for his warm welcome and said, "Thank you Mr. President for taking the time to meet with us, it is an absolute thrill to be here in Israel, I so much appreciate the support we have received from the people of Israel. But I feel somewhat guilty because all I did at the United Nations was tell the truth. I have never taken kindly to bullies, and the UN has bullied Israel for a very long time, and we are not going to let that happen anymore. It is a new day for Israel in the United Nations. We just got back from Geneva, talking about the Human Rights Council and hopefully it will be a new day at the Human Rights Council when it comes to Israel."
She concluded by saying she was greatly looking forward to her visit to Israel and said, "I am looking forward to taking in the history, the beauty, the tradition, and all that comes with the magic of Israel. Thank you very much for having me it is a pleasure to be here."
Photo credit: Mark Neiman (GPO)