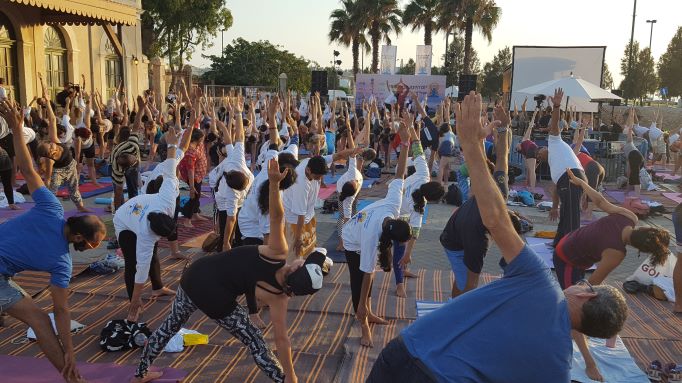 8th International Day of Yoga (21 June 2022, Park HaTachana, Tel Aviv-Yafo
भारत का राजदूतावास
Indian Cultural Center
Embassy of India
June 21, the longest day of the year, was adopted as the International Day of Yoga (IDY) through a UN Resolution that was proposed by India and co-sponsored by 177 nations in 2014. Since then, the International Day of Yoga (IDY) is being celebrated all over the world with great enthusiasm and positive spirit. The Indian diplomatic missions all over the world take the lead in organizing events to mark the IDY.
The Embassy of India in Israel has been celebrating IDY every year since 2015 with a grand-public yoga event in the city of Tel Aviv along with partnered events across various cities in Israel. The theme for this year's International Day of Yoga is "Yoga for Humanity". The newly established Indian Cultural Center under the aegis of Embassy of India will be celebrating the 8th International Day of Yoga by organizing a public Yoga event coupled with spiritual music performances by renowned artists on 21 June (Tuesday) at the iconic Park HaTachana, Tel Aviv. The event is being organized in association with Municipality of Tel Aviv-Yafo and the Israel Yoga Teachers Association.
The year 2022 marks two historic milestones of the 75th Anniversary of India's independence and the 30th anniversary of establishment of full diplomatic relations between India and Israel. To commemorate the two occasions, the Yoga day event in Tel Aviv this year has been selected for the global Guardian Ring initiative, a relay Yoga streaming event, which will capture and weave together live digital feed of yoga events being organized by select Indian Missions across the world.
The event is free of cost, open to all, and suits all yoga level practitioners. Interested participants can also reserve their spots by registering at https://bit.ly/3QmbLz4
Date: 21 June (Tuesday) 2022
Event Schedule
| | |
| --- | --- |
| 1830 hrs | Welcome Greetings and Announcement of Event Instructions/Guidelines |
| 1835 hrs | Chanting of Shanti Mantra by Israeli musician Ron Paz (Niranjan Jyoti) |
| 1845 hrs | Inviting Guests to ascend the podium and Lamp Lighting Ceremony |
| 1850 hrs | Indian and Israeli National Anthems (Instrumental Music) |
| 1855 hrs | Welcome Greetings by H.E. Ambassador Sanjeev Singla |
| 1900 hrs | Remarks by Chief Guest Mr. Ron Huldai, Mayor of Municipality of Tel Aviv-Yafo |
| 1905 hrs | Rhythmic and Artistic Yoga Performance by Yoga students of ICC |
| 1915 hrs | Sun Salutations (in Hebrew) by Israeli Yoga Teacher Eyal Chehanowski |
| 2000 hrs | Common Yoga Protocol by Indian Yoga Teacher Shri Uday Kumar Saama |
| 2100 hrs | Music Performance by Israeli artist Ron Paz & Team |
| 2200 hrs | Vote of Thanks |
In addition to the event on June 21, the Embassy is also organizing a special Yoga event at Ganei HaYehoshua (HaYarkon, Tel Aviv) on 18 June (1800hrs); and also a public yoga event in the city of Ashdod in association with Ergun Shevet Oley Hodu and the Municipality of Ashdod on 20 June, 2022 (1830hrs).
Yoga practitioners and enthusiasts are encouraged to practice the Common Yoga Protocol in advance by visiting this link - https://www.youtube.com/watch?v=Av5ib_XRKT4
The link to the official Facebook page of International Day of Yoga celebrations in Israel is - https://www.facebook.com/yogadayisarel
The social media handles of the Indian Cultural Center are:
Facebook: https://www.facebook.com/ICCRinIsrael
Twitter: https://twitter.com/iccr_israel
Instagram: https://www.instagram.com/iccr_israel
Photo Ilan Spira
Event Schedule
18:30 – Gathering
18:35-18:45 Chanting of Shanti Mantra by Israeli musician Ron Paz (Niranjan Jyoti)
18:50-19:05: Official Ceremony attended by the Ambassador of India in Israel H.E. Sanjeev Singla and Mayor of Municipality of Tel Aviv-Yafo Mr. Ron Huldai
19:05-19:15 Rhythmic and Artistic Yoga Performance by Yoga students of ICC
19:15-20:00 Sun Salutations by the renowned Yoga instructor Eyal Chehanowski
20:00-21:00 Common Yoga Protocol by Indian Yoga Teacher Shri Uday Kumar Saama
21:00-22:00 Music Performance by Israeli artist Ron Paz & Team