Details

Written by

AJC
"As Israel prepares to celebrate its historic 70th anniversary of independence, the American Jewish Congress welcomes the opening of the National Memorial Hall for Israel's Fallen, honoring the heroes that made the realization of a Jewish State possible and have helped sustain Israel's security during the past 70 years.
Israel was founded in 1948 out of the ashes of the Holocaust. The American Jewish Congress had been instrumental in coordinating relief efforts for Jewish Holocaust survivors. When the enormity of the Holocaust's atrocities became public, the American Jewish Congress was proactive in campaigning for the creation of a Jewish State and played an integral role in winning US recognition and support of Israel.
The fact that Yom Ha'atzmaut, Israel's national Independence Day, is celebrated just one week after the country's official Holocaust commemoration day Yom Hashoah is no accident. Israel was founded as the Jewish State to provide a home for a Jewish demographic, an estimated 80% of which was wiped out in the Holocaust, a fact that left an indelible mark on the nation's identity.
More than any other nation, Israel continues to divide opinion, among individuals, nations and at international institutions, as it is held to higher standards of statehood than other Western countries, not to mention more unsavory regimes around the world. When the international community, organizations and individuals continue to single out the world's only Jewish State for disproportionate criticism, we can only derive one motive from it – antisemitism.
US campuses saw an 89% rise in anti-Semitic incidents in 2017 alone, where the BDS movement is most active. The American Jewish Congress is this week launching a grass roots campaign "BDS is antisemitism – United Against BDS" to confront the stereotypes fuelled by the BDS movement in the hopes of countering anti-Semitism on campuses and creating a secure environment for Jewish students.
The American Jewish Congress believes that BDS is not purely an anti-Israel issue, but a human rights issue. We want to send a clear message that the normalization of hate and anti-Semitism needs to stop. We invite everyone to join us in uniting against BDS in order to put an end to its divisive and hateful messages. We must stand united in promoting truth and peace, and against boycotts."
Jack Rosen, President, American Jewish Congress
https://www.bdsisantisemitism.com/
It's time to stop pretending and to spell it out - BDS is an anti-Semitic movement. This normalization of hate and anti-Semitism needs to stop. We must unite against BDS in order to put an end to its divisive and hateful messages.
Details

Written by

Silvia G Golan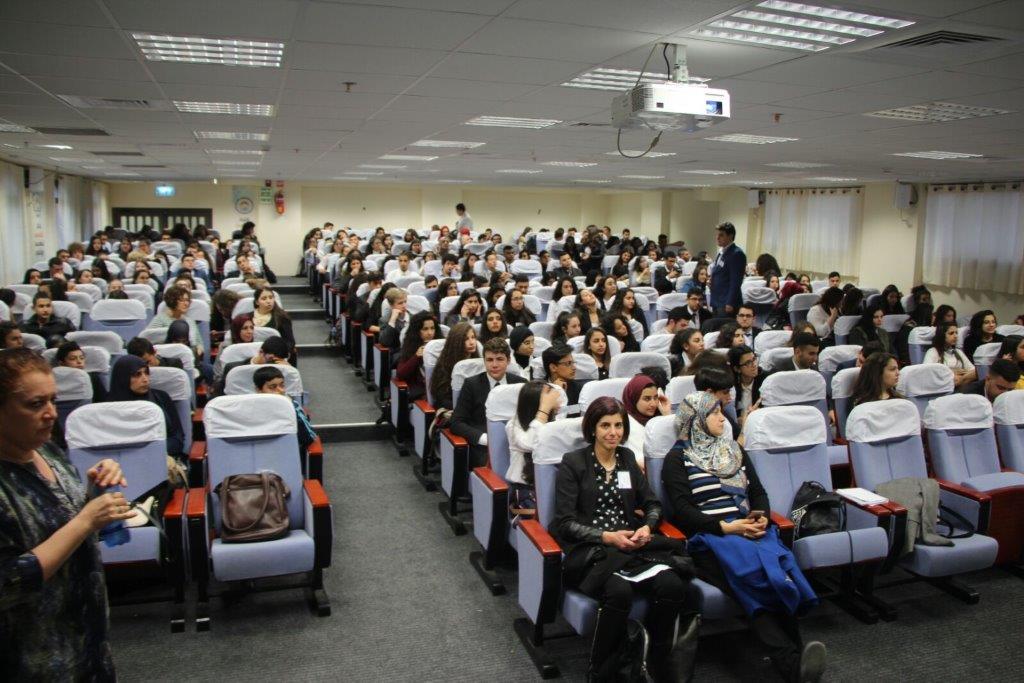 On Tuesday February 27, 2018, the second annual QASMUN conference was held at the Al-Qasemi high school in Baqa al-Gharabiya, focusing on youth in conflict zones.
During the conference 250 students from over two dozen schools and cities participated in seven committees, addressing the situation of youth in conflicts in Yemen, Pakistan and Myanmar, as well as the issue of child soldiers, and the role of education during armed conflicts. An advanced committee created a resolution that offered recommendations for a binational Israeli-Palestinian curriculum to promote peace.
After a full day of debates and negotiations, the committees voted on their respective initiatives. The students then had a dinner break before heading to the closing ceremony.
At the closing ceremony, Dr. Dalia Fadila, principal of Al-Qasemi, welcomed the guests to the Al-Qasemi school and conference. The director of QASMUN, Reham Abu Asba, thanked all of those who had helped in making the conference happen. Rev. Canon Nicholas Porter, the founder of the Jerusalem Peacebuilders, offered words of encouragement for the MUN participants, many who had come to a conference for the first time.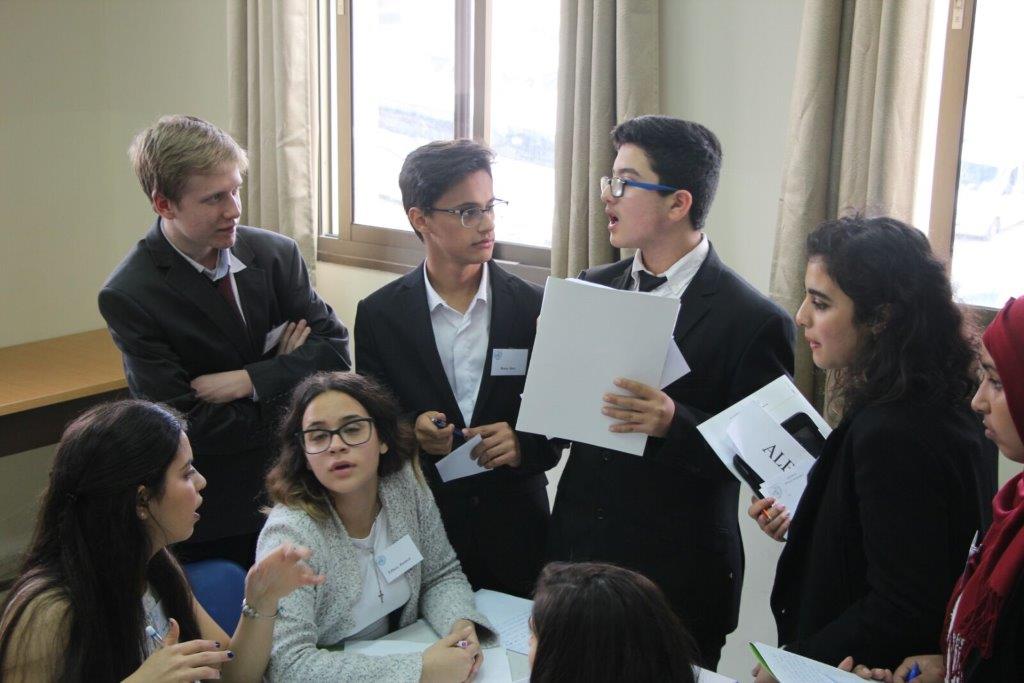 Stephanie Baric, an international relief and development professional with almost 25 years of experience addressing poverty and social injustice in the Middle East, Africa and the Balkans, was the keynote speaker, and also addressed a range of questions from students on the issues of feminism, youth empowerment, and the Israeli-Palestinian conflict.
QASMUN Secretary General Taqwa Ghanayem discussed what she has gotten out of MUN:
"Model United Nations helped me grow into a leader, get to know more what is going in the world, and become confident in myself. MUN gave me the passion to keep working hard and to change myself and my community. I am so grateful that I had the chance to become part of the wonderful MUN world!"
During the awards part of the ceremony, the top delegates in each committee were called up to the stage to receive their awards. These included Muhammad Omar Darawshi (Iksal HS), Eman Abu Abeid (Al-Qasemi) and Baraa Abu Ras (Salesian Sisters) in UNGA1; Husain Hasan (St. Joseph), Malk Halil (Hand in Hand), and Khadija Nukati (Beit Safafa) in UNGA2; Layan Sharkei (Al Qasemi), Ibrahim Alian (Beit Safafa) and Hala Asaad (Salesian Sisters) in UNGA3; Shahd Massarwa (Almjd Taybe), Yara Qudsi (Salesian Sisters), and Leen Jabara (QSchools Tira) in UNGA4; Majdi Yassin (Salesian Sisters), Mira Afifi (St. Joseph), and Bana Shadafneh (Iksal) in HRC; Dona Milhelm (QSchools), Samira Hallak (Hand in Hand), and Feras Marjieh (St. Joseph) in UNICEF, and Daniel Mikhailov (Ort Rabin), Tala Abu Dalo (Beit Safafa), and Almira Farah (St. Joseph) in the Special Committee.
Additionally, a number of students were called on stage as Jerusalem Peacebuilders scholars for the 2018 summer, including: Aviv Liverant, Banan Shadafni, Baraa Abu Ras, Daniel Mikhailov, Eliran Ben Yair, Khadija Nukaty, Leen Jabara, Mariam Abdallah, Rama Halabi, and Tamim Mansour.
QASMUN 2018 was part of the Debate for Peace MUN series, as an Interfaith Encounter group supported by the U.S. Embassy in Tel Aviv.
For more information about future events, please see the website here: https://debateforpeace.wordpress.com/upcoming-events/
Photo credits: Faris Hans/Debate for Peace
Details

Written by

President's Media Advisor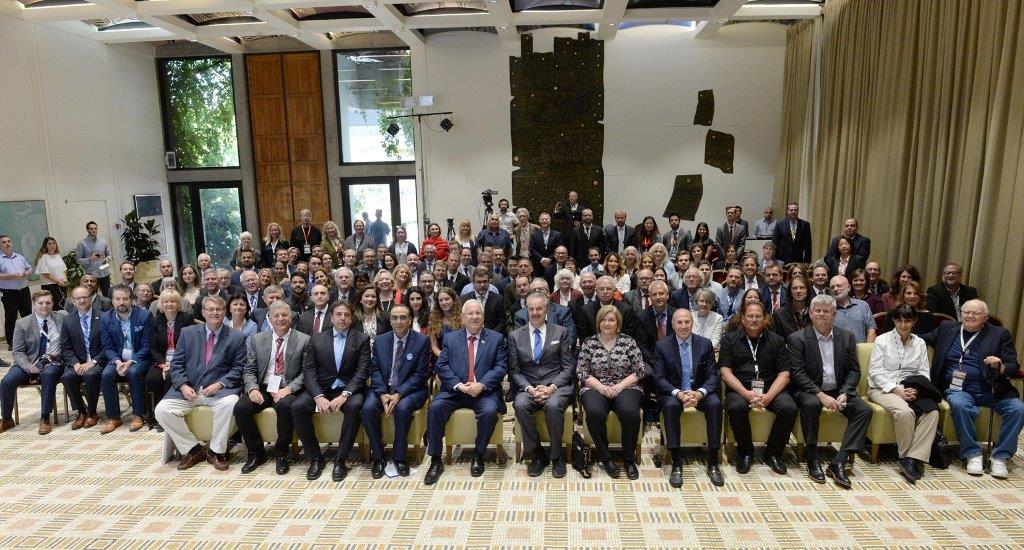 President Rivlin: "Israel will never stop trying to find a way to bring an end to the tragedy between us and the Palestinians. We must work to build understanding between the two sides. I am hopeful. Israel has built new and better friendships with many in our region"
President Reuven Rivlin today (Wednesday), addressed more than 100 journalists and editors from Christian media outlets from more than 30 countries around the world gathered in Jerusalem for Christian Media Summit arranged by (inter alia) the Government Press Office. The four day summit which concluded today, was entitled "50 Years of a United Jerusalem", and included a range of keynote speakers, and panels on a range of topics.
President Rivlin welcomed all the participants, and told them of his family's long history in Jerusalem, he told them that, "Since 1850, Jerusalem has had a Jewish majority; living side by side with the Christians and Muslims of the city." He noted that even though the Jewish community in the city was growing over the years, they continued to pray for the city to be rebuilt. He said, "After painful wars and years of separation Jerusalem was liberated, reunited as the capital of Israel. Jerusalem is now a city of modern innovation, and ancient inspiration. Just yards from the world's holiest places, are technology companies, making self-driving cars. This is a miracle."
The President added however, "There is much more to do. Jerusalem is a microcosm of all our abilities to live together; Jews, Muslims, Christians, religious and secular," he stressed, "If we can do it here in the city of Jerusalem, we can do it all over the Middle East, and all over the world."
The President stressed Israel's commitment – as a Jewish, democratic state – to defending freedom of religion. He said, "I want to reassure you all, that Israel will continue to stand firm to keep the holy sites for all faiths safe and secure."
On the issue of the peace process with the Palestinians, the President stressed, "Israel will never stop trying to find a way to bring an end to the tragedy between us and the Palestinians. We must work to build understanding between the two sides. We must work to build confidence between the two peoples. And I have to tell you, I am hopeful. Israel has built new and better friendships with many in our region; economic and diplomatic cooperation. This is an important step." In particular, the President noted, "I want to say, how much we appreciate in particular, King Abdullah of Jordan, and all he is doing, for peace, security, and stability in our region. The State of Israel and the Kingdom of Jordan, face many challenges. But our relationship is built on a shared commitment, to the dream of a better future, for both our peoples. I hope this friendship grows stronger and stronger, and that the bond of peace between us will be an example to the whole region, for many generations."
Photo credit: Mark Neiman (GPO)
Details

Written by

MFA
100 years of international recognition of the Jewish people's right to self-determination in their historic homeland, the Land of Israel
November 2, 2017, marks 100 years since the Balfour Declaration, a historic statement of sympathy issued by the British government for the establishment of a national home for the Jewish people in the Land of Israel. Lord Arthur James Balfour, the British Foreign Secretary, penned the historic letter on behalf of the British Government, to Lord Lionel Walter Rothschild, a prominent leader of Britain's Jewish community.
Details

Written by

Steven Aiello
On Monday, March 27th, a group of visiting NYU alumni was welcomed on their first trip to Tel Aviv with an event at the award-winning Na Laga'at center. The restaurant and nonprofit cultural center, which aims to spark dialogue between visitors and its blind and deaf staff, was described as "informative" and "unique" by event attendees.
At the Na Laga'at event, visitors were given an introduction to Na Laga'at and its mission by Limor, the center's events manager, followed by a short presentation on Israeli Sign Language. The alumni then heard from the club's president and founder, Oded Agam. He delivered a presentation on entrepreneurship, speaking from his experience leading strategic innovation programs as Senior Director of the Strategic Technologies Group at Intel Israel.
Weather
Jerusalem Israel
Sunny, 28 °C
Current Conditions
Sunrise: 5:35 am | Sunset: 7:48 pm
36%
4.9 m/s
31.384 atm
Forecast

Sun

Low: 17 °C
High: 29 °C

Mon

Low: 17 °C
High: 30 °C

Tue

Low: 17 °C
High: 32 °C

Wed

Low: 19 °C
High: 35 °C

Thu

Low: 22 °C
High: 33 °C

Fri

Low: 18 °C
High: 29 °C

Sat

Low: 17 °C
High: 28 °C

Sun

Low: 17 °C
High: 30 °C

Mon

Low: 18 °C
High: 31 °C

Tue

Low: 18 °C
High: 31 °C
Tel Aviv Israel
Sunny, 28 °C
Current Conditions
Sunrise: 5:36 am | Sunset: 7:51 pm
56%
6.3 m/s
33.656 atm
Forecast

Sun

Low: 23 °C
High: 27 °C

Mon

Low: 22 °C
High: 27 °C

Tue

Low: 22 °C
High: 27 °C

Wed

Low: 22 °C
High: 28 °C

Thu

Low: 21 °C
High: 28 °C

Fri

Low: 24 °C
High: 27 °C

Sat

Low: 24 °C
High: 27 °C

Sun

Low: 24 °C
High: 27 °C

Mon

Low: 23 °C
High: 27 °C

Tue

Low: 24 °C
High: 27 °C
Haifa Israel
Sunny, 26 °C
Current Conditions
Sunrise: 5:33 am | Sunset: 7:52 pm
66%
6.3 m/s
33.489 atm
Forecast

Sun

Low: 25 °C
High: 26 °C

Mon

Low: 25 °C
High: 26 °C

Tue

Low: 24 °C
High: 26 °C

Wed

Low: 24 °C
High: 26 °C

Thu

Low: 25 °C
High: 27 °C

Fri

Low: 25 °C
High: 26 °C

Sat

Low: 25 °C
High: 26 °C

Sun

Low: 25 °C
High: 26 °C

Mon

Low: 24 °C
High: 26 °C

Tue

Low: 23 °C
High: 26 °C