Diplomatic Events
Details

Written by

EUROPEAN UNION Delegation to the State of Israel
Speaking ahead of tomorrow's annual "Hamsa" event which celebrates Israeli participation in EU research programmes, EU Ambassador-designate Lars Faaborg – Andersen, Head of the Delegation of the European Union to the State of Israel, said that he was looking forward to welcoming some 400 Israeli researchers to his residence.
"It will be an honour and a pleasure for me to welcome so many distinguished Israeli researchers, all of whom have received grants under the EU's Seventh Framework Programme for research and technological development," he said
"It is now 17 years since Israel was first associated to the EU's Framework Programmes. Israel's association to the programme has been a tremendous success both for the EU and for Israel. The hundreds of new grantees who attend the Hamsa event each year attest to this success."
"We are at an important juncture in Israeli-EU cooperation in science and technology. The EU is launching a new science and technology programme, named Horizon 2020, to the tune of close to 80 billion euro over the next seven years and has again invited Israel to participate as it has since the 4th Framework Programme in 1996. This is a tremendous opportunity for both Israel and Europe to develop key, cutting edge technologies and partnerships, a real win-win situation for both of us. We are currently negotiating modalities for Israeli participation in the programme. Both sides are striving for a pragmatic and mutually acceptable arrangement which would allow Israel to join by the time Horizon 2020 starts on the 1st of January 2014."
Note to the editor : As of June 2013, there were 1,584 Israeli participations in 1,310 FP7 projects which amounted together will receive about 636.9 million euros.
Photo provided by EU Press section
Details

Written by

Silvia Golan
On Thursday, October 15, the Ambassador of Cyprus to Israel Mr. Dimitris Hatziargyrou held a reception at his residence in Herzliya, to mark the Cyprus' 53rd Anniversary.
Many distinguished guests, including Minister of Strategic and International Affairs, Mr. Yuval Steinitz, came to congratulate the Ambassador and the embassy staff the on this special day.

Mr. Petros Eftychiou, Ex-Ambassador of Cyprus to Israel, was also present. He has come to Israel to attend several courses in Tel-Aviv University and deliver lectures on Diplomacy.
The Ambassador welcomed all the guests and expressed his thanks for the generous contribution of the sponsors that made the event possible – Delek and Avner, Hallmark Properties and KPMG Cyprus.
He mentioned a number of important events that took place in Cyprus since the last national reception almost a year ago. In February, the new Government of President Nicos Anastasiades, a good friend of Israel, was elected for a five-year term. The new President paid a visit to Israel last May, preceded by the Ministers of Foreign Affairs and Energy. Energy Minister Silvan Shalom visited Cyprus in August and the Speaker of the Knesset, Mr. Yuli Edelstein, paid an official visit last month. A friendship group in the two Parliaments was formed and announced during the visit.
He also said the cooperation between representative in our societies is also expanding, whether between universities (the first Hebrew studies program was inaugurated last month in the University of Cyprus), and medical centres and R&D facilities. Israeli and Cypriot companies are venturing into all kinds of cooperation, and Israeli tourists have been flooding Cyprus. There are also big prospects for cooperation in the energy sector.
Mr. Yuval Steinitz greeted the Ambassador of Cyprus in name of the Government and People of Israel and conveyed their warm congratulations to the Republic of Cyprus on the occasion of its 53rd Independence Day.
He said that " in recent years, we are witness to growth of relations, preceded by strong historical roots that strengthen current ties. The history of our two peoples has crossed path many times. We appreciate the Cypriot people's support when Jewish survivors from the Holocaust were placed in detention camps there by the British, and many succeeded in escaping and entering into Israel.
Today's relations between Israel and Cyprus are much more than joint historical and regional ties between two small nations. We share similar interests and challenges. Both are western democratic nations in a region of instability, revolutionary turbulence, and monarchies".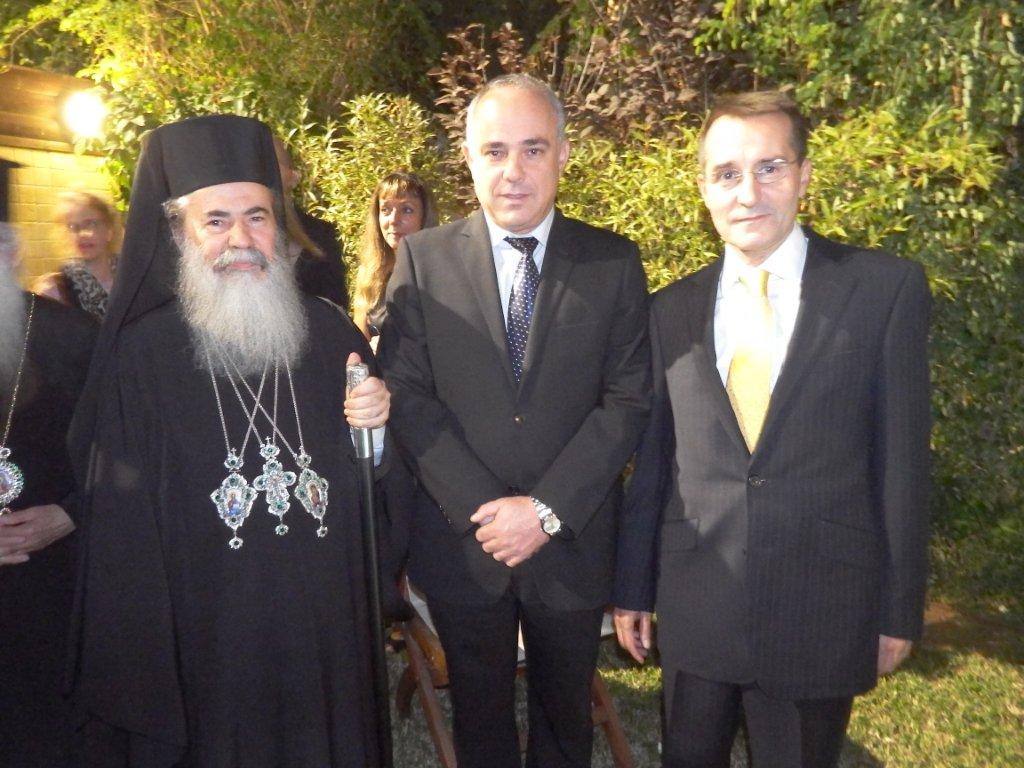 Details

Written by

Aviva Shwartz
Slovakia Marks its Second Decade of Independence with a Reception and Garden Party at the Ambassador's Home
Slovakia recently celebrated twenty years of independence. The event was held on September 16 at the Ambassador of Slovakia and Mrs. Radovan Javorčík's residence in Herzliya in their beautiful garden. The Ambassador and his wife along with Slovakia's military attaché Lubosh Klima received guests with a warm welcome.
Among the well-wishers were, Foreign Ministry officials, ambassadors and members of diplomatic staff, officials and Jews from Slovakia whom maintain contact with their native land.
With excellent weather, almost like a summer evening, guests enjoyed a pleasant time along with the embassy's warm and welcoming staff. Guests were treated to lovely refreshments including finger foods and beverages. Everyone raised their glasses to toast the occasion and to encourage the continuation of mutual friendship between the countries.
Photo Silvia Golan
Details

Written by

Silvia Golan
On Thursday, October 17, the Chinese Ambassador to Israel Gao Yanping held a reception at the Dan Hotel, Tel Aviv, to mark the 64th anniversary of the founding of the People's Republic of China.
Many distinguished guests, including Israeli President Shimon Peres, came to congratulate the Ambassador and the embassy staff the on this special day.
President Shimon Peres greeted, on behalf of the State of Israel, the Chinese People and Chinese Central Leadership for this special day.President Peres said that China is a good example to a country that arose from deep poverty and became the world's growth engine. China has the second largest economy and influence. Israel attributes great importance to the strengthening of the strategic relations with China, and said " I am proud of the deepening relations between our two countries. Many countries around Israel in the Middle East have a lot to learn from China".
Israeli Prime Minister BenjaminNetanyahu was not present, but sent a video recording where he greeted the Chinese Ambassador.
The Chinese Ambassador, Gao Yanping,started expressing her thanks to President Shimon Peres. She said that his presence was of great importance for the friendship and good relations between China and Israel. She also thanked the other friends present in the event for their cooperation to China's development.
She described the important achievements that have taken place in China since the founding of the People's Republic of China in 1949, including fast economic growth, social progress and closer relationships with countries around the world. She expressed the love for peace and harmony of China and the Chinese people, and their commitment to take the path of peaceful developments and independent foreign policy of peace.

She said that 2013 has been a special year in China's history, in which the Chinese New Central Leadership has put forward the renewal of the Chinese Nation in the new era, leading the Chinese People and the fulfillment of its major goals, mainly, to finish building a society of prosperity in all aspects by 2020, making China a modern country in the 21st century. China plays an increasingly larger role and is ready to fulfill its international obligations. Its economy is the second largest in the world. It is also a key member of the UN Security Council.
She said that we are celebrating the 20th anniversary of the establishment of China-Israel relations. Our relations are geared in the right direction. Prime Minister Netanyahu made a successful visit to China and had important meetings with our leaders. We will deepen our mutual relationships, and our activities will broaden and deepen in all areas. Our governments shear the same goals of friendship, mutual understanding and determination to push forward our relations.
She said that mutual honor and trust are the bases of the relations between countries, and that we continue to work and bring the relations to a larger and brighter future.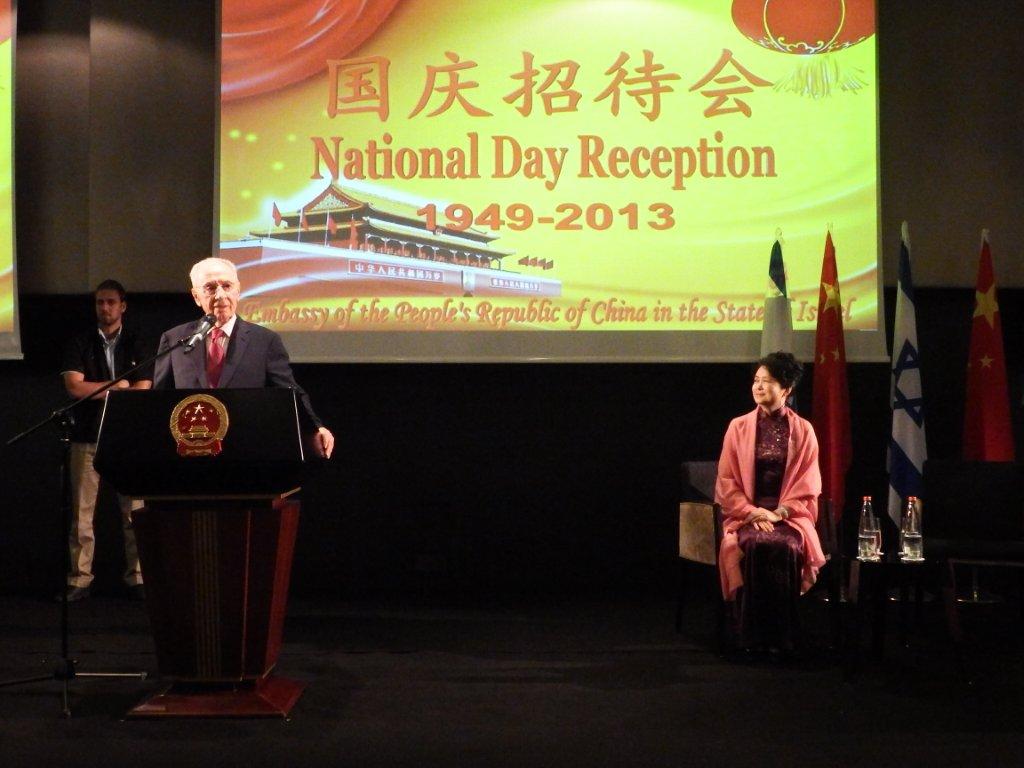 Mr. Neil Bush (son of US Ex-President George H.W. Bush and Barbara Bush, and George W. Bush's brother), who is visiting Israel for business purposes, was also present in the reception.
The guests of the special event enjoyed the delicious Chinese food and the beautiful performance of artists from the southwest China's Sichuan Province with chinese classical dance , costumes and traditional musical instruments, .
Photos Silvia Golan
Details

Written by

Aviva Shwartz & Silvia Golan
On Thursday, October 10th, Spain's Ambassador and Mrs. Fernando Carderera, along with the Spanish Embassy Missions, celebrated Spain's National - "Columbus Day".
The reception was held in the beautiful garden of the Ambassador's residence in Herzliya. Hundreds of distinguished guests came to congratulate the Ambassador and his wife, embassy staff and the Spanish people on this special day.
The honored guests included Gideon Saar, Minister of the Interior, (previously Education Minister), ambassadors, members of the diplomatic missions in Israel, members of the foreign ministry, business leaders and friends of the Embassy.
His Excellency, the Ambassador, surprised guests when he began his speech with a fluent Hebrew blessing, and then continued speaking in English. He said that since Spain is a key nation in Jewish history, the relationship between the two states is founded on many common interests and shared values. The relations between Israel and Spain are both complex and intense because their histories are also complex and intense. He noted that Spain and Israel have so much in common and therefore sees particular importance in developing relations in the fields of culture, education, science, new technology, research, trade and investment.
He also noted that there is growing presence of Spanish companies in Israel. Valoriza, is about to complete construction of a desalination plant in Ashdod; Abengoa is building solar plants; Telefónica has a subsidiary in Israel; and several Spanish companies want to take part in the construction of Israel's plan to improve its infrastructure.
Ambassador Carderera said that the economic situation in Spain has significantly improved in the last twelve months. Important reforms are already in place, public deficit has been reduced, productivity has improved, exports have increased and the Spanish current account balance has a surplus for the first time since 1997. He added that Spanish corporations are world leaders in key sectors such as renewable energy, infrastructure management, high-speed railways, biotechnology, naval technology, environmental technology, air and space systems, among others. He added, in Hebrew that Spain would like to use all this potential to do business and cooperate with Israel in all possible sectors.
Furthermore, he said that his country has invested a lot in international efforts to attaining peace in the Middle East, and that Spain fully supports Israel's right for security. Spain is committed to a two State solution through direct negotiations, including the creation of a viable Palestinian State that will recognize Israel
Ambassador Fernando Carderera raised a glass to toast to the long life and wellbeing of the Heads of the State of Israel, President Shimon Peres and to His Majesty King Juan Carlos of Spain, as well as to our mutual friendship. Minister Sa'ar raised a glass in a toast to Spain and expressed his best wishes for prosperity and continuing friendship between the two nations.
Minister of the Interior Gideon Sa'ar congratulated His Majesty Juan Carlos the First, the government and people of Spain on the occasion of Spain's National Day, on behalf of the Government of Israel and the people of Israel. He said that bilateral relations between Israel and Spain are continuing to deepen and flourish. Friendly and productive ties are seen across many spheres – such as the political, economic, commercial, research, science, technology and cultural. In April of this year Spain's Foreign Minister visited Israel along with important economic delegations. Israel's embassy in Spain celebrated the 65th Anniversary of Israel's Independence under the heading of cooperation for innovation and growth. These events were followed with great interest in Spain.
Minister Sa'ar mentioned the joint history of Spain and the Jewish people and pointed out that the two countries share a common struggle in the uncompromising fight against terrorism and in so, acknowledged Spain for the participation of its forces in UNIFIL in southern Lebanon. He also noted that Spain's culture holds a place of honor among the people of Israel. Many Israelis have a great interest in the Spanish cultural scene and, of course, in Spain's famous football teams. The Minister stressed the importance of strengthening ties between the young generations of both countries.
The food, as we learned, was prepared courtesy of the ambassador's wife Victoria Carderera with most foods prepared by her personally. Among the special foods prepared for the occasion were the Spanish delicacies such as: tapas, including excellent meats and cheese brought specially from Spain for the occasion, croquetas, tortillas and a kosher corner. All food was accompanied by the best Spanish cava and wine.
During the event, a video was screened showing Spain's key companies and innovative technologies as well as the country's beauty, which attracts hordes of tourists each year.
When singing the anthems of Spain and Israel, the Ambassador again surprised guests by joining in the singing of the Israeli anthem in Hebrew, delighting all Israelis who were present.
In the artistic part of the event, Silvia Duran and her flamenco school performed traditional Spanish flamenco dancing.
The beautiful layout of the venue, wonderful stage lighting and tasteful decorations contributed to a cozy atmosphere and very nice and pleasant evening.
Photo Silvia Golan
Photo Silvia Golan