Diplomatic Events
Details

Written by

Jonathan Danilowitz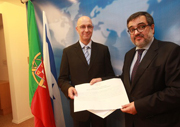 The Portuguese Embassy in Israel has appointed Mr. Yoni Essakow as the new Honorary Consul of Portugal in Haifa. Israel and Portugal have a long history of maritime relations, and the new Consul in Haifa intends to serve the two countries by strengthening and advancing the trade, commercial and cultural ties that have been forged between Lisbon and Jerusalem over the years.


In an interview with your Diplomacy correspondent, Mr. Essakow gave advance notice of the Portuguese Film Festival that is scheduled to take place in Haifa later this year. He also mentioned the importance of the October visit to Israel's northern port city of the Portuguese Minister of Science & Innovation. The Minister is particularly interested in expanding ties with the Haifa Technion.




Mr. Essakow's business interests in shipping and commerce are sure to have a positive impact on trade ties between Israel and Portugal, to the mutual benefit of both countries.




The Haifa Consular representative can be reached by telephone on
+972 (0)4 867-1266 or by email: This email address is being protected from spambots. You need JavaScript enabled to view it. .
Photo Courtesy of the Portugal embassy
Details

Written by

Tel Aviv PD Press Section
Remarks by Ambassador Jeffrey DeLaurentis, Alternate Representative of the United States for Special Political Affairs in the United Nations, At a Security Council Open Debate on the Middle East, July 25, 2012
Thank you, Mr. President. Thank you, Special Coordinator Serry, for your briefing.
Mr. President, last week the world witnessed – and the Security Council appropriately condemned – a heinous terrorist attack in Bulgaria. The target was innocent Israeli tourists on vacation in the Black Sea. Five Israelis and one Bulgarian were murdered and scores more were injured, including citizens of Bulgaria, Italy, Slovakia, and the United States. There is no justification whatsoever for such attacks against innocent people. We extend our heartfelt condolences to the victims and their families and to the people of Israel, Bulgaria, and all those whose citizens were harmed in this awful event.
Details

Written by

Diplomacy
Yossi Beilin, who served as Israeli Justice Minister and Deputy Foreign Minister, conducted the secret peace negotiations that led to the 1993 Oslo Accords between Israel and the Palestine Liberation Organization.
You have called on the Palestinian Authority, which was supposed to be the Palestinian state in embryo, to dissolve itself. Why now?
The Oslo Peace Process called for an interim agreement that would last five years and end with a permanent settlement. It has dragged on for almost 20 years. What was supposed to be a corridor leading to a final settlement has become a living room – a very convenient one – for people like Prime Minister Netanyahu and for the opposition in Palestine. They want to keep the status quo.
Details

Written by

Batya Badanowski
Celebrating the traditional Bastille Day in his elegant estate in Jaffa, the French Ambassador Christopher Bigot hosted Israeli President Shimon Peres and former captive IDF soldier Gilad Shalit, accompanied by his father Noam Shalit.
In his speech, Bigot recalled the full support his country lent Shalit during the 5 years he was held prisoner by Hamas in Gaza.
Bigot also assured Israel continued support by the newly appointed French President Francois Hollande.
Details
This morning Israel's President Shimon Peres hosted a delegation of honorary Israeli consuls around the world.