Diplomatic Events
Details

Written by

TLVPDP
Following the P5+1 talks in Kazakhstan with Iran on its nuclear program, Under Secretary Sherman is traveling from February 28-
March 4 to Israel, Jordan, and Saudi Arabia, where she will meet with Gulf Cooperation Council (GCC) Foreign Ministers.
Details

Written by

Jonathan Danilowitz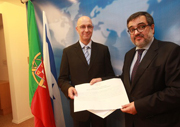 The Portuguese Embassy in Israel has appointed Mr. Yoni Essakow as the new Honorary Consul of Portugal in Haifa. Israel and Portugal have a long history of maritime relations, and the new Consul in Haifa intends to serve the two countries by strengthening and advancing the trade, commercial and cultural ties that have been forged between Lisbon and Jerusalem over the years.
Details

Written by

Tel Aviv PD Press Section
Remarks by Ambassador Jeffrey DeLaurentis, Alternate Representative of the United States for Special Political Affairs in the United Nations, At a Security Council Open Debate on the Middle East, July 25, 2012
Thank you, Mr. President. Thank you, Special Coordinator Serry, for your briefing.
Mr. President, last week the world witnessed – and the Security Council appropriately condemned – a heinous terrorist attack in Bulgaria. The target was innocent Israeli tourists on vacation in the Black Sea. Five Israelis and one Bulgarian were murdered and scores more were injured, including citizens of Bulgaria, Italy, Slovakia, and the United States. There is no justification whatsoever for such attacks against innocent people. We extend our heartfelt condolences to the victims and their families and to the people of Israel, Bulgaria, and all those whose citizens were harmed in this awful event.