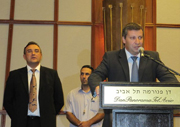 On August 27th, the Embassy of Ukraine in the State of Israel hosted a reception on the occasion of Ukraine's National Day, commemorating the independence of the Eastern European country from the USSR in 1991.
The event was held at the Dan Panorama Hotel Tel-Aviv, where H. E. Ambassador of Ukraine, Hennadiy Nadolenko and his wife, Mrs. Julia Nadolenko welcomed the Ukranian delegation lead by Director of the Ministry of Foreign Affairs of Ukraine, Mrs. Oksana Petriaieva, in the company of her Israeli colleague, Mrs. Talya Lador-Fesher.
Deputy Prime Minister, Minister for Foreign Affairs Avigdor Liberman and Minister of Tourism Stas Misezhnikov assisted as honorary guests. While Israeli Minister of Immigrant absorption Sofa Landver, Minister of Energy and Water Resources Dr. Uzi Landau, members of the Kneset and members of the Diplomatic Missions in Israel were also counted among the distinguished guests.
During his speech, Ukranian Ambassador Nadolenko stressed the importance of Ukranian-Israeli bilateral relations. "We are cordially thankful to our Jewish friends and colleagues for their hospitality and kindness, which we feel from the first day of our mission here, on the Holy Land. I am glad that there are so many friends of Ukraine here in Israel and beyond," he proclaimed.
The Ambassador added that non-governmental organizations have helped develop strong cultural bonds with the Jewish people which have brought the Israeli and Ukrainian people closer together. From migration organizations to business and commerce institutions, these groups have helped to cultivate a long-term relationship built of trust, reciprocity, and coordiality.
Ukraine was established as a sovereign nation while it tightened its commitment to democracy and created a socially oriented market economy, explained Mr. Nadolenko. "Opening the door to transparent elections, freedom of speech and religion, interethnic respect and tolerance have become important democratic achievement in Ukraine. These are the realities, without which modern generations of Ukranians cannot imagine its existence any more," he argued. In this sense, a democratic spirit has propelled significant investment and development of the Eastern European country.
Finally, the Ambassador thanked the Deputy Prime Minister, Minister for Foreign Affairs Avigdor Liberman and Minister of Tourism of Israel Stas Misezhnikov for their contributions to enable visa free admittance for peoples of both countries. He hoped that diplomatic relations would continue to flourish and lead to fruitful negotiations in the creation of a Free Trade Area between Ukraine and Israel in the near future.
Foreign relations between Israel and Ukraine were established in 1992, shortly after Ukraine's independence. In 2010, the countries signed a non- visa agreement allowing Israelis and Ukrainians to travel to and from both countries freely. These agreements have contributed to the strengthening of relations between the Middle Eastern and Eastern European countries, particularly as the trade volume between the two nations continues to grow rapidly, reaching 600 million dollars in 2011 alone.
At the pulpit, Minister of Tourism Stas Misezhnikov congratulated the People of Ukraine on behalf of the Government and people of Israel on their day of independence. He spoke about the prominent Ukrainian and Jewish people that link both countries in a common pride. These close ties, the Minister said, are strengthened by the continuous official visits that members of the Israeli government have exchanged with Ukrainian government officials over time.
Mr. Misezhnikov assured that the development of current bilateral cooperation and joint initiatives between Ukraine and the state of Israel is a tangible result of the political dialogue between the two governments. He further added that both nations would benefit greatly from the ongoing efforts and investments that are being made toward strengthening relations between them.
"The fact that there are half a million immigrants from Ukraine in Israel is of significance for they constitute a human bridge between both countries and they have a central and positive role in developing the people-to-people ties between both nations," highlighted the Minister.
Those ties among people translate into concrete actions from both governments, specifically in cultural and economic cooperation. The Israeli Minister provided details of such cooperation with the Agreement on Social Security the Israeli-Ukranian Commission on Trade and Economic Cooperation. Furthermore, he expressed optimism about the upcoming launch in the negotiation process of a Free Trade Agreement.
Ukraine's National Day celebration in Tel Aviv was embellished by performances from Israeli and Ukrainian artists.