Life Style
Details

Written by

MFA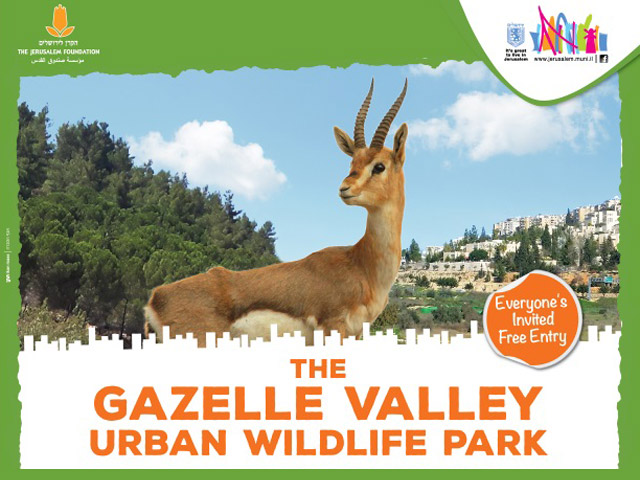 The Jerusalem Municipality opens the first urban nature park of its kind in Israel - a kind of nature reserve in the middle of the city - complete with a herd of gazelles and dozens of varieties of other fauna and flora, ponds, streams, walking trails and bicycle paths.
The Jerusalem Municipality is currently putting the finishing touches on the first nature park of its kind in Israel. Slated to open at the end of this month, Gazelle Valley stretches over 250 dunams, and features five ponds, both natural and manmade, two flowing streams, bird and rodent watching areas, the natural habitat of untamed animals, a manmade island accessed via wooden bridges, and the park's namesakes - dozens of wild gazelles roaming free.
The completion of the park is an unprecedented victory for the municipality and the public over the real estate tycoons who sought to build high-rises on the land. The park will soon be open to the public, seven days a week with free admission - as of Monday, March 30.
The new city park represents an innovative urban approach of open spaces located in the heart of the city, such as Central Park in New York, Hampstead Heath in London, and Parc St. Jacques in France. This approach, applied nowhere else in Israel, stresses the importance of creating a green lung composed of natural greenery and hosting a variety of animals and birds capable of living in the heart of an urban environment, to be enjoyed by city residents as well as visitors from Israel and abroad.
Jerusalem Mayor Nir Barkat said: "The park's guiding principle is revolutionary in terms of Israeli urban public spaces - a nature reserve in the middle of Jerusalem. Gazelle Valley is one of the biggest and most important Jerusalem projects in recent years, representing above all community involvement in the city and the power of joint brainstorming and planning by City Hall and residents. For us, the Gazelle Valley project represents the direction in which we want to take the city: developing Jerusalem's green spaces together and in partnership with the community and with the backing of many municipal entities working to enhance the environment and protect Jerusalem's natural assets."
In fact, over the years, the park, located in the city's southwestern corner at the foot of Highway 50 (Begin Boulevard) and Pat Junction, became a symbol of the public and civil struggle for open spaces in the city. In the past, the grounds were home to many fruit orchards, but in the 1980s these were abandoned and the location acquired a new identity: it became known as "gazelle valley" for the herd of gazelles that inhabited the site. Over the years, the herd became trapped among busy highways, the Malha Mall and various residential projects, with no habitat left. Because of harm caused by human agents and stray dogs, the herd shrank to only five gazelles.
As the herd was dying off, real estate developers "discovered" the spot and applied for permission to build more high-rises there. In an unprecedented move, various segments of Jerusalem's population united - religious and secular, old-timers and new immigrants, members of the entire span of the political spectrum - with the help of the Society for the Protection of Nature in Israel and other environmental organizations and social activists, and began a persistent fight against planning and zoning authorities to establish an urban nature park in the valley. Six years ago, Jerusalem Mayor Nir Barkat joined the residents' struggle, and it was decided to establish the first urban nature park of its type in Israel.
Landscape architects from Israel and abroad paved walking trails and bicycle paths, built a wading pool for young children, and set aside shaded spots perfect for observing nature. In the future, the park will also feature an orchard and a farm pond as well as an educational center devoted to the mountain gazelle (Gazella gazella), which is native to this part of the Middle East, and will be home to the Jerusalem Center for Urban Nature. Gazelle Valley will also be part of the Jerusalem Municipality's master plan, featuring bicycle paths that will go all around the park and link up with two already existing bicycle paths running along Sacher Park and Mesila Park. At a future date, a wooden promenade will be built above Gazelle Valley and link the park to the surrounding neighborhoods.
The fully accessible park will be open to the public all week long and will charge no admission. At the entrance, it will be possible to borrow binoculars, deck chairs and mats. In the future, it will be possible to buy ready-to-eat picnic baskets as well. It will offer guided tours, educational activities on topics of the environment and sustainability for school children, communal Friday evening Sabbath services, small chamber music concerts played by local ensembles, and more.
The park is being built by the Jerusalem Municipality with help from the Society for the Protection of Nature in Israel, the Jerusalem Development Authority and the Jerusalem Foundation.
Gazelle Valley Urban Wildlife Park in Jerusalem
Copyright: Jerusalem Municipality
Details

Written by

Philippine Embassy
March 2015, Tel Aviv, State of Israel – The Queen of the Desert, a prestigious and all-female club in Israel consisting of 7,000 women leaders in various fields, has chosen the Philippines as its next destination for its annual caravan tour.
On 12 March 2015, the Philippine Embassy in Israel met with Yosha Sigal, Manager of the Queen of the Desert, Raanan Ben-Bassat, CEO of Geographic Society (a major tour company in Israel), and Yariv Fisher, Philippines-Israel Tourism Chamber Chairman and FlyEast Ltd. CEO, to discuss plans and preparations for the Philippine tour of about 400 Israeli women consisting of executives, community and government leaders and top professionals and celebrities. The first group of "Queens" will tour the Philippines in April-May 2015, while the next batches will go in October - December 2015.
The Queen of the Desert tours are very popular in Israel. Founded by the Geographic Society in 1999, the Queen of the Desert conducts an annual expedition combining adventures in off the beaten tracks and routes not usually found in regular tourist maps, and activities that challenge the participants' physical and mental strength and teamwork skill. The tour is different from other travel experiences as it gives participants more opportunity to immerse themselves in and learn from the culture of the places they visit, and contribute to communities in the form of humanitarian projects. Joining the tour is a most sought-after "badge of honor" among Israeli women of substance who are in their 40s and up.
Philippine Ambassador to Israel Neal Imperial welcomed the decision to embark on an expedition in the Philippines and assured the group that the participants, as well as the rest of Israelis following the event, will be treated to beautiful sights and a wide range of unique and unforgettable experiences.
He stressed that "The Philippines is the most gender-equal country in Asia and the Queens will feel at home there. Our country is well-known for its smart and independent-minded women who are in the same mold as the fearless members of the Queen of the Desert."
The Queen of the Desert's upcoming trip to the Philippines will be a big boost to PH tourism, currently enjoying 30% growth in Israeli tourist arrivals. The new direct flight between Turkey and the Philippines, which started this March, offers more options for Israeli tourists going to the Philippines via Istanbul.
Last year, Israeli news and travel agencies, News1 (http://www.news1.co.il), Walla (http://travel.walla.co.il), Terminal (http://www.terminal.org.il), and International Air Services (http://www.ias.co.il) featured the Philippines in their websites, referring to it as the next must-visit destination for Israeli travelers because of its rich cultural heritage and world class tourist attractions. The Queen of the Desert is the latest to consider the country as a preferred destination.
The Queen of the Desert tours continue to attract thousands of women in Israel and even from other countries. It owes its prestige to the fact that applicants have to qualify in a rigorous screening process in order to participate in the expedition. Since its first trip to Jordan in 1999, the group has gathered more than 7,000 women from Israel to travel to far and exotic places in countries such as Turkey, Ethiopia, Georgia, Thailand, Romania, Morocco, Uganda, Spain, South Africa, Albania, Lapland, China, India, France, Guatemala, Kyrgyzstan, and Laos.
Photo : Yosha Sigal, Manager of the Queen of the Desert, Philippine Ambassador to Israel Neal Imperial, Raanan
Ben-Bassat, CEO of Geographic Society, and Yariv Fisher, Chairman of the Philippines-Israel
Tourism Chamber Chairman (from left to right).
Details

Written by

Silvia G Golan
Mrs Dafna Kuper , General Director of the Chain , explain us :
In our chain, each woman receives high-quality underwear products that suit her body.

Our chain includes 14 stores spread out in the country. We also have an Internet store, at website AT4U.CO.IL , where you can shop online everywhere in the country. Following our event in which we launched our winter collection, we are happy to the readers of this message with a special benefit, 30% discount on our house collection. All you have to do is approach any of our stores and show the saleswoman the attached coupon or say the code "Blog 30".
About the Chain of Women Underwear "AT":
The chain of women underwear "AT" was founded in 1978 by Dafna Cooper, who envisioned the idea "Women for Women". She believes that every woman can look sexier and yet feel very comfortable. From then and up to now she cares to develop this field and invest many resources in qualified personnel to provide each woman with the best response to her needs.
For over 34 years of experience and expertise, we provide the place is where a woman feels at home, when trying underwear and getting an advise. Each woman receives personal matching and leaves each of our stores more feminine, maximal comfort and with the most suitable underwear for her body.
Our slogan: First of all "YOU"
Chain stores: The chain includes 14 stores spread out in the country from Ashkelon in the south up to Kyriat Bialik in the north. We plan to open two additional stores in 2015.
We also have an Internet store, at website AT4U.CO.IL , where you can shop online everywhere in the country. All our stores are operated professionally with soul and love.
Intended customers: Our chain specializes in women underwear, and we stress good service and professionalism. "AT" addresses its intended customers in all range of ages, and offers a huge variety of products for all population layers, at different socio-economic levels. Each store of the "AT" chain presents the largest variety of underwear and bathing suits available in the market. These products are offered in many models, all sizes and a large variety of colors. We also supply products for women with especially large breasts and for women following breast operations and prosthesis. In this way, the "AT" chain provides solutions for all its customers' needs.
Service and professionalism: In each store of the "AT" chain work many professional sales women with 25 to 30 year experience in the women underwear business. The workers undergo special training in clothing, sales and customer service. The "AT" chain employs dressmakers whose role is to suit the underwear to the customer's body and special needs. During the sale, we are strict in solving the of each woman's problems having to do with her chest, including health problems, such as mastectomy (breast removal), prosthesis, and operations for breast enlargement and reduction. We deal with the solutions to these problems with utmost care, good service and warm attitude.
Exhibits and brands: Brassieres, lower underwear, body shapers, undershirts, dressing and sleeping gowns, bathing suits, prosthesis, and other products of the world leading brands.
Chain specialties: prosthesis, brassieres and bathing suits designed for women after breast removal.
"AT" Chain provides the best prosthesis in the world and the largest variety of brassieres for prosthesis of the brands ANITA and AMOENA. These brassieres can be smooth, padded, with or without lace. The brassieres and bathing suits are offered in all sizes.
Each woman is special and different from others, and every operation leads to different result. Thus, the prosthesis and brassieres are personally suited to each customer by professional personnel with special training.
Site : AT4U.CO.IL
1800- 200-234
Photo Silvia Golan
Details

Written by

Silvia G Golan
HOLLANDIA, the company specialized in sleep engineering, launches for the first time in Israel three innovative products:
· Tempur Sleep Center, experiential simulation room that provides a feeling of floating in space.
· Pierre Cardin collection.
· 4 SEASONS warm cover.
HOLLANDIA brings to Israel for the first time the experiential Tempur Sleep Center, a revolutionary sleep center, a sleeping room that makes you feel as floating in space.
This room is presently available in the company branches in Herzliya, Jerusalem, Haifa and other cities. Now, everyone can try the Tempur mattresses in previously unseen conditions. The experiential Tempur Sleep Center is a simulation room having adjustable beds with the pampering Tempur mattresses. The room is built without ceiling, it is not opaque nor transparent, and with soft lighting to provide sleeping room atmosphere. The screens in the room show a film that explains the unique development of the Tempur mattress, where the Tempur Sleep Center, also known as Space Cabin, operates continuously, every item in it moves, so that a vivid experience of floating in space is created.
Tempur mattresses are especially pampering. The Tempur material was originally developed by NASA for the production of space pillows for astronauts. It has an unusual capability for pressure spreading. This capability enables these mattresses to provide an experience of healthy and comfortable sleep, and a feeling of weightless sleep. The Tempur mattress structure provides all the conditions for natural, deep and continuous sleep.
The Tempur Sleep Center experience is offered free of charge for everybody.
Simulation duration: 7 minutes.
This room is available in the company branches in Herzliya, Jerusalem, Haifa and other cities.
HOLLANDIA presents, toward winter of 2015, a new collection of blankets, bed covers, and a variety of textile items from Pierre Cardin's fashion house.
HOLLANDIA offers also a collection of blankets, bed covers, and textile items manufactured by the French prestigious Pierre Cardin's fashion house.
The designs of the blankets and bed covers are inspired on nature and characterized by a variety of earth coloring, such as brown, red, dark gray, and more. The blankets are manufactured from natural and synthetic fibers in different textures, and weaved with high-quality embroidery, and the exclusive Pierre Cardin's logo impressed in their center. The unique design of these blankets allows their use with no need to cover them, and their wide sizes make them suitable for use as bed covers.
The blankets and bed covers are part of a larger collection that includes a separate set of towels in 3 sizes for the hands, face and body, and another set that includes the towels, and an additional set that includes the towels plus a bathing robe. The collection also includes towels in a variety of colors and shapes.
HOLLANDIA launches an innovative blanket: 4 SEASONS.

A special patent makes this blanket suitable for the coming winter and the following seasons.
A high-quality blanket that is healthy, and friendly to the user and the environment.
The blankets and bed covers are part of a larger collection that includes a separate set of towels in 3 sizes for the hands, face and body, and another set that includes the towels, and an additional set that includes the towels plus a bathing robe. The collection also includes towels in a variety of colors and shapes.
HOLLANDIA launches the 4 SEASONS innovative, high-quality and pampering blanket, for the coming winter and the following seasons.
This blanket consists of two parts that can be attached or separated, as needed, and, as labeled, can be used during all 4 seasons. In the transitional seasons, autumn and spring, you can use a blanket that weighs 250 grams. In the summer you can suffice with a 125-grams blanket, and in winter you can attach both for a warmer and pampering 375-grams blanket.
The blanket is made of 100% fine and softened polyester micro fibers, with a texture made of squares. The blanket quality is determined by the number of contained stitches. Since this blanket contains long fibers and relatively few stitches, the quality of its isolation is high.
The 4 SEASONS blanket is especially healthy. It is anti-bacterial and repels dust mites. The blanket fibers undergo a special treatment that impedes living space for dust mites. In addition, the blanket is well ventilated and enables pleasant and good sleep during the whole night.
The blanket is very comfortable for use. Unlike other blankets, it can be cleaned very easily, using a washing machine, and dried easily using a drier.
The blanket is produced in Spain using 100% recycled materials.
Prices:
Single-size blanket, 150-200 cm at launching price of 785 NIS.
Double-size blanket, 200-220 cm at launching price of 1275 NIS.
Selling place:
HOLLANDIA chain stores throughout the country.
About HOLLANDIA:
HOLLANDIA chain is owned by the Barseset family. It includes 7 branches throughout the country and a logistic center in Sderot. It represents the international companies TEMPUR, AUPING, Elegante and Pierre Cardin in Israel.
Photo Silvia Golan
Details

Written by

Silvia G Golan
Delta israeli clothing company widens its operation and launches its 2014-15 winter collection, and shows a glimpse to its innovation for the years 2015-16.
Delta's cooperation with the Israeli company Cupron widens, for launching a series of special underwear (מאצ'תונים) for soldiers, which incorporates new technology in the production of underwear for men. Cupron also enters the production of clothes for women during and after pregnancy branded "Nearly Nude Maternity".
Zvika Shwimmer, Delta-Israel's CEO, said that "launching innovative technology is the company's cutting edge. We intend to continue and bring to our customers the technological innovations in the field of underwear clothing for women and men. This season, for the first time, we will let our customers a glimpse to part of the innovations expected in the coming year."
Shwimmer pointed out that Delta will enter in the category of clothes for women during and after pregnancy branded "Nearly Nude Maternity".
He also added that: "among the remarkable innovations, within the cooperation with Cupron, Delta will launch special underwear (מאצ'תונים) that include copper fibers, which provide the underwear with anti-bacterial qualities, renew the skin cells, and evaporate sweat, during the whole product life".
He announces that: "Delta opens a new store, following the revolution that we led last year. This store will provide a special buying experience and a division in worlds of contents (intimate world, house world and active world). This is one of the stores that underwent an innovative transformation. Until 2016, all Delta's stores will undergo this transformation."
About Delta
Delta Marketing
Delta Israel is a subsidiary of Delta Galil Industries Ltd., a private label world wide manufacturer of Intimate Apparel, Men's wear and Socks. Delta Galil is a provider to major leading retailers such as Walmart, Marks & Spencer, Hema, JC Penny, Target, GAP, C&A and more... Delta also provides to leading brands such as Victoria's Secret, Calvin Klein, Tommy Hilfiger, Nike, Hugo Boss and more... Delta also holds her own brand DELTA - the local brand in Israel.
Delta Galil was established in 1975 in the north of Israel and today is spread over four continents with manufacturing centers in the Middle East, the Far East and East Europe, marketing offices in NY, NJ, London and Israel, with a total workforce of over 10,000 associates, and a million products produced daily and shipped to the finest stores world wide. Our customers receive the finest products as Delta is known for it's great innovation, design, high technology and fabric development.
Delta's main share holder, Chairman and CEO is Mr. Isaac Dabah, owner of GMM Capital LLC. Mr. Dabah has enterd Delta in 2005 after purchasing Sara Lee's shares. In 2007 he completed his control by purchasing most of the shares held by Dov Lautman, founder of the company and Chairman until July 2007. Mr. Dabah holds a long years experience in the Textile industry; among his former roles are CEO of Gloria Vanderblit and CEO Jones Apparel Group.
ESTABLISHED IN 1975, DELTA GALIL INDUSTRIES IS A GLOBAL MANUFACTURER AND MARKETER OF PRIVATE LABEL APPAREL PRODUCTS FOR MEN, WOMEN AND CHILDREN

At Delta Galil our experts leverage the company's vast knowledge base and core manufacturing competencies, to deliver comprehensive solutions that address the dynamic changes in the industry.
FOLLOWING OUR BODY-BEFORE-FABRIC PHILOSOPHY, WE PLACE EQUAL EMPHASIS ON COMFORT, AESTHETICS AND QUALITY

We anticipate new fashion trends and develop cutting edge technologies and fabrics, all in-house and all built on a 37 year tradition of uncompromised excellence in manufacturing, marketing and service.
SERVICING THE WHO'S & WHO'S OF THE GLOBAL APPAREL INDUSTRY

Ever aware of the pulse of the marketplace, Delta Galil is depended on by leading apparel designers and retailers worldwide to help them introduce new products and innovative manufacturing solutions that answer consumer demands and help grow their market share. With an eclectic offering of made-to-order products, Delta Galil's range includes: intimate apparel for men & women, active wear, socks and kids & baby wear. We are proud to have contributed to the success of: Wal-Mart, Marks & Spencer, and Target as well as leading fashion brands such as Calvin Klein, Nike, Hugo Boss and Victoria's Secret. In addition Delta Galil sells its products under brand names licensed to the company, these include: Wilson, Maidenform, Tommy Hilfiger and others.
THREE DECADES OF DESIGN & INNOVATION

From our original base in Israel, in over 3 decades we have established strategically located design, development and manufacturing centers spread across four continents. We employ 9000 people worldwide and serve over 50 industry-leading customers in the US, UK, and Europe. At Delta Galil we are proud of our global spread and multi-cultural nature. We employ individuals from all over the world and believe in mutual respect and co-existence, amongst ourselves and within the communities and environments in which we work.
DELTA FACTS SHEET
Established in 1975

Manufacturing and marketing is spread of 20 countries

Multi cultural workforce of 9000 employees worldwide

Human and professional diversity

Over $32M are invested in R&D per year

500 M products are sold yearly by the Company

4 years of consistent growth

Sustainability driven, GRI approved
Photo Yariv Fain & Guy Koshi