Life Style
Details

Written by

Silvia
Rock'n and Roll'n - Taglit-Birthright Israel Tel Aviv Week 23-26 May 2016
‏
"It seemed like my second semester was never going to end, it has, and now I'm finally in Tel Aviv and loving it. I still cannot believe I'm surrounded by Jews, and learning about our advances in Israel here at Tel Aviv Week," said an enthusiastic college student from the US today.
Birthright Israel Tel Aviv week
5,000 Birthright Israel participants have taken over Tel Aviv this week for the Birthright Israel Tel Aviv week with the participation of Assi Azar, Galit Gutman, Assaf Granit, Ziv Koren, Motty Reiff, Talya Lavie and other Tel Aviv personalities
23-26 May 2016
Thousands of Birthright Israel participants are currently taking part in the Birthright Israel Tel Aviv Week by exploring contemporaryTel Aviv up-close and personal. Participants are learning Tel Aviv's history and contemporary culture by walking through its landmarks and meeting with leading figures of the Tel Aviv scene such as Assi Azar, Galit Gutman, Assaf Granit, Ziv Koren, Motty Reiff, Talya Lavi, Gil Hovav, Sahar Zangilevitch and more.
From today, May 23 through Thursday, May 26, the Birthright Israel Tel Aviv Week is allowing 5000 participants aged 18-26 to experience the central role Tel Aviv plays in shaping modern Israeli society and the impact it has had on the larger global community. The participants are exploring the fields of high-tech, fashion, culinary, art, dance, music, theater, photography and the energy that the city has to offer.
Every day of the week, participants are attending a number of different activities through the city. They are going through an improvisation workshop at the Habima National Theatre with Mayumana, meeting with leading personas in the startup, fashion, culinary and media world, enjoying Gordon Beach with watermelon, volleyball and backgammon, attending a dance workshop at Suzan Dellal Center, discovering Israeli food at the Carmel Market and more! In the evening, the participants are enjoying musical performances by the popular Israeli band Hatikvah 6 and Muki at Hatachana Station.
Gidi Mark, CEO of Birthright Israel said: "Since the project began 16 years ago, we have exposed Israel and its heritage to more than half a million young Jewish Adults from around the world.
As part of a new tradition, we are excited to launch the Birthright Israel week that will take place annually and introduces participants to modern Tel Aviv from hi-tech and innovation to the exciting music, arts, fashion and culinary scenes this city has to offer. This experience will further strengthen their personal connection and relationships with the country and its people".
30,000 young Jewish adults between the ages of 18 to 26 are set to take part on a 10-day educational trip with their peers this summer season. Participants from 59 countries are joining more than 500,000 alumni who have participated on Birthright Israel since its inception 16 years ago. In addition to the Israeli landmarks, participants will visit Birthright Israel's State of Mind- Innovation Center in cooperation with Tel-Aviv Stock Exchange. Taglit participants will visit an exhibition showing the history of Israeli innovation. Participants will meet with Israeli entrepreneurs who will present their personal stories and how they manifest the entrepreneurial spirit of Israel. The center will highlight all fields of Israeli innovation, including mobile technologies, life science, education, clean tech, smart cities, cyber, digital tourism and more.
About the Birthright Israel Project
Birthright Israel connects young Jews to the State of Israel as well as to their Jewish identity through a free ten-day educational tour of the country. Over the past 16 years, Birthright Israel has opened the eyes of hundreds of thousands of trip participants to the people and land of Israel. The trip aims to build an understanding, friendship, and lasting bond with the land and people of Israel and to reinforce the solidarity of the Jewish people worldwide. This allows for the creation of new friendships between participants and Israelis as well as deepens their understanding of the country and the Jewish religion and connects participants to their Jewish heritage. Birthright Israel is considered the most successful and largest Zionist project in the Jewish world.
Birthright Israel has a unique, historical and innovative partnership between the Government of Israel, thousands of individual donors and private philanthropists, and Jewish communities around the world through the Jewish Federations of North America, Keren Hayesod and the Jewish Agency for Israel.
Since its inception in 1999, over 500,000 Jews from over 66 countries have participated in the free 10-day educational tour of Israel. Of these over 80,000 young Israeli soldiers and students have joined various groups on their tours.
Over the years, several studies have been conducted at Brandies University, located in the USA, demonstrating the lasting effect on Diaspora Jews when focusing on their Jewish identity, their connection to Israel and their ability to promote the country.
Visit www.BirthrightIsrael.com.
Details

Written by

Pamela Hickman
Aluma - an upmarket kosher meat restaurant recently opened in Jerusalem
On May 18th 2016, I visited "Aluma", a recently opened chef restaurant at the Crowne Plaza Hotel, Jerusalem. The name "Aluma" (Hebrew: "beam") was chosen because of the uniquely tranquil lighting emanating from the restaurant's elegant gold light fittings, only one feature of the restaurant's splendid interior of soft grey and powder blue designed by Michael Azulay. Another point of interest is a textured grey feature wall. Azulay's vision was inspired by the meeting of east and west, of classical and modern. Despite its intimate ambience, "Aluma" has seating for 100 people, with another 80 seats for al fresco dining on a balcony overlooking the hotel's swimming pool and a panoramic view of Jerusalem. The VIP room, adorned with wall paintings, caters to 16 guests. Among the drinks available in the sparkling, well-stocked bar are wines from several top Israeli boutique wineries. "Aluma", a meat restaurant, carries the Jerusalem Rabbinate's "Kashrut Mehuderet" certification.
Internationally renowned chef Michael Katz has returned to his hometown to preside over the cooking at "Aluma", which is already attracting a lot of people. His experience includes working at 2- and 3-star Michelin restaurants in Belgium, teaching at "Le Cordon Bleu" culinary school in London and serving as chef de cuisine in Jerusalem restaurants. For "Aluma", Chef Michael Katz has put together a menu based on classical European cuisine with some influence of Israeli cooking.
Our meal began with fresh, crusty rolls served with eggplant-, beet- and pesto dips. For the first course, we then enjoyed a variety of salads – a gravlax-style cured trout salad with beets in a subtle horseradish cream; red tuna salad in a soya-ginger and wasabi sauce; beef carpaccio in aromatic oils with fennel and crisp parsley; the ceviche of the day – sea corvina with watermelon, peppers, ginger and herbs; the restaurant's own cured sardines in oil, garlic and mild harissa and, finally, the most wonderful warm "sabich" (an Israeli filling served in pita bread, of Iraqi tradition) salad with roasted eggplant, tomatoes, chickpeas, tahini, harissa and crispy poached egg. We then tried two of the main courses – juicy, tender grilled entrecote steak flavoured with hollandaise sauce and garlic and served with beans and crispy potatoes, followed by beef filet medallions cooked to perfection in shallot- and red wine sauce. For his desserts, Chef Katz keeps a safe distance from pareve creams and other such unattractive toppings too often associated with the end of a meat meal. His desserts are sure to delight the restaurant's guests: for example, tapioca-mango cream with forest fruits, caramelized pistachio nuts and mousse apricot; crêpe Madeleine filled with vanilla cream, orange zest and fragrant orange sauce; chocolate-espresso mousse served with cocoa crumble, forest fruit comfiture and chocolate sorbet; and, finally, what for me was the tour-de-force – pears cooked in wine and red raspberry syrup with cream of caramelized almonds.
The restaurant's service is excellent (our waitress explained each dish to us), seating is comfortable and the ambience is delightful. Prices at "Aluma" are certainly not over the top for such excellent and lovingly prepared food.
ALUMA, Crowne Plaza Hotel, 1 HaAliya St., Jerusalem; Tel: 02-643755
Opening times: Sundays to Thursdays 12 noon to the last customer; Fridays 11:00 a.m. to two hours before the Sabbath; Saturdays from one hour after the Sabbath to the last customer
http://pamelahickmansblog.blogspot.com
Details

Written by

Jonathan Danilowitz
Cognac – Not only a Winter Treat
Tradition has it that cognac is a winter drink, to be sipped before the fireplace on a cold winter's night. Surprise! Thanks to the innovative marketing and creative presentation of the folks Hennessy Cognac, summer's arrival heralds a new source of pleasure for casual drinkers.
At a presentation on Monday evening at Villa Dallal in Tel Aviv's Neve Zedek suburb, we learned that cognac is certainly a welcome addition to our favorite summer coolers. Their newest cocktail creation, "Hennessy Coconut", was a welcome thirst quencher on the warm afternoon. So simple, so good: Coconut milk frozen into cubes over which Hennessy cognac is poured. It sounds almost sacrilegious – cognac with ice, but it works. Beautifully.
We also tried another trendy summer chiller – "Hennessy Ginger". It includes 6cl of Hennessy V.S., fresh ginger, mint, lime juice, orgeat syrup, tonic water, crushed ice and sprigs of mint to garnish. A professional barman can easily shake that up for you for your pleasure and enjoyment.
It appears that Hennessy is the world's most senior cognac manufacturer – dating back 250 years. Hennessy was introduced to Israel in 1986 and the versatility of the brand with its three major (but not only) types – VS, VSOP and XO becoming more popular each year. Worldwide, Hennessy sells more cognac than the next three most popular cognac brands combined! The alcohol content of the 3 major types is about the same – about 45%. The differences are in the shade, the taste, the blending and the aroma. VS is cask-aged for about 3 years, VSOP for about 7-8 years and XO is blended from cognacs aged from 10 to 30 years.
L'haim! Cheers! Salut!
Photo Rafi Daloya
Details

Written by

Pamela Hickman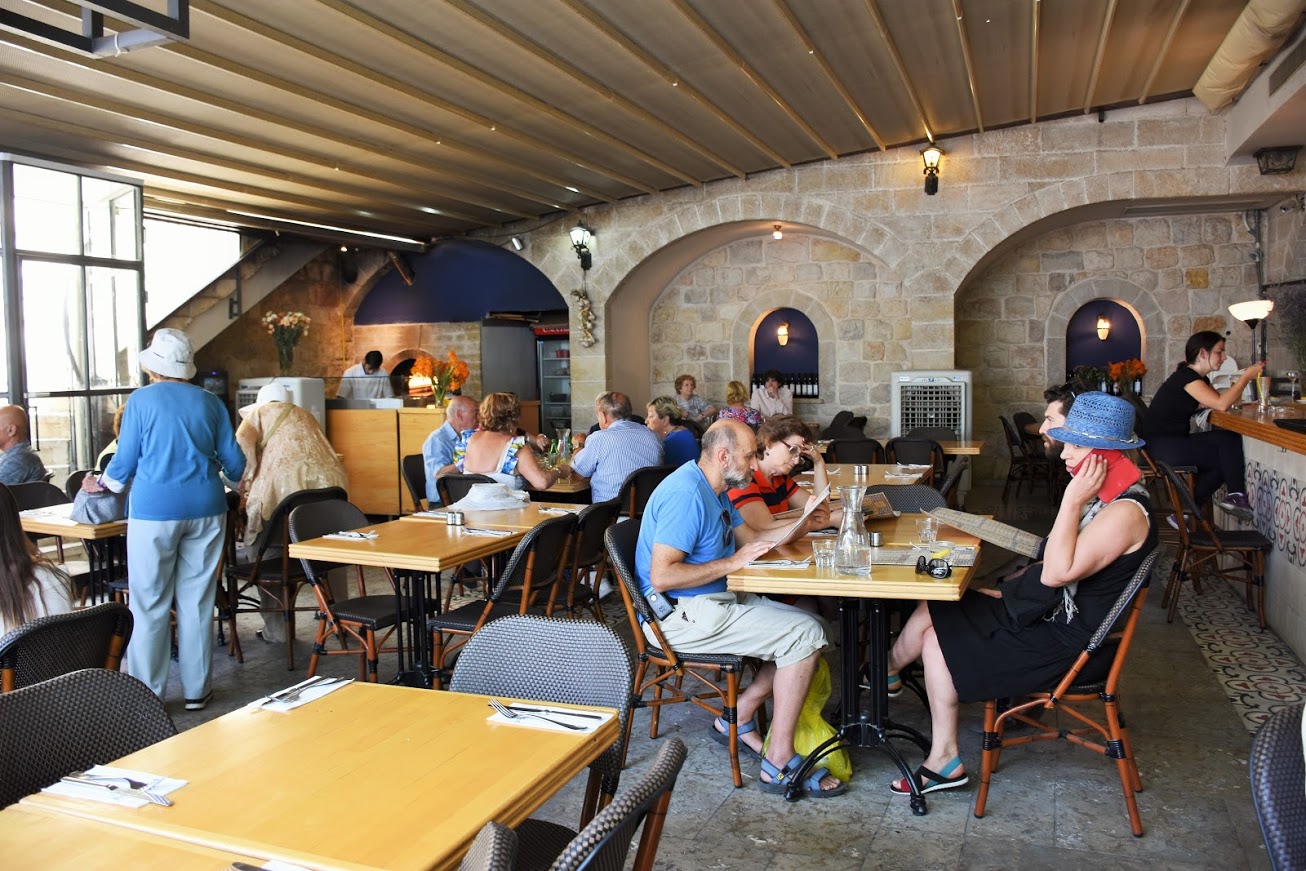 The Ein Kerem Inn - one of Jerusalem's longest-standing and most popular restaurants
On May 15th 2016, I visited the Ein Kerem Inn, a popular and well-frequented restaurant on Hama'ayan St. in the magical village of Ein Kerem, Jerusalem, and met with Shimon Levy, who has owned the restaurant since 1986. The restaurant, which opened in 1985, was originally housed in a different building, now a hotel. Shimon told us that the restaurant's present location is a protected Spanish building whose interior has been totally reconstructed by him and in keeping with its Spanish style. In addition to the large ground floor restaurant space and al fresco dining area, the Inn's upper storey is reserved for private events.
Open seven days a week from 9 a.m. to midnight, the Ein Kerem Inn is indeed an integral part of Jerusalem's buzzing restaurant scene. Some of the clientele has been frequenting the restaurant since it opened. Shimon and his staff have got to know the regulars personally. "We take part in their joyful celebrations and are there with them in the sadder events of their lives" he adds. "These people are the restaurant's mainstay, but" he adds "providing for local tourism is an important aim of the restaurant." Weekends are a very busy time, with people there enjoying the village. Shimon Levy's background is academic; he made his acquaintance with the restaurant business working as a student. Most of the Ein Kerem Inn's waiters and waitresses are students from the nearby Hadassah Medical Center or at the Giv'at Ram Hebrew University campus.
I asked Levy what typifies the restaurant's cuisine: "We have an award-winning chef in Oren Hemo; our aim is to prepare good food that appeals to all kinds of people – we serve fish, meat, pasta… you could call it French-Italian fusion and we have the taboon oven, in which our focaccia is baked." The menu offers a wide choice of dishes; sometimes there are daily specials. There is also a business lunch menu. The restaurant makes its own Italian ice-cream daily; in fact, absolutely everything is prepared in the restaurant kitchen and from the highest quality ingredients.
We began our meal with fresh, crusty focaccia, served with dips of sun-dried tomatoes, pesto, labneh (yoghurt cheese) and an olive paste. As to the main courses, the goulash soup was a hearty, savoury, not over-fatty broth, in which the beef, paprika and fennel flavours were both present and satisfying. The restaurant imports the spices for this dish from Hungary. For the generous salad topped with stir-fried mushrooms, the salad dressing combined a spicy mix with a hint of sweetness. The oven-baked eggplant came with a tahini mix, flavoured with garlic; it was flavoursome, the garlic not overpowering. The deep-fried St. Peter's fish was fresh, tender and moist. It came with a generous serving of mashed potatoes, garnished with fried onions. Hot dishes came to the table piping hot. For dessert, our waitress suggested the biscuit cake; it was perfect – creamy, subtle and not over-sweet. As to the restaurant's homemade berry-, passion fruit- and coconut sorbets, every spoonful was a tastebud delight.
The restaurant was busy, but there was enough staff to keep everything running smoothly, with guests looked after attentively and served quickly. Our waitress managed well in English; she was friendly, helpful and efficient. Prices are moderate. The Ein Kerem Inn's welcoming, upbeat atmosphere and tasty food beckon one to return.
http://pamelahickmansblog.blogspot.com
http://pamelahickmansmusicinterviews.blogspot.com
Photo Shirley Burdick
Details

Written by

Jonathan Danilowitz
Indian Culinary Week in Israel
The "shining star" of the Indian culinary orbit, Chef Sanjeev Kapoor, is in Israel to orchestrate the culinary festival organized by the Indian Embassy, under the able conductorship of his Excellency Ambassador Pavan Kapoor. (It is a singular coincidence that both the ambassador and the chef bear the same name.)
So on Tuesday morning Chef Kapoor was presented to the media at a reception hosted in conjunction with Israel's leading hotel chain, Dan Hotels, at their flagship property, the Dan Tel Aviv. Chef Kapoor is an internationally acclaimed chef and an award-winning TV celebrity and media personality in his native India. Dan Hotels and the Indian Embassy united to bring him to Israel where he will share his skills and innovative techniques with Israeli chefs, restauranteurs and other foodies. The Ambassador introduced the guest of honor and then spoke briefly of the fine bilateral diplomatic relations between India and Israel. He noted that cultural ties – as in the exchange of traditional foods, music, literature and more – go a long way to improving political and diplomatic ties. Ambassador Kapoor also praised and thanked the Dan Chain for their cooperation.
Chef Kapoor then addressed the guests and told them that he had come to Israel to learn as much as to share his knowledge. "This is my first time in Israel", he said and added, to much amusement: "Israelis don't know "Indian food" because even Indians don't know Indian food". He explained that his country on 1.25 billion inhabitants is so large and diverse that what is "Indian food" in one area, is possibly unknown in another. The scale and novelty of Indian culinary secrets awaits us all.
And what better opportunity to discover some of those secrets, in Jerusalem, than at the King David Hotel's elegant "La Regence" restaurant on the 17th to 19th May. There the hotel's Executive Chef David Biton will join forces with Chef Kapoor in offering authentic (and kosher) Indian dishes on a special celebratory menu. Think of bhatti ka murgh, galouti kabab, mango murgh makhani, nalli roganjosh and dum gosht biryani. The very names make us hungry.
Let's talk international: Besides his five popular restaurants in India, Chef Kapoor also has several restaurants in various parts of the world. We can't wait to dine at the "Yellow Chilli" in Bangalore, and the great opportunity will arise in about 10-12 months when the Dan Chain opens its first property, a luxury hotel, in India in – Bangalore!
And if that is not enough to whet your appetite, right now "Neptune Foods" is running an Indian Food Festival at several Israeli supermarket chains. Spices, preserves, sauces and more, that are often impossible (or very difficult) to find, are on sale now until the 25th May. For information on where to purchase: www.neptunefoods.co.il
Bon appetit.
Photo Sivan Farag