Life Style
Details

Written by

Buzzy Gordon
Retro Pancake and Bar Expands to Kfar Saba
Retro, Rishon Lezion's unique combination of pancake restaurant and bar, is now officially a chain, with the opening this month of its second branch, in Kfar Saba. The name of the chain derives from its distinctive decor, resembling an old-fashioned American diner, complete with chairs upholstered in red vinyl, antique signs and period black-and-white photos.
The chain's menu is built around authentic American-style pancakes; and at Retro, they are thick, fluffy and very satisfying. Moreover, an order of the basic version starts at a very reasonable NIS 22 (NIS 28 with the standard additions of butter and maple syrup), and a stack of two flapjacks is quite filling.
Retro's specialty, however, is taking these basic building blocks and creating innovative dishes, of both the savory and sweet variety. There are literally dozens of these towering creations, imaginatively reflecting North American, Middle Eastern and continental European cuisines. They also bear intriguingly cosmopolitan names, like Florence, Provence and Saloniki.
Retro is open virtually around the clock -- seven days a week, from morning until after midnight -- and thus there are dishes suitable for breakfast, brunch, lunch, and dinner, not to mention both main courses and desserts. In addition to the pancake-based entrées, there is more standard fare, as well as salads and toasted sandwiches. Moreover, there are ample vegetarian, vegan and gluten-free options.
Retro's new location has seating both indoors and al fresco, on a spacious terrace on the top floor of the Kfar Saba Hayeruka shopping center. The rooftop venue is also the site of weekly live music performances, on Friday afternoons and evenings.
Retro Pancake and Bar is a novelty restaurant that should certainly pique the curiosity of any food lover. And while the alcohol menu and late hours may target an adult market, both the comprehensive food and beverage selections and price ranges render the chain family-friendly. Menus are available in both Hebrew and English (the latter starting next week).
http://www.rol.co.il/sites/retro-pancake-bar/ SITE
https://www.facebook.com/Retro-Pancake-Bar-%D7%A8%D7%98%D7%A8%D7%95-%D7%A4%D7%A0%D7%A7%D7%99%D7%99%D7%A7-%D7%95%D7%91%D7%A8-705938556146108/ FACEBOOK
Address
Kfar Saba Hayeruka Shopping Center, Rapoport Street 3, Kfar Saba
Tel 09-772-2688
Photo Silvia Golan
Details

Written by

Buzzy Gordon
Retro pancake big opening
'Retro pancake' restaurant in Rishon Lezion is expanding and opening another branch in 'Kfar Saba Green Mall'
The Family Pancake network reaches the Sharon region, bringing the familiar and beloved dishes, including a variety of sweet and savory pancakes, gluten free and vegan dishes.
The menu includes sweet and savory pancakes, salads and toasts. Such as "White Night" - Warm white nougat cream, chocolate syrup, chocolate pearls and white chocolate topped pancake.

"strudel Pancake" served with apples , pastry cream , raisins , walnuts , crumble and vanilla ice cream , this dish also comes in gluten free and vegan versions.

Salted Pancakes with tahini, chickpeas, fried onions, fried eggplant and hard-boiled egg.
The price range moves between 22-48 shekels per portion, Including The "Retro Pancake luxurious Dutch Breakfast" which offers 4 mini pancakes, Kesten bread, salad, two eggs with a side dish, dips, hot and cold drinks. An alcohol menu of beers and liquor is also available.
Like the restaurant in Rishon Letzion the one in Kfar Saba has a unique retro décor that gives the feeling of an authentic American diner. With musical instruments hanging from the ceiling, old newspaper clippings, photographs and rare collectibles such as music machines, accordions, trumpets, radio and more.
Live music shows are playing every Tuesday and Friday afternoon until night
"We are pleased to come to Kfar Saba and bring with us the music, the atmosphere and of course our pancakes", says Doron Schwartz, owner of Retro pancake.
Photo Silvia Golan
Details

Written by

Tel Aviv Municipality
Sail Tel Aviv - the largest maritime event in Israel
SAIL TEL AVIV, the largest maritime sports festival in Israel, will take place for the first time between April 18th-28th, 2016.
The highlight of the festival includes a large flotilla for numerous types of vessels. The flotilla, on April 28th, will start from Tel Aviv Port at 11:30 and will sail across the coastline of Tel Aviv to the Jaffa Port and back.
The rest of festival will include a variety of water sports activities and competitions: Yachts, Kayaks, SUPs, beach volleyball and open water swimming.
The festival is held in partnership with Atarim, a municipal-owned company, and Israel Yacht Club.
Photo Ziv Koren
Details

Written by

Pamela Hickman
Café Ella, one of Jerusalem's most charming eateries
Café Ella, located a few steps away from the shops on Jerusalem's busy Herzog St., but high enough off the road to offer people a quiet place to meet, to take time out from the bustle of everyday life and enjoy coffee or a meal. On April 17th2016, Shirley and I visited Café Ella at noon. The charming establishment, with its air of tranquillity (no noisy music) and European look, was already quite busy. Opened four and a half years ago by Avichai van Levin, the café is kosher and offers some interesting and nutritious dairy meals. Van Levin, there to help and see that all runs smoothly, joined us at a table on the balcony. "I have always worked with food" said the gently-spoken restaurateur. "At age 15 I began to work in various Jerusalem restaurants, starting with dishwashing, then learning kitchen skills and eventually working as a waiter. After my army service I travelled to the USA, where, for some years, I worked in a large New Jersey restaurant that also catered events. I learned a lot about the profession there." Making for a family atmosphere at Café Ella, van Levin's sister Hefzi also works there; we found her most attentive. The café takes its name from van Levin's daughter, Ella. "So, you see, my heart is in this place", the owner added.
What kind of food does Café Ella serve? Italian, French, Israeli and a combination of all, fish and fresh pasta. All the dips, pickles and sauces are prepared in the kitchen, as are the cakes, biscuits and desserts. Van Levin lays emphasis on the importance of careful preparation and on the fact that the food must be tasty. The menu changes every year. "But we do have a fixed menu, which guides us in our daily preparation. We also have specials; when it comes to those, our chef Roy has carte blanche from me; I never limit him, even if he wants to create a dish using expensive ingredients. This spontaneity is important as it adds interest to his job and to what we offer our clients; profit is of secondary importance." In summer, Cafe Ella offers cold soups, such as iced cucumber- or tomato soup, also more salads and fruit; in winter, there are hot soups and more substantial dishes, "which is what we need in cold weather". I asked Avichai whether Café Ella does catering. He said they do not cater large events, but if clients request some dishes for small celebrations, he will oblige.
For those going out for a special breakfast, the café opens at 7 a.m. and, because Israelis are so keen on their breakfast, they can order from the breakfast menu up to 4 p.m.! Breakfast at Café Ella offers a number of options – for one or two people; for those whose appetite is smaller, there is a "quick" breakfast consisting of a bruschetta roll with cream cheese, salmon, scrambled egg, a small dish of muesli and coffee. Chef's Morning for two, on the other hand, is more comprehensive and includes special cheeses, Teller bread and more treats.
I asked the owner to mention some of what he considers to be the restaurant's more unique dishes. He thought for a moment. "Perhaps… beetroot filled with cheeses in a spinach sauce, fish we cook in our stone oven and risotto with asparagus and mushrooms, to mention a few." Shirley and I relished every bite of the beetroot dish Hefzi brought us, the tasty polenta with asparagus and mushrooms, as well as he fresh, crunchy focaccia served with pesto-, tapenade- and sun-dried tomato dips. We rounded off our meal with a delicate pear-and-almond tart.
Café Ella, 69 Herzog St., Jerusalem
Details

Written by

Jonathan Danilowitz
"Ethnic food" has been given a bad name in certain parts of the world, where faux-chefs do the wrong things to the wrong foods in the wrong places. Fortunately, Reena Pushkarna, owner, founder and hands-on manager of the Tandoori chain in Israel (actually only two restaurants today) does everything right.
When you go to Tandoori in Herzlia Pituach (so convenient for the diplomatic corps!) hope that Reena will have time to chat, even briefly. Her delightful personality is enchanting, adding to the authenticity of the dining experience. The restaurant is attractive, the service is "Indian" (read: polite and deferential), the menu (Hebrew and English) clear and explanatory, but most of all, the dishes are authentic and delicious, with choices for everyone.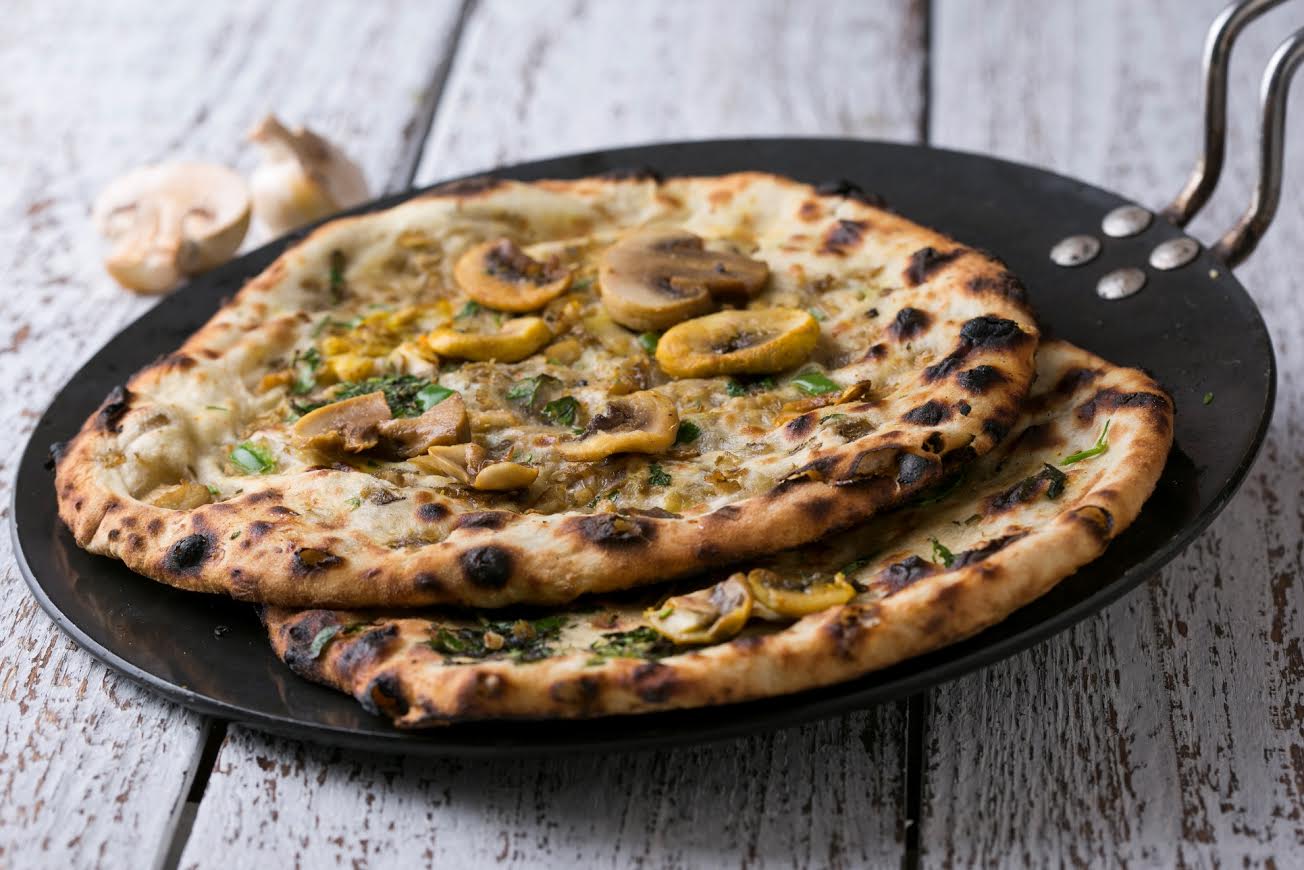 Of course Israel has its own ethnic food, some very very good, so one might puzzle over why anyone would want to dine Indian in Israel. There comes a time when hummus and falafel and kebab – no matter how good – need a rest. There comes a time when another Italian or Thai or Turkish meal doesn't sound like fun. Indian food, properly prepared and served authentically, is attractive, delicious and different. Besides the fact that Israelis travel to India in droves and when they return they ache for another good curry or whatever, there are many Indian, Singaporean and Sri Lankan diplomats, consular staff and other diplomats who yearn for those tastes and aromas – not to mention tourists who have the urge to try other ethnic styles, and who find Tandoori the perfect answer.
Tandoori was founded some 33 years ago. As Reena tells it, when she opened her first (then) vegetarian restaurant "… to Israelis, vegetarian meant a tomato, a cucumber, a carrot and maybe a few lettuce leaves ... Indian vegetarian cuisine was too exotic back then". Today at Tandoori, besides the selections of dishes than include fish, lamb and chicken and even beef, there is a wide offering of vegetarian and vegan dishes, redolent of the fragrant spices that so perfectly define Indian culinary specialties. And beyond vegan, the restaurants also offer dishes (probably by advance notice) that adhere to the stringent delineations of people who obey the principles of Jainism. Needless to say celiac sufferers will also find wheat-free dishes to accommodate their dietary limitations.
Afraid of hot spicy foods? Don't be. At Tandoori they can accommodate all tastes, from mild to wild. Also remember, the waiters will usually suggest packing up what you do not finish (the dishes are very generous) as take-aways for tomorrow's lunch – a grand idea.
If words like masala, kulcha, pilaff, biryani, curry, tikka, somosa and kulfi make your mouth water, or even if they don't, a meal at Tandoori is a whole new experience. We had dinner at the Herzlia branch and cannot wait to go back.
http://www.tandoori.co.il/ SITE
https://www.facebook.com/tandoori.il/ FACEBOOK
Address
Zamenhof Street Tel Aviv 2
Tel 03-6296185

Herzliya, 32 Maskit Street
Tel 09-9546702