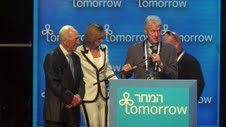 Former U.S. President Bill Clinton accepted Israel's President's Award from Israeli President Shimon Peres, the sixth recipient of the award, in a ceremony today at Jerusalem's International Convention Center.
"(President Clinton) became a leader of humanity by inspiring and not imposing," said President Peres. "Your unwavering commitment to the Jewish people and your moving support for the State of Israel will always be cherished. The future will hang upon your immeasurable contribution."
Also present for the award, which took place during the opening plenary session, "Leadership that Makes a Difference," were official Middle East Quartet envoy and Former British Prime Minister Tony Blair and Chicago Mayor Rahm Emanuel.
In his acceptance speech, Clinton discussed the importance of increasing our appreciation of differences with a goal of unifying humanity.
"I accept this award because I feel like a poor pilgrim on a constant journey to expand the definition of 'us' and shrink the definition of 'them.' The first step of building a new tomorrow is to get rid of the things that divide us, including seeing ourselves as victims," said Clinton. "There are no final victories. There are no perfect warriors for peace. There are no flawless leaders. There is no perfect answer to any of this.
"Every one of us – each in our own way – will face challenges in our lives, and we will not meet them all. The lesson of Shimon Peres is not to give up and give in, but to get up and keep going."
The five previous recipients of the award are U.S. President Barack Obama, former U.S. Secretary of State Henry Kissinger, Maestro Zubin Mehta, Rabbi Adin Even Yisrael-Steinsaltz and the Rashi Foundation.
The opening plenary session focused on principles of leadership, with both Blair and Emanuel drawing upon their personal experiences to communicate that true leadership is not effective unless expectation of mistakes and changing realities are part of the context.
"The first thing I always think about, when it comes to leadership," said Emanuel, "is failure. Every person in leadership fails. And the important thing is for them to learn from their failures."
"The skill set that takes you to leadership is not necessarily the skill set that makes you a great leader," said Blair. "As a leader, there is only one course, which is to do what you think is right."
Blair also issued a warning about the importance of leaders making difficult decisions.
"As every day that passes shows, the cost of staying out (of Syria) may mean a bigger price later. As a leader, there is only one course, which is to do what you think is right."
"Never allow a good crisis to go to waste" added Emanuel. "It's an opportunity to do the things you've never been able to do before."
Facing Tomorrow 2013 is taking place from June 18-20, 2013, at Jerusalem's International Convention Center. The conference is organized in partnership with Hebrew University.



About Facing Tomorrow 2013
The Fifth Israeli Presidential Conference 'Facing Tomorrow' will be held from June 18-20, 2013. The first conference took place in May 2008, one week after Israel celebrated its 60th year of independence, and on the basis of its success became an annual event. The conference is centered around discussions, panels and plenary sessions aimed at answering one question: how can we foster a better tomorrow for the international community, Israel and the Jewish world. For more information, please visitwww.presidentconf.org.il.